Smart Products
Best L-Shaped Executive Desk Ideas for Your Business

Autonomous
|
May 22, 2021
2,202 Views
An elegant and sleek-looking executive desk conveys a style statement for your business. It also gives you comfort and convenience for you to be efficient at your work. As you work from your office for long hours, you deserve an ergonomically designed executive desk that gives you comfort and convenience. With a comfortable desk, you can have increased efficiency and productivity at work. Recent studies show the benefits of an office standing desk. These standing desks give you comfort as you can adjust the desk's height to manage your body posture as you work, alternating between standing and sitting. Office standing desks are also available as modern L-shaped executive desks and are in high demand for health benefits.
Let's explore a little more.
Transformation of the traditional L-shaped executive desks for office
If you are renovating an existing office or setting up a new office or an executive desk speaks of your excellence at work. Conveying sophistication, power, or importance, an executive desk can be designed to suit your comfort and convenience. While traditional offices had a massive wooden desk lined up in the center of an office, much has changed to add functionality to working desks.
Replacing the traditional desk, the L-shaped executive computer desk brings inconvenience of extra working space. One arm of the table can hold an individual printer with restricted access or pictures or other stationary and more. Tucked away into a corner, these desks allow the user to turn in his seat for a short meeting, making efficient use of the available space.
With executives working long days, it is essential to build ergonomics into their office design to ensure comfort and health. The corner standing desk is an excellent example, and a popular pick of an executive L-shaped office desk. These desks allow you to stand or sit as you work. You can easily alter the height of the desk for your comfort. Breaking the monotony of your working rituals, these desks offer health benefits with better blood flow, lowered cardiovascular diseases, and a goodbye to stiff neck or backaches. As medical journals fight it out of the benefits, there are little to no side effects known.
Here are some ideas for your L-shaped standing desk base. You could always consider customizing some of these base desks to match with the décor of your office or your preferences.
Why only an L-shaped Executive Desk for an Office?
Traditional desks occupied more space, conveyed power with large desks vs the recent corner standing desk that often conveys openness, trust, approachability to its visitors.
You, of course, have a choice of fitting in a smaller and tighter triangle-shaped V or A-shaped desk. While they will be as functional, they offer lesser surface area compared to an L-shaped. For a large room, they could look small and isolated compared to the room area available.
Here are some more reasons why an L-shaped executive desk is preferred for an office.
Exclusivity
An L-shaped executive desk is not for just anyone. It showcases elegance and class and serves the needs of people with essential tasks to accomplish. At your home office, you have a choice to set it up in the middle of your study or tucked into a corner. Either way, it offers you ample space available for a seating area and more. 
Ergonomically designed
With a corner standing desk, you can expect to add to your health regime to be healthier. Adjusting your desk height to sit or stand as you work improves your blood flow, burns more calories, reduces neck and backaches, and avoids stiff postures. Long working hours don't have to impact your health.  Add a reclining executive office chair to compliment the desk.
Increased work area
Looking for an increased work area? Well, a corner standing executive desk is your answer. You can get a colleague to pull a chair along with you for a quick meeting.
Access
No more stretching to reach that file that is put away on your table. With an L-shape executive desk, you can easily access all parts of the table without stretching to pull a muscle which is quite the risk with a traditional desk.
Storage
With an L-shaped executive desk for your office, you get ample storage space on the underside. While you always choose to leave it unoccupied, rollaway drawers are an excellent choice to add in to match the décor and provide storage space.
Best L-shaped Executive Desks for Your Business 2021
Only the best in the class gets highlighted; the rest are only there for you to know.
So here is our selection of the most elegant L-shaped desk for your business 2021, the SmartDesk Corner.
A best seller for an L-shaped executive desk for your business is an exclusive piece that offers you both function and form.  Functionally, the height can be adjusted between 29.4 inches to 48 inches as you sit or stand to work, with the flick of a button. Wow, isn't it?
The exclusive corner design provides you with workspace on both sides. The dual purpose of the table with increased surface area and storage underside is unbelievable.  Some senior executives prefer to catch up with the news or Wall Street having a small TV on their desk rather than occupy the entire large walls.
The steel frames have a load-bearing capacity of 440lbs. The finished wooden top is exquisite to the role of a senior executive.  It takes you closer to nature, a basic need of human beings. With a choice of four different finishes, including a walnut-colored top, your office is complete with an L-shaped executive computer desk.  You may also prefer a white executive office desk.
Refreshing even at the end of a day for the executive using it!
Video ads for product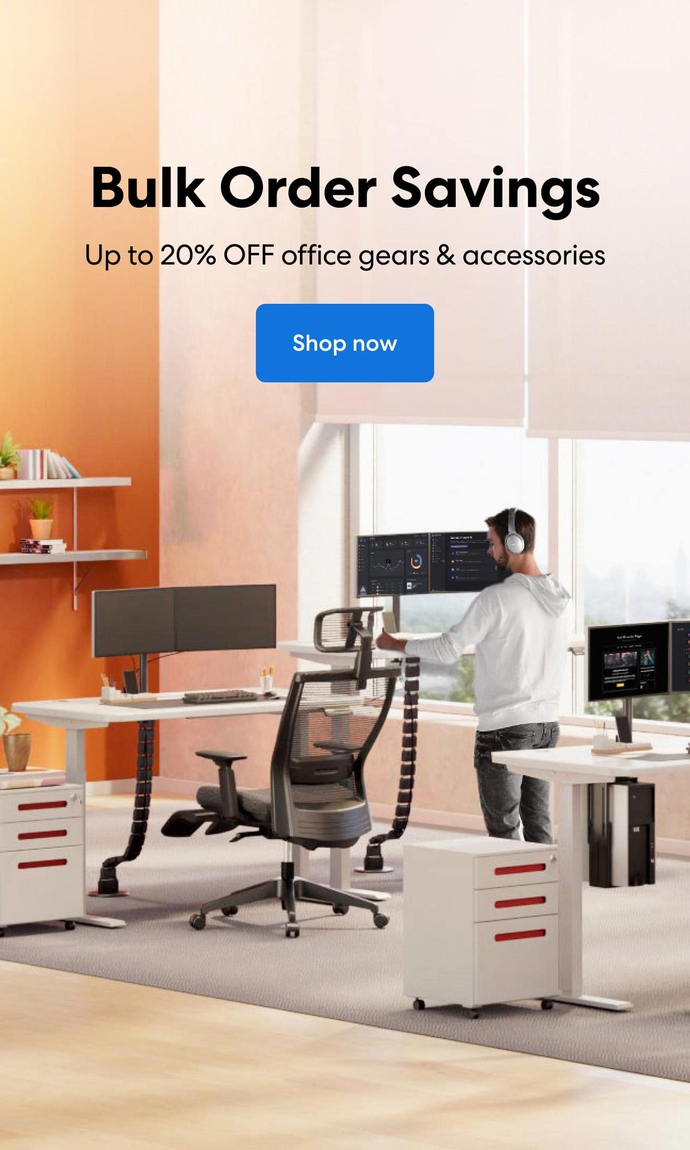 Subcribe newsletter and get $100 OFF.
Receive product updates, special offers, ergo tips, and inspiration form our team.