Smart Products
Best Mac Docking Stations For Your Workspace - 2023 Reviews

Autonomous
|
Jun 5, 2022
1,761 Views
What are the best items that fit the list of your work from home essentials? While there is a lot you can put on that list, some people would go for basic items to build up their work from the home den. This urge to save negatively can cost you a lot more in the longer run. Hence it is important to build a home office setup that is wise and well invested. While the cost could be higher, you can use the employee purchase program and help yourself with some work-from-home incentives.
This also means that you can save on the technology you choose to purchase for your home office, so is there a reason behind you not picking the best options? The right computer setup is the first thing that comes to mind when building a proper home office. Especially for programmers and developers, a technologically sound system is much needed. This article will help you plan how to set up a MacBook Air and the useful MacBook Pro 2015 docking station, and the popular ones.
The Best Mac Docking Stations
1. USB Dock with Wireless Charger
Two things limiting your work speed are poor connection and low charging. This USB-C dock with wireless charging offers a solution to both. It offers a 4K HDMI display and a high-speed Ethernet connection. You will also get an extra port to connect it to AV receivers and projectors. With universal computability, it is ideal for your MacBook monitor setup and basic window screens. The fast transmission is one thing, but even when you are enjoying the ultra-fast 60W charging, the transmission speed is not compromised.
2. JUD 500 Charging and USB Dock
This is another best Mac docking station for you. When a big docking station takes up too much space, the JUD500 dock from J5Create is a great alternative. The dock attaches to the laptop's rear with a thin bar design and provides a variety of connectors, including two USB 3.0 ports, HDMI, and an Ethernet port.
Moreover, we haven't uncovered a unique feature of this dock yet. You will get a wormhole USB Port that allows you to attach another screen and perform quick operations like sharing a file with simple pick and drag. This is a wonderful feature for people who need swift file transfer and eliminates transfer time.
3. USB-C Triple Monitor Docking Station
If you have a multi-monitor display that could enjoy resilient connectivity, opt for this 12-in-1 USB-C Docking station 3 monitors. Ideal for both a Mac mini setup and windows, you will find it to be universally compatible. It offers an SD card slot, a Gigabit Ethernet, a temperature control feature, full-speed charging, and a 30-month warranty. This product is simple as it comes to plug and play, and you will not need to install any software or update.
4. USB-C Triple Monitor Docking Station
This USB-C docking station mac offers a triple display system for your devices. The USB-C docking station triple monitor offers a variety of features that you will love to have in your home office setup. The NOVOO USB C dock converts a single Type C connector into 11 functional ports, including USB-C to 2 vivid and responsive HDMI ports, A USB 3.0, and 2.0 compatible types. Moreover, you will also get Type C Power Delivery 100W charging port, SD & Micro SD card reader slot, and 1000Mbps Ethernet.
5. Novoo 12 in 1 Docking System
Is there anything this docking system does not offer? The 12-in-1 USB-C Hub dual-monitor docking station from Nauvoo offers a deal that will bring you an entire in-house office solution. It is practically suitable for programmers and developers who need a lot of technology connections for their office setup. This is one of the best and most affordable docking stations for mac and pc, which offers multiple features like a multi-screen setup, 4K HDMI display, a universal SD card compatibility, and advanced temperature control. The product comes with a 30-month warranty.
6. Belkin Thunderbolt Docking Station
Belkin's Thunderbolt 3 Dock Mini HD is a 6.8-inch docking station with a USB 3.0 Type-A port, a USB 2.0 port, a Gigabit Ethernet port, and two HDMI ports that support 4K resolution at 60Hz. It is one of the top candidates as a Docking station for MacBook Pro M1, but the only limitation is that it will support a single monitor setup instead of multiple.
The best mac docking station is covered by a two-year warranty and is protected by durable aluminum housing. At only 6.3 ounces, it won't add much weight to your day bag compared to a wireless mouse.
7. Kensington Docking Station
The Kensington docking station for Mac and PC and the series is rated as the most suitable one ever since 2021. This docking station has four ports, out of which three offer fast connectivity for Type-A charging, and the last one gives a slow and steady 7.5W charging power. This doesn't mean that this docking station's charging ability and speed are compromised in any way, but you get an even supply and flow to ensure your device remains safe.
An SD card slot, Gigabit Ethernet, and an audio connector are also included. As a result, it's reasonable to say that this pier has everything you might want. You may also power many gadgets at once with the 180W power supply.
8. Cal Digit Mini Dock
Cal Digit's Thunderbolt 3 Mini Dock is the best Mac docking station. The dock's lightweight design makes it a convenient way to add more ports to your desk. The dock supports USB 3.0 and 2.0 and a smart Ethernet port. Due to its small size, it is portable and easy to go wherever you are traveling. You can also attach two screens for a bright 4K display, but the only limitation is that it doesn't offer to charge.
Summary
Apple's MacBook Pro is an excellent technology that can handle a wide range of tasks. However, one of the most significant disadvantages is the absence of ports. If you have a MacBook Pro, you may have to give up some of your favorite accessories.
While not having enough ports doesn't sit you as much as you are using it for daily activities. For office workers who need multiple connections, improper technology setup can cause a sufficient downtime in productivity. Hence it is important to have the best Mac docking stations to continue working with all of your accessories while not compromising the workflow.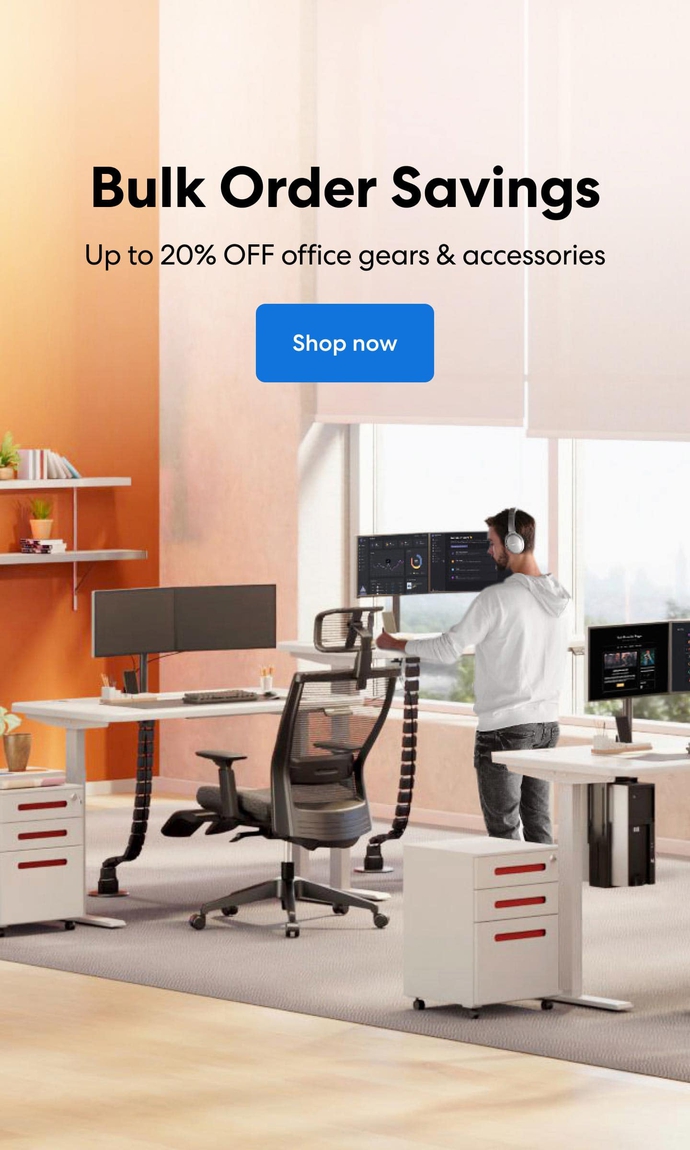 Subcribe newsletter and get $100 OFF.
Receive product updates, special offers, ergo tips, and inspiration form our team.