Smart Products
Picking the Best Modern Executive Desk: Top 20 Options

Autonomous
|
Nov 3, 2022
1,165 Views
A modern executive desk can be a game changer on any workstation, even if you've built that space at home. 
However, in an era where technology is part of everyday life, you should look for much more than a desk with a contemporary design. 
Do you need help finding the right one? Here's everything you need to know! Besides providing a buying guide, this blog post lists the best modern executive desks on the market. 
Top 20 Modern Executive Desks for Your Office
Do you already know what you should take into account to buy the right modern executive desk? Now, it's time to review the best options you can find on the market today! 
1. Autonomous SmartDesk Corner
Are you a remote worker and want to set up a home office that will boost your creativity and productivity levels? Autonomous has an option for you: an L-shaped standing desk. 
This modern executive office desk has twice the space of other designs you can find on the market. Furthermore, it's equipped with a whisper-quiet triple motor offering the most innovative smart functions. 
If you want to adjust this modern executive L-shaped desk's height, you only have to press a button! It also has four programmable settings for added convenience and comfort. 
2. Autonomous SmartDesk Pro
Are you looking for modern options that match your office decoration but are functional and practical? There's another option worth considering at Autonomous. 
This smart desk is modest yet innovative and features an upgraded electric dual motor that supports its world-class technology features.
Whether you use its height adjustment features or one of its four programmable settings, you can have both a regular or an XL desktop in a single piece if you pick this modern executive desk. 
In addition, this model has a solid steel frame and can support up to 310 pounds in weight, so it's an excellent option if you tend to have a lot of things in your workspace. 
3. Autonomous SmartDesk Core
Did you know that you can improve your productivity throughout the day and feel more comfortable while working if you get the right desk? However, that doesn't mean you should pick a huge, boring table. 
Many brands have produced at least one modern executive office desk with a wellness-focused design. 
Autonomous is one of them! With this home office desk, you can take your remote work experience to another level and perform all your duties without feeling fatigued or suffering from physical discomfort. 
This desk can also be height adjusted through its smart features and has four programmable settings for added convenience and customization.
4. Autonomous SmartDesk Frame
Again, Autonomous has something for you if you're looking for a modern executive office desk but want a more customizable option. 
This standing desk kit is everything you need to set up a comfortable workspace completely adapted to your needs. It can be adjusted both in height and length!
Also, with this kit, you can build both a modern executive L-shaped desk and a traditional one.
5. SmartDesk Connect by Autonomous
A modern executive desk must have more than only a contemporary design, don't you think? That's what Autonomous had in mind when designing this model! 
With multiple technological features, the brand's SmartDesk Connect takes your office work experience to the highest levels. 
Since it connects to a mobile app, you can customize this desk using your smartphone! Additionally, it has an upgraded dual motor for height adjustments and an anti-collision feature that detects obstructions above and below the tabletop to prevent engine damage.
6. Wistopht Custom SmartDesk
This modern executive desk has all the smart features for adjustments and customization, including a seven-key control pad with four height presets and a six-key with Type A + Type C USB ports. 
However, although it is focused on technology enhancements, it does not sacrifice ergonomics. This design provides ample space for full-featured setups, meaning it's roomy enough for your laptop and other accessories or office supplies. 
If you choose the AOKE Wistoht Custom SmartDesk, you can even have a cup of coffee there all the time!
7. FENGE 2-tier Standing Desk: Tablet Stand & USB Ports
If you are looking for an executive, modern desk adapted to this era, you should consider this option by Fenge! 
Besides having an innovative design and contemporary style, this desk has a tablet stand, USB charging functions, a super quiet motor that supports height adjustments through smart buttons, and more!
8. EUREKA ERGONOMIC EUREKA L60 L-shaped Standing Desk: Right-handed
With an advanced dual motor lift system, EUREKA's modern desk is the perfect option for those looking for technological models with smart functions. 
Besides having an attractive contemporary design built with eco-friendly materials, it's equipped with multiple features, including collision detection, a state-of-art control panel, and a transmission system! 
9. Northread Standing Desk Pro: Dual Motor
Some desks can give you a productivity boost, and this modern table designed by Northread is one of them! 
Also, this modern executive desk has a dual motor that powers its height adjustment features and several customization options, including four memory buttons and a three-stage frame.
10. EUREKA ERGONOMIC Standing Desk: Double Drawers and Hutch
Although this model is small, it's completely functional and ergonomic! Eureka has designed a modern desk for those who need more storage space. 
Hoping to offer the best space and storage solutions, the brand integrated two drawers and hutch into this desk!
11. FinerCrafts Standing Desk: Curved Top
When you think of a modern executive office desk, the first options that usually come to mind are electric or smart ones, right?
As technology advances, many more models with technological features can make life easier for office workers and improve customization options.
This contour standing desk falls into that category as it has an electric motor for height adjustments and programmable keypad settings. In other words, you can adapt it to your physical needs to feel more comfortable, especially during long working days. 
In addition, this modern desk has intelligent control with anti-collision detection, offering greater efficiency for daily use.
12. Uncaged Ergonomics Rise Up Glass Standing Desk: Electric
Are you looking for modern yet elegant options? This electric standing desk by Uncaged Ergonomics is the one you need. 
This model has a smooth and elegant glass desktop that gives a luxurious impression. In addition, it features USB charging ports for all types of devices and electric height adjustment functions for greater ergonomics. 
13. EUREKA IM63 Curved Desk: Manual Height Settings
With a 63" tabletop, this modern executive office desk is one of the most spacious options you can find. Yes, you can put a huge monitor and all your accessories there! 
Although EUREKA designed this desk for gamers, it could be a great addition to your home office. 
Furthermore, this model has everything you can expect in a standing desk created to maximize comfort and ergonomics! 
14. Chet's Mid-Century Modern Executive Desk
Do you prefer models that combine vintage and modern styles? If so, this mid-century modern executive desk is among the best options! 
Whether you expect to buy traditional office furniture or outfit your home workspace, Chet's Poplar Hardwood Desk is an option you should consider. 
It's roomy and has slightly rounded sides for a look that blends the best of the old and new worlds. 
15. Arundel Modern Executive Office Desk
With striking yet elegant details, Arundel's modern executive desk is one of the best models available on the market when it comes to contemporary style. 
Also, its design is perfect for those who prefer a modern, executive L-shaped desk. Do you need enough storage space? It has two vented one-door cabinets and several drawers where you can store all your work tools. 
16. Gabrielle Modern Executive Desk
Most modern designs have many elements but little space. However, this office desk cleverly combines functionality with a great contemporary style. 
Although this desk doesn't have compartments to store pencils or other tools, it has a built-in S-shaped bookshelf! Therefore, this model is for you if you like to read or have decorative items. 
17. Styx Modern Angular Office Desk
The manufacturer behind this mid-century modern executive desk managed to blend an artistic design with functional features. 
This sturdy geometric desk has a compact design that resembles a work of art. However, it doesn't sacrifice space and has two drawers. 
18. Barrow Modern Writing Desk
If you need more inspiration to finish your daily tasks, this executive, modern desk is what you are looking for! 
Although it has a simple design at first glance, this desk features built-in side drawers to provide easy access and storage for your office supplies or belongings. 
19. Stella Modern Ceramic Desk
Choosing the right desk can also help you give your office or home workspace a luxurious and elegant touch. 
If you have thought about that, the Stella modern executive desk may be perfect for you! It has a beautiful stone tabletop that will change the way you work forever. 
20. Soren Mid-Century Modern Executive Desk
This stunning desk features a stylish dark walnut tabletop that resembles the furniture of royalty. However, its design has been adapted to the modern age. 
With sleek chrome-finished X-shaped steel legs, this piece of furniture works well in vintage and contemporary spaces. In addition, it has two drawers for maximum storage. 
Buying a Modern Executive Office Desk: The Basics
Are you looking for an adjustable desk? Do you think the most important aspect of your workspace is the design? You must answer all those questions before buying any piece of furniture! In addition, there are other key aspects to consider before picking the right choice, including: 
Style
Among the things you should consider when choosing the perfect desk, there's the style. You want the furniture you choose to match your office's decor, right?
Before buying a desk, you should know which alternatives work best with your workstation. Remember that you can find different types, including classic, contemporary, space-saving, and more. 
Therefore, you should keep in mind your goal in terms of overall appearance and layout to pick the best option. 
In this step, it is also important to choose the right material. Do you think wooden desks are for you? Go for them!
Technological Equipment and Storage
Did you know that the type of equipment you use also defines the furniture you need? A dual monitor standing desk is ideal if you produce videos or make illustrations, for example. 
You should also consider your needs in terms of storage space. A desk with drawers is the best alternative if you use only one computer but tend to handle a lot of paperwork. 
Size and Configuration
The type of desk you choose should also fit the available space in your office or home workstation. Therefore, before picking a model, you should measure the dimensions of the room where you'll place it. 
Keep in mind that these pieces of furniture come in various shapes and sizes. You can find a modern executive L-shaped desk to take advantage of corner spaces or a u-shaped model perfect for corporate areas. 
Choosing the ideal size depends on your needs as a worker and the activities you must perform on a daily basis.
Working Habits
In addition to space and style, you should also think about your comfort. How do you work? Do you move around while in the office or prefer to sit all day? 
Answering those questions can help you find an ergonomic model that can relieve physical pressure and fatigue during your workday. 
A mobile height-adjustable desk could be the ideal option for you if you don't like to be in the same position all day or want to stretch from time to time.  
Final Thoughts
Picking the right modern executive desk is not rocket science! You only have to consider your tastes, needs, and available space. After that, you will know which is the best option in the blink of an eye!
If you need to increase your productivity and take advantage of the available space in your office, a modern executive L-shaped desk is ideal. Check this buying guide again, and go for it!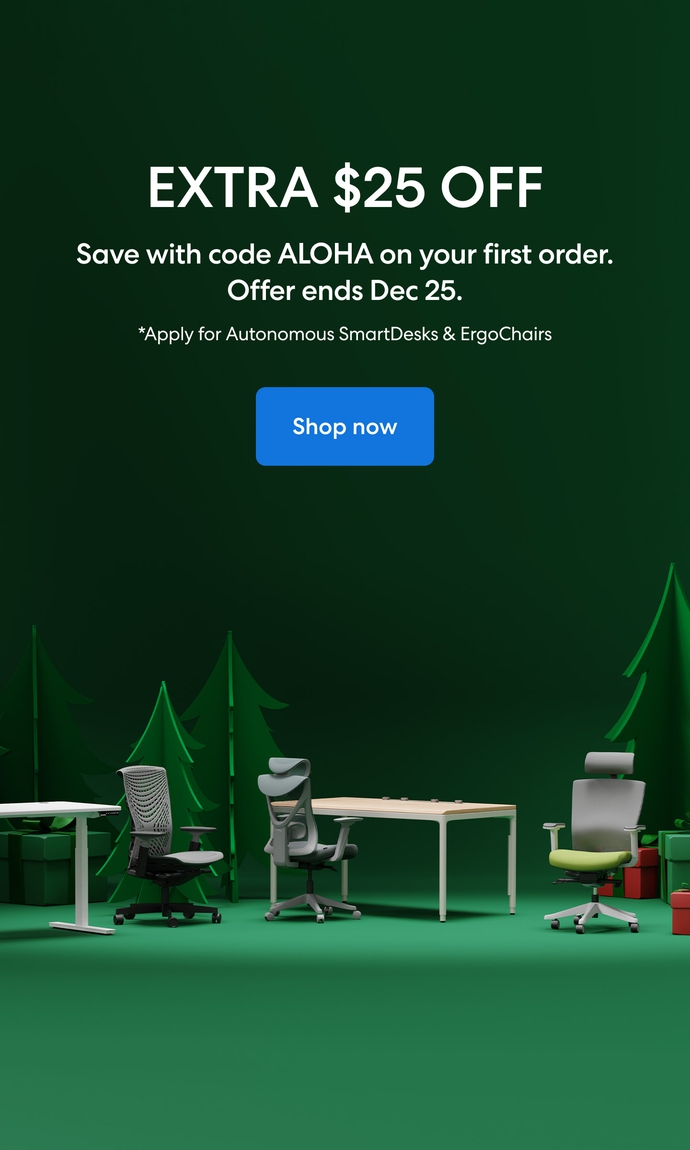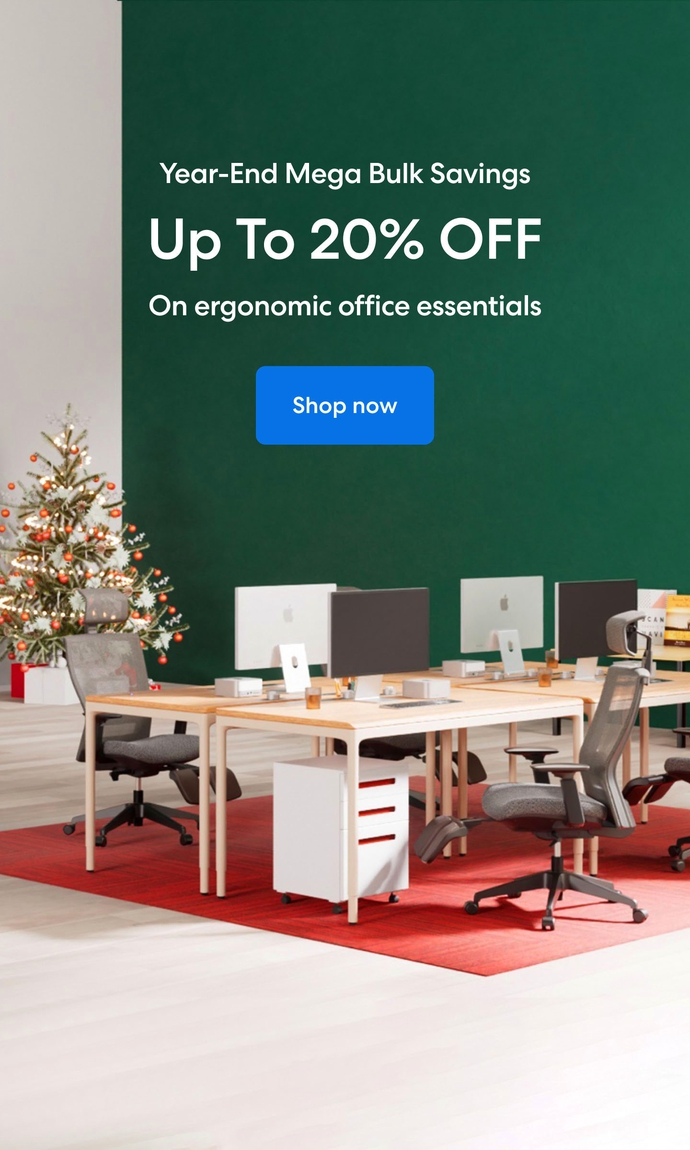 Subcribe newsletter and get $100 OFF.
Receive product updates, special offers, ergo tips, and inspiration form our team.