Smart Products
Best Office Furniture for Small Offices That You Can Buy

Autonomous
|
Oct 2, 2021
1,272 Views
Small offices often make you believe that you can't be very creative and productive. Nevertheless, this is not true; you can create a productive and wholesome workplace even if you are short on space. All you need to know are some little details about the right office furniture for small offices. Once you become aware of that, equipping your office becomes an easy-peasy task.
We know that as an office worker, you would wish to gather all such creative ideas to design your office in the best way possible. That's why we have shared all about those small office furniture pieces that will help you in this regard below.
If you were thinking of renovating your office by bringing the ideal office furniture for small spaces, you have come to the right spot. Without any further delay, let's see what you will need in this regard.
Best Office Furniture for Small Offices You Should Know
1. Small Standing Desk
A small standing desk is the foremost piece of furniture that you will need. Having one single large standing desk means that you will have to compromise a lot of space for a single piece of furniture, which is not good for any productive office.
Getting a small standing desk would mean that you will have enough room for putting on any other office furniture without overcrowding your room. Thus, you will avoid clutter too. In addition to this, getting creative with small standing desks is pretty easy. You can use several innovative desk ideas for small spaces to get the most out of your desk. 
2. Corner Standing Desk
A small office often means that you won't be having much space to place a regular standing desk that we mentioned above. In such a case, you may think of going for a corner standing desk. A corner standing desk takes up less space yet provides you more room to place your office accessories and any other small office furniture. Therefore, investing in this desk can be a great choice too. 
3. Ergonomic Chair
You won't be standing throughout the day, so investing in a dedicated ergonomic chair would be required as well. There are multiple brands circulating in the market, that's why it becomes difficult for naïve office workers to choose the right one for themselves. You should always try your best to get the right ergonomic chair so that you don't have to compromise over the quality.
The best ergonomic chair is the one that suits your budget and provides you with multiple adjustment features so that you get a complete command yon your movements. A wise decision would be to bring an ergonomic stool too so that you can promote active sitting and stay more productive in your small office. 
4. File Cabinet
Storage often becomes a problem when you are working in a small office, so getting a file cabinet would be a wise decision. You save on a lot of space once you get a filing cabinet. Managing paperwork and other documents has become way easier. Since filing cabinets do not take up much space and give an elegant look to your office, getting one of those will bring a new life to your small office. 
5. Floating Shelves
Often in a small space, you find yourself having little space on the floor. This is the best time to invest in a floating shelf. It is one of the necessary piece of office furniture for small offices. A floating shelf not only gives an aesthetic touch to your office space but also provides you with multipurpose storage space. This is one such useful piece of furniture for small office spaces that you can use for placing your collectibles or trophies that would motivate you while you work.
Since you spend a large fraction of your day in your office, having such a corner for collectibles and medals will keep your morale high and develop a better focus. Staying upbeat is necessary while working, so never underestimate the positive vibes of such small office furniture pieces that can help you here. 
6. Smart Boards
Here is another interesting office furniture for small offices you should have. Since you are aware that technological advancements have paced up during this age, investing in the right gadgets has become quite significant. No one likes having presentations on obsolete whiteboards, as that might be too messy at times. Thus, investing in a smartboard would be a great idea. This won't just make you look tech-savvy, but it will also make you use your small space wisely. 
7. Couches and a Small Coffee Table
Giving a little casual touch to your office is a wise decision because you spend a lot of time here. Thus, putting some couches and a small coffee table in your office would be wise. As an office worker, you need a little breather between your work hours to stay active. Having a little couch would help you change your sitting position and take a little break from your hectic work routine. 
8. LED Desk Lamp
You often forget to add an LED desk lamp to your office furniture. However, this is one such vital accessory that can help you stay more active and productive. So, always invest in a bright LED desk lamp and place it on your desk so that you have a brighter workspace where you focus on your work better. 
Wrapping It Up
We shared some of the best office furniture for small offices with you here today. We hope that this will help you redesign your office more productively and have a happy time at your workplace.
Video ads for product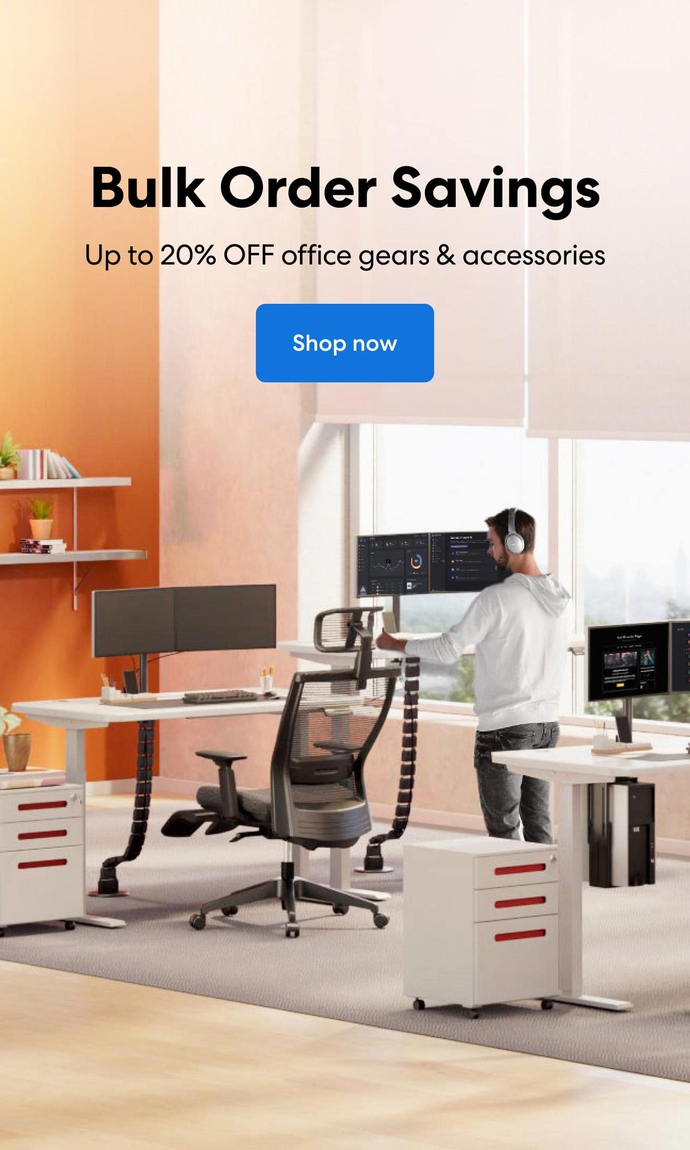 Subcribe newsletter and get $100 OFF.
Receive product updates, special offers, ergo tips, and inspiration form our team.