Latest Updates
6 Best Place for a Christmas Tree Options for Your Home
2,547 Views
With Christmas fast approaching, you're probably seriously getting into the festive spirit. Remote workers have a great deal when it comes to public holidays and celebrations. You can create a special environment at home and immerse yourself in it day in, day out! Take this opportunity to find the best place for a Christmas tree in your home. You can base this decision on your home's lighting and style, as well as your furniture and layout.
When you have functional, beautiful furniture in your office, a tabletop Christmas tree is the perfect thing to give the space a festive touch. There is an incredible number of ways for you to customize your Christmas tree and make it truly your own. When you understand where to put a Christmas tree and how it can work with the rest of the space, you should be able to create a truly unforgettable Christmas experience. 
6 Best Places for a Christmas Tree in Your House – Our Favorites
Some parts of your house just work perfectly for displaying your Christmas tree. When you set up your tree, you should think about practicality as well as functionality. Setting your tree up well can truly put your entire household in a festive mood. If you'd like to transform your office space to match the holiday mood, we recommend using white as much as possible. 
1. On Your Desktop/In Your Home Office
With a desktop Christmas tree, you can bring yuletide charm to your home office in a subtler way. Show your Christmas spirit without taking over the whole room. You may also like to pair your Christmas tree with a festive desk and chair color combination. The SmartDesk and accompanying chair should fit just about any type of Christmas tree. A standing desk is an even better option than a conventional desk for showing off a beautiful desktop Christmas tree, in our opinion.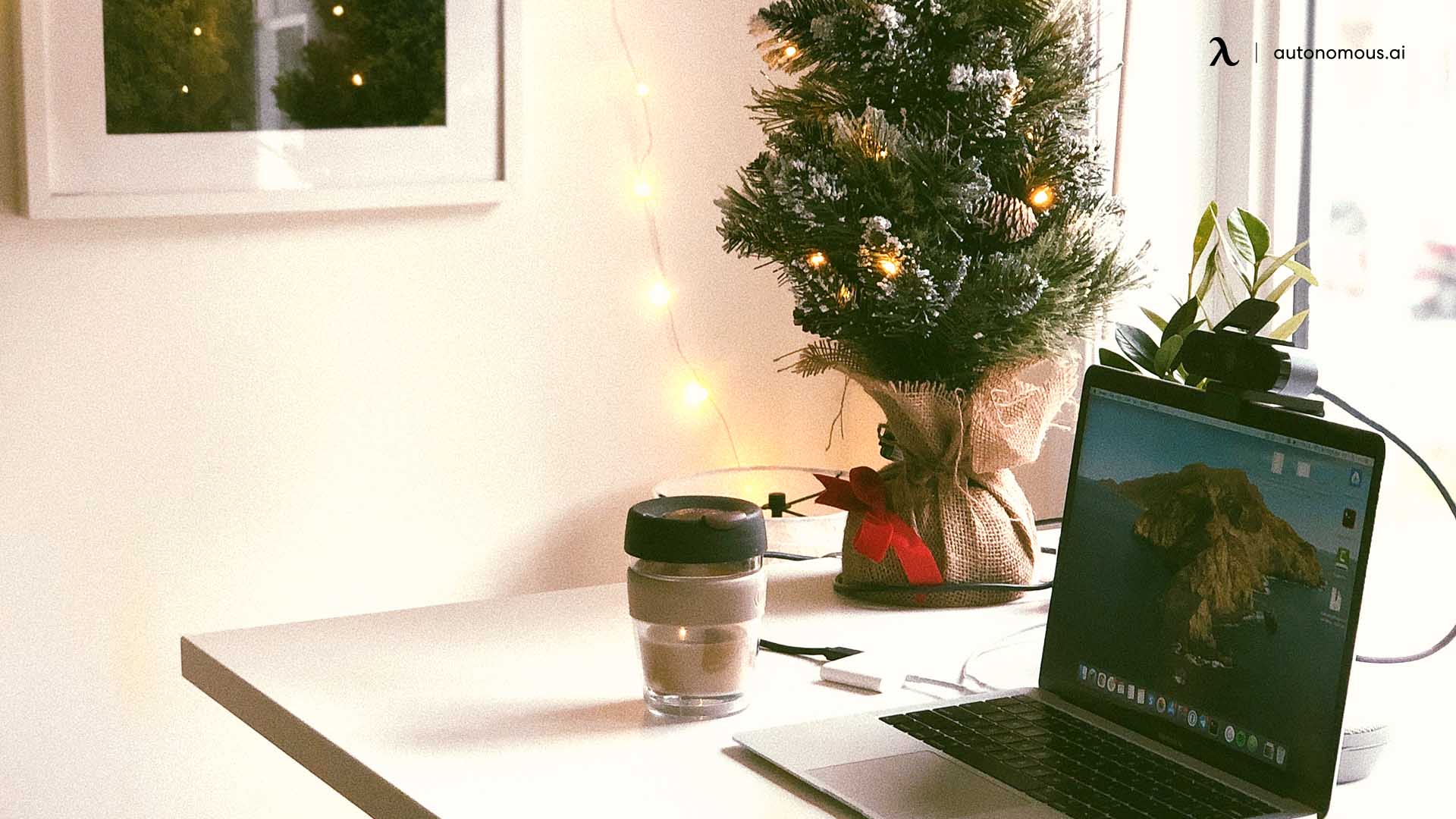 Christmas tree placement can even influence how you celebrate the holiday and how you might like to shape your celebrations. For example, with a desktop tree, you could choose to give out smaller gifts than you might with a more conventional, standard Christmas tree. Keep an open mind, and don't be afraid to experiment. It's your office, after all! 
2. Near the Window - Best Place for Christmas Tree
A Christmas tree framed by natural light is truly a sight to behold. During the winter, the days are shorter, and the light is much softer. This is even truer if you live somewhere where it snows. There are few things more festive and cozy than seeing a Christmas tree in the snow. Set up your tree by the window, and you can make the most of a natural wintry atmosphere. 
3. Next to the Stairs
Where to put the Christmas tree. Putting your Christmas tree by your stairs may sound odd, but it's a wonderful way to get a festive surprise when entering or exiting a room. You might have almost forgotten that it's Christmas, only to see a dazzling flash of green when you come up or down the stairs. This is a practical choice, too. Staircases often have ample room on either side of them. You can make the most of this natural space by placing a Christmas tree near the stairs.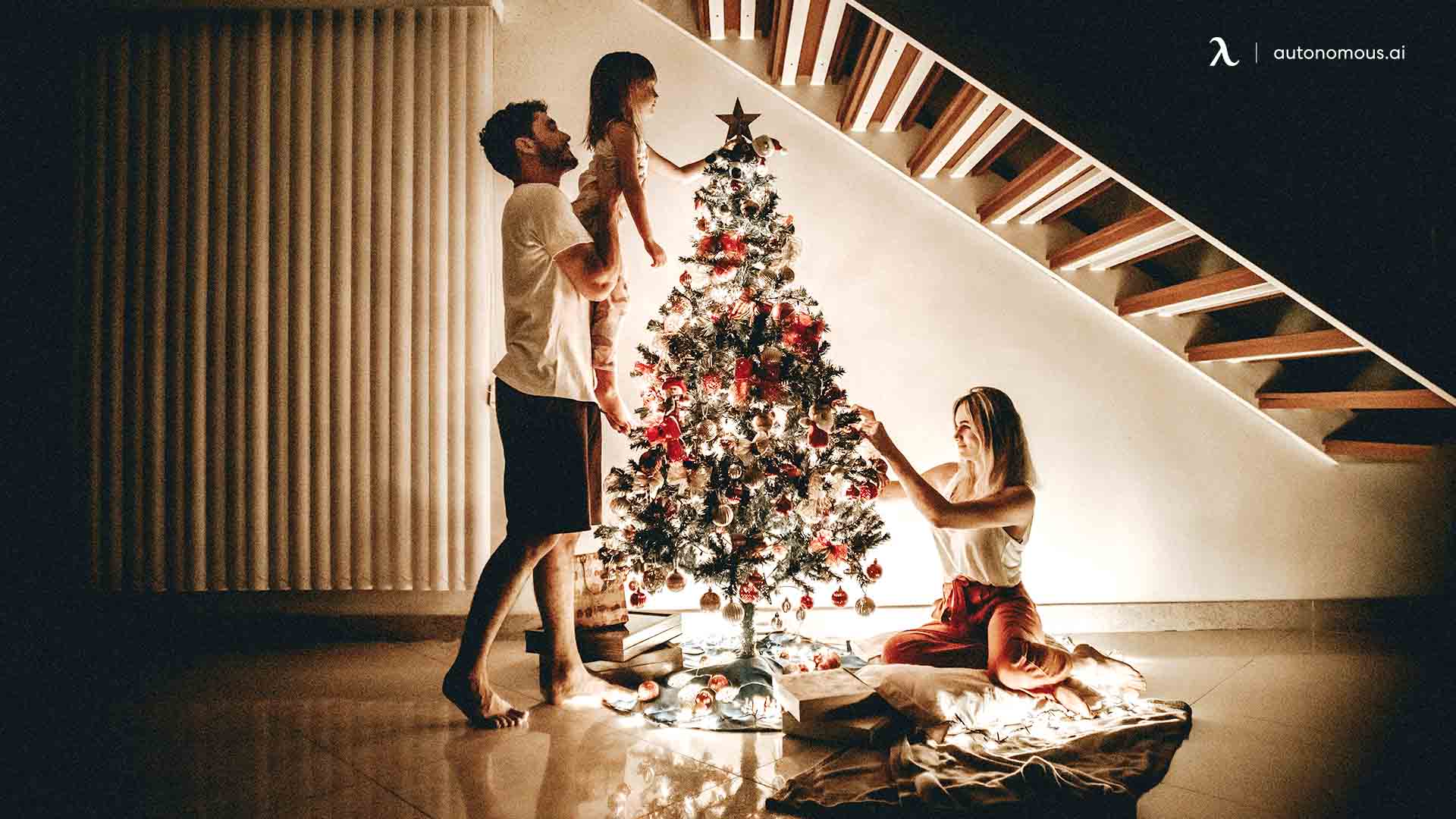 4. By the Fireplace 
What is cozier than a crackling fire? Many of us strongly associate winter with fireplaces burning away through the night. Place your Christmas tree next to or near the fireplace, and you can truly transform your living room into a cozy Christmas masterpiece. The green leaves of your tree should contrast beautifully with brick or brownstone, which fireplaces are generally made from.
Be careful that you don't place your tree too close to the fire, though! It goes without saying that trees and an open flame don't mix, so if you have a real fireplace instead of a gas or digital fire, we recommend that you set your Christmas tree up at a safe distance from the opening. It's better to be safe than sorry.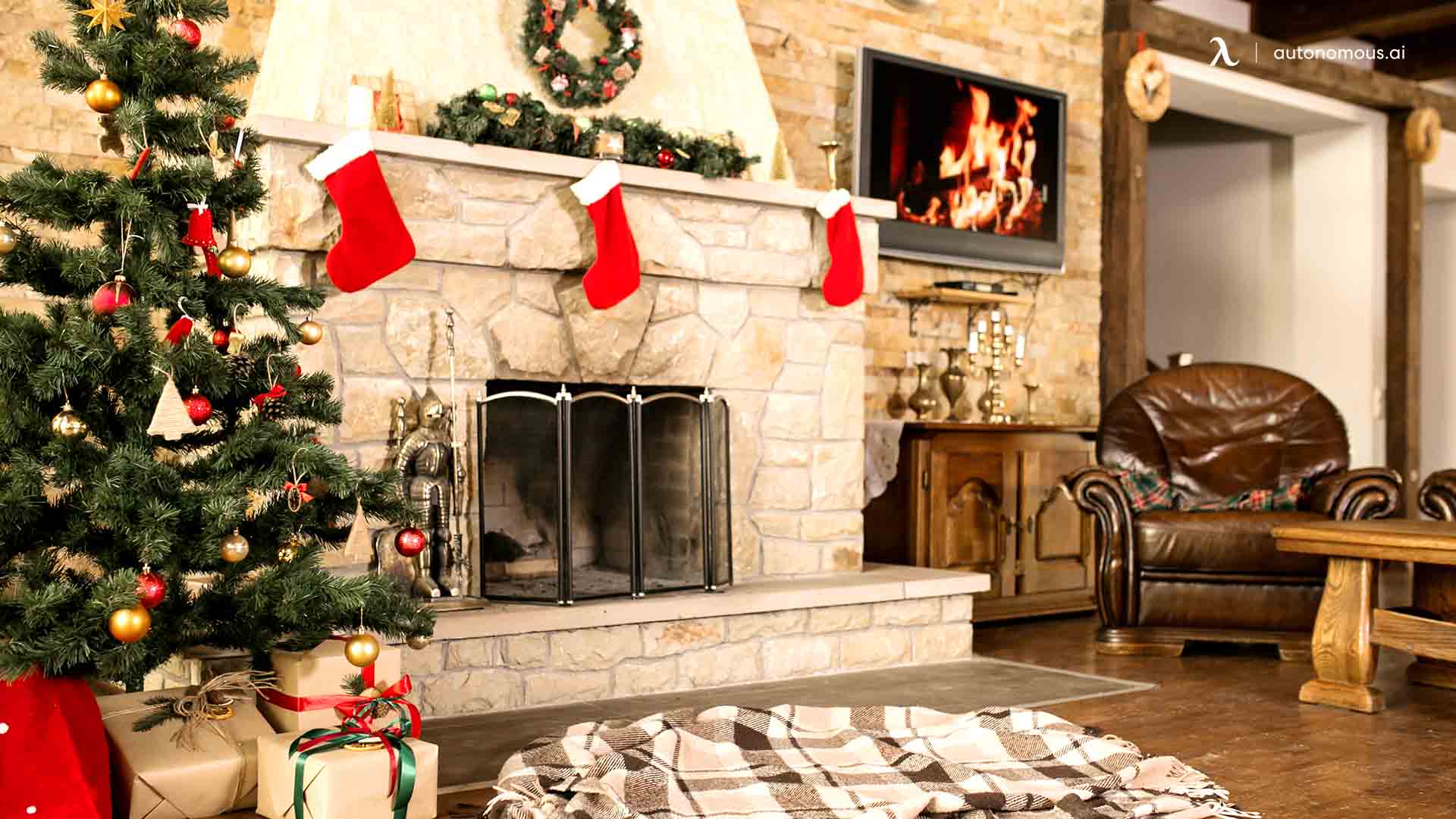 5. Near the Front Door
When you've been out to the shops or to exercise, there are few things that feel better to come home to than a beautiful Christmas tree. You can surprise visitors to your home by setting your tree up right by the front door. It's a bold move, and they aren't likely to forget that it's Christmastime any time soon!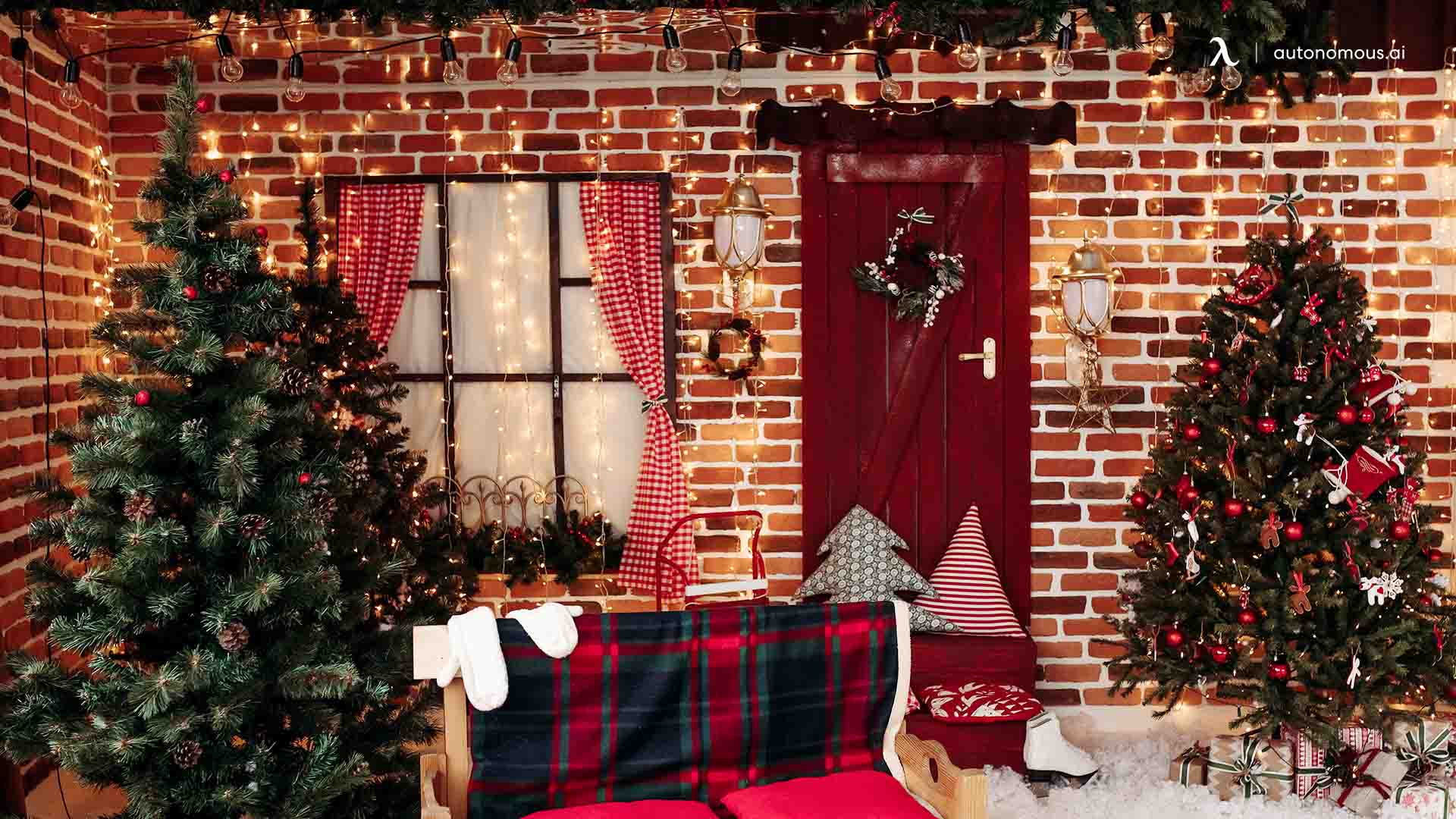 6. In the Middle of the Room 
Let's face it – Christmas is best celebrated by putting everything you have into it. Go big! Why not set your tree up in the center of the room? You can make your Christmas tree the core of your home for the Christmas season, transforming the environment of the space completely. 
By putting your Christmas tree in the middle of the room, you also have the greatest possible space for gifts and other decorations. This is an especially good idea if you have a larger family. You don't want your gifts to be pushed to the side or squished into a pile. Give the tree and gifts the space they need, and the results should be completely worthwhile. 
Placing your tree in the middle of the room is also the best place for a Christmas tree if you opt for a larger Christmas tree, especially if it's a real tree and not artificial. Genuine Christmas trees drop their needles and fill the room with a beautiful, heady scent. Displaying such a tree in the corner can result in the smell hanging around in one part of the room and becoming stuffy and overwhelming.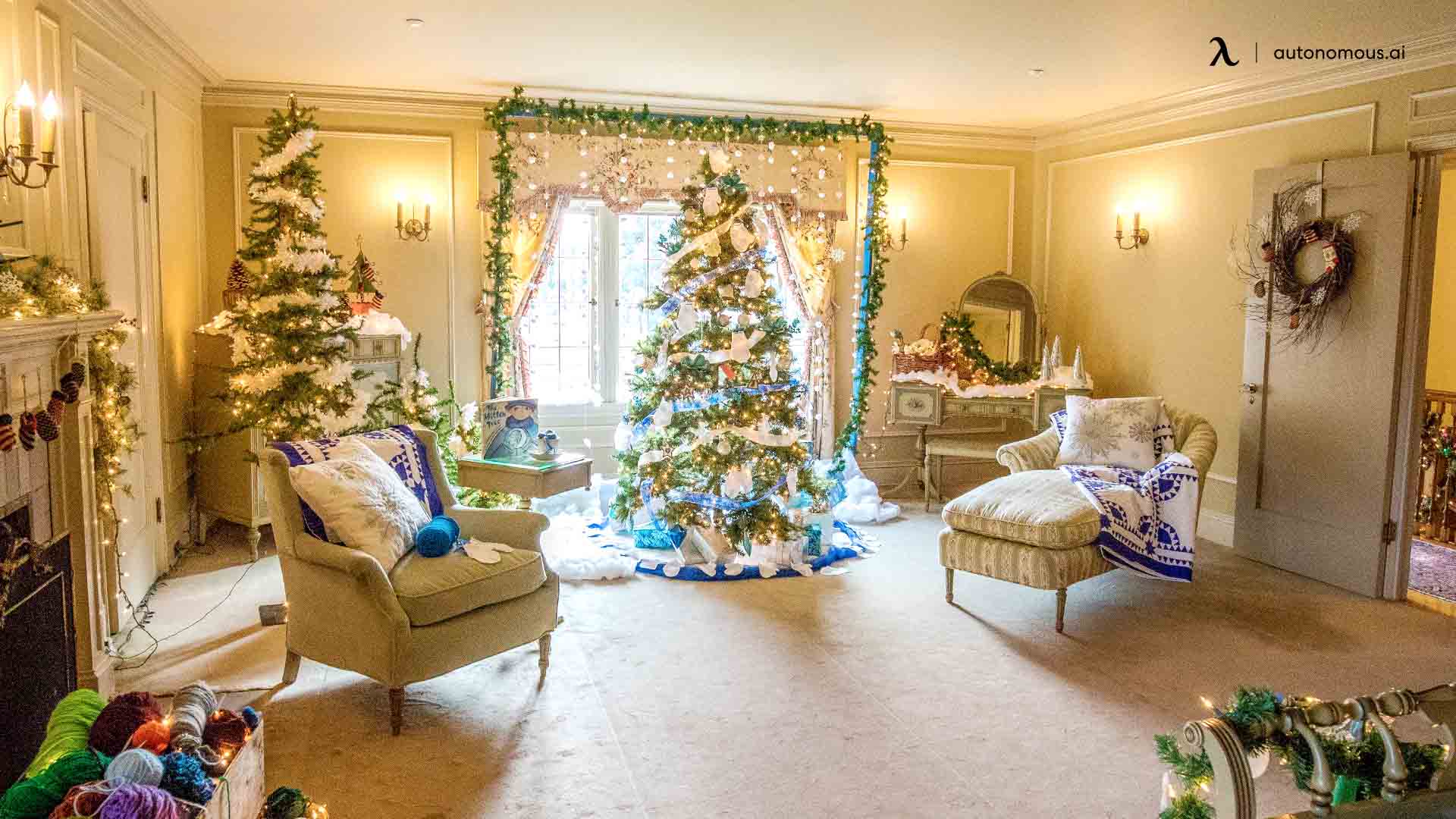 Conclusion
Christmas isn't far away now, and the most important part of any household celebrating Christmas this year is the tree. Figuring out where to put your Christmas tree can be tricky if you're not used to thinking about Christmas tree placement.
With a bit of thought and some consideration for the layout of your home and home office, you should be able to find the absolute best place for a Christmas tree in your house or apartment.
Let's make your office better than ever with Autonomous Christmas Sale 2020.
Subcribe newsletter and get $100 OFF.
Receive product updates, special offers, ergo tips, and inspiration form our team.
WRITTEN BYAutonomous
We build office products to help you work smarter.