Small lifestyle changes can lead to large results. Everyone has their own ways of managing stress. One such way is using stress relief furniture.
Stress has, for every one of us, become a normal part of our lives. A little amount of stress is alright, however, too much is too bad. So, how do we take care of ourselves with the piling up of deadlines and demanding personal lives?
We are aware that high stress levels can cause body pains and aches, difficulty in sleeping, and a general loss of well-being. There are numerous ways one can prevent themselves from these odds. 
In this article let us learn more about the stress ease chair and how it can help you feel better and be a more productive person.
Why Should You Buy Stress Relief Chairs?
Before browsing through our well-curated list of the best stress relief chairs to use for 2022, take a look at why you need them.
1. Stress Relief
One of the major benefits of stress free chairs is obviously stress relief. Sitting in these chairs, in contrast to usual chairs, decreases strain on your muscles. 
It will provide proper support for your spine. When your spine is resting your back will also be supported, and it will also elevate your legs.
2. It provides comfort
Stress relief furniture is designed to provide you comfort while using it over a long period. It will allow you to sit easily and peacefully.
This decreases the chances of fatigue, memory trouble, headaches, and migraines. Some stress-free recliners also offer massage and heating pad features. This will help in combating physical and mental stress. 
3. It looks elegant
They are available in numerous types such as ergonomic chairs, reclining ergonomic office chairs and reclining computer chairs. These are grouped based on function. However, they are available in a diverse range of colors, materials, shapes and they also have standing desks for more choices.  
You can use this to stress relief furniture to accentuate your home office or workplace. It brings a sophisticated look than most other office furniture.
4. It cuts down on pressure and pain
If your body aches because of sitting for too long on chairs, stress relief furniture can help you soothe. Since they provide excellent lumbar support they assist in reducing pressure and pain.
The corrected angles and improved positioning can help people with arthritis as well. They are good, particularly recliners, in general for joints and pressure points. 
5. It improves blood circulation in the lower body
If you sit for an extended period your feet and legs can swell. Sitting on stress-free furniture improves blood circulation naturally and this will provide some relief.
The List Best Stress Relief Chairs to Use for 2022
Here is our list of the best stress relief chairs to use for 2022. All of them are tried and tested to bring you nothing less than the most peaceful and comfortable change for a balanced work-life.
1. ErgoChair Pro
It is one of our top picks because it is excellent in all of its features from back resting, arm support to ease in adjustability. 
ErgoChair Pro has an adjustable lumbar pad that provides comfort for your lower back. It provides the perfect counterbalance adjustment that is required for reclining. Also, the position can be locked for stability.
The armrest has a wide and slightly concave shape in the middle. It provides 3 different adjustments.
2. ErgoChair Recline
Autonomous ErgoChair Recline is one of the best among the affordable Stress Relief Chairs. It is specially designed to support your back and enhance the curve of the spine naturally.
It also has great add-ons which include a leg rest and headrest that are foldable and adjustable respectively. The backrest is completely ergonomic as well.
The backrest is meshed to distribute body mass evenly across your back. This will offer pressure points evenly. It has an Italian-designed balancing mechanism that allows smooth stand and reclining functions.
3. ErgoChair Plus
Relieve your stress as you sit in one of Autonomous's most comfortable ergonomic chairs, the ErgoChair Plus. This stress relief chair is specially designed to keep your unhindered movement with frameless construction.  To keep you cool throughout the day, the manufacturers have used earth-friendly materials, including a choice of cooling Thermoplastic Elastomers (or TPE) that have the properties of both plastic and rubber or a breathable mesh. This gives the chair higher durability than most in its class.  You cannot miss the adjustable spinal support that is provided by this chair.  It can take a payload of 300 pounds, which makes it highly durable. This is one of the most comfortable office chairs for long hours.
4. AvoChair
Move over the work stress and enjoy your work as you sit in an AvoChair.  Now onwards you don't have to take any stress leave from work. The ergonomically designed AvoChair gives you adjustable height, back tilt armrest, and tilt tension.  The chair helps you sit in one of the best postures as laid out by OSHA guidelines.  The elastomeric mesh back and seat keep the working environment cool, driving away your stress. Don't miss the sturdy diecast aluminum alloy base, which gives the chair a load-bearing capacity of up to 250 pounds. Be a proud owner of a stress relief chair that is manufactured from recycled materials.
3. Herman Miller Aeron Chair
One of the best in its class, the Aeron provides a strong yet firm lumbar support in the stress relief furniture category. The chair's back hugs your body's shape, giving you extra comfort. The lumbar support offered is dual on both sides and has a flexible backrest.  You can easily recline as the tilting mechanism offers you three different positions to lock in and rest. As you use this chair, go ahead and take a work stress test to please yourself. 
4. Nouhaus Ergo3D
This stress relief chair offers your body one of the best comforts, not straining any part. As you relax, you can adjust the seat height and armrests for better comfort. The best offering for releasing your stress, the Nouhaus chair offers three levels or tiers for your back to rest. In addition, the lumbar support is correctly positioned to give you ease and relieve any tensions.
5. Sihoo Ergonomic Chair
The Sihoo Ergonomic office chair is a budget stress relief chair for relieving all your anxiety. This variant is the M57 stress ease chairs by Sihoo. It can easily take a weight capacity of 350 pounds from its users. The adjustable lumbar, unlike many others, has the right depth and height.  Now you can feel your neck muscles and back muscles relax as you sit and work in this stress-free chair.
6. Duramont Office Chair
Perfect for sitting up to pay attention to your computer system or recline as you ponder deep in thought. The Duramont office chair is great for reclining with all the current reclining mechanisms. It is made from PU leather that is soft and makes your experience a relaxing one. As you recline, the smartly designed armrests lower themselves, getting out of your comfort way.
7. Blu Dot Task Chair
The Blu Dot task chair provides you with a multitude of stress relievers. For example, the swivel itself is so soft and yet firm that you can keep going around. The seats of this stress relief chair are very well padded, giving you the best comfort as you sit for long hours to work or attend meetings. The adjustable seat height and tilt tension complete your experience of comfort.  Perhaps some folks would agree that this is a cross legged chair.
8. Sayl Chair
This is one of the good stress ease chairs on the market. The Sayl chair design is based on the Golden Gate Bridge of San Francisco.  The chair's back doesn't have a frame that could interfere with your comfort. As you use the Sayl chair, you realize that you have the best stress relief furniture. Even the TPE material stretches to adapt to your body's shape. Benefits? Your back and shoulders, and spine get the best support that is gentle yet firm. In addition, this chair is made from 90% recyclable material.
9. Humanscale's Diffrient Chair
Take a detailed look to notice the special design panel of the seatback. Made from three different panels that support both sides of your back and the spine, this chair is the king of all stress-free chairs. You will realize that this chair doesn't have any knobs or handles to adjust the chair. Instead, the designer lets the chair do all the heavy weightlifting as you sit in the chair.
10. BackStrong C1 — Vegan Leather
Sit in the best posture with the Sit IN Motion registered patent that this chair provides.  All the upholstery is made from soft and high-grade vegan leather. We love the foldaway arms that allow you to go closer to the screen at times when you need to read the details.
11. X-HMT Heat and Massage therapy Ergonomic Chair
This is a premium quality massage chair that provides up to 4 combinations of massage. It also offers therapeutic heating technology.
This product increases blood flow and increases the rate of muscle recovery. It also boosts energy with the help of heating technology. This stress free chair also reduces mental and physical stress.
12. CirC Premium Massage Chair
CirC Premium Massage Chair is an elegant, beige, and beautiful massage chair. It has a 106-degree angle between the backrest and the seat. This creates a convenient posture for your spine.
The massage path in the CirC Premium Massage Chair pays special heed to the pelvic region. This will provide relief from hip pain and lower back stress. It is also a very easy-to-use massage chair with perfect heating options.
13. The Windsor Riser Recliner Chair
This is one of the best-sellers among the riser recliner chairs. The product provides a supportive headrest that is shaped to give you comfort as well as an aesthetically pleasing look. The buttoned back details make it look sophisticated. 
They come in petite, standard, and grand sizes. It has an easy-glide caster as well. The product offers free delivery and installation. It is also available in heavyweight and custom sizes.
14. CareCo Augusta Riser Recliner Chair Dual Motor
It is an attractive and durable fabric upholstery and best stress relief chair. It has a dual-motor mechanism to provide more efficiency. It is a very versatile and comfortable project.
CareCo Augusta Riser Recliner Chair Dual Motor is easy to operate. It can change positions at the touch of a button. It is also available in three different colors: Terracotta, Green, or Gold.
15. Linea Luxury Wall Hugger
This is a comfortable riser recliner with a clever design for space-saving. It is ideal for small spaces. However, it will look cute even in large spaces. 
It has a two-button handset that will allow you to control the seating and positioning. The backrest in this chair lowers as the footrest raises. It provides an easy restful reclined position that is kind of pressure points.
How to Relieve Stress in a Chair?
Most folks are keen on a reclining chair at the office that gives them a massage when they are seated and are working.  Well, is that the best? No, definitely not!
Massage chairs are one option, but it's best advised to do things as naturally as possible. Most orthopedics recommend that you get up from the chair and perform small exercises as a routine. Why? So that your body muscles don't go to sleep as you sit for long hours. What happens if the muscles go to sleep? Well, as your body muscles rest for long hours, they do not need energy as they are at rest. Hence, they do not consume energy from the blood sugar in the body. This blood sugar starts to accumulate and harms the natural processing your body must do. This increases your risk of getting diseases like obesity, diabetes, cardiovascular concerns, and more.
Taking long deep breaths is a stress buster for most folks. Why? As your adrenaline rush slows down, your mind gets clearer, and you think rationally.  Some folks practice mindfulness for increased productivity.  Many folks practice a few stretch exercises as they make it a point to move out of their chairs to fetch a coffee or complete a chore. The basic fact is that your muscles must move and be used.
Final Verdict
As you explore the best office chairs for relieving stress, it is not the chair only that will do the trick.  It would help if you were going to move out of your stress relief chair and do some stretching exercises to wake up those muscles which have gone to sleep. In addition, many folks practice basic breathing exercises to empty their mind of stress and return with a clearer head to make decisions. It can be a bad seating position giving you back pains all day or it can be migraines. Always work to relieve yourself from the small things that can stress you out. 
Hopefully, you will pick the right stress ease chair to make your day-to-day life easier.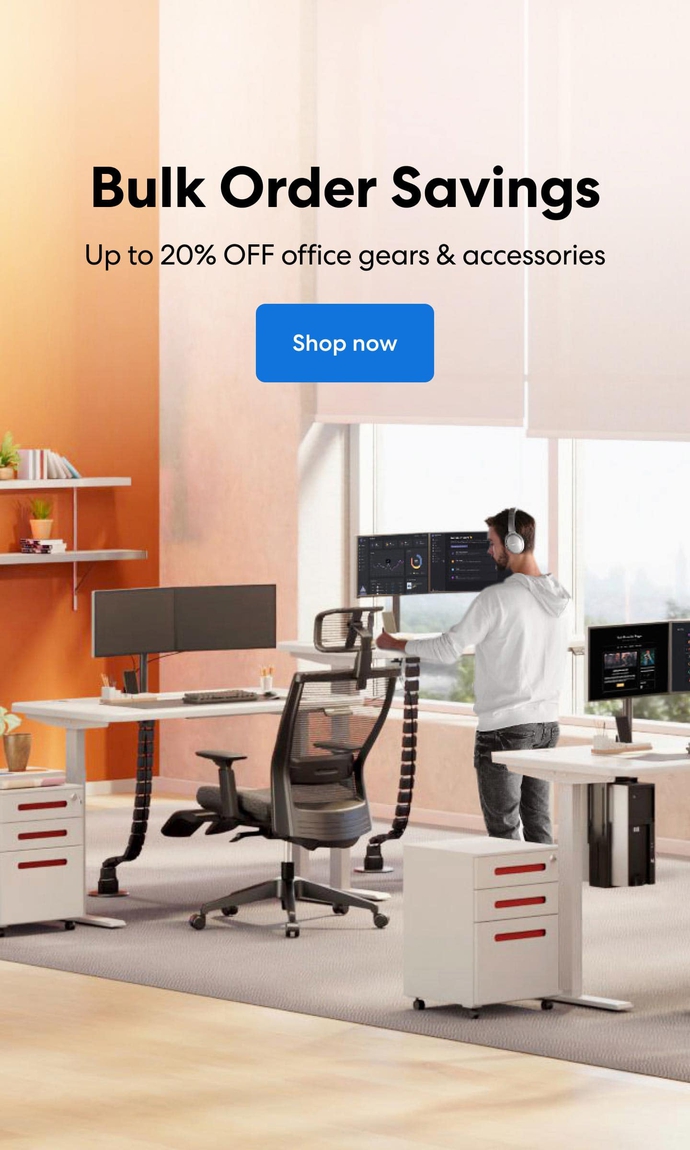 Subcribe newsletter and get $100 OFF.
Receive product updates, special offers, ergo tips, and inspiration form our team.