Are you searching for a standing desk converter among the Black Friday discounts? Black Friday standing desk converter offers are an excellent chance to get a standing desk alternative, particularly if you are a home-based worker and have been thinking about changing your work style.
With that, it is also important to note that your body will not respond well to prolonged sitting. Sitting for long periods at a computer can raise your chance of developing chronic conditions like diabetes and cardiovascular diseases. Many experts have termed sitting as modern smoking. Therefore, replacing your desk with a standing desk converter is the least you can do to improve your health.
There has never really been a better time to consider upgrading to a standing desk if you are looking forward to improving your office equipment. To ensure that you don't lose any Black Friday standing desk offers, we are keeping a watch on every one of the leading stores. Standing workstations offer significant discounts, but searching for standing desk converters sold exclusively is worthwhile.
Best Black Friday Standing Desk Converters You Should Look For
If you're a hardcore gamer, creating a room for playing the latest release can improve your experiences, particularly if you spend money on a high-quality gaming workstation. You will need enough room for a full gaming PC setup to arrange devices like your mouse, keyboards, headphone rack, loudspeakers, and possibly multiple display screens to immerse oneself, specifically on a PC.
Even while a gaming area is perfect for professionals and enthusiasts, most individuals cannot afford one, particularly if they rent or share a home with family. Choosing the best gaming desk brand is, therefore, very important. Here are a few brands that make the best gaming desks today:
1. FENGE Standing Desk Converters
The FENGE standing table converters are strong enough to support two monitors, all your favorite attachments, and whatever more your superpowers call for. The desk converter's total maximum weight capacity is over 33 lbs. Most of their standing desk converters are almost set up and ready to use immediately out of the box! Set these on your current desk, secure the keyboard tray, and begin setting up your workspace.
2. Mount-It! Standing Desk Converters
Compact work-top convertible surfaces from Mount-it! It will allow you plenty of room for multi-monitor configurations, electronics, and other attachments, making them perfect for a workplace, vlogging station, and gaming setup. Furthermore, keyboard trays, headset hooks, and controller supports could be on a few of their standing desk converters. You may spare more useful desk space by using the Mount-It! Standing desk converters.
3. FinerCrafts Standing Desk Converters
We have the best choice for you if you're looking for compact desk converters at a good price. You will never be searching for anything with the FinerCrafts Standing Desk Converters to improve the convenience of your workplace arrangement. Compact standing desks are also available from the brand, and they have a variety of ergonomic elements to keep you comfy when gaming or using your pc in any situation.
4. Northread Standing Desk Converter Riser
What to Consider When Buying a Black Friday Standing Desk Converter
We are aware that not everybody is comfortable with the concept of doing away with their workstation or standing while operating each day, as thrilling and advantageous as it might be to purchase a standing desk. Or you could want to try out a standing desk to determine how it seems to switch positions while functioning and to enjoy its benefits.
To assist you in choosing the best sit to stand desk converter or DIY standing desk converters. Especially during Black Friday deals, we've compiled a list of the most important considerations.
Budget
If you are low on your budget, the cost will likely be the most important factor when purchasing a standing desk converter. Fortunately, standing desk Black Friday deals are pretty affordable. Logically, the less-priced choices could come with slight adjustments with fixed height platforms. Additional features seen in their computerized equivalents won't be available to you. In simple terms, like everything else, you get what you invest in with standing desk converters.
Type
Several alternative variations of standing desk converters are available to transform your existing workstation into a sit-stand workstation. You can select from the alternatives such as desktop risers, Z lifts or X Lifts and much more based on your desires and requirements.
Size Range
Height is among the most crucial factors to consider when purchasing a standing desk conversion. Most converters, excluding desktop ramps, can adjust the elevation. Let's reiterate these aspects to ensure you choose one that provides the greatest comfort and ease.
The desk's maximum stationary position must be lower than yours.

The keyboard pad must be high enough to use while standing and low enough to be used while seated.

The display must raise itself high enough to provide the best field of view.
Built-In Quality
You must evaluate the standing desk converter's sturdiness before purchasing. Especially if you want your expenditure to endure for a long time, the technique employed and the materials used to make the parts may give you a sense of reliability. The overall design has little connection to a converter's layout or practicality, so avoid being sidetracked by them. Your system will be more reliable with the stronger the construction grade of your standing desk converter. Finding a converter that prevents your desk from becoming wiggly or shaky is crucial.
Weight Limit
Forgetting to consider a standing desk converter's maximum weight capacity is among the worst blunders buyers can make. While exploring possibilities, ensure you understand what objects you'll be setting on your desk. Most adapters can readily cope with the weight of a single monitor and other workstation essentials, but if you want to use numerous displays, you must exercise caution.
Added Characteristics
To guarantee a satisfying experience while purchasing a standing desk converter, it shouldn't hurt to be aware of its great benefits. Some goods have a designated area for a cell phone. Others offer sufficient room for a laptop. Ensure that the converter you purchase includes all the characteristics you want to make your day simpler while keeping in mind your typical work routine.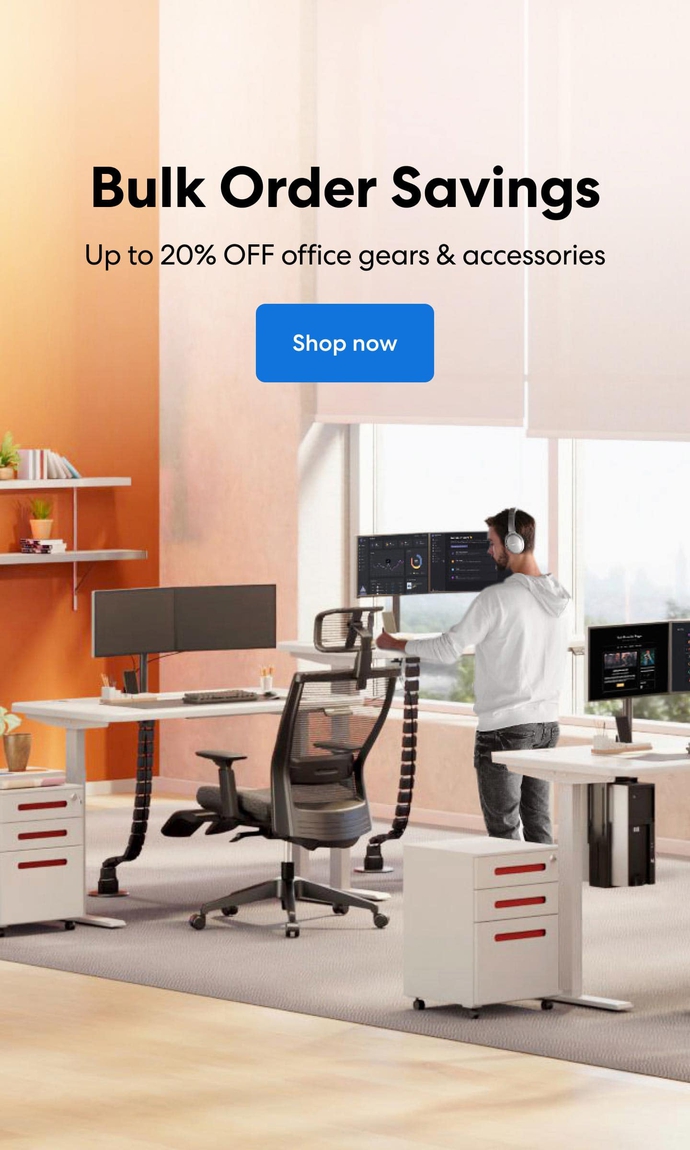 Subcribe newsletter and get $100 OFF.
Receive product updates, special offers, ergo tips, and inspiration form our team.