Workplace Inspiration
Black Office Desk Decor Ideas for 2023
1,720 Views
Anyone who works in an office setting will tell you that their Workstation is akin to a second home. It is hardly surprising considering the average employee spends 8 to 9 hours in the office. If you're one of them, why shouldn't you make your work desk more unique with some black desk decor?
The same humdrum surroundings might become more or less uninteresting but also detrimental to your performance. Even though you work remotely and are all in your work, the routine might wear you down. Adding a personalized feel to your office desk with black office decor is a terrific approach to break past this barrier. Here is a collection of the top black desk decor ideas to help you have the most successful year ever in 2022!
List of The Best Black Office Desk Décor Ideas
A workstation where some of us devote half of our day, if not more, should be practical, warm and inviting, and attractive. So far, we've compiled a list of all the most inspiring, beautiful, and efficiency-boosting black desk decor ideas that will transform your regular simple desk into a creative hotspot.
Stylish Wooden Elements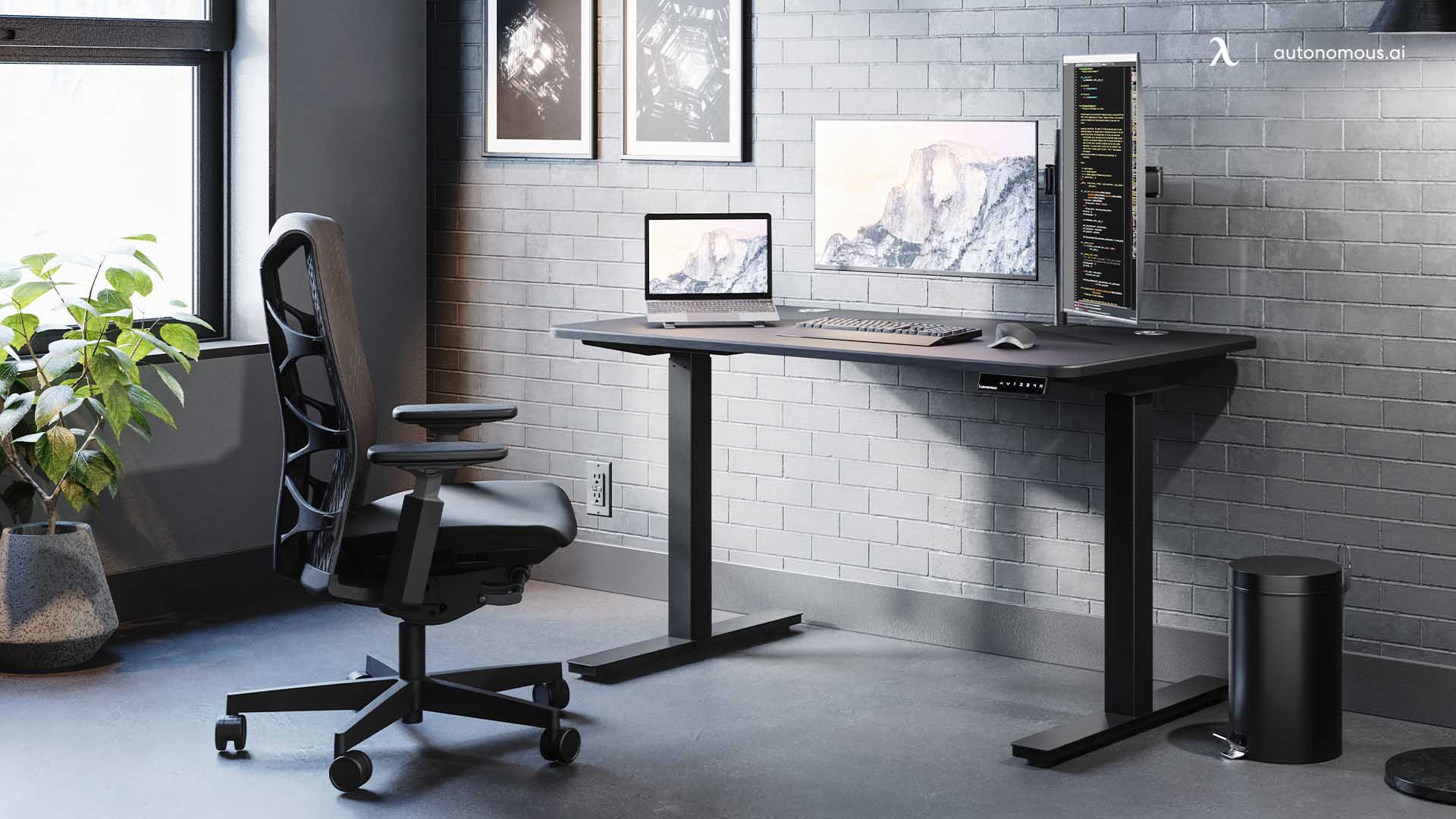 You'll be making the perfect decision whether you decide for a whole "wooden" style with a black standing desk constructed of hardwood or complimentary details created from walnut, oak, or hardwood. Wood is inherently associated with comfort, which is why it's an excellent choice for softening the austere, minimalistic design among some workstations. Work desk décor made of the same sort of wood is recommended. That way, nothing will stick out that much on your Workstation, and it will seem elegant.
Add a Lamp Alongside a Vase
A flower bouquet and a lamp such as the Autonomous ultra-wide desk lamp are basic pairings that lend themselves to creativity. Choose an interestingly formed vase and experiment with colors and patterns if you like a more modern aesthetic. In terms of the lighting, we suggest letting your creativity go wild. Ornamental lamps and even high-quality bedroom lamps featured some of the desk office décor ideas we saw.
Add a Juts Pot or a Basket for Aesthetic Appearance
Choosing organic elements for your bohemian black desktop décors, such as wicker, jute, rattan, or reed, is one of the quickest ways to achieve this. For instance, we adore the notion of adorning a desk with a beautiful small jute bucket that doubles as a planter. Make sure the inner workings are lined with water-resistant material. This way, you won't spoil your basket's fibres or the texture of your Workstation.
Keep things Simplistic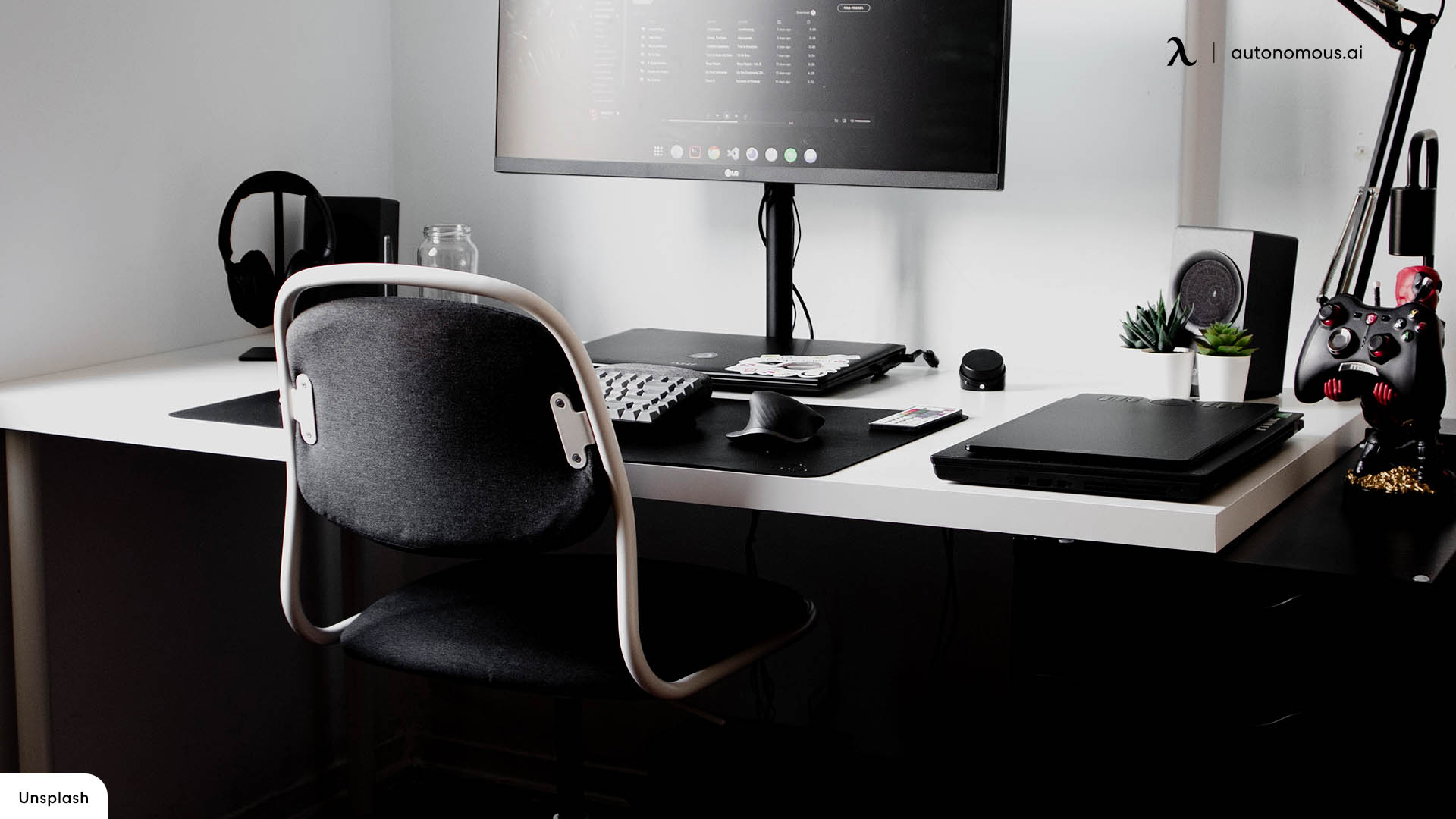 All you need for your office is a working computer with a sleek keypad, a nice lamp, and a sturdy black L-shaped desk. If you find that having too many things around you is distracting, we recommend prioritizing the significance of these important elements over the number and grandeur of contemporary desk décor. Of course, this does not imply that you must spend a substantial amount of money. Alternatively, you may reuse some of the items you currently own. For instance, you may use a high-quality floor light or a bedroom lamp to brighten your workspaces.
Add a Pop of Color
If you're on a black desk, a dash of color will make a big difference. Choosing décor pieces in rich hues and displaying them is a simple method. If you're stuck for décor concepts for your computer desks, there are plenty to choose from. For example, a single colorful plant or a basic arrangement in yellow and red may be used to dress up your basic monochromatic desk and liven up your dark home office.
Choose Black Ergonomic Chair for your Workstation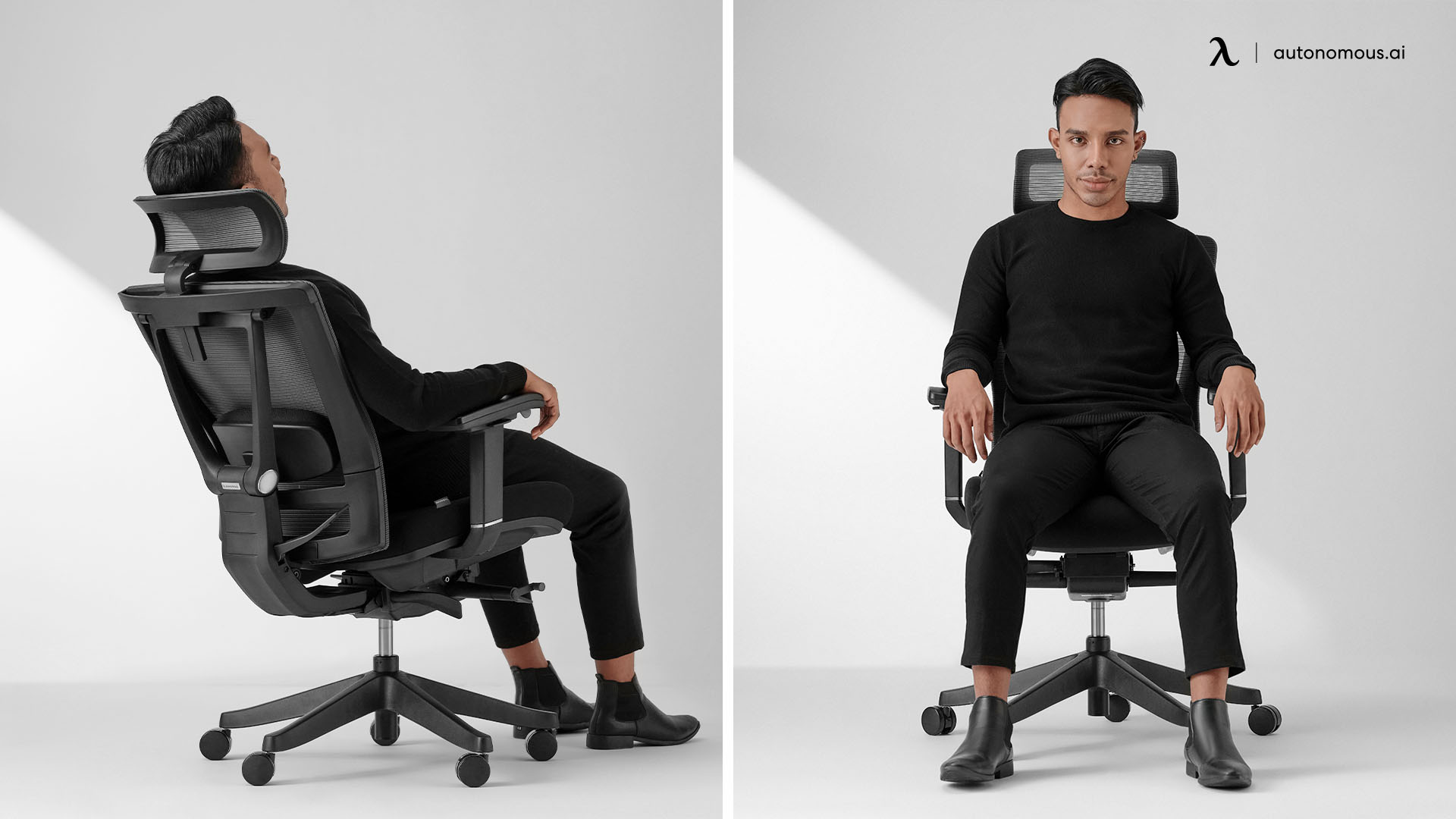 Black does something that appeals to everyone. As a result, incorporating a black ergonomic office chair such as the ErgoChair core to your office desk décor is usually a fun addition. A black ergonomically designed chair goes with any hue, so if you're unsure what color would be best for your business, black is the way to go.
Select Vibrant Desk Accessories
Here is another black desk decor idea for you. Your workspace desk probably has a lot of stuff on it, from your computer to documents to stationery. Using most of these objects as decorative accessories for office desk décor ideas, on the other hand, may quickly liven up your room. If you have a black desk, add a few colorful accessories to provide some color, such as a red light or an emerald pen stand. While this may appear to be a simple concept, it may improve the look of your home. Workplace decorations don't get any easier than this!
Add an Organic Mouse Pad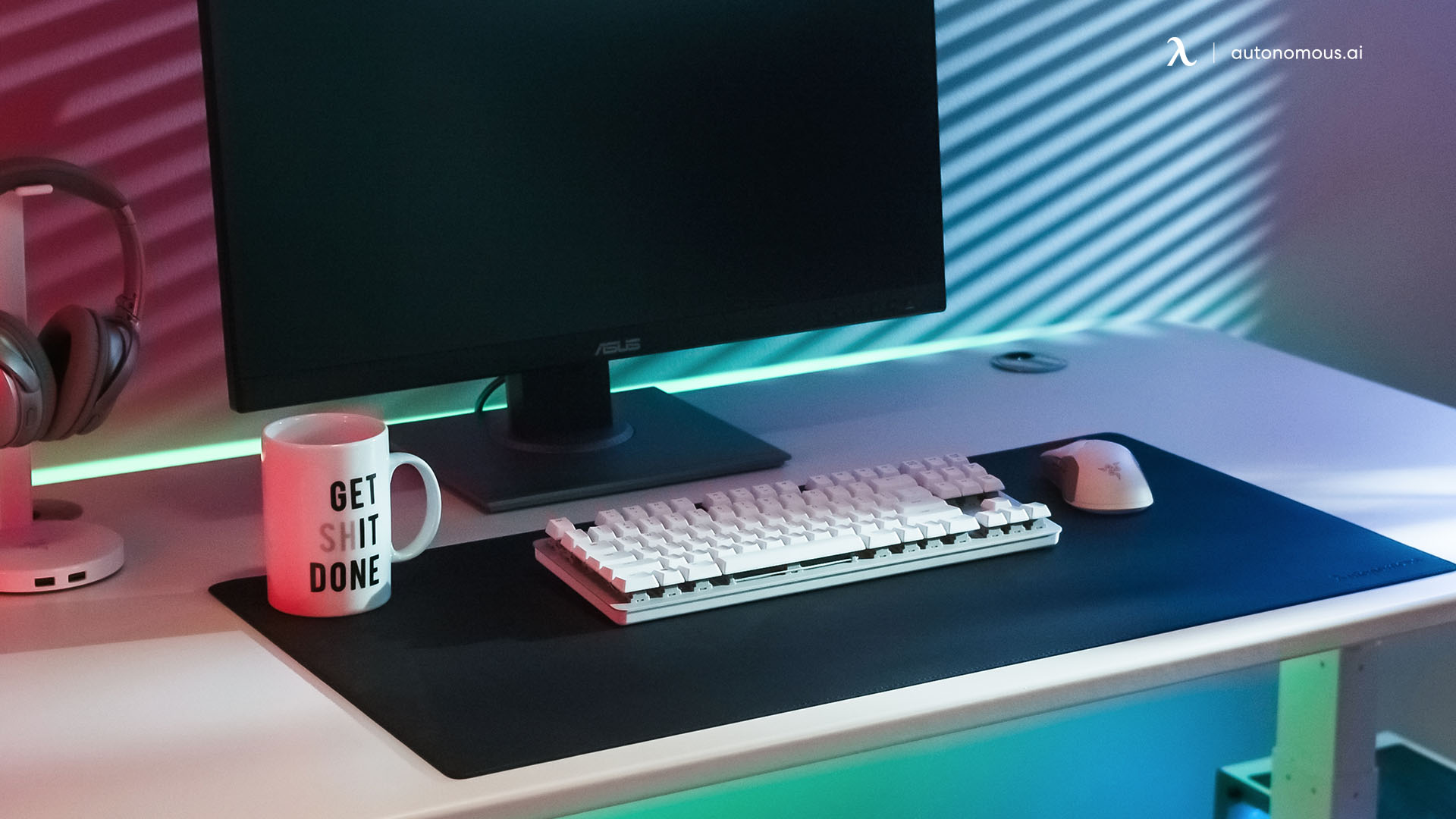 When re-decorating your office desk, your office biomechanics are most important. In this case, a cork desktop pad or an organic mouse pad will be a good addition to your Workstation. This surface will not only offer a comfortable and flawless work experience for you, but it will also make your desk seem nice. You may also consider adding a faux leather desk mat, which would look great.
Add Monochrome Artwork
This is one of the interesting black desk decor ideas for you to pick. The classic colors of black and white are classy and everlasting. If you don't feel like playing with brilliant colors and luxuriant textures, a plain monochrome appearance with an ivory or black desk will suffice. A black framed and basic artwork with clear lines would appear modern and elegantly stylish. We likewise recommend keeping your workplace lightweight and clutter-free when it comes to décor. Select black, white, or different shades for your vases, planters, or any other décor elements to fit the monochrome aesthetic. Over your desk, you may also put black or white shelving.
Create a Balance between Light and Dark Hues
Black and white workplaces that lean further towards black enable you to experiment with the darker shades without totally surrendering to them. Adding white rugs, carpeting, and curtains to an office with dark walls is another' more black than white' option. You can add a black reclining office chair to your desk to make the colors look balanced.
Conclusion
Above are some of the interesting black desk decor ideas in the year for you to get started. Let's pick ones that attract you and make it now! Let's transform your workstation!
Subcribe newsletter and get $100 OFF.
Receive product updates, special offers, ergo tips, and inspiration form our team.
WRITTEN BYAutonomous
We build office products to help you work smarter.