Workplace Inspiration
How to Build an A-Frame House Effectively and Efficiently
312 Views
Since building a home from scratch is so expensive nowadays, people are discovering new alternatives to living on a budget. Guest house plans and small house kits are just a few of these amazing alternatives that are gaining popularity. Have you ever thought about small A-frame house plans?
DIY A-Frame house is affordable and sleek, visually resembling an A. These triangle-shaped DIY A-frame house plans are becoming the talk of the town thanks to their unconventionality and affordability. Here is a complete guide on how to build an A-frame house effectively from scratch.
What is an A-Frame House?
A modern A-frame house is a tall building with a triangular house that resembles the first letter of the alphabet, "A." This structure is made using large structured frames to give a visual representation of an A-frame house. It consists of a wide first-floor living area, a smaller-second floor, and a mini loft at the top for sleeping.
Low-cost A-frame house plans are perfect for wooded areas with cool temperatures. Due to its structure, the building is exposed to natural sunlight and air, allowing it to remain naturally ventilated without needing air conditioners.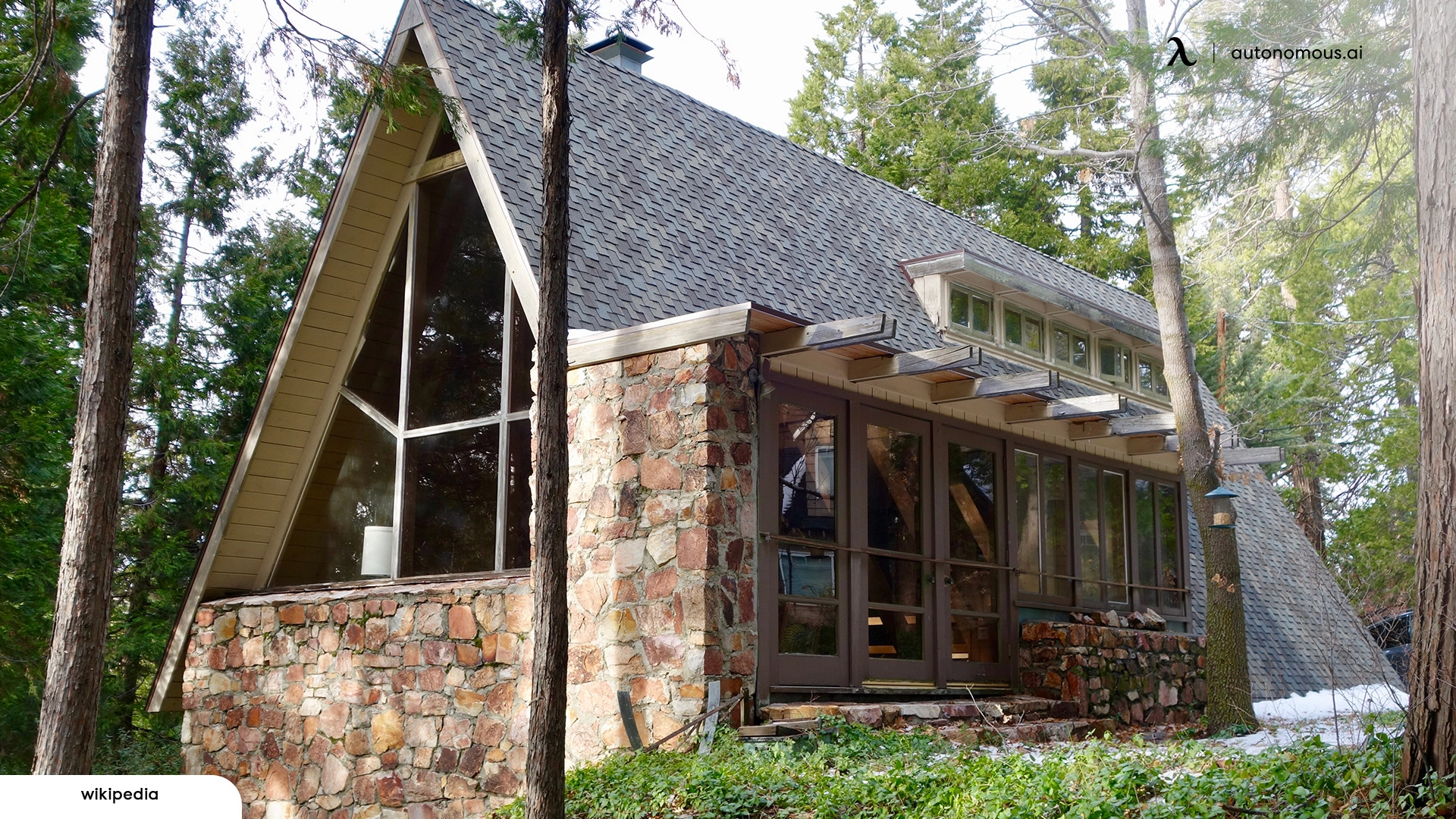 Requirements to Build a DIY A-Frame House
Due to its wide base, an A-frame house occupies considerable ground space. This backyard guest house will require you to plan and accommodate the size of the house properly. You should have the proper zoning for this type of construction. Most importantly, it would be best to have necessary building permits, varying according to state laws.
3 Ways How to Build an A-Frame House
Building an A-Frame house can be an exciting and cost effective venture. Here are 3 options you can choose from when it comes to building an A-frame house:
1. Build from DIY A-Frame House Plans
If you wish to build your A-frame house from scratch, you can purchase a set of A-frame house blueprints to help you get started. You can sketch out these plans with the help of an architect or drafting technician. Some websites sell PDFs of modern A-frame house plans as well.
Once the house plan is set, invest in the appropriate building materials and have complete control over your building process.
Pros
An affordable option for building an A-Frame house
Allows for customization of design and features
It can be a fun and rewarding DIY project
Detailed plans guide construction
It can save time compared to designing plans from scratch
Cons
It may require specialized tools or skills
Mistakes in construction can be costly to fix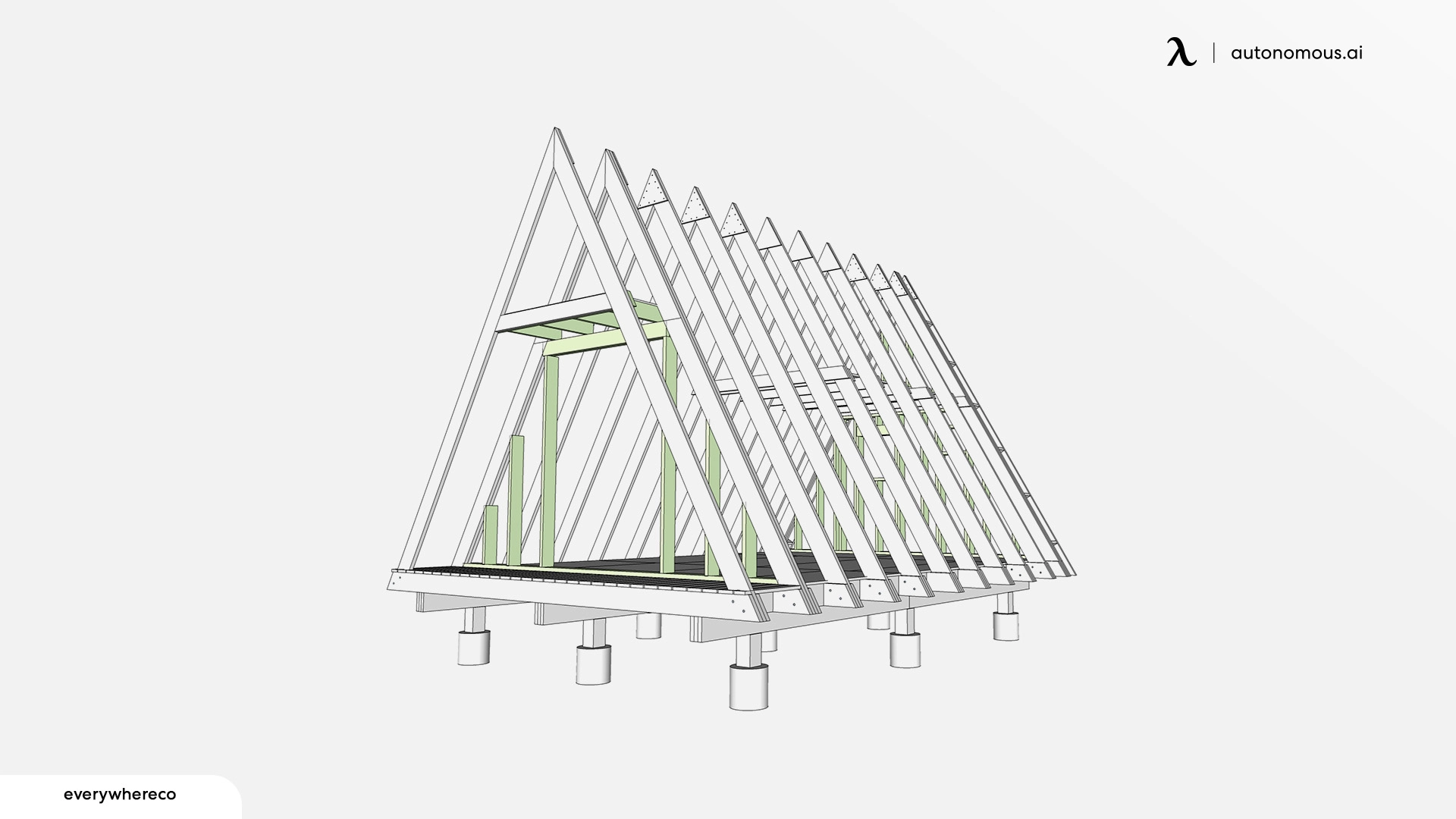 2. Invest in A-Frame House Kits
Small house kits contain a complete package of whatever you need when building your a-frame house. It contains the house plans and all the materials necessary for the DIY A-frame house construction. All you need is your tools to get started and a builder if you do not have expertise in DIY construction.
Pros
Kits provide all necessary materials for construction
May include pre-cut pieces for easier assembly
It can be a cost-effective option for building an A-Frame house
It can save time compared to sourcing and purchasing materials individually
May come with technical support and guidance
Cons
Limited customization options
May still require specialized tools or skills for assembly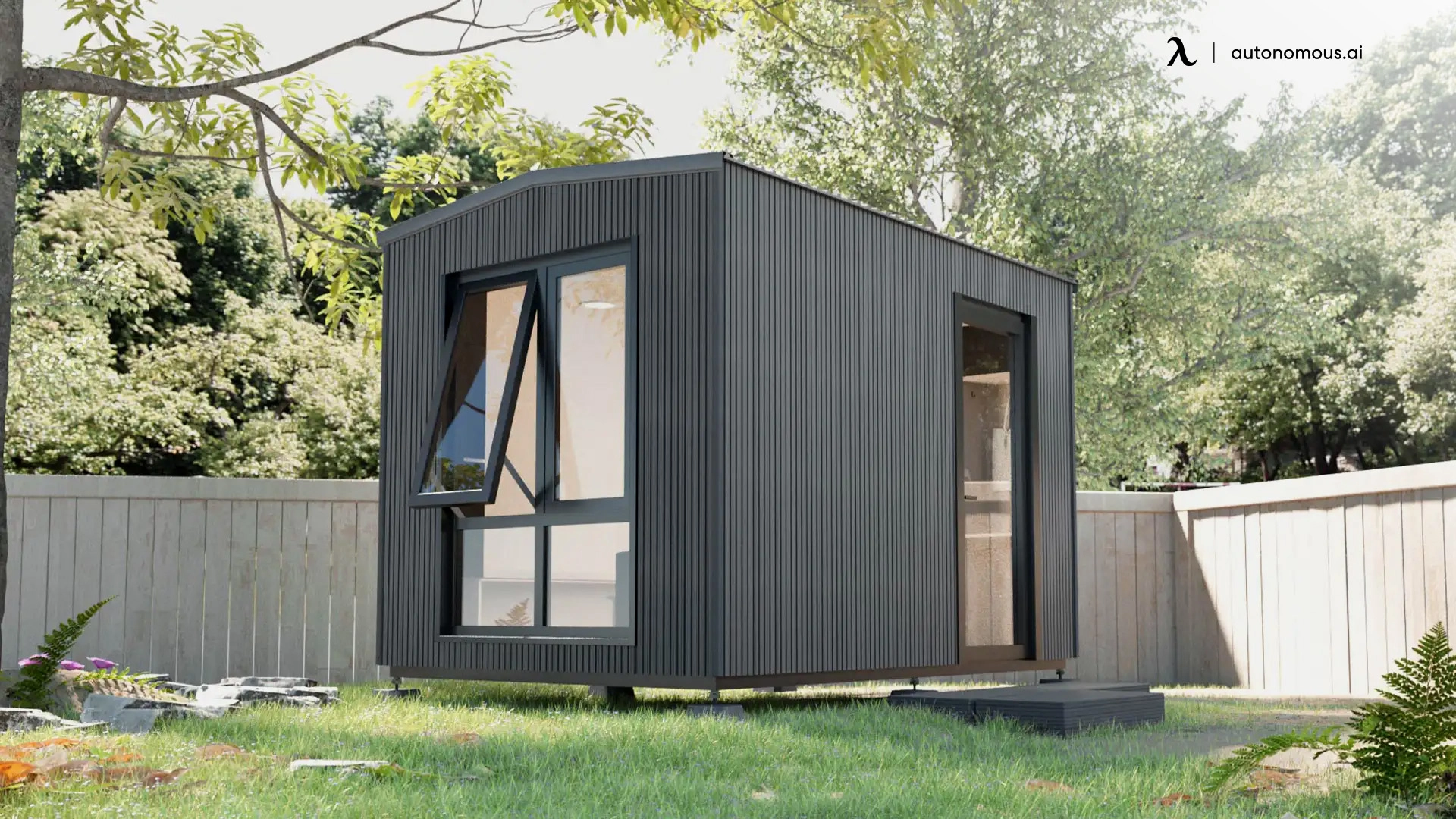 3. Buy a Prefab A-Frame
A-frame prefab guest houses are quite a common trend in the US nowadays. If you want to get things done quickly without having to deal with the complete process, you are better off buying a prefab A-frame house. Explore some shed house ideas and decide according to your preferences.
Modular ADUs allow you to assemble your house in as few as 2 days, making the entire process super-fast, resulting in a furnished and premium quality A-frame house. However, the cost of going for something like this can be relatively higher than other options.
Pros
Quick and easy construction process
Often designed and manufactured by professionals
High-quality materials and finishes
May include energy-efficient features
It can be a hassle-free process
Cons
Limited customization options
It may be more expensive than DIY or kit options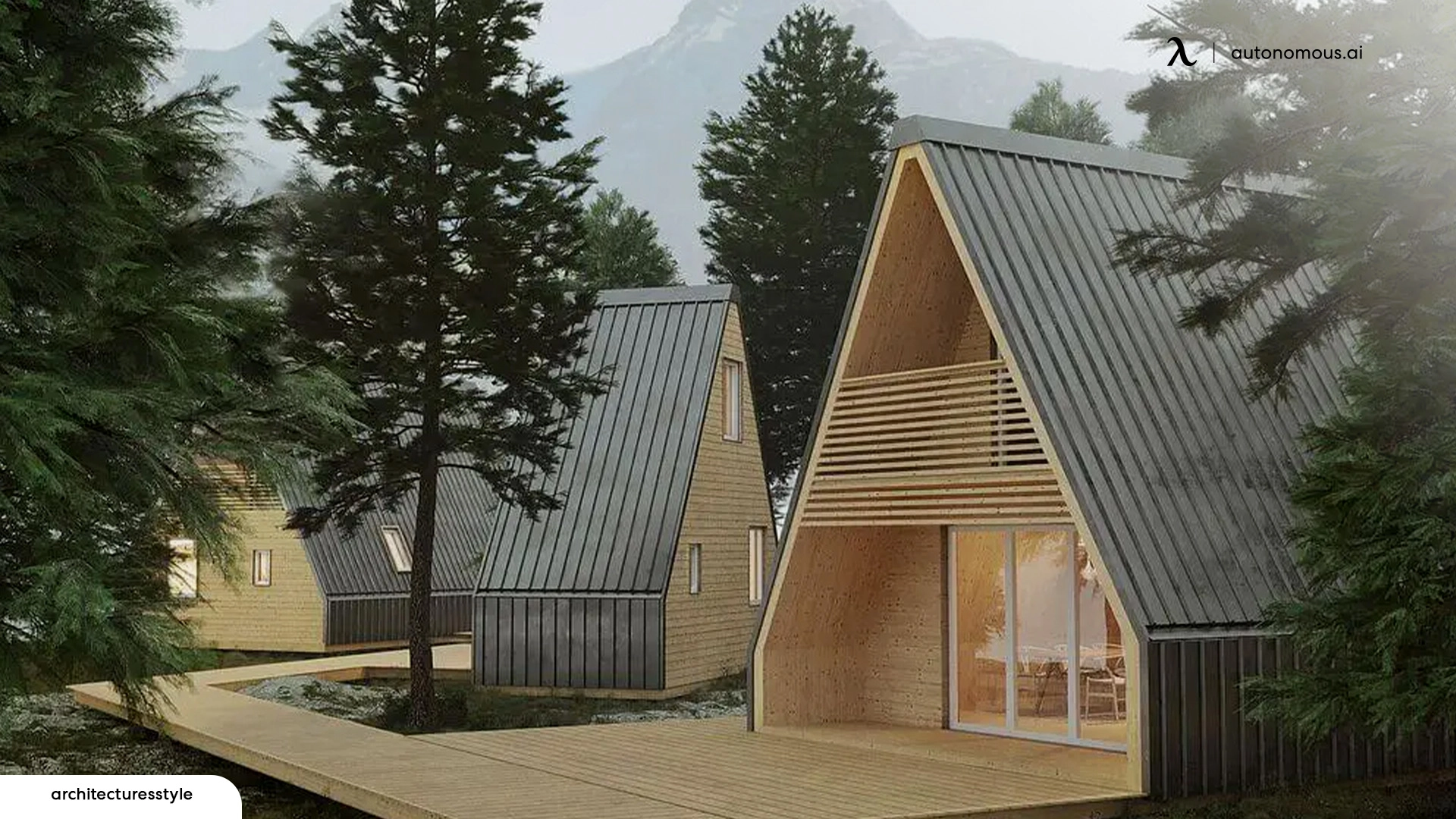 Benefits of a Modern A-Frame House
People seeking a stylish and minimalist living may greatly benefit from a modern A-frame house.
Aesthetic Appeal
A-frame houses look something out of a magical world like Hogwarts. This unconventional and contemporary design offers your house a sleek and amazing aesthetic appeal. Such a house works best as a vacation property and chill-out place.
Energy Efficiency
Since the A-frame house is shaped like a literal "A," it allows natural exposure to sunlight and the best ventilation. It has huge windows, so less air passes in freely. This allows the house to always be in a prime temperature, making it a perfect choice for hot places.
Cost-Effective
A DIY A-frame house is simply three large frames assembled as a triangle. While it may not be that simple, it is still cost-effective as it requires fewer materials overall. If you are looking for another traditional option on a budget, it may be worth considering an A-frame house.
Structural Integrity
A-frame houses are highly durable and have great structural integrity thanks to their shape. The "A" design provides a solid ground base that keeps the house strong when exposed to snow loads and winds and offers protection against earthquakes.
Compact-Living
A-frame houses lie on the idea of minimal living, offering functional living space with the benefit of being easy to maintain. It comes with all options you will probably need to live a good life. Moreover, you can also customize an A-frame house according to your style and preference.
Conclusion
Before building an A-frame house, consider the purpose of your construction. If you are someone that loves minimal-style living, go for it. Consider the options discussed above on how to go with low-cost A-frame house plans to have a rewarding experience resulting in a unique and budget-friendly living space that you and your family can enjoy for years.
Subcribe newsletter and get $100 OFF.
Receive product updates, special offers, ergo tips, and inspiration form our team.
WRITTEN BYAutonomous
We build office products to help you work smarter.