Smart Products
How to Build Simple Office Desk with Autonomous SmartDesk Frame

Autonomous
|
May 21, 2021
2,311 Views
Have you ever thought that it was time to build a simple office desk for your home? If you're working remotely now, it's a good idea. However, there are various standing desk design options out there, making it hard to pick the right one.
It's important to have a simple office desk DIY idea in mind first. You should consider what you want from the desk to better build simple office desk. For example:
Should it be an adjustable desk?

 What materials do you want for the top?

Can you find an appropriate

DIY SmartDesk Kit?
Let's get started on learning how to make a simple desk with the Autonomous SmartDesk Frame.
Step-by-Step to Build Office Desk with SmartDesk Frame
The first thing to consider when you want to build a simple office desk is to order your frame. When it arrives, make sure that all of the components are there. You should have:
1 Keypad

12 Noise-canceling pads

 1 Control box

1 Power cord

2 Side brackets

2 Crossbar Rails

2 Crossbar ends

 2 Feet

 2 Legs
For the hardware, it should come with:
8 M8x16 screws

4 M6x12 screws

8 M6x10 screws

14 ST4.8x19 wood screws

10 Cable clips

2 ST3.5x19 wood screws

12 M6x12 screws
The tools required include:
Screwdriver

Tape measure

4mm Allen Wrench (provided)
Step 1
Use your Allen wrench to loosen the M6x10 screws.

Separate the crossbar ends and find the rails inside.
Step 2
Turn the legs upside down to be on their sides.

Put the crossbar ends into the legs as in the diagram.

Make sure the crossbar end mount tabs face up (this means they're positioned correctly).

Insert the M6x12 screws into the crossbar ends (four on each side).

Flip over the legs to find all the screws and firmly secure them.
Step 3
Attach the two side brackets to each side of the legs.

Insert the 6x12 screws into those side brackets.

When the parts are connected, tighten all the screws.
Step 4
Slide the crossbar rails (two) into the crossbar ends.

Ensure the slots of the crossbar rails are facing inward. Check the diagram in your instruction booklet.
Step 5
·Attach the feet to the legs using the M8x16 screws.
Step 6
Put on the 12 noise pads in the 12 holes of the frame. There should be four on each side bracket with four in the center.
Step 7
Line up your side bracket with the drilled holes upward.

Firmly secure your frame to the tabletop with the ST4.8x19 wood screws. There should be four in the center and four each for the side brackets.
Step 8
Attach your control box to the top with the ST4.8x19 wood screws.
Step 9
If you have a

cable tray, attach it with the M6x12 screws.

Put the control box on your cable tray.

Plug the cables from both motors into your control box.

Now, plug in the power cable from the other side of the control box.
Step 10
Attach your keypad using the ST3.5x19 wood screws.
Step 11
Plug in the cable from your keypad into your control box.

Flip the desk over.
Step 12
Ensure that the legs are at their lowest position and level.

Check that the screws are tightened so that the desk doesn't wobble or make noise.

Plug in your desk.

Activate your desk with these steps:
o   Press the up and down buttons simultaneously until your desk beeps. It should move to its lowest level.
o   Release the buttons. Press the down key until it shows your preferred height.
With those steps, you now have a DIY office desk. Simple ideas like this can make it easier for you to work and be more productive.
How Can You Customize Your Table Top
Learning how to make a standing desk is the easy part, especially when you have an adjustable frame from Autonomous.
However, your DIY office desk plan should also focus on ways to customize the tabletop. There are many choices here, such as bamboo, reclaimed wood, particleboard, and much more.
Bamboo
A bamboo top standing desk is something most people don't think about. However, it's highly unique and can resist wear and tear with ease. Plus, it can take a beating, so if you're often harsh to your office furniture, it's not going to get scuffed or scratched easily.
Pair that with the metal frame from Autonomous, and you have a simple office desk DIY idea that's beautiful and perfect for high-traffic areas.
While you want to build a simple office desk for your ultimate desk setup, you may want to "go green." Eco-friendly materials like bamboo are easily sustainable. This means that when you use it, bamboo grows back quickly, unlike wood.
Durability is your top concern when fashioning a DIY office desk. Simple tabletop designs can make the desk pop and bring focus to that area. However, you want it to last a long time. On top of that, the frame is also strong and stable, giving you many years of use.
Reclaimed Wood
There are many options for a reclaimed wood standing desk. In fact, many people are on-trend with consistent and constant recycling. Whether you recycle plastic bags and bottles, paper, or something else, it's easy to get in the habit of reusing things.
Reclaimed wood uses that idea and takes it farther. You can grab an old wooden plank, door, or anything else made of wood to serve as your desktop, which makes this a simple office desk DIY idea.
Just get the adjustable frame, measure your wooden top, and put it on. Make sure that you're using appropriate screws and ensuring durability here. You don't want a huge piece of wood to fall to the floor while you're trying to work!
Particleboard/MDF
MDF is often stronger than particleboard, and most of your home's furniture already uses it. If there's something in your house that you don't need, consider repurposing that into a tabletop. Alternatively, you can buy sheets of MDF in various thicknesses.
Usually, it's best to go with 1-inch thicknesses because that isn't too thick to get in your way. Plus, it still gives you all the benefits of durability.
With that, MDF comes in many colors, and it's light! If your desk accessories are heavier, such as a computer tower and heavy-duty keyboard, it might be wise to choose the MDF instead of real wood.
Though particleboard is also cheap, it can easily fall apart. It contains wood resin and chips to form it, and it's often quite thin. Therefore, MDF might be the best choice.
It offers various lamination layers. The laminate is the substance that protects your tabletop from harmful influences. A quick powder coating can also shield the surface and make it shine.
High-Pressure Laminate
Another option is high-pressure laminate. It's more reliable and can last longer than other materials. A plastic coating gets applied instead of spraying the material with various compounds. Then, high temperatures and pressures are used to "glue" it together.
Some laminate tabletops can get quite heavy, though. Make sure you know how much it weighs and check the specifications on the frame. That way, you don't damage the frame or have other issues.
Natural Wood
For many remote office workers, their DIY office desk simple plan must include wood. It's very comfortable and has a warming effect on the space. If you often have clients over, it looks more professional, too.
Natural wood is often thought of as the best material for any desk type. In reality, though, it has pros and cons just like anything else.
It's often reliable and comes in many colors and styles. However, it requires a lot of maintenance and can get expensive. While you can find cheaper options, they may not be as durable or could have defects within them.
Overall, learning how to make a simple desk focuses more on what tabletop you want more than anything else.
What If You Don't Have the Time or Energy?
You don't have to build a simple office desk from scratch. Instead, you buy the frame to allow for sitting and standing throughout the day. However, if you can't find a tabletop that meets your needs, it's easy to just buy an office standing desk.
There are many styles and options out there. Plus, most people find it easier to point, click, buy, and have it delivered.
Still, you should remember that you've got to put the desk together, so there's still some effort involved.
What If You Want a Corner Desk?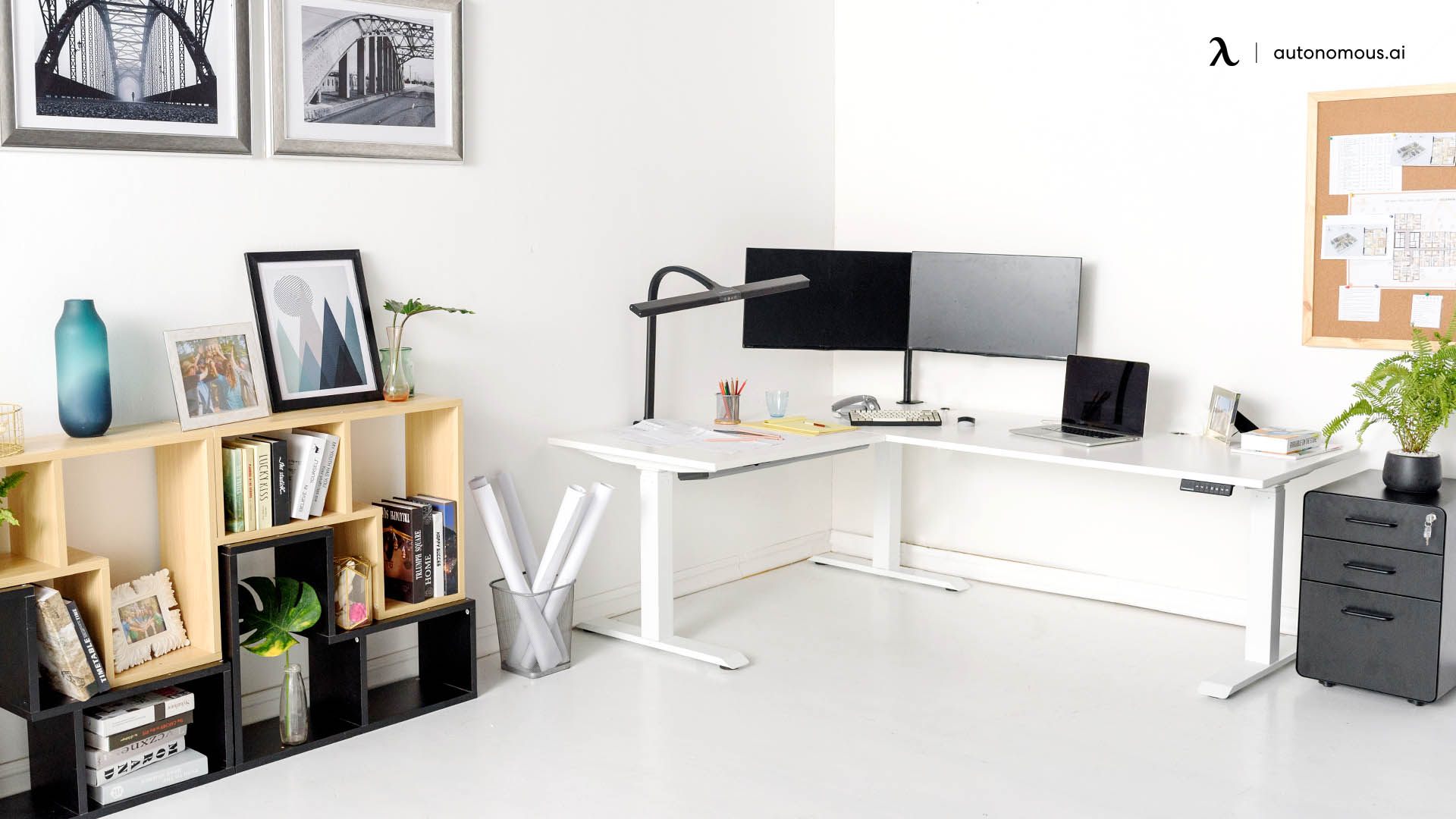 Most people want something different than the traditional rectangular DIY office desk plan. However, you're not limited to a single design. The SmartDesk Corner is an L-shaped desk that gives you plenty of space and fits snugly in the corner of the room.
With that, you also have the SmartDesk Core Duo. This style is actually two standing desks put together. If you and your partner work at home (or you're homeschooling kids), this can be a great idea! Each of you can stand or sit at work, which reduces pain and promotes more productivity.
Is It Easy to Build a Simple Office Desk?
Yes! It can be quite easy to build your office desk. The goal here is to pick a simple office desk DIY idea. Usually, people use a standing desk frame, which has all the controls with it. That way, you put on your preferred tabletop and can start using it immediately.
With three different styles (from Autonomous), you can choose the one that meets your needs. Plus, most people can put the desk frame together in 30 minutes. You get appropriate instructions, but there are helpful online videos to work from if needed.
Once you've done that, you just add the top, making sure it's secured to the frame. This can take another 30 minutes, so you've got your desk put together in about an hour!
What Are the Pros/Cons of Building Your Desk?
There are many reasons to build a simple office desk. However, you must think about the pros and cons to determine if it's the right choice for you.
Pros and Cons of Building Your Desk
Have exactly what you want
Can customize the style by adding different tabletops
Get a durable frame to quickly stand or sit during the day
Often cheaper to build a simple office desk
Requires a simple office desk DIY idea
Can get a little too technical, depending on what you want
Takes more time to put it together for yourself
Might require you to source a tabletop if you don't already have one
Why Do You Need a Standing Desk?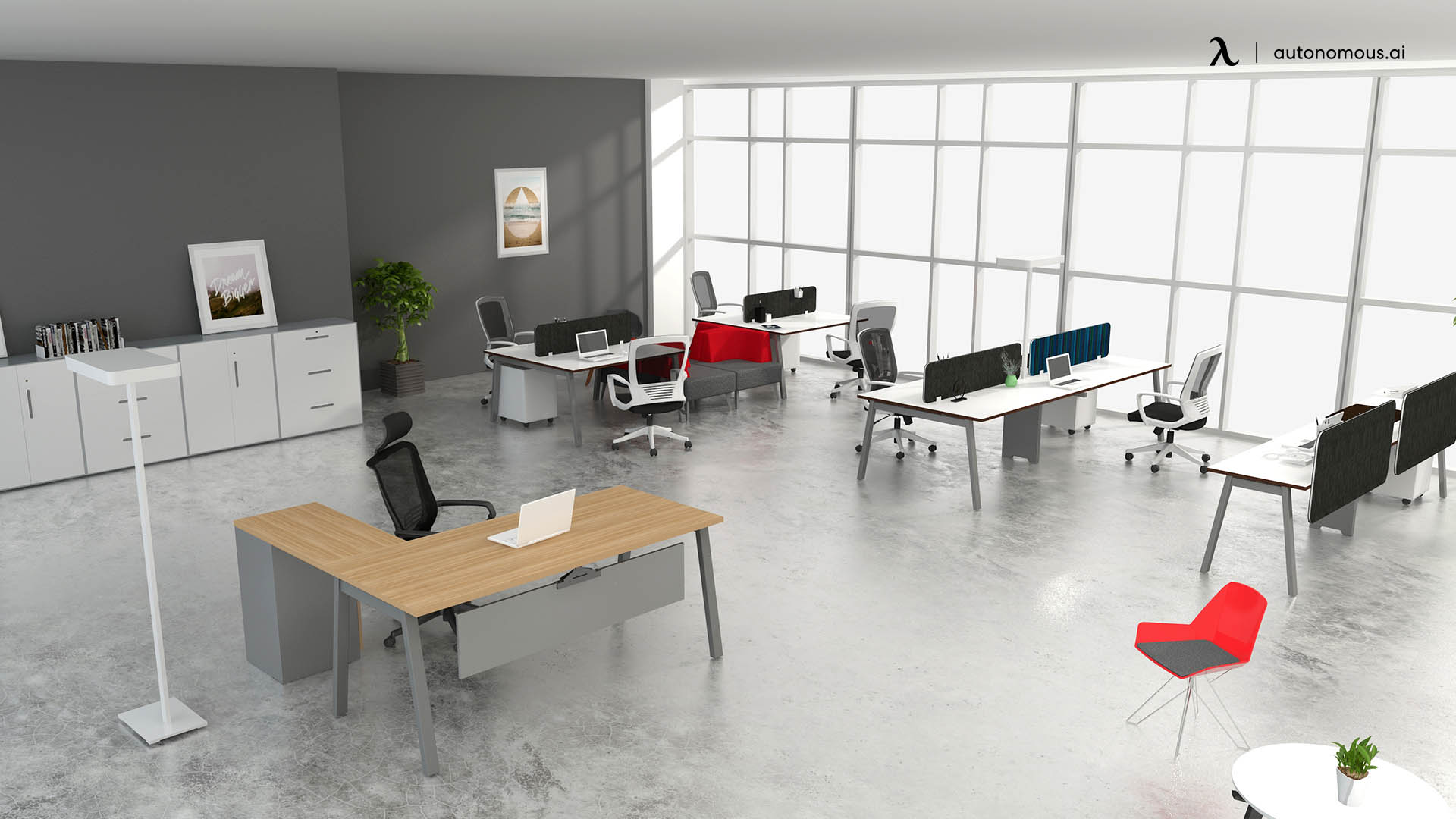 Most people automatically assume that they should sit at their desks. It's what people have been doing for decades. However, studies have shown that sitting all day is just as bad as overeating and not exercising.
Therefore, it's best if you can stand up for 30 minutes or so every hour or two of sitting. Most workdays don't allow for that if you want to stay productive. With that, the stand-sit desk was created.
There are different methods of raising/lowering it, but the easiest is by electricity. Pushing a button activates the motor within so that it goes up and down to your specifications. With newer models, you can program the buttons, meaning you touch it, and the desk automatically goes where it's set to go.
Conclusion
As you can see, it is quite easy to build a simple office desk. With the right tools, it's easy to get up and running within an hour.
You must consider a few factors for your productive work environment, though. For example, do you want it to move effortlessly? What materials do you prefer for the top? Whether you choose reclaimed wood or bamboo, the tabletop is where all of your accessories sit.
With that, though, you probably prefer to build a simple office desk that automatically shifts to the right height. That way, you can be more productive, counteract the ill effects of sitting all day, and press a button to activate the desk's motor.
You've learned how to make a simple desk, and the steps involved to put together the frame. With so many simple office desk DIY idea options, it's easy to find something that matches your style and needs.
Video ads for product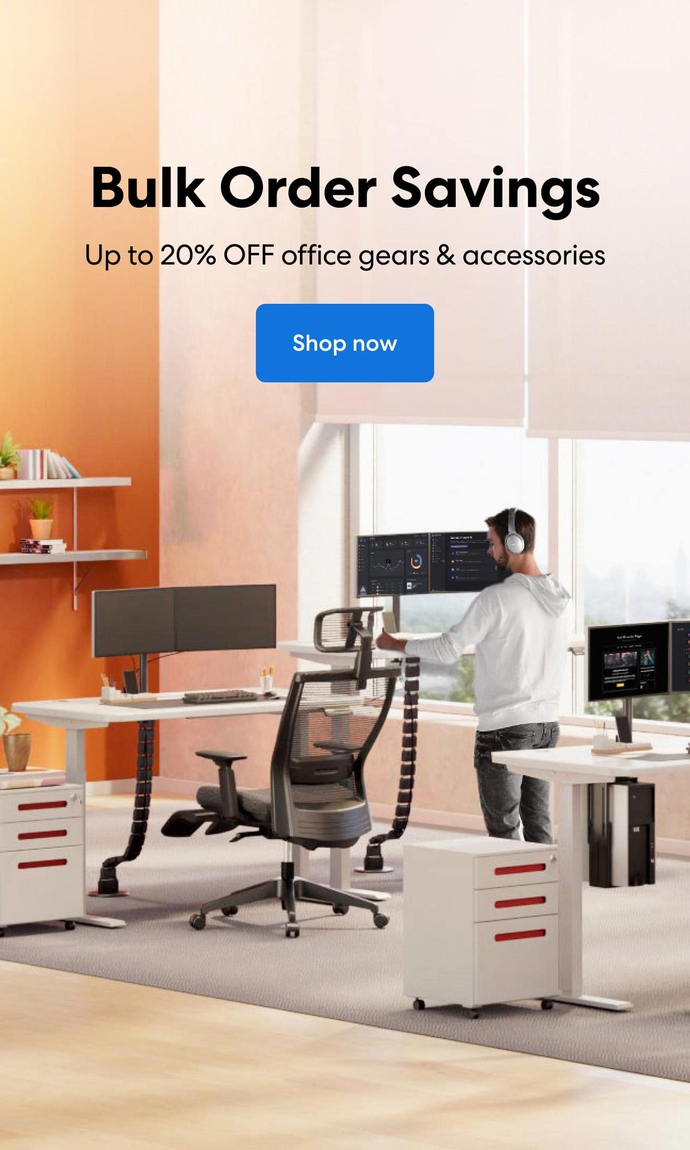 Subcribe newsletter and get $100 OFF.
Receive product updates, special offers, ergo tips, and inspiration form our team.