Smart Products
Buy Modern & Contemporary Kids' Desk for Your Children Study Area

Autonomous
|
Jun 4, 2021
2,043 Views
Equipping your child's study area with a modern and contemporary desk and chair set is an amazing idea. Your child spends a significant amount of his day studying, making artwork, or writing on his desk. So, when the desk is aesthetically pleasing, they love studying even more. The market has many modern kids' desks, so choosing the right one becomes a difficult task.
Since your child's study corner ideally acquires a desk chair and an ergonomic desk for kids, you must plan your investment wisely. We know that the multiple modern children's desks available in the market often confuses you, and it becomes tough for you to decide which one is better for you. So, to serve you best, we have shared the details that will help you decide which modern kids' furniture would be ideal for your child's study area. Well, let's have a look at them.
Which Factors Should Be Reviewed When Buying A Kids' Modern Desk?
Design/Type
The design or the type of kids modern desks that you are opting for matters the most. Your child might be interested in doing certain specific tasks that require a specialized desk, so in such cases buying a traditional desk is not the right decision. If your child is only using the study area for studying and writing, you can think of going for the common adjustable desk for kids.
However, if your child likes doing artwork and is more into drawing and painting, then a drafting table is better for him as it helps reduce any strain on his wrist. You often find lift-top desks in the market. These desks are suitable for keeping your child's projects or important documents safe from any spillage or any other accident when they are not around.
Adjustability
It is always better to check for the adjustment features that a desk offers. The electrically operated adjustable desks like the Autonomous SmartDesk Junior are always better ones in this regard. These desks make it easier for you to adjust the height of any modern desk for kids pretty conveniently. Some desks come with a manually operated height adjustment feature, but their functionality requires more effort.
Space
The desk space available matters a lot. When we talk about desk space, we consider both; the surface space that is available for placing accessories and the space underneath the desk. The latter determines the ease of any kid for placing his foot underneath the desk. Modern children's desks should have enough space underneath that your child can place his feet freely.
As far as the desk surface space is concerned, it should be wide enough to allow your child to place all his necessary desk accessories and stationery. Normally, 24 x 47 inches is wide enough for your child to place his basic accessories and stationery.
Desk Height
The desk's height is a particularly important aspect as it affects the work ergonomics and impacts your child's posture. If you look at the kids' modern desks, they usually have an adjustable height. Typically, the desk surface should be at the level of your child's diaphragm while he is sitting. Nevertheless, going for an adjustable desk is always better.
Material
Whenever you think of modern kids' furniture, the first material that comes to your mind is wood. This is because wood plays a dual role in being aesthetically pleasing and durable. Nevertheless, there are desks made using other materials such as metal and plastic fiber also available these days that are equally durable and come in various vibrant colors. So, you can base the selection of the material on the basis of your taste and affordability.
Additional Features
Any additional features like sliding drawers, filing cabinets, and socket trays are always better. This is because these desk features allow your child to manage their accessories better and avoid any clutter on the desk to become more productive. 
Best Modern Desks for Kids
1. SmartDesk Junior from Autonomous
The SmartDesk Junior is the first modern desk for kids on our list for a reason. This desk, being one of the best writing desks for kids, offers you great flexibility in adjusting the desk's height with its efficient motor and also meets the safety standards. The surface is wide enough to place all accessories, while the pegboard coupled with movable dowels allows your child to manage his shelves. The addition of a drawer in this desk can be seen as a further plus point as that lets your child have a minimalist desk setup that lacks any clutter. 
2. Ikea PÅHL Desk
Ikea PÅHL Desk is one of the best modern desks for kids. This desk has three height adjustment modes, so it will not be wrong to say that this contemporary desk will grow with your little one. The use of plastic fiber in crafting this desk makes it more attractive and aesthetically pleasing. There is also a built-in cable tray that will make it easier for your child to eliminate any cord clutter from his desk 
3. Harriet Bee Glaser Kids Writing Desk Set
It is another kid's modern desk. Suitable for kids aged 5 – 12 years old, the Harriet Bee Glaser Writing Desk Set is an ideal option that is available in various colors, including teal, lavender, and navy blue. The desk features a cabinet that comes with multiple compartments and a corkboard to ensure your child's books and other essential supplies are kept right in place.
4. Height Adjustable Desk by Mecor
The Adjustable Height Desk by Mecor would be an ideal small desk for kids who are interested in doing artwork. This is an adjustable drafting table that ensures your child doesn't feel any strain on his wrist while he is coloring or drawing. Since this kids' modern desk features a built-in LED desk lamp, you can place it anywhere you like. Overall, this kid's modern desk kit will be a great investment for your child.
Wrapping It Up
We shared some of the significant factors that can help you judge which kids' modern desks are better for you and shared our reviews on the contemporary desks that are available in the market currently. Nevertheless, if you wish to build a kids' desk on your own, you can always do that by investing some time planning the desk setup in detail.
Video ads for product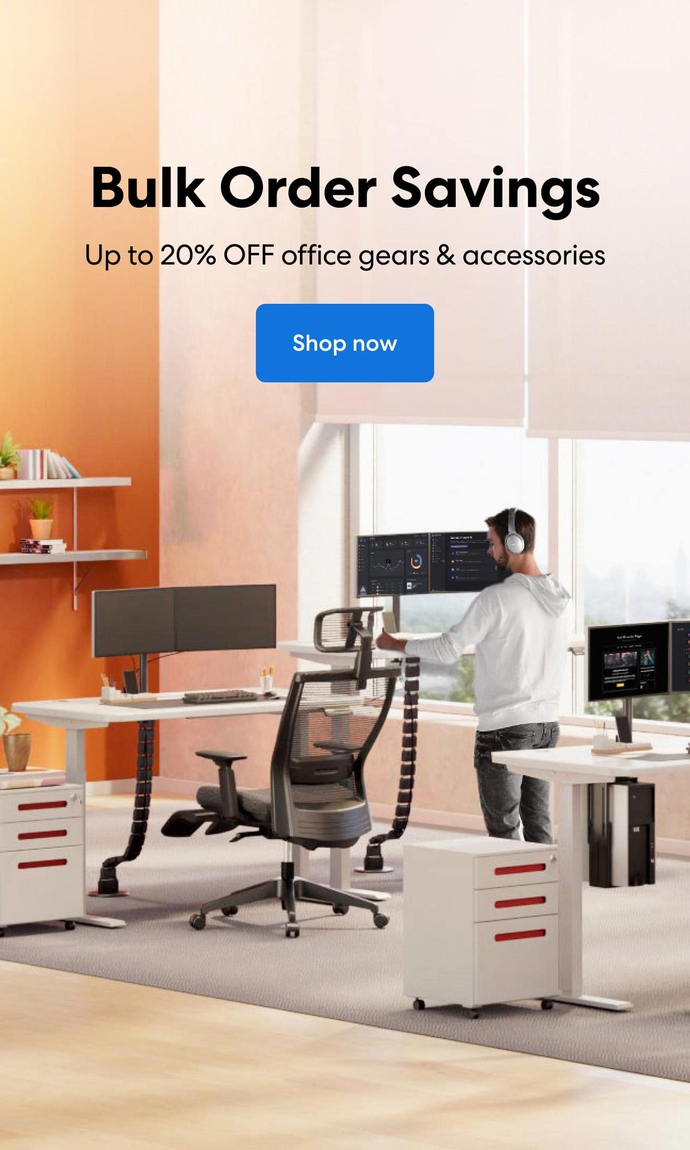 Subcribe newsletter and get $100 OFF.
Receive product updates, special offers, ergo tips, and inspiration form our team.