Smart Products
Buying the Best Ergonomic Chair with Back Support: A Full Guide

Autonomous
|
Feb 9, 2021
4,273 Views
Every remote worker needs a comfortable workspace. Even if they have a good desk setup, it's not complete with a good office chair. In order to work more efficiently, you have to combine comfort and convenience, so you don't lose progress on your projects. An ergonomic chair is a must-have item for any remote worker.
However, it would be best if you had an ergonomic chair with lumbar support. If you spend long hours sitting in a chair, you might likely experience lower back pain. Without ergonomic chair back support, you are at risk for severe health problems. These can negatively impact your overall work productivity, which results in stress and a lack of focus.
The good news is you can significantly reduce back pain with a good ergonomic chair. All you need to do is look in the right direction. Buying the best office chair is made easy with this handy guide. However, before you get into it, it's essential to learn about the relationship between bad ergonomics and a decreased work focus. By doing so, it can inform your decision on buying the right products for your specific needs.
What Causes Work Productivity to Slow Down?
More often than not, a remote worker might be easily distracted due to pressing concerns. A particularly common one is a lack of comfort. Lower back pain is one of the leading causes of poor work productivity. The lower back is meant to provide structural support for your body. However, if you're sitting with an incorrect posture, it causes tension in your lower back area.
Most remote workers tend to sit in their chairs all day. Inevitably, if they start to slouch, it can slowly lead up to back problems. Once that happens, a worker ends up trying to reposition themselves constantly. It takes away their work time by doing this on a daily basis. Without ergonomic chair back support, productivity level has the potential to go down.
How does one fix this problem? The best solution is for an ergonomic chair to provide what is called lumbar support. Every good office chair needs to have this feature to allow a more comfortable experience. There are several health benefits of lumbar technology, but what does it do exactly?
Benefits of Lumbar Back Support
Lumbar technology refers to the curvature built within the back of your chair. An ergonomic chair with lumbar support corrects your posture, which prevents back pain as a result. Every worker should be able to sit up straight, while the lumbar support lets their spines naturally curve in the lower area. Most top-of-the-line ergonomic chairs include this feature.
An ergonomic chair with lumbar support carries several health benefits. One of the main advantages of lumbar support is straightening your back. It also keeps your other body parts in alignment. For example, the lumbar material supports your hips to allow cleaner blood circulation throughout your legs. Your shoulders are also placed in a more comfortable position, which makes typing much more manageable. You can take advantage of rest intervals with a standing desk, so you aren't sitting in your chair the entire day.
Lumbar technology is incredible in its use. With that in mind, all you need is to find the best office chair for both lower and upper back pain. Not every chair is efficiently built with the right lumbar support. While there are several ergonomic chairs readily available to support your back, you need to differentiate between good versus great quality.
The Office Chair Buying Guide
Know you are fully aware of the benefits of an ergonomic chair with lumbar support! The question remains - which chair is the right one for you? There are factors to consider, such as the price tag and whether or not the chair conforms to your body. Just like how everyone's body is built differently, so is every chair. Lumbar technology needs to be up-to-date so that you can receive the full benefits of ergonomic comfort. What you need is a chair buying guide.
If you're looking for an ergonomic chair for back pain support, look no further. Below is a comprehensive office chair buying guide, complete with a detailed analysis of each chair. There is a list of pros and cons for every product, ensuring you fully understand what is in store for you. Ergonomic chair back support is crucial for work productivity! Use this guide to make your future purchasing decision easier. Here are some of the top contenders for that title when it comes to the best office chair for back pain.
1. ErgoChair 2 from Autonomous
Autonomous provides back relief with the ErgoChair 2. To achieve ergonomic chair back support, the ErgoChair 2 uses advanced lumbar technology. How it works is simple: Autonomous uses premium-grade materials to ensure your chair offers resilience and durability. In addition to lumbar support, the back uses breathable mesh to allow you to stay fresh.
You can also directly control how much lumbar support you need. With a simple use of the handle, you can adjust to your height settings. It allows the right amount of body pressure so you can enjoy a painless experience. For that reason alone, it's a strong contender in the best office chair for back pain. However, there are other reasons to consider this chair.
The ErgoChair 2 also supports your body with a comfortable cushion; you can adjust it as many times as you need for you to relax. The lumbar system can support short, medium, and tall body types while keeping 350 lbs with a solid foundation. It's perfectly adjustable for most workers. There is also up to 6 centimeters of range for the lumbar support.
Finally, the ErgoChair 2 also provides comfort and convenience through other means, which include adjustability and easy-to-use controls. You can choose between all black, cool gray, evergreen, red apple, baby blue, and black and white office chair for color schemes. Autonomous also gives you the option for affordable monthly payments.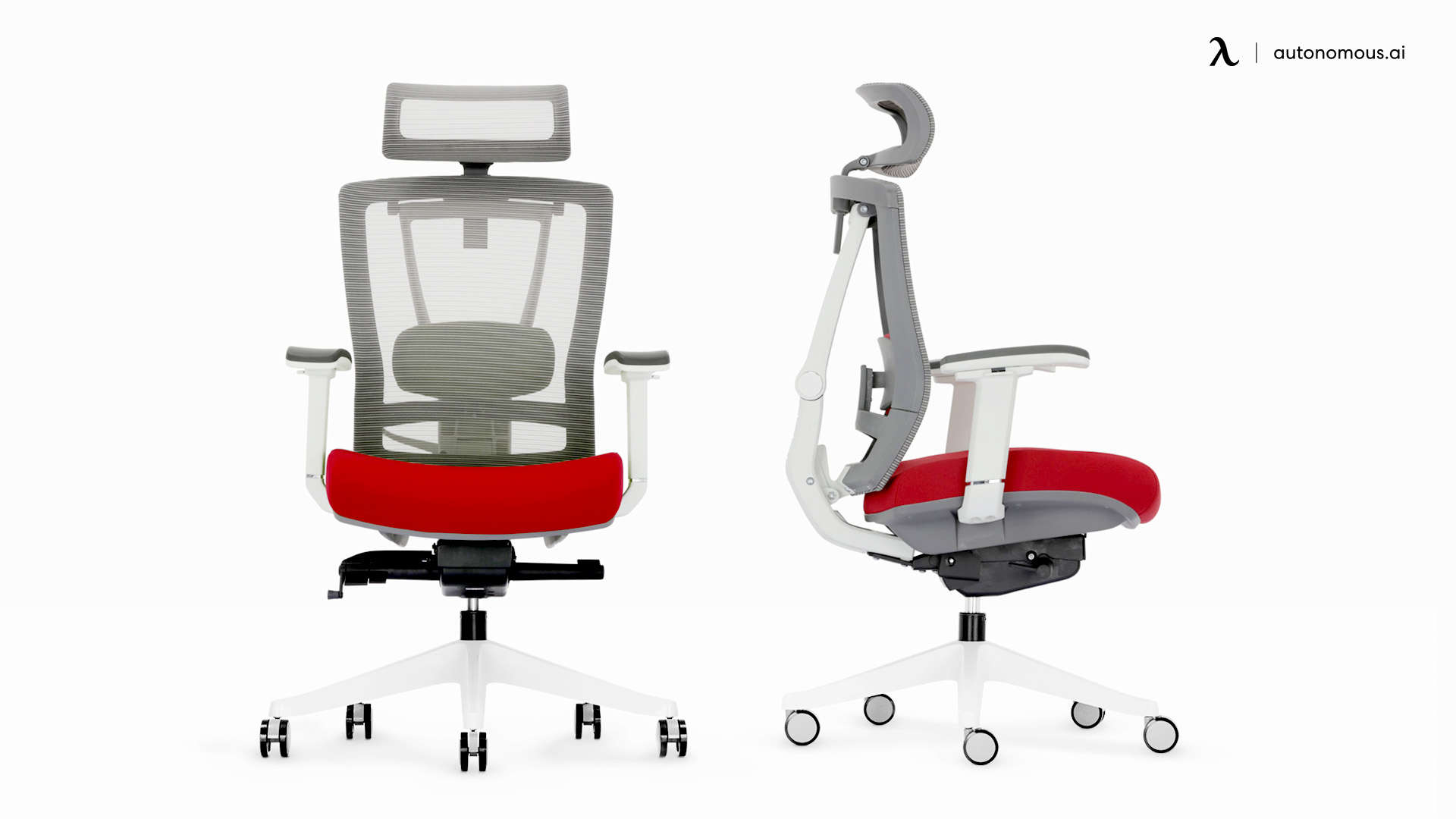 Pros and Cons of ErgoChair 2 from Autonomous
Excellent lumbar support conforms to any given body type
Significantly reduces back pain with the curvature back design
The breathable mesh prevents heat from building up in your body
Adjustable controls for tilt, height, and tension
Large cushion seating allows maximum comfort
Materials are eco-friendly and can be recycled
Great selection of different color schemes
Affordable monthly payments with free shipping
Slightly expensive without monthly payments
Be mindful of the wheels if you use carpet flooring
2. Ergonomic Chair from Branch Furniture
Branch Furniture provides ergonomic chair back support with their latest selection. It offers lumbar support for all shapes and sizes with its Italian-designed chair. There are seven points of adjustment to prevent back pain, as they focus on removing tension in those areas. With double-woven mesh, your back can easily breathe as you sit back and relax.
The ergonomic chair uses a foam cushion to distribute your weight evenly. It also uses recyclable materials to bring out a sleek design for your interior space. Not only is it comfortable, but it's also a good look for your workspace. A seven-year warranty completes your purchase with accountability in their product.
Branch Furniture is unique in their accident protection - should anything happen to your chair, they can fix it for free. You can also get the chair in either black or white colors with a white frame. Assembly is relatively easy, even at a beginner level.
Pros and Cons of Ergonomic Chair from Branch Furniture
Seven points of adjustment to alleviate body pain
Good ergonomic design with comfortable seating
Accident protection for your convenience
Seven-year warranty for buyers
Considerably limited color scheme
The arms require more adjustment to get used to
Watch out for improperly drilled parts (contact Branch Furniture in that case)
3. Mirra Chair from Herman Miller
Herman Miller offers their Mirra product, which includes ergonomic chair back support. With tri-flexible lumbar technology, you can find comfort while it conforms to your body. It corrects your spinal alignment to reduce potential back pain, especially in the lower areas.
The rollerblade wheels and polished aluminum base allow you to move around within your chair freely. As long as you have plenty of space, you can avoid a confined environment. Do keep in mind the flooring of your household, especially if you have a carpet.
In terms of an ergonomic chair with lumbar support, the Mirra is a reliable product. It uses breathable mesh, adjustable arms, and tension control; you can customize the chair to your specific needs. Herman Miller also offers free shipping with a money-back guarantee.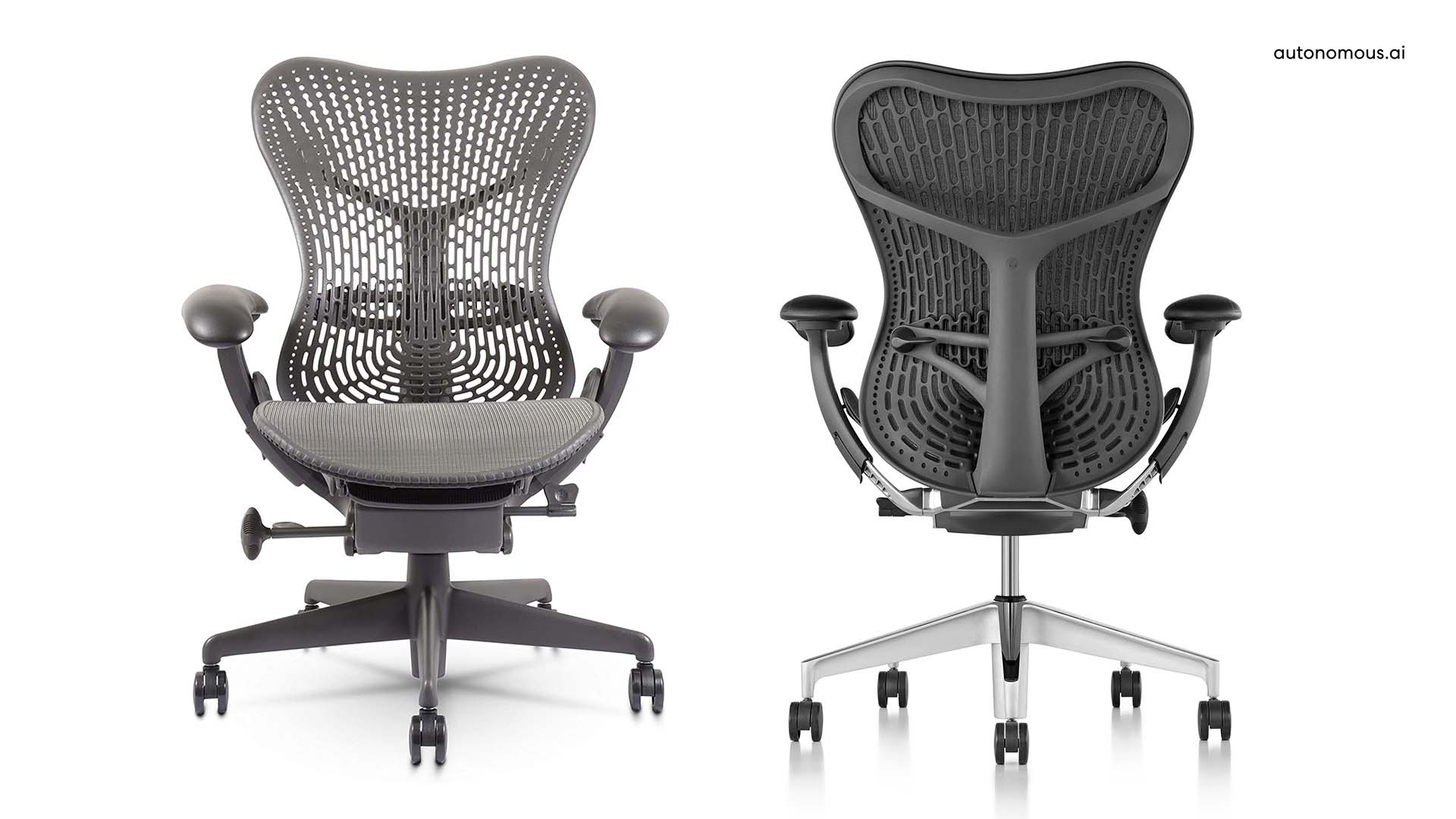 Pros and Cons of Mirra Chair from Herman Miller
Adjustable lumbar support offers flexibility
Tilt and tension on several parts of the chair
Freedom to move around with the swivel
Money-back guarantee with free shipping
Lack of exciting color options
Be careful of carpet flooring with the rollerblades
Slightly on the expensive side
4. Ergo3D from Nouhaus
Nouhaus offers ergonomic chair back support with the Ergo3D. The lumbar system is meant to remove compression within your back by hugging it into a straight alignment. More often than not, workers try to readjust their position. The lumbar support perfectly conforms to your body while you do so. It also provides optimal airflow with breathable mesh.
The orbital armrests can glide forward, backward, and sideways. It also pivots to your left and right for extra comfort. The Ergo3D gives your body a free range of movement with plenty of space. Overall, you can find a balance of relief and satisfaction.
In terms of color schemes, you can choose black coffee, silver-gray, brilliant blue, and dark burgundy. Nouhaus provides you a modern office chair with a stunning design. There is also an adjustable headrest and lounge recline.
Pros and Cons of Ergo3D from Nouhaus
The lumbar system adjusts whenever you shift positions
Good ergonomic chair design to fit your needs
Multifunctional armrests are quite flexible
Nice range of colors to choose from
Arms aren't as adjustable as they should be
Assembly instructions need to be more clear
5. MFTC 200 from Realspace
Realspace has a multifunctional chair designed to make you feel comfortable. The MFTC 200 is a top seller due to its fashionable appearance and adjustable lumbar support. You can achieve ergonomic chair back support with the breathable mesh and personalized features.
The MFTC 200 also uses height adjustment with a single touch of their levers. With built-in caster wheels, you can quickly move your chair around. Convenience is the main priority of this chair, which allows you to boost work productivity.
However, the three adjustable handles might not suit everybody, mostly if you prefer a non-invasive design for your office chairs. While the controls are fluid, the handles do stand out. Otherwise, it shouldn't be too much of an issue.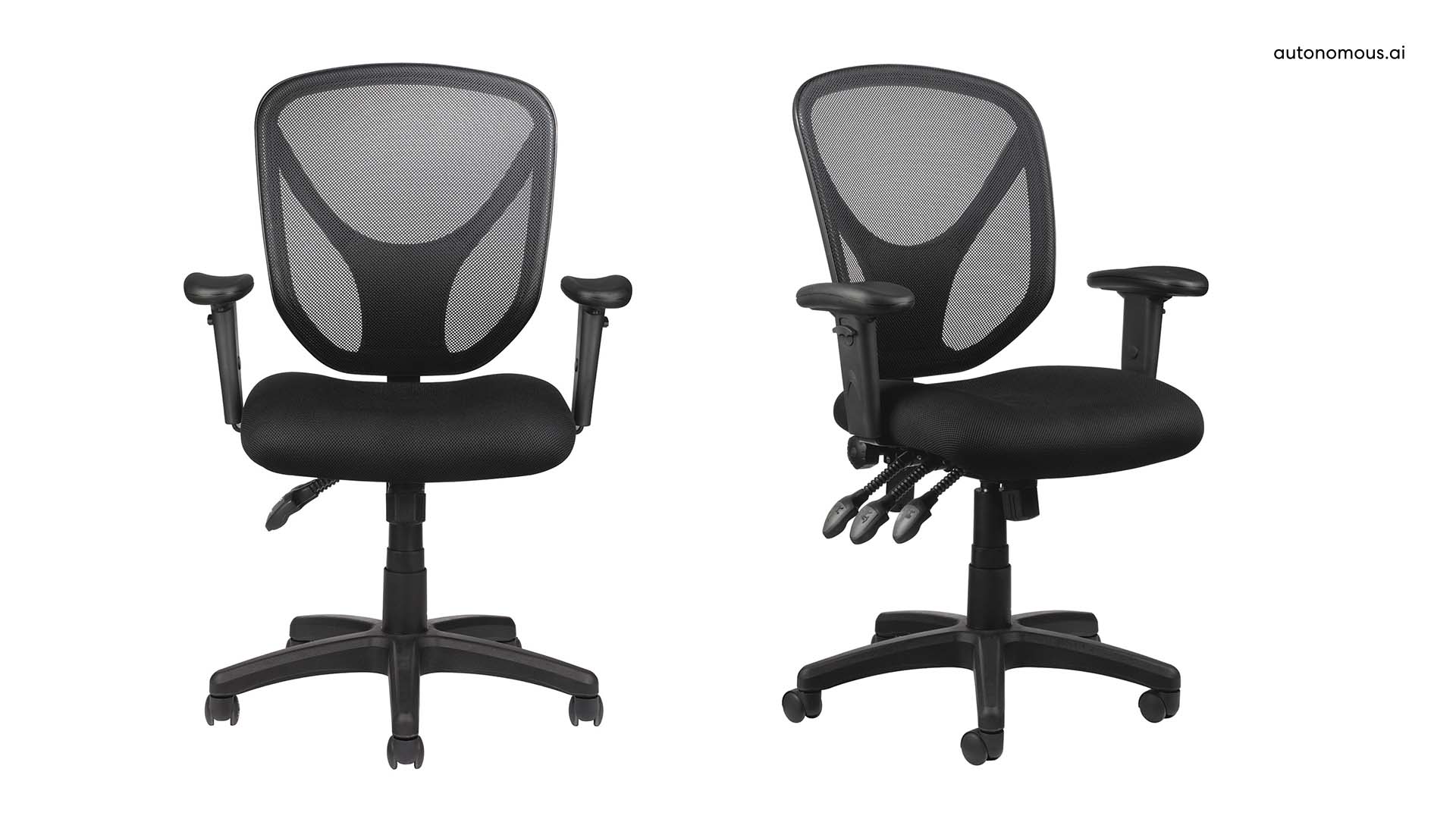 Pros and Cons of MFTC 200 from Realspace
Ergonomic chair with lumbar support
Comfortable seating and easy-to-use controls
The considerably affordable price tag
Three bottom handles are rather clunky in design
Armrests could be much bigger
Find Yourself the Best Office Chair for Back Pain
Don't work harder with back pain; work smarter with lumbar technology! You can significantly increase your work productivity with ergonomic chair back support. Most workers struggle with body tension, which causes distractions and health issues. Quality of life is essential for both the physical and mental capacity of every worker. How can a worker effectively complete their tasks when they're in constant pain? There is good news - an ergonomic chair for lower back pain is the optimal solution to this frequent problem.
With these five ergonomic chairs, you have plenty of options to choose from for lumbar back support. Each of them is specifically designed to correct your posture and improve oxygen flow within your body. You can reduce back pain, so you remain energetic and maintain your concentration. The results speak for themselves. Find yourself the best office chair for back pain so that you can finish your assignments without issue!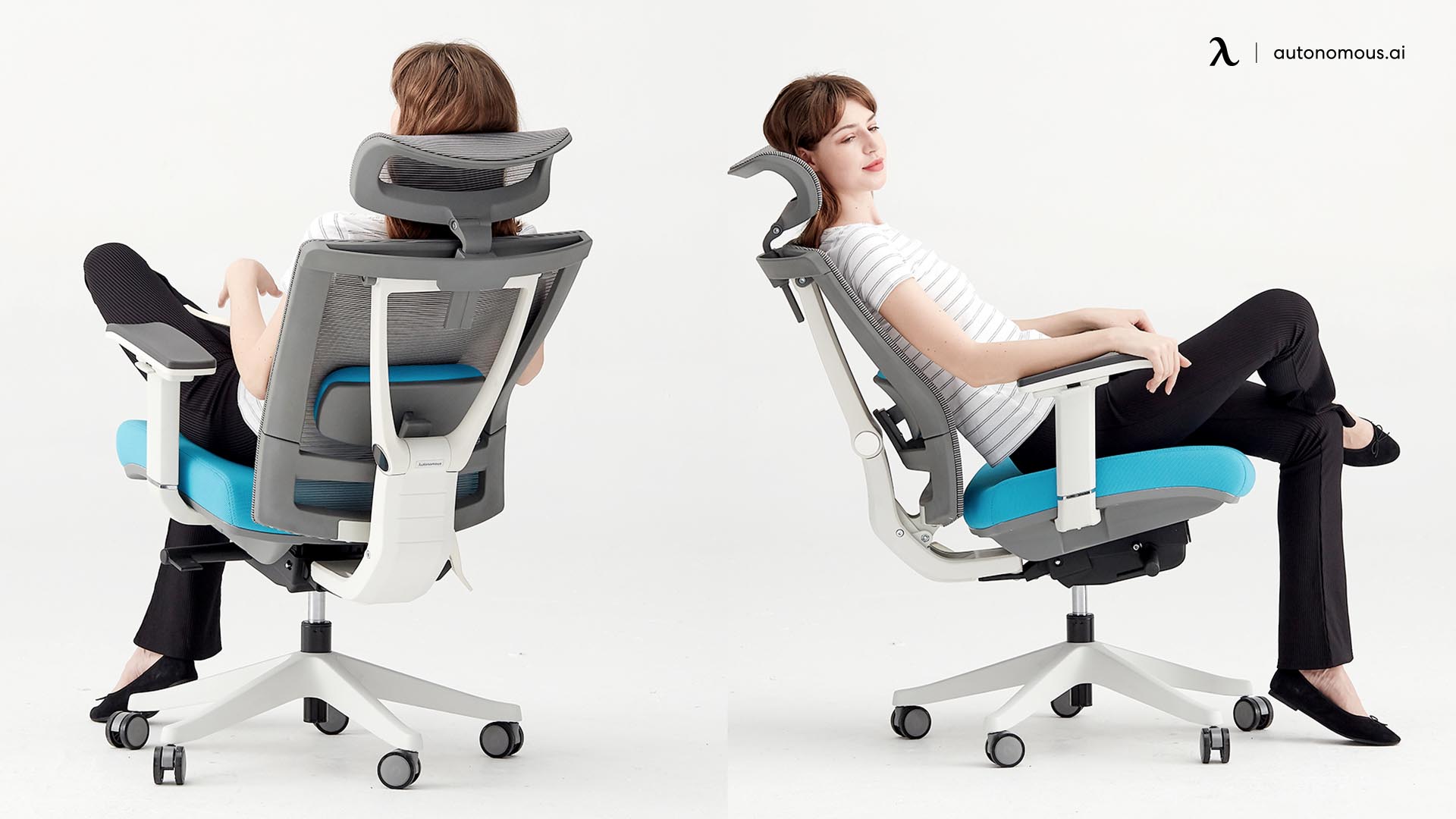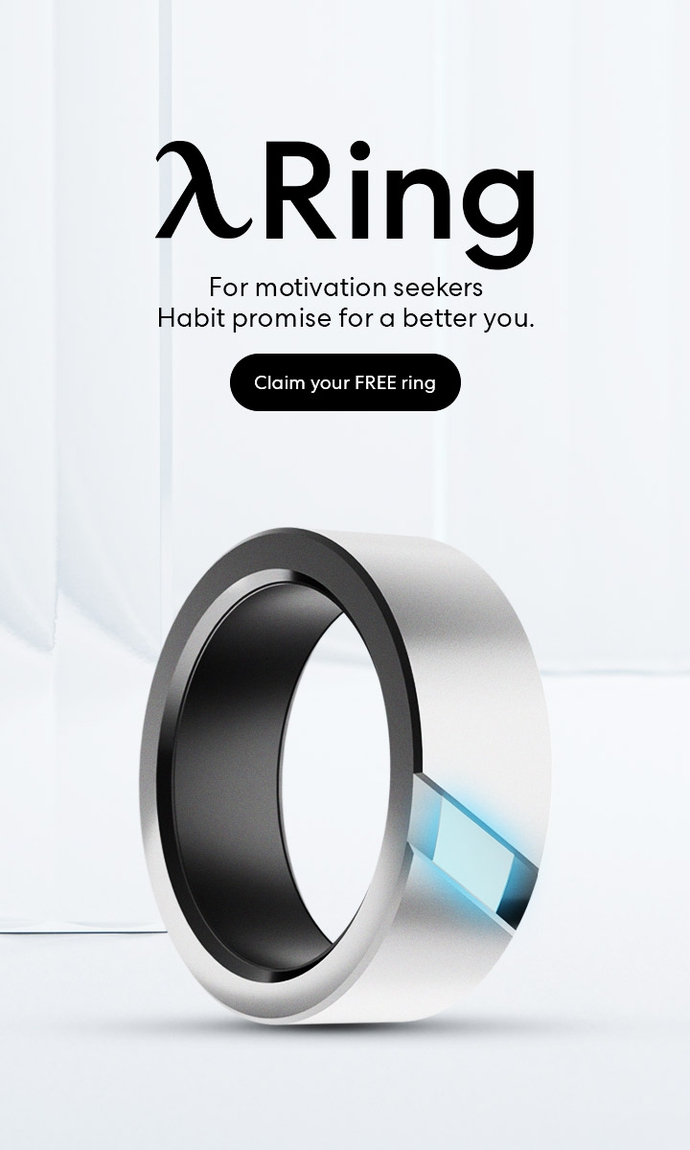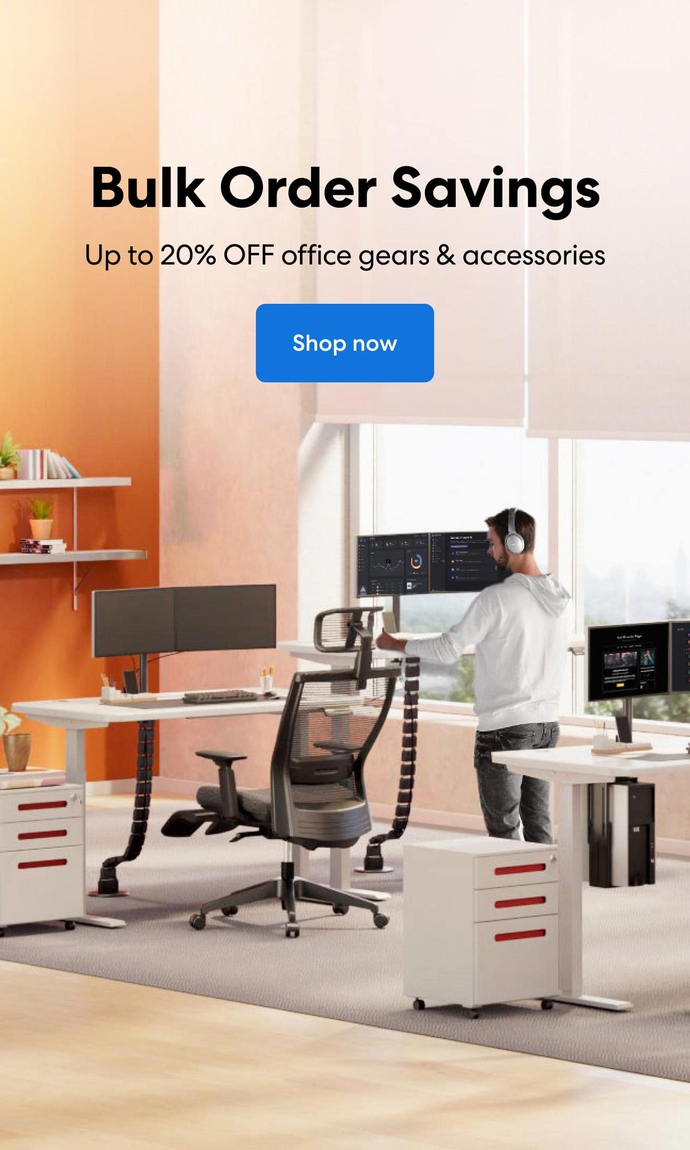 Subcribe newsletter and get $100 OFF.
Receive product updates, special offers, ergo tips, and inspiration form our team.