Smart Products
Choosing a Home Office Desk for Small Space: 20 Best Choices

Autonomous
|
Feb 22, 2021
3,542 Views
Are you searching for the perfect office desk for a small space? Finding the right desk for your small home office can be a chore without proper insight and guides. You may think your tiny apartment cannot accommodate a home office. If so, you are mistaken.
No home office is complete without a reliable, spacious desk. Whether you choose a narrow writing desk, a corner shaped desk, a folding desk, or an office desk, there is an option somewhere for your small home. 
Considerations When Choosing a Desk for a Small Home Office
Keep It Simple
You probably have identified a space that can work as a small office. The good news is choosing a desk shouldn't be complicated. A small ergonomic office desk should fit just about anywhere in your home.
Pick Your Home Office Desk Design 
Have you ever wondered why you need to give up your comfort just to fit an office desk in a small space? Contrary to popular belief, you do not. However, when choosing a desk for a small home office, choose one that has enough space for your desktop monitor and even a small lamp. 
Try also to find one that has a few drawers for storing papers and office supplies. Having keyboard storage that slides from under the desk is also a good choice as it saves workspace on top of the table. Additionally, a portable desk is an excellent choice if you are not looking to make permanent changes in your home. 
Search Online for Compact Office Desk 
You probably have not heard about many great options for desks, but the internet is at your fingertips. Therefore, all you need to do is conduct a quick search. Do your measurements and start searching for compact desk designs that can fit into the small spaces of your home. Special requests, such as that for a small office corner desk, may require a more comprehensive search.
One of the beauties of shopping online is the available variety. You can screen your options, compare prices, and you can also choose a color, material, and style. While online, you can take advantage of deals and sales, and the desk can even be delivered to your house at no additional cost. 
Liven Your Home Office
You can add some flair to the new space. Though your desk is not the only furniture you need, it is best to take the time to ensure that it establishes and maintains the comfort and liveliness in your new home office. 
An elevated monitor can correct any height discrepancies, so you never have to be hunched, which is great since that can contribute to poor posture. Additionally, a contoured keyboard reduces the strain on your hands, and an LED lamp can ease eye strain.  
20 Best Choices of Office Desk for Small Space
These choices are not limited to functional items, as you can include decorations to keep things fun and refreshing, such as a potted plant and a window treatment. These items do not only cater to aesthetics, but they also address your health and wellbeing. 
This list has you covered where finding the best desk for small space is concerned.
1. Autonomous SmartDesk 2 Home Office
It's no surprise that the Autonomous SmartDesk 2 Home Office takes the top spot office desk for small space here. It's designed to be a premium offering that can fit into any home office space, including the one you may think is too small. With superb construction, a tremendous weight limit, programmable memory presets, and customization options, there is no better option for you.  
2. Autonomous Art Desk
The Art Desk may strike you as one that is only suited to chain arrangements in the office, but this dedicated home office model is great for your small space. It has four programmable height settings, it can accommodate up to 300 pounds, and the sturdy frame means that you can work at various heights with no wobble. The curved desktop should also grant you just enough space for your needs. 
3. Lucite Desk 
The Lucite desk gets the first spot on this office desk for small space list as it is an excellent computer desk for small spaces. A clear aesthetic is present since Lucite is a transparent compound. Its transparency offers an illusion that a lot of space is not used. In other words, the small area does not appear cluttered. 
4. Flexispot Electric Height Adjustable Desk 
The Flexispot Electric Standing Desk is four feet wide, making it suitable for many small office spaces. Its assembly is straightforward, and it is small enough not to consume much space. The computer desk small has a maximum weight limit of 154 pounds, reaches 48 inches high, and has three preset heights for you to take advantage of. 
5. Stand Steady Joy Desk 
The Stand Steady Joy Desk can be used in the traditional office setting, but is best suited for a home office setup. With its simple design, the legs' layout, and its wooden finish at the top, this desk is an asset. 
The desktop is spacious enough to accommodate your monitor or laptop, peripherals, and other accessories. The adjustable feature isn't present, so be prepared to use it as is. 
6. Airlift Tempered Glass Electric Standing Desk 
It may be hard to believe, but this Airlift desk is quite affordable, and it is a beauty to stare at. The best part is that all this comes with comprehensive functionality. The tempered glass placement adds an amazingly fancy style to the desk, and it is versatile and spacious. There is enough space for your screens, keyboard, mouse, and any other accessories you may use. 
It bears a touchscreen controller and adjustable heights with three different programmable settings. You even benefit from the form factor, as it does not require too much space. Furthermore, it has a hidden drawer to store any items, such as office supplies and documents. 
7. IKEA Bekant Sit-stand Desk 
This desk can fit in both home and traditional office spaces, but it is only suited for basic functionality. Its desktop workspace is not the largest, but it can accommodate your device or monitor. 
Even with all that's missing, you can adjust the desk, and the build quality is super sturdy!
8. SHW Electric Height Adjustable Standing Desk 
This design may not have all the glitz and glamour of the other more advanced types, but it is perfect for the job it is intended to carry out. It has a great form factor, a button-based adjustment system, plenty of space for your favorite items and office supplies, as well as the ability for you to switch between standing and seating positions. 
If you were to choose the SHW Electric Height Adjustable Standing Desk, you could select any size that meets your needs. The desk has no wheels, so you would need some manpower to move it inside and into its permanent spot. Additionally, it comes with memory presets to aid in saving your favorite configuration. 
9. Rebel Up Standing Desk 
Whether you are searching for a desk to suit the traditional office or your small home office, this is the kind of desk that would never look out of place. The Rebel Up Standing Desk has a glass top that gives it a superior look many the other desks do not have. It is a power desk that is best kept near an outlet, and it features two built-in USB ports and two convenient outlets. 
The desktop is an extensive area that can hold all your screen and equipment, and you have the option of selecting the color that can best compliment your home. 
10. DIY Standing Desk
This option is for individuals who seek to customize and have full control over building their own standing desks. If DIY is not your thing, you are better off buying an already constructed, reasonably priced desk. 
If you have the ability and you want to add your creative touch to your environment, you can. In doing this, you have full control of the dimensions and components. Additionally, you get the chance to save money with DIY standing desk since you would be billed for the manufacturer's materials and labor efforts.
11. ALFA Furnishing Upgraded Standing Desk
This desk is offered in three different finishes that are all professional and innovative. There are also three sizes available, and the largest is 60-inches in width, providing you with more than enough of a workspace to accommodate two monitors comfortably. Naturally, your peripherals have their space too. The electric adjustability feature is a fast and smooth process, and the memory presets make things even more comfortable. 
12. GeekDesk v3 Sit-stand Desk
This design from GeekDesk is a very convenient one for your whole office setup. The assembly process is very straightforward. It features an adjustable standing desk design with a minimal wobble, there is an excellent range of motion, and the lifting speed is quite convenient. 
GeekDesk designed this model to be as simple as it is efficient. There's no denying the sturdy design that is small enough to fit into your home office. 
13. Symple Stuff Grattan Height Adjustable Standing Desk 
Looks can be quite deceiving, and this desk can attest to that in spades. A first look would make you think this desk is quite expensive due to its appearance. With its expensive-looking aesthetic and ability to fit nicely into almost any office setup, this Grattan Height Adjustable standing desk is a gem.
14. NewHeights Elegante XT Standing Desk
NewHeights did a tremendous job with this sturdy design. It features a quite accommodative adjustment range, as well as a respectable 320-pound maximum weight capacity. The aluminum base stands firm, and its internals reveal some of the most high-quality German engineering. It has a tremendous 12-year warranty, which shows the level of confidence that the manufacturer has in the desk's ability to perform well. 
15. VertDesk v3 Sit-stand Desk
The most amazing capability here is the VertDesk's ability to maintain a stable footing, regardless of how high it's adjusted. It achieves this with a cross-support mechanism that keeps its already thick steel tubes in check. The adjustment speed is respectable, even though it employs a single motor configuration. The weight capacity stands at 350 pounds, which is more than you should need. 
16. Fully Jarvis Standing Desk
Here is a very versatile desk that can serve in various positions. It could even be a corner desk for small space configurations, even though it doesn't have an L-shaped design. The adjustment range is good, it operates smoothly and quietly, and your customization options for the desktop are incredibly vast. 
17. VariDesk ProDesk 60 Electric Standing Desk
Electric standing desks tend to be very well received, and this one can do a tremendous job in your small home office. The cross support mechanism maintains steady footing, and the construction quality of the unit is very sturdy. Assembly can take as little as five minutes, and the memory presets present make returning to your favorite standing desk heights a breeze. 
18. Uplift v2 Standing Desk
Here's a testament to inclusivity. Shorter persons often have a tough time finding a standing desk to accommodate them. If you fall under that category, this desk is the one for you, as it goes lower than your traditional standing desk. Its minimum height is 22.6 inches, which is less than two feet high. The desk also features a smooth movement style, collision avoidance, and overload protection. 
19. Mind Reader Two-tier Sit-stand Desk
Not many standing desks separate the areas for your peripherals from those dedicated to your monitor. The two-tiered design here does that quite well, and it's very comfortable to use. Storage and movement are also easy tasks since the small footprint and wheels' presence make putting it in a corner that much easier. If you're worried about careening away as you work, the wheels allow you to lock them into place. 
20. Mr. Ironstone Folding Desk
While other desks on this list work well in small home office spaces, this one was designed with that purpose in mind. In any context where space is an issue, it's hard to go wrong with this one. The small desktop is made of scratch-resistant board, while the legs have a matte metal composition. It only weighs 25 pounds, and you can store it under your bed or in your closet whenever you wish.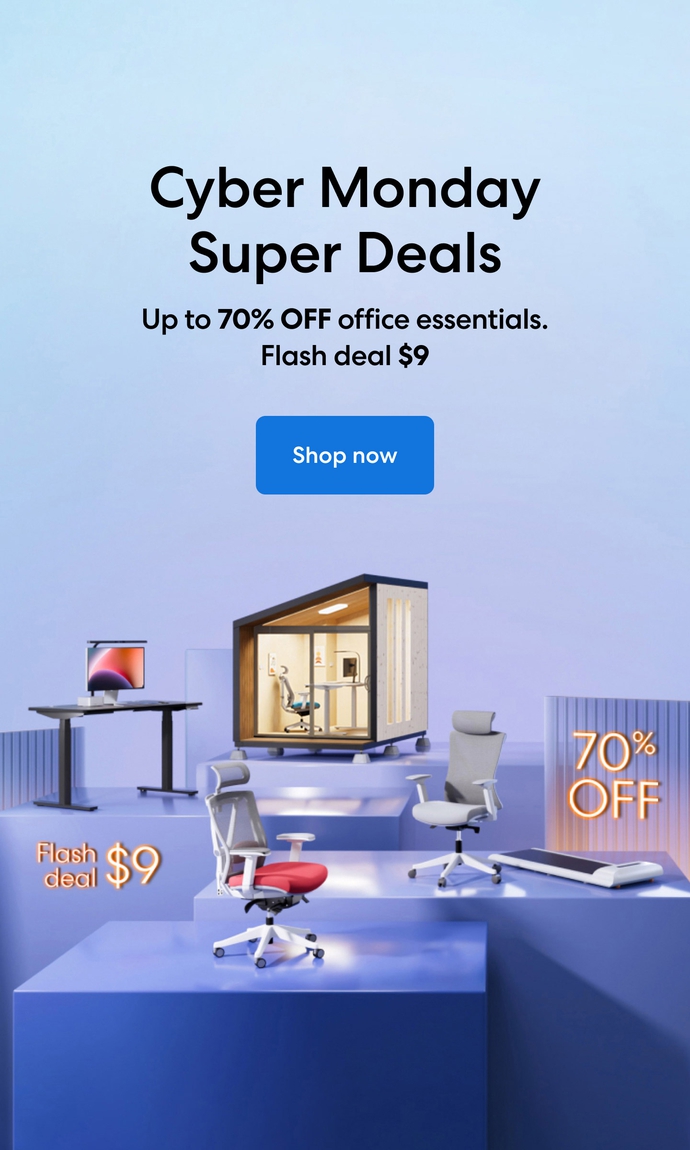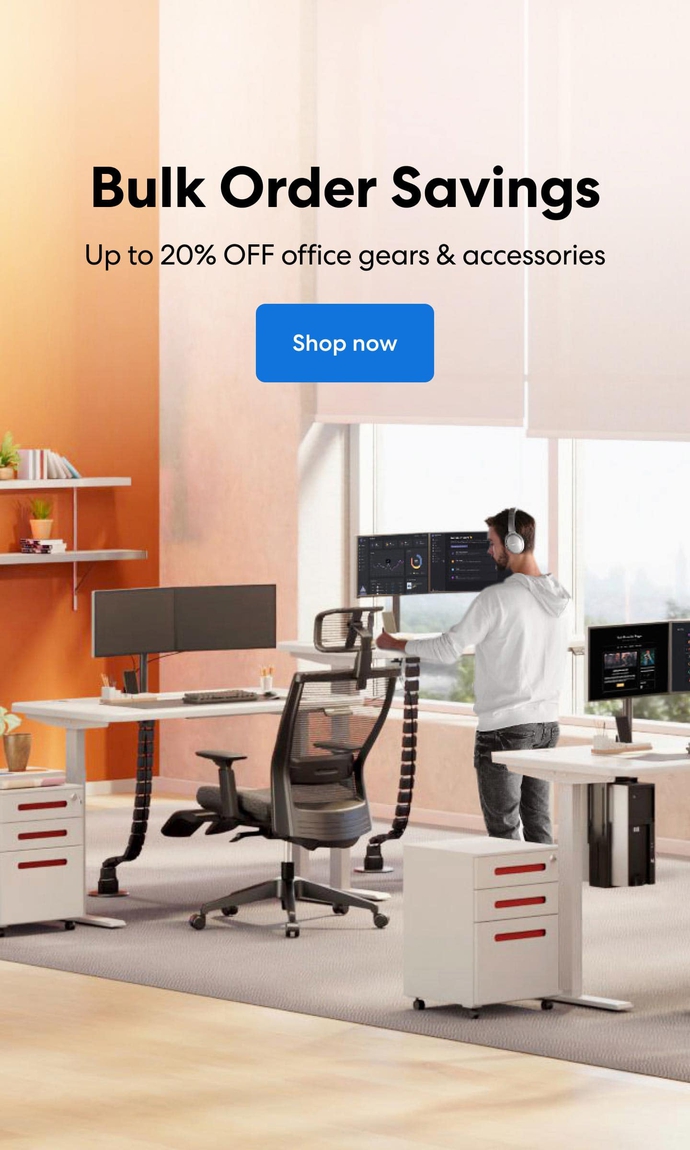 Subcribe newsletter and get $100 OFF.
Receive product updates, special offers, ergo tips, and inspiration form our team.