Smart Products
Choosing a Black Study Desk from This List of 15+ Best Options

Autonomous
|
Dec 19, 2021
1,334 Views
To hold your gear, you need a good, reliable black study desk whether you work remotely or do some after-hours work. Having your laptop, stacks of bills and all the other essentials you need to function as an adult can quickly clutter your kitchen counter. The color of the black study desk, as well as your budget, are major considerations when buying one. 
15+ Best Black Study Desk for College Student
1. Autonomous x Artesian Desk
Artesian, one of the leading providers of custom gaming systems, has announced an exciting partnership in collaboration with Autonomous; we have created a gamer-friendly futuristic standing desk design. Any gamer can adjust the screen's height from 29.4 inches to 4 feet. Despite a mere 50 dB sound, it lifts 265 pounds and remains rock-solid throughout the entire game.
With up to four adjustable height presets, you can easily switch the black desk for study between sitting and standing. The black study table can be turned on with just a click. An energy-efficient dual-motor system drives its sturdy steel frame, and its UL, BIFMA, and EMC certified for strength and safety globally.
2. Autonomous SmartDesk Core
It would help if you didn't have to sit at a depressing study desk in your college dorm every single day. Your desk should be customized based on your preferences to make studying more enjoyable.
It allows you to customize the desktop and frame to fit your preferences thanks to the Autonomous SmartDesk Core. A silent dual-motor and four adjustable settings allow you to set your preferred height so you can switch effortlessly between standing and sitting. The solid steel frame of this college desk is built to last. Its warp-proof MDF wooden desktop ensures quality and durability for years to come.
3. Autonomous SmartDesk Pro
Two monitors will fit in a regular case. However, XL covers all your needs - and more. To support all of that extra space and your best work, SmartDesk Pro comes with an improved lifting column.
Can you describe what peak performance looks like? Over ten years, the machine has produced 310 lbs at 1.3" per second. At its max height of 52", it moves at a whisper-quiet 40 dB, with a wobble of less than 0.5°. Save your ideal sitting and standing positions instantly.
4. Autonomous Compact Desks
This sit-stand desk can accommodate people of almost any height with its sit-stand range of 27" to 45". Its sturdy steel frame with a rectangular column and dual electric motors enables it to lift 270 lbs effortlessly. The compact standing desk fits into any space at home or at the office yet is still spacious enough for all of your essential workplace supplies.
5. Form Formed By Function Study Desk
Bespoke sizing, designs, materials, and colors available upon request. The Standard black corner study desk model has a top-shelf built-in, while the Shelf-Less black computer study desk has no same top-shelf design as a compact desk.
6. Arozzi Arena Gaming Desk
The Arozzi Arena gaming desk is a great option for those looking to add multiple monitors or an ultrawide display to their desk. As well as a surface that is 63 inches long (over 5 feet), there is a lot of desk space to accommodate your computer display, mouse, keyboard, and other gaming accessories. We include a black version and a blue and green version.
7. Secretlab Magnus
This rack stands out from the crowd because of its excellent cable management options, spacious black study desk, and ability to support heavy PC builds. There's no doubt this desk looks, feels, and functions like a premium product, despite its price.
Magnus white gaming desk is made of metal, making it feel sturdy. It also features an integrated cable management system, making it a practical gaming desk.
8. Eureka Ergonomic Z1-S Desk for gaming
It has a robust steel frame and a lever for balancing F1 at the top of each leg, making the Eureka Z1-S an excellent choice. Four adjustable feet help level the desk as well. A single monitor can fit perfectly on the Eureka Z1-S desk (although two smaller monitors would work just as well), perfect for smaller rooms.
Your gaming PC or laptop can be powered by plugging in a USB cable. With Eureka Z1-S, you can choose from eight lighting modes. In addition, the black study desk's sides offer RGB lighting and other bonus features. It also has a cup holder, grommets for cable management, and a hook for headphones.
9. Home Depot 47.2 in. Rectangle Black Wood 4-Tier Shelves Desk
The length is 47.2 inches, and the width is 23 inches. A desktop with a 6-inch width provides you with a lot of space to work or study comfortably. You can conveniently store books, hosts, office supplies, and small devices on the four open shelves. Depending on your preference, the shelving units can also serve as a bookcase or display shelf on the left or right. The large table area and six-tier shelves can be mounted on either the left or right side, making everything easily accessible.
10. OneSpace 30 in. Rectangular Black Computer Desk
Whether it's a small home office, kid's room, or any other area that needs a work surface, the Stanton Computer desk is the perfect addition. The stark black color highlights the sleek and elegant lines. There is ample space with a 27.5-inch work surface and 19-inch depth. Your working area will be neater and more spacious with the pullout keyboard. You can store books, printers, or whatever else is necessary for your day's work in the included bottom storage. The Stanton Desk is constructed with durability in mind.
11. Furrino L-Shaped Espresso Computer Desk
Furinno's L-Shaped Desk with Bookshelves is the perfect desk for your office. Designed to fit snugly in a corner, it maximizes your home office space. You can easily fit a monitor or laptop, along with papers and other office supplies, on the large desktop surface. You can store binders and books on two open shelves on the side of the black study desk but keep them close at hand.
12. South Shore 25.6 in. Rectangular Oak PC desk
Are you having trouble storing your books? This computer standing desk unit features three fixed shelves. Depending on how your room is laid out, the bookcase can be attached to either the right or left side. Furthermore, the college desk is finished on all sides to be placed in the middle of the room to create a more executive appearance. An attached computer desk includes three shelves with fixed positions. Based on the layout of your room, the bookcase can be attached either on the left or right side.   
13. FurnitureR Modern L-Shaped 47.2 in. Long PC desk
It provides you with unmatched convenience and is the perfect piece of modern furniture for your office or home. The engineered wood structure and powder-coated steel frame ensure years of reliable and sturdy performance. It offers a spacious workstation, enabling you to efficiently plan and complete your tasks.
A smooth surface and an L-shape make this desk for study a great working surface. An L-shaped desk is ideal for the corner of your office. Its three drawers make it convenient to store tools. Its storage space keeps things out of the reach of children. 
14. VEIKOUS 47 in. Black Rectangular Computer stand
This is the best study desk for any modern home, and this computer desk has a modern style. The desk is ideal for apartments and houses with limited space, as you can fit it in the office for work, the playroom for table games, and the living room for family use. Storage space at home or in the office will help you organize your work more effectively. Your workspace at home or office will be more organized with an additional storage cube.
15. EDGEMOD Daria 48 in. Rectangular Walnut Desk
Its sturdy metal frame (sand-finish) and adjustable legs in order to put up taller chairs and uneven floors guarantee stability. At the same time, its melamine finish (scratch-resistant) guards the desk's surface. The width of your desktop is 47.5 inches, which is more than enough space for pencil holders, dual monitors, and other managerial tools. 
16. Pro Space 39 in. Computer Desk
Pro Space has engineered the desk frame to be safe and reliable. We offer ergonomic office furniture that adapts to your different styles and needs, whether working at home, in a cubicle, or in the C-suite. Everything we design, provide, and use daily makes your life more active, fluid, and well-balanced. The ergonomic desk for kids is very stable and durable due to its high-quality wood and steel frame. 
Conclusion
If you are a minimalist person and want to pick a black desk for your study room, the 16 options above are definitely perfect ones for your consideration. Now, let's pick the best one that meets your needs and take it in your cart!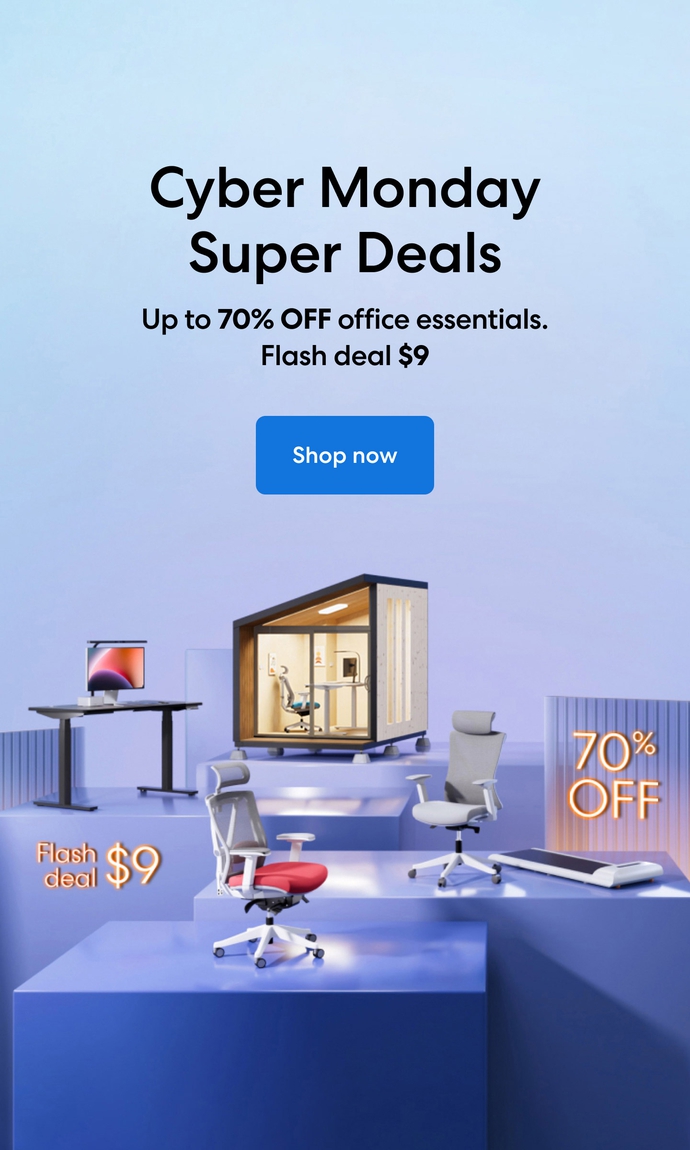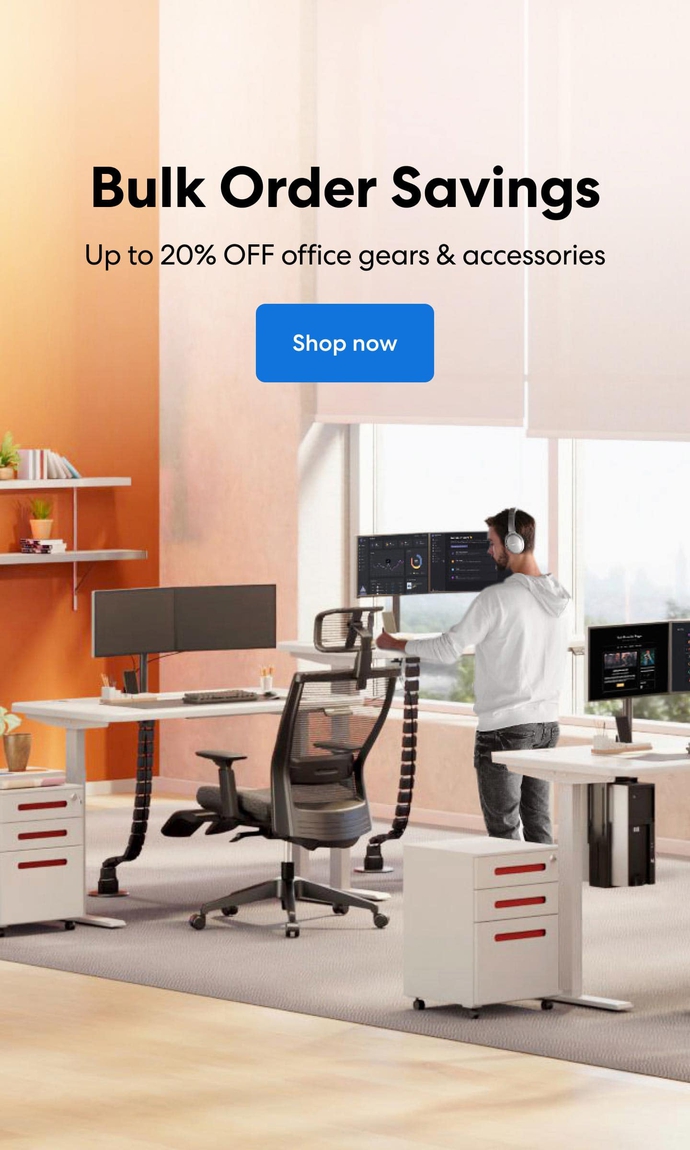 Subcribe newsletter and get $100 OFF.
Receive product updates, special offers, ergo tips, and inspiration form our team.