Individuals are searching for innovative and imaginative desk design ideas to update their working environments. Offices realize that the austere industrial aesthetic isn't helpful for the well-being of individuals who've had to attend to a physical facility. Many workers who once worked in dull cubicles are now working remotely.
And no, the collection of rusted mugs on your work-from-home desk setup is not décor. Our retro desk accessories decoration suggestions will make your workspace lively and enjoyable, which will help work seem less like drudgery.
List of Some Retro Desk Accessories for You to Buy
You may positively influence your workday by freshening up your workstation with some original ideas to adorn your office desk. The best part about a vintage desk setup for an office desk is that it takes very little time and effort. The key is ensuring the result is eye-catching, well-kept, and reflective of your personality. Here is our list of the best office desk accessories you can use for your vintage office décor.
1. Cordless Stereo Retro Loudspeakers from Dosmix
This charmingly retro desk accessory would enable you to do that if you have a personal co-working space and want to receive calls on loudspeakers. This one is Bluetooth enabled, making it simple to link to a smartphone. The device, which is portable and has music playback capabilities and the ability to link with smart speakers like an Echo Dot, is surprisingly flexible for the price.
2. Fox Run Triangular Bookends
These gorgeous marble endpoints will complement any environment thanks to their elegant yet bold design. They're ideal for workplaces, bedrooms, or study spaces. These retro desk accessories are robust and trustworthy since they are constructed of genuine marble. They have a pleasant weight of 8 pounds and can easily support any books. Additionally, because this gorgeous bookend will be unique, it is the perfect welcome or wedding present.
3. Vintage Woven Coasters from Coomin (Set of 6)
A stack of coasters is a simple solution to prevent coffee or liquid stains on a desktop, even if they are probably more frequently used on the tabletop. This set has six pieces, each in a light gray, white, or gray color. Of course, you can utilize any that you wouldn't need to keep at work at home.
4. Multipurpose Office Desk Pad YSAGi
This ultra-thin retro desk accessory may fit nicely in a laptop bag so that those who work inside and outside an organization always have a tool at their disposal to transform any area into something which resembles a desk. You could also use the impermeable pad as a functioning trackpad on a regular desk because it is large enough to hold a laptop plus mouse and therefore is smooth enough to serve as one. There are many more colors available, such as hot pink and purple.
5. Silk Phalaenopsis Orchid from LIVILAN
Although some live plants may thrive in workplaces, straightforward silk orchids like this one are hassle-free and failsafe. We appreciate that it includes white vases since you don't have to bother about looking for a container.
6. 3 Small Ceramic Vases from Sullivans
You may decorate your office desk with personality and efficiently display your style using this ceramic vase for a retro desk setup. With the help of this collection of ceramic vases, you can furnish a room in your house with sophisticated rustic home décor that nevertheless manages to be stylish and lovely. You may utilize the unmatched design alone as a gorgeous showpiece or add imitation blossoms, branches, and foliage for a flash of color.
7. Tripar Picture Postcard Stand
This is a multipurpose stand, not a standard postcard rack. It functions as a container for various items, including plates, utensils, china, iPad, pictures, artwork, documents, manuals, and more. This piece of steel is strong and well-made. It has been carefully constructed using materials of the greatest caliber. The elegant, contemporary design of the metal stand turns any object into a contemporary exhibit. The elevation and border depth of the easel is slightly different since it is manually made from a single cable fused in one place.
8. Yamazaki Organic Home Tissue Box
This handkerchief box has a gorgeous timber design to go with your entire workplace and bathroom theme. It is quite simple to resupply the rectangular box with fresh tissues for less fuss. Additionally, its design prevents your Kleenex from being wet. Before restocking this tissue box, you must remove all tissues from the box. The dimensions of this tissue box make it ideal for placement on a desk, dresser, lavatory counter, or bedside.
9. Cleaner Image Electronic Plug-In Lighting Word Clock
With an elegant finish and a large yet small dimension (7.75" x 1.13"), this distinctive decorative clock serves as a fashionable additional bonus and is ideal for your workstation, bedside, or dresser. It could appear to be a cryptic crossword problem at first, but as the LED screen turns on, it's obvious that it's not just a futuristic sculpture but also a working clock. It includes a USB cord and converter so you can connect it virtually anywhere in your house or workplace. Furthermore, you can use the simple advance and reverse controls to establish the proper time. You can also go for the Autonomous cork desk pad for a more retro touch.
10. Native Union Pop Phone Vintage Telephone
This phone is another approach to adding a little excitement to your office desk from our list of vintage desk accessories. You can see this headset that connects to your pc or cellular phone via an audio jack to assume you're talking to your pal on a telephone instead.
11. LED Swing-Arm Desktop Lamp by Tomons
This lamp's body is composed of sturdy, chemical-free real hardwood. Nylon, which is stronger and more reliable, is used to cover the wire. The workplace light is movable and requires no tools to assemble. The tilt and height may be changed as needed. You may keep it in a tiny area because of the design's reparability.
12. Plantable graphite pencils from Sprout (32-Pack)
These appear to be fine, if not ordinary, pencils right out of the package. But also, because every pencil carries a seed capsule (packed with a plant or flower) at one side, they may turn into something considerably better as they mature. Just bury the capsules in some dirt when all the leads have been removed, nurture it like a seed, and then observe what grows.
Summary

Furthermore, you can get your hands on the best office accessories such as LED desk lamps and a vegan leather desk pad at affordable prices through the Autonomous employee purchase program. So hurry, get your hands on the required workplace accessories to redesign your spaces.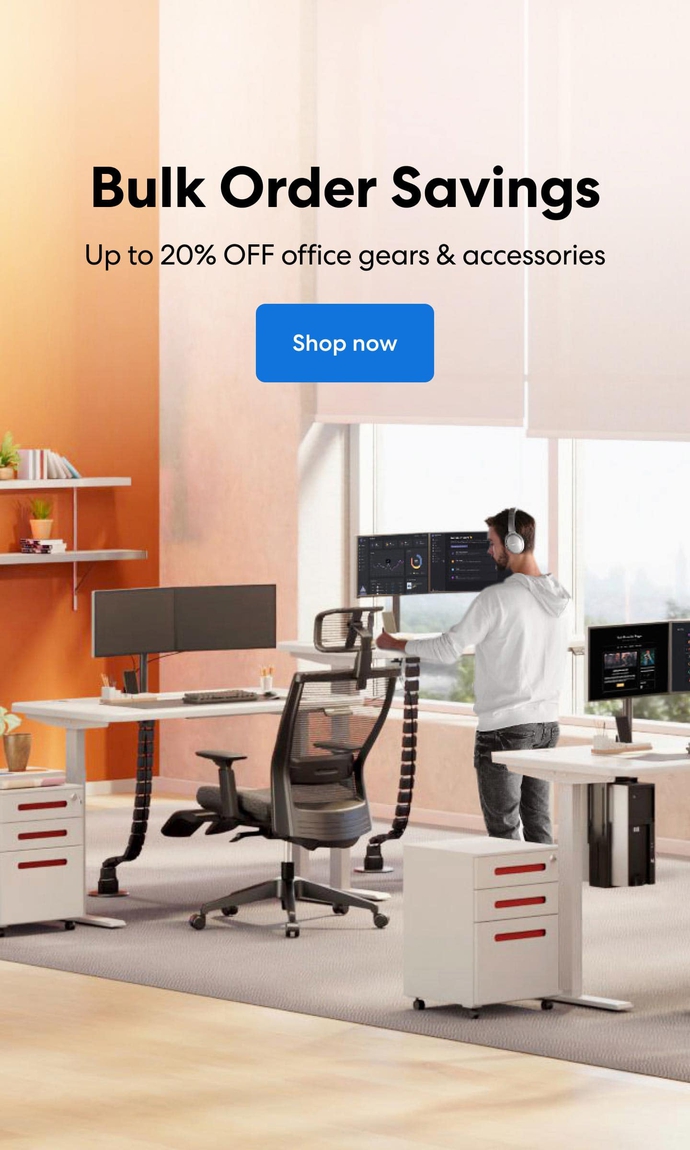 Subcribe newsletter and get $100 OFF.
Receive product updates, special offers, ergo tips, and inspiration form our team.