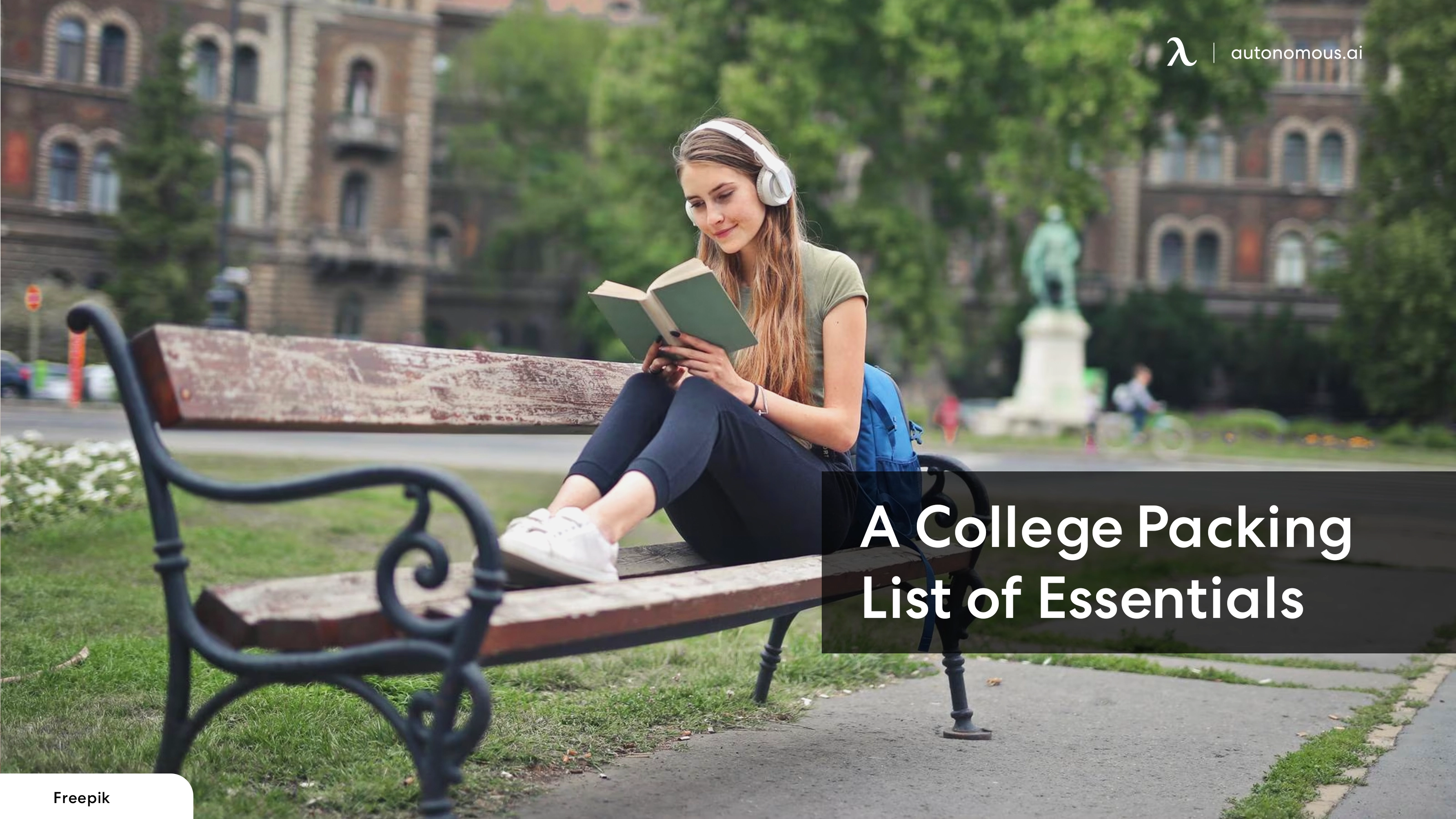 Latest Updates
College Checklist: 20 Things You Absolutely Must Bring to Campus

Autonomous
|
Jul 17, 2023
440 Views
College can be one of the most exciting times of your life. However, to enjoy this experience to the fullest, you need to make sure you are well-prepared and that everything you need for school is in order. This is why it is important to compile a college checklist.
Most people get so caught up in the excitement of going to college for the first time that they forget that preparing for college is hard work that needs a lot of time and energy. Some students leave their back-to-school checklist for the last minute, and end up forgetting essential items.
As a freshman about to start their first university semester, it is not easy to know which items need to be included on your checklists for college. Sometimes, you may not even be sure whether an ergonomic desk/chair combo will be provided or if you need to buy your own. 
Luckily, most colleges have an orientation day that will help you develop a clear picture of what to expect and assist you in coming up with a comprehensive checklist for college freshmen. 
If you need further help with your college preparation checklist, you have come to the right place. The following are 20 must-have items that need to be on your college checklist this year:
20 Things You Absolutely Must Bring to Campus
1. Good Chair
While chairs will be abundant in college, you may want to consider buying your own to help you study in comfort. It is unlikely that a college will be able to provide a top-of-the-line ergonomic chair for every student. Usually, all you will have access to are simple desk chairs that may not be all that comfortable. 
You may also need to buy ergonomic chair accessories, such as leg rests and lumbar supportive cushions to go with your chair. This is especially important if you suffer from back pain because in college you will likely spend many hours studying.
2. Laptop Stand
Having a good desk and an ergonomic computer chair is not much use if you are forced to sit in an awkward position because you do not have the right laptop or monitor stand. These days, most of the work done in colleges is via the computer, so a good laptop stand should be on your college preparation checklist. 
Many college students are also very serious online gamers, so if this is the case, you may want to consider investing in a double or even triple monitor arm to help you create the perfect ergonomic gaming station. 
3. Desk Lamp
One of the first things that you need to buy for your stand-up desk is a good-quality desk lamp. While there are many different lighting options available, the best choice for reading, writing, and working on the computer is an LED lamp. 
You can find a wide range of LED lamp options at Autonomous that will suit any room décor you choose. Always go for a lamp that has a cool-light feature as studies have shown that this is the best type of light for focusing and maximum productivity. Modern lamps may also come with charging ports for your accessories.
4. Strong Suitcase
Usually, the first item to be included on an ordinary checklist for college freshmen is a good-quality, sturdy, and reliable suitcase. Depending on the number of things you are planning to take with you to school, you may need to invest in more than one of these. In general, girls tend to carry more items than boys, and so require more luggage. 
Regardless of how many suitcases you include on your college preparation checklist, one thing for sure is that they need to be of the best quality. This is an item that you only need to buy once because, ideally, a suitcase should easily last you until you graduate. 
5. Cozy Comforter
Another common item on everyone's college checklist is a cozy comforter. Having two or more would be great, but every student needs to have at least one. Since your bed is usually the most dominant piece of furniture in your college room, the type of comforter you choose will have a very big impact on the décor.
There are many types of comforters to choose from, so before making your choice, always consider the weather conditions of the city or town where you will be studying. Some places can get very cold at night, so make sure your comforter is thick enough to keep you warm.
6. Linen Bed Sheets
College students are not usually big on doing laundry, so it's always a good idea to add a few sets of linen to your back-to-school checklist so that you always have a fresh set available. Try to buy a few different colors that match your comforters so that you do not have conflicting designs whenever you change the linen. 
Most linen sets come with matching pillowcases, but you may have to buy a separate mattress protector for your bed. As for the color choice, feel free to pick whatever colors you will be comfortable sleeping in at night. You can consider colors that have been shown to reduce stress and aid sleep, such as blue, white, green, or pink. 
7. Shower Caddy
When compiling checklists for college, not many students will remember to include a shower caddy. This is a small but very important accessory that will make taking a shower a lot easier. 
In college, you will likely end up sharing a room with other students, so leaving your essentials in the bathroom may not be the best idea. To help carry your soap, sponge, shower gel, and other bath items, you will need a handy shower caddy. You can get one at many shops that sell cute school supplies for girls.
8. Flip Flops
One of the biggest problems with sharing a bathroom and shower with strangers is that you will be at risk of catching something, usually an athlete's foot. This fungal infection is quite common in shared bathrooms and can have very unpleasant symptoms. 
Luckily, you can protect yourself by simply wearing flip-flops every time you take a shower. In hot climates, flip-flops are also a great way to allow your feet to cool off after spending all day wearing shoes. 
9. Good Backpack
The easiest way to identify a college student is by their backpack. It seems students never go anywhere without it, and it's for a good reason. As a freshman, you will need to carry around books, stationery, lunch boxes, and personal devices. 
A good backpack should, therefore, be at the top of your college preparation checklist. The good thing is that your backpack gives you a chance to exhibit your personality. If you go online, you can choose from a wide range of backpacks that are uniquely designed for college students.
10. Bath Towels
You can never have too many bath towels, can you? It is always important to buy more than a few sets of bath towels when preparing for college. Besides the ones that you will use, it is a good idea to have one of two sets reserved for your guests so that whenever you have visitors, you always have some fresh towels to offer them. 
11. Bath Robe
Another important item, especially in cold areas, is a good-quality bathrobe. The last thing you want is to suffer from the cold every time you step out of your shower. There are many types of bathrobes available, such as classic robes, Kimono style, and hooded bathrobes. You can pick any types that suit you best or even go for one of each.
12. Lint Rollers
When you are in college, it is always important to look your best. This means that whatever you are wearing needs to be clean and presentable. However, one of the most common problems you will face is the accumulation of visible pieces of textile fibers and other materials on your clothes, called lint. 
This is a big problem, particularly when wearing dark-colored clothes as it can make even the newest clothes look old and shabby. A lint roller is a handy little device that you can use to quickly remove any signs of lint on your clothes before putting them on. 
13. Stationery
You cannot go through college without having a good supply of stationery. This is why it must be one of the first things on your back-to-school checklist. A wide range of stationery and desk accessories will be required, such as pens, notebooks, pencils, highlighters, paper clips, rulers, and storage components, such as files.
14. Thermos Flask
On a cold morning when you are rushing for an early lecture, one of the things you will need to brace yourself against the cold is a hot cup of coffee. While you can easily buy this in many cafes around campus, it is far easier to make your own at home and carry it with you in a handy thermos flask.
This will save you a lot of money because you will not need to buy a cup of coffee every day, and it also guarantees that you will have a hot beverage throughout the morning. 
15. Toothbrush
Never forget your toothbrush wherever you go off to college. It can be an electric toothbrush or a regular one. Usually, it is a good idea to have more than one toothbrush with you. If you happen to drop it in the bathroom that you share with other students, the last thing you will want to do is put it back in your mouth.
16. Skincare Essentials
You will probably need a good supply of skincare essentials to last you throughout the semester, so this should also feature on your college checklist. This means buying important things, such as creams, lotions, hair gels, facial scrubs, and even makeup if you are a girl. While you are at it, you can include nail cutters, scissors, and hair brushes too. 
17. Deodorant
One very small item that you cannot possibly go through the semester without is a good deodorant. Many students usually forget this essential item when compiling their back-to-school shopping guide. However, it is very important. Ideally, you should choose a good brand that is not overpowering in terms of the scent and can last you throughout the day. 
18. Food Containers
An important cost that you will shoulder while at college is buying lunch every day. The cost of lunch may seem small at first, but it is surprising how quickly it will build up until it takes a significant chunk out of your budget. 
One of the best ways to save money is to make a couple of sandwiches or other types of lunch from home. To do this, you will need to remember to include some food containers on your college preparation checklist.
19. Steam Iron
While most college students hardly ever bother to iron their clothes on most days, there are some special occasions where you will need to dress formally and look your best. You may, for example, be doing a presentation in class, or meeting one of your professors. This will require some extra bit of effort, and a good steam iron will be required. 
20. Desk Organizer
The easiest way to keep the home standing desk you use for studying clear of clutter is to have a simple desk organizer. This will provide you with an easily accessible place to store all your stationery and other desk accessories. If you want to avoid having to clean up your desk each time you want to study, make sure a desk organizer is part of your college checklist.
Start Preparing for College Today!
It is never too early to start working on a few checklists for college. Before you know it, summer will be over and the fall semester will be just around the corner. You can save a lot of money by checking out which items on your college checklists are available at the back-to-school furniture sale from Autonomous.
Video ads for product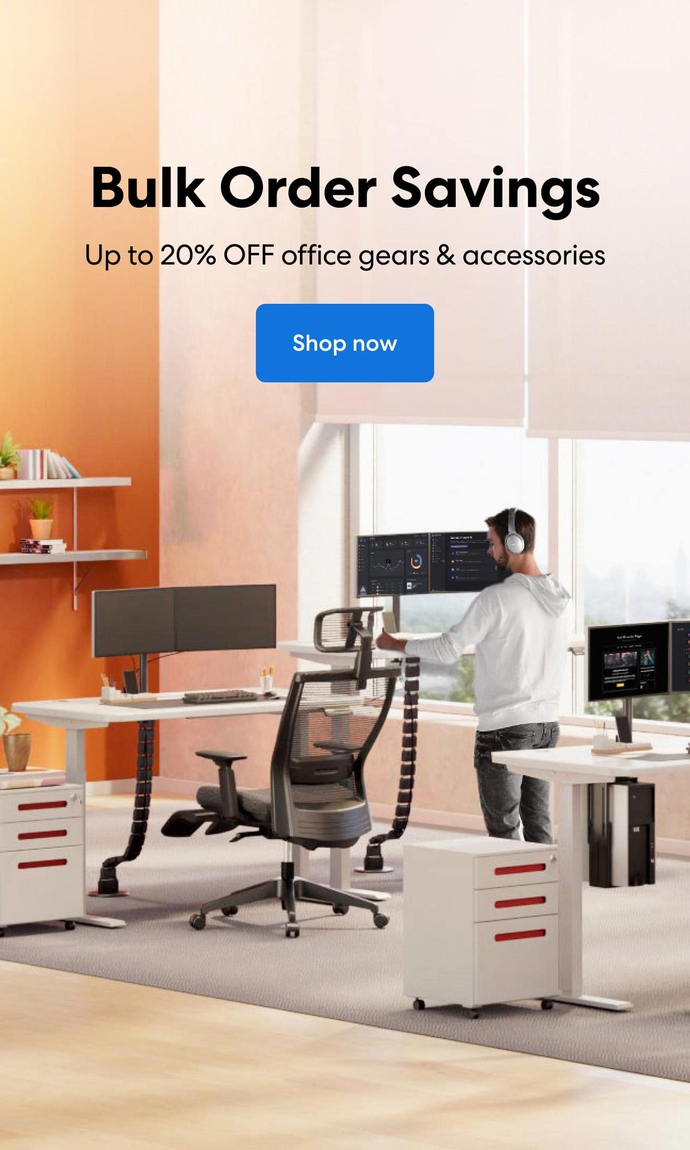 Subcribe newsletter and get $100 OFF.
Receive product updates, special offers, ergo tips, and inspiration form our team.