The modern world is different from the olden days when women working in offices were considered taboo. Today, you will find a larger chunk of women in the workplace. In fact, in some countries, employing women has become necessary by the law too to encourage gender inclusion.
Having a larger number of women in the workforce has pushed employers to bring more beautiful and comfortable desks chairs to the offices. Considering the same thing, manufacturers around the world are now manufacturing-specific chairs to meet the physical needs of female employees. This article has summed up a few of the best and most comfortable ladies' desk chairs. These office chairs for women are listed below.
11 Elegant and Comfortable Ladies Desk Chairs
1. ErgoChair Recline
ErgoChair Recline by Autonomous works for both men and women. This chair has an adjustable structure with adjustable height, lumbar support, recline, armrests, etc. Besides, with its adjustable leg rest and headrest options, the comfort of your ladies' employee is guaranteed. This desk also has a very comfy and supportive foam seat. Also, its reclinable mesh back and excellent lumbar support reduce back pain and encourage natural posture. It can carry a weight of up to 250 lbs.
2. ErgoChair Pro
Another popular Autonomous product, the ErgoChair Pro, has a fully adjustable design and highly supportive seat. The seat has a breathable structure that improves airflow. The adjustable parts include headrest, height, armrest, seat tilt, and backrest.
Besides, this ladies desk chair has flexible lumbar support that matches almost all seating positions. The smooth recline of this chair comes with 5 different lockable positions. While woven mesh back ensures optimum airflow. The earth-friendly material benefits the environment and increases its life, making it more durable than most of the other chairs in the market. The load capacity of this ergonomic chair is 300 lbs.
3. ErgoChair Plus
All chairs and office products of Autonomous are popular for their quality, durability, and comfort and its ErgoChair Plus is no different. It is one of the most dynamic office chairs in the market. This chair's stylish construction and comfortable features make it a great fit for both male and female employees.
This ladies desk chair has a frameless construction that offers unhindered movements and natural mobility. Like most other products, the ErgoChair Plus is also made of earth-friendly material that makes it 10 times more durable than the other ordinary chairs. Also, it has adaptive spinal support and breathable mesh or cooling naked TPE options.
Besides, this ergonomic office chair can easily support a weight capacity of 300 lbs. It also has a warranty of 5 years which is a bonus of this high-quality ergonomic chair.
4. Teodor Desk Chair
Either you are working from home, or inside the office, the Teodor lady's desk chair will work well for you. It provides comfort and elegance to a single chair. It is available in different colors. The best thing about this desk chair for women is its stain-resistant fabric. This feature makes it a great choice for working from home to women employees with kids. So, don't worry about your kids spilling anything on the chair.
5. Baldwin Mid Back Faux-Leather Chair
Great swivel and super comfortable design, the Baldwin Mid Back Faux-Leather female office chair will add a little beauty to your office. It has a polished gold base and armrests that make it the perfect ladies desk chair. Also, the high-quality faux leather makes it long-lasting. This desk chair for women also has an adjustable height, cozy seat, and great back support to accommodate long sittings.
6. Elsinore Task Chair
If you want a very attractive design to fit the rest of your room décor, then the Elsinore task chair is here for you. The combination of white leather and stark black frame makes this chair a great addition in workplaces and home offices. This office chair for a petite person has a minimalist structure and offers adjustable height. Besides, it also has a contoured silhouette for better mid-to-upper back support. This feature makes it great for working women with back issues.
7. Lenox Swivel Office Chair
Pretty design, great features, and comfortable structure are a few of the renowned qualities of the Lenox Swivel office chair. This women's office chair has slim legs with a distressed velvet seat that gives it a very delicate appearance. It makes the best choice for both home offices and bedrooms. Also, if you want your workplaces to look better and aesthetic, then you can also add it there too.
8. Alexa Task Chair
The Alexa task chair has combined comfort and beauty in a single chair specially designed for home offices. This ladies desk chair has a great swivel and cozy seat. With its fresh retro flair, you can place it anywhere around the house. 
9. Albaugh Executive Chair with Headrest
You don't have to be the boss to get an executive chair. Opt for these chairs if you want to get ultimate comfort. The Albaugh executive chair with headrest has an amazing recline, swivel, lower-back support, seat tilt, and much more. While its leather material makes it more attractive. Also, it is not a very expensive option. So, you can choose this women's office chair even if you have a tighter budget.
10. Numo Chair by Aeris
Numo chair by Aeris is another minimalist female office chair on the list. This chair also has a super comfortable construction that allows ladies to sit and work for longer durations. It has been designed to adapt to users' sitting to ensure natural movement both backward and forward. However, it does not have adjustability and swivel.
11. Velvet Home Office Desk Chair
The shell-like design of Velvet home office ladies desk chair has a chic style with great functionality. Good swivel, adjustable height, and comfortable seat are some of its well-known features.
The above-listed desks are some of the best ones for women. So, choose your favorite style, determine what features you want, and get the most suitable one for yourself. With these chairs, your comfort will be guaranteed no matter if you work from home or outside.
Video ads for product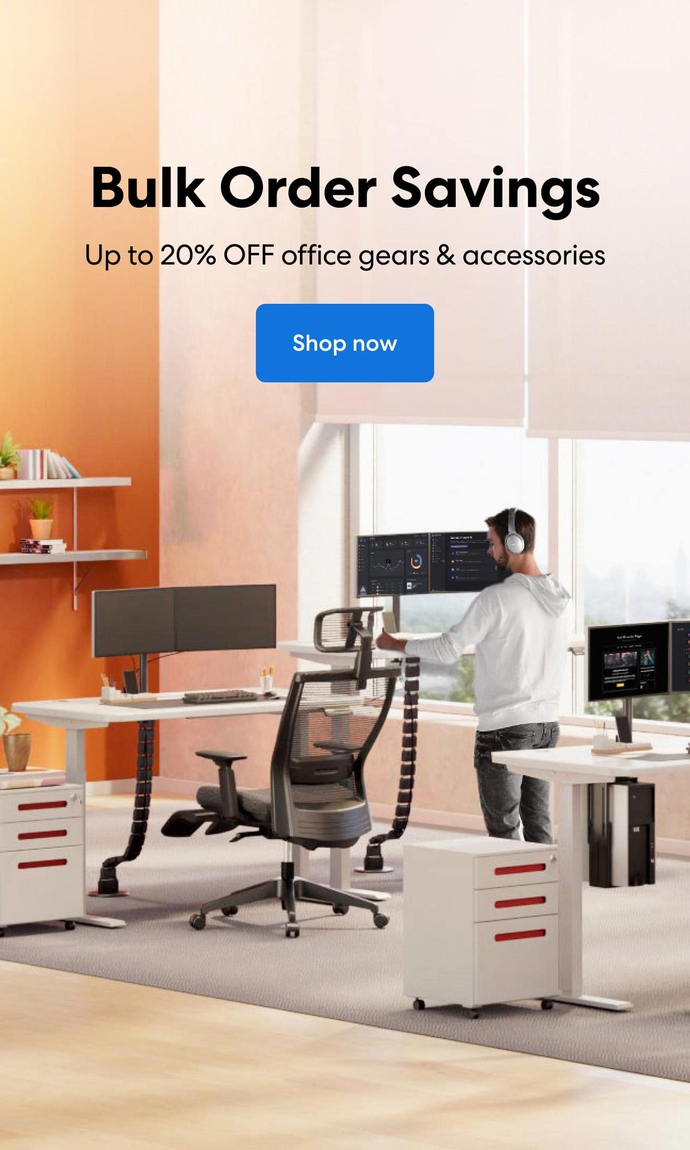 Subcribe newsletter and get $100 OFF.
Receive product updates, special offers, ergo tips, and inspiration form our team.