A standing desk is a great way to improve your working experience while also looking after your health. Standing desks are available in a wide variety of options, such as corner standing desks, electric standing desks, and the standard option. Of course, these options are suitable for different situations, with a corner stand up desk being perfect for someone who does not have a lot of space available but still wants a standing desk. An adjustable corner standing desk is the best option as these can be flexible and can be adjusted to the height most suitable for the individual using it.
The Pros and Cons of Standing Desk
Here, we have compiled a pro-con list to help you make your decision and to give you a better understanding of why standing desks are so popular.
Standing Desk
Standing desks allow the user to switch between sitting and standing throughout the day with no hassle
These desks can help aid in a more active or healthier lifestyle
A user may feel like they have more freedom at work, given that they can choose to sit or stand at anytime of the day and still complete various work tasks
Some desks may be challenging to assemble
These are a hit or miss when it comes to budget friendly
What to Look for When Buying a Standing Desk
When completing the purchase of an office desk, there are some factors that you should consider before choosing one. These factors can all change your experience with the desk and ensuring that a desk has all the factors you require means that you'll have a better time using it.
The first thing that you should look for is a desk with a suitable top size. It would be best if you had a desk with enough space for you to work on without feeling crowded. It is very important that you buy a desk with enough room for all the items you need for work. Choosing one that is too small can just be a waste of money as you may find it too difficult to work at.
The next thing to consider is the right standing desk base frame. When you consider the frame, the primary factors are the weight capacity of the frame as well as its height. The weight capacity of the frame dictates how much the frame can handle before breaking or taking damage. If you do not put a lot on your desk, then this is not too important.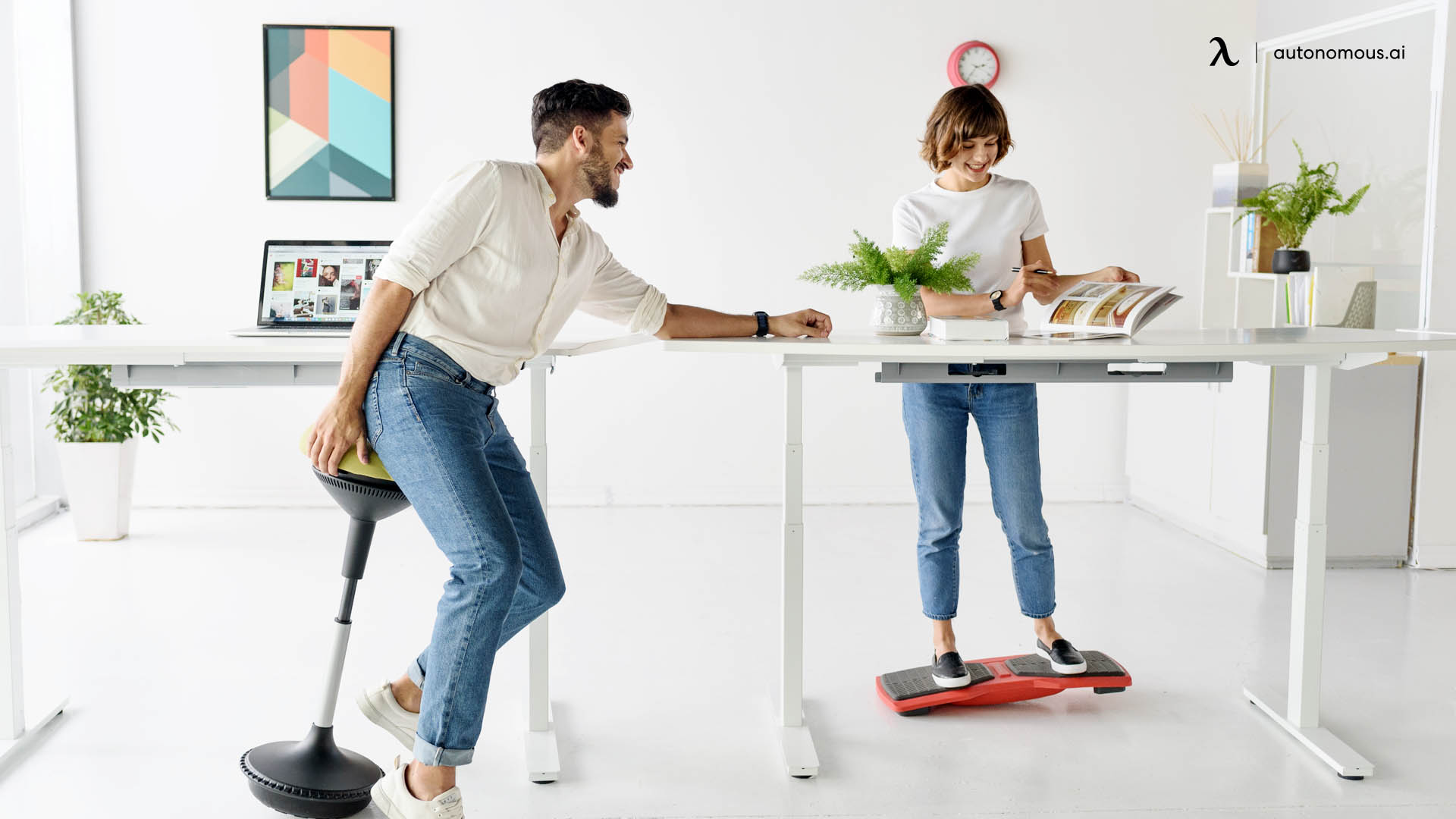 However, if you do, then you should get a desk with a high weight capacity. The height of the desk frame refers to how high the desk can be adjusted to. If you are a tall individual, it is important to find a desk that can adjust to your desired height. A desk that is too small for you can cause more back problems than just remaining seated. Frames can also come in a variety of shapes and sizes.
The last factor to consider is the top material and its color. The top material refers to the material from which the desktop is made. The material directly correlates to the desk's quality, and as such, you should choose accordingly. If you are looking for something more durable and premium, you should consider a hardwood or metallic desktop. Suppose you do not require something that heavy-duty, then a chipboard top may suffice. If you are looking for a white standing desk or a different color desk, you should ensure that it matches the rest of the décor in the room.
5 Best Corner Stand Up Desk for Office Workers
When choosing a good corner desk for yourself, you may run into many options. This can be confusing when trying to determine which of these is the best. Therefore, what is the best corner standing the desk? That can be a difficult question to answer, and as such, we have compiled a list of the five best corner standup desks, including the electric corner standing desk.
1. L-Shaped SmartDesk
This L-Shaped SmartDesk, the best corner standing desk has a beautiful but still practical design that makes you want to work every day. The desk incorporates a strong triple motor system that can carry up to 330 pounds. The corner stand up desk also adjusts its height silently so that you do not have to deal with any excess noise while it moves. This adjustable corner standing desk is available in a multitude of colors and variations and can no doubt fit perfectly into any workspace.
2. iMovR Lander L- Desk
This is one of the newest, state of the art standing desks to hit the market. The laminated tops of the desk are aesthetically pleasing and also very durable. The desk has a unique feature that allows you to swap the side of the side deck. This makes the electric corner standing desk much more convenient and allows you to place the desk wherever you please. The desk can also be purchased with a solid wood top, but this does cost more than the laminated desktop.
3. UpLift L-Shaped Custom Solid Wood Desk
This standing desk upgrades the already great UpLift desk to a solid wood version. The desk has a seven-year warranty, and this is a testament to its quality. The desk is able to adjust its height, seamlessly and its sleek design means that it is capable of fitting into any workspace easily. This desk is available in 13 variations of natural wood, giving you quite a wide selection to choose from.
4. Fully Jarvis L-Desk
This is the least expensive option for an electric L-shaped desk. It is the perfect option for a home office where space is something of a concern. It can easily fit into a workspace because of its compact design. If you are looking for an option that is inexpensive, space-conscious and incorporates a sleek design, then this is a great choice for you. This desk is available in HPL black, oak, walnut, and also a bamboo version.
5. MultiTable L-Desk
This is a very basic and inexpensive standing desk. The desk can support up to 330 pounds of weight. It is also available in a variety of sizes, so no matter the space you are working with, you can surely find an option that fits perfectly into it. The simplistic design is perfect for anyone who likes minimalistic style or is after a plain desk. The desk is available in two solid wood options as well as three woodgrain options.
The Bottom Line
Finding the right corner standing desk for you can sometimes be difficult, and this article can surely help you in making the right decision about the best corner standing desk for yourself. If you consider all the correct factors and choose from any of the five desks listed here, there is no doubt that you'll be happy with the purchase that you have made.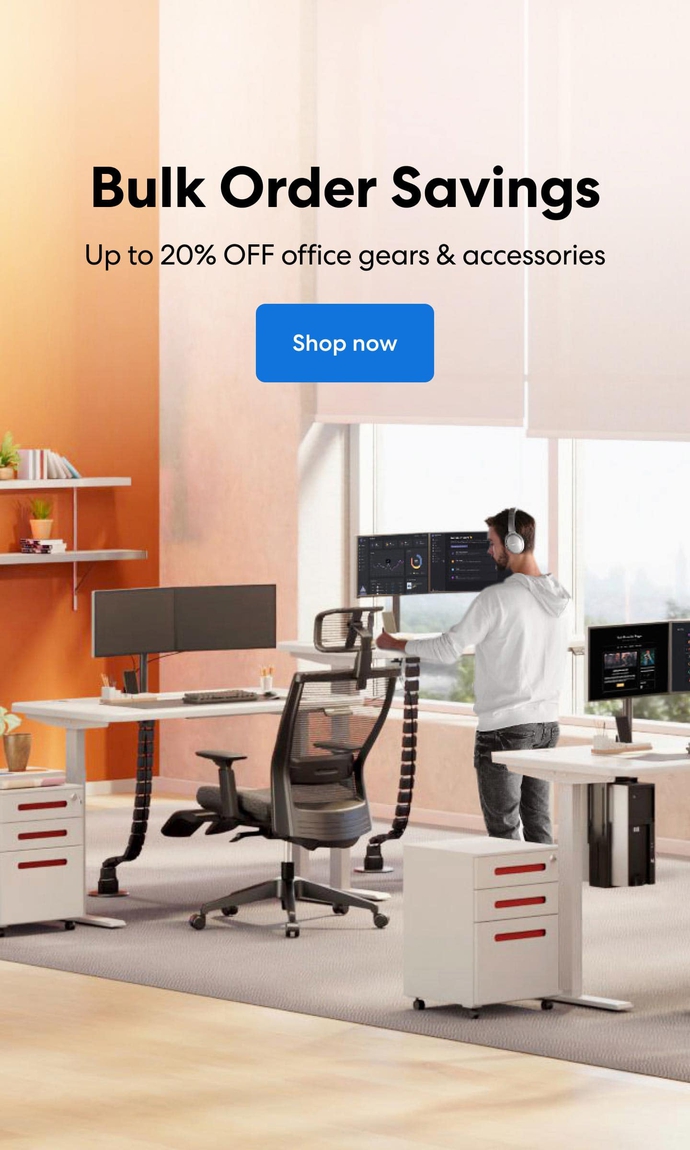 Subcribe newsletter and get $100 OFF.
Receive product updates, special offers, ergo tips, and inspiration form our team.