Workplace Inspiration
Corner Workstation: Computer Desk, L-Shaped Standing Desk & More

Autonomous
|
Feb 24, 2022
1,698 Views
Corner spaces in a room are often wasted and not considered good for anything. Hence, a corner of the room is ideally just good enough for a vase, but thanks to the ergonomics that has focused on maximum space utilization hence reduced costs and loss of space. Ergonomics is all about being wise and smart with the placement of furniture and creating a space that is both budget-friendly and utilized wisely.
The role of ergonomics fits even well in offices and home office setup. Since the pandemic, we all have found the best place to keep our work desk and take upon these meetings without any distraction. A corner workstation is a new concept that emerged from home but is a popular one. There are many benefits of using a corner desk workstation, and in this article, we will cover all the reasons and ways for you to have an office corner workstation.
How to Create the Best Corner Computer Workstations for your Office
Every room, let alone every home, has a corner that is just plain empty and is not considered well enough for any use. But the time when corner spaces are high in demand has come, and here are some easy ways to utilize the corner space in any room.
1. SmartDesk Corner
An L-shaped standing desk, also known as a corner desk, is specially made for a corner space. The letter L resides well against the edge of the room hence providing you with the right type of workstation you need. With a leading edge of L, you can set up a workstation and a gaming setup on the other. Corner standing desks also provide the advantage of covering minimum square footage while providing maximum surface area. Moreover, they are also a great way to ergonomically set up a multi-monitor system.
The only limitation with the smart desk corner is that there is no storage space, but with the tall height of the Desk, you can easily slide a filing cabinet or two underneath and enjoy working in peace while keeping your workstation organized.
2. Tangkula Corner Desk
Even for rooms limited with the corner space, the Tangkula corner desk seems like a workable solution. This corner desk is in a triangle shape; hence resides at the edge of the room and is also spacious enough for a single screen setup. The Tangkula corner desk comes with a bottom drawer for your tiny stationery items as well as a low-tiered shelf.
This Desk is ideal for your kids' work and study station, all thanks to its simple design and modern look. However, if you are worried about clutter with such a small Desk, buying a magnetic desk organizer can be the safest solution.
3. Ameriwood L-shaped Desk
A Corner desk with shelves is an added advantage over a simple l-shaped desk, but this type of Desk is only suitable for places where you have extra space. The hutch provides you with ample storage, so you don't need to purchase separate shelving options for storage. You will get enough compartments to keep your work documents, books and notebooks and even create a library of your own at home.
4. GreenForest L-shaped Desk
The GreenForest L-Shaped Corner Desk has a sleek design and a sturdy steel frame for your corner workstations, making it ideal for gaming use in an office or at home. This Desk is not only stylish, but it is also environmentally friendly, as it has environmental boarding that prolongs the life of your Desk. The desk surface is moisture-resistant, scratch-resistant, and doesn't peel easily. Up to three laptops and other devices can be accommodated in the large work area.
Although the desk doesn't come with storage options, the surface area is pretty spacious. For those who don't want their tiny belongings to go scattered, installing a desk drawer is also a solution for this product.
5. ODK Vintage Corner Desk
ODK Vintage corner desk is a combination of metallic and rustic Desks aimed to maximize the aesthetics and productivity in your home office. The Desk has a tiny size to shift at the edge of the room, boasting separate shelves meant to enhance storage space.
This corner desk is suitable for dorm rooms and people working in limited space, but the only drawback is that it isn't spacious enough. However, if you need to manage a multi-monitor setup, you can easily install a portable adjustable keyboard and mouse stand for added space.
How to choose the best Desk for Corner Workstation?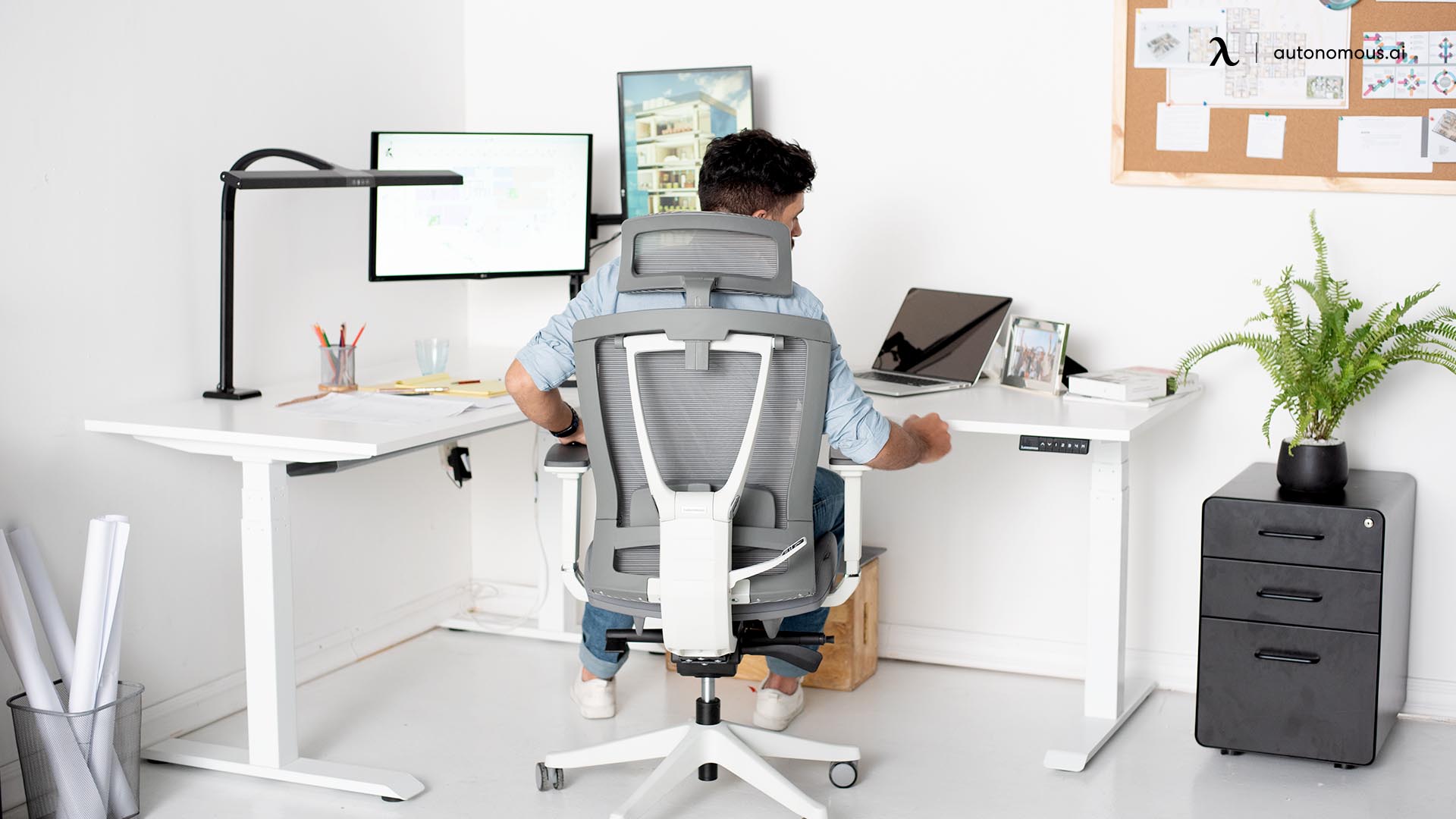 Choosing a work desk for a home office is a serious affair, and one should not make an unwise or poor choice when it comes to buying the desk corner desk for your home office. Here are some tips for choosing the best corner desk for you.
Adjustability
The main goal of ergonomic furniture in corner workstations is to be as adjustable as possible. Adjustability is available on some of the best corner desks, allowing them to accommodate both tall and short users. This is an important element to consider, especially if you're buying an office desk for a child who will outgrow it. When it comes to adaptability, check to see if the L-shaped piece of your corner desk is reversible.
Shape
The shape of your corner desk should match the type of corner space you have in your room. This also means that the type of Desk you choose should match your needs and the room space. Although all the corners look the same, it is still wise to take a few measurements and choose the best desk for you.
Space Availability
If you're looking for a corner computer desk, you're probably looking for one with a lot of corner workstations. If you want to use your Desk for several monitors, gaming equipment, or other computing equipment, a corner desk with plenty of space on both sides is the way to go. The greatest corner desks will maximize your working area, including shelving hutches, open shelves, and a keyboard tray.
Construction
The construction and material of the corner desk you are buying are of important consideration in corner workstation. Since your Desk will be used daily, it is important to go for a durable, strong material and able to withstand daily wear and tear. One should also opt for the material that can withstand the load of monitors and office accessories.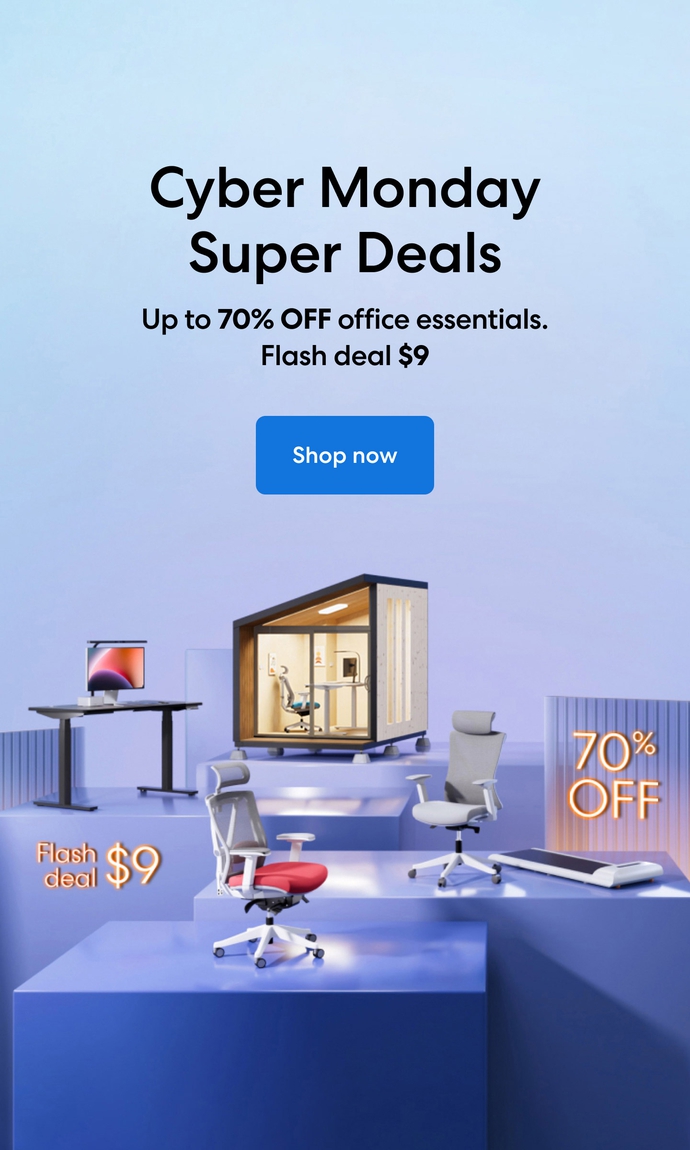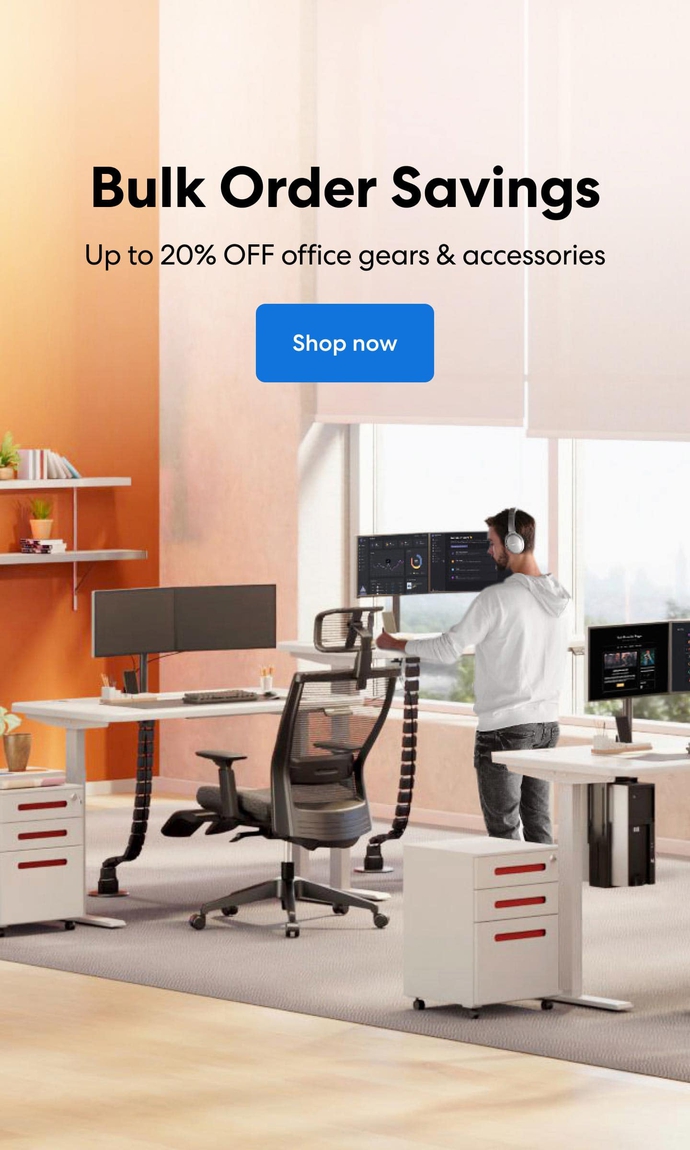 Subcribe newsletter and get $100 OFF.
Receive product updates, special offers, ergo tips, and inspiration form our team.