Hybrid Working
Tips On Creating The Most Efficient Hot-Desking Layout

Autonomous
|
May 1, 2021
3,016 Views
More and more offices around the world are embracing a flexible work culture. This paradigm shift has, in turn, led to the demand for a flexible office seating arrangement as well. Yes, the traditional assigned seating is on its way out. The hot-desking layout is all set to take its place.
Since this is a relatively new concept, not everyone knows how to manage it. After all, there's a lot to adjust to, like less privacy, different storage, and more. Well, worry no more because this article is here to make your life easier!
We'll be walking you through a few simple hot-desking ideas for the most successful office hot-desking layout. So read on to know more!
First Thing's First: What Is Hot-Desking?
Let's talk about what hot-desking is before we discuss the ideal layout. It's simple, really - hot-desking involves booking tables in advance. Employers consider the employees' projects to decide which space will be most convenient for them.
Essentially, the hot-desking concept has no dedicated desks. Instead, employees work at booked desks for a certain period. Once their time is up, the desks become available to others in the office once again.
The benefits of hot-desking depend on how well you implement it. However, here's what you'll enjoy if you do it right:
Less Redundant Space: Some companies have employees walking in and out of the office at all times. In such cases, assigning desks is far from cost-efficient. However, hot-desking is a simple way to save both money and unused space.
Greater Collaboration: The hot-desking model facilitates communication among employees. As a result, this layout is excellent for boosting teamwork and smoother collaborations.
Promote Flexibility: Studies prove time and again that employees greatly value flexible work environments. Well, a hot-desking office design makes moving around that much easier for them.
How To Set Up The Ideal Hot-Desking Layout
Before you start setting up your new office layout, you'll need a proper plan. There's more to creating an efficient hot-desking office design than it seems. This section will walk you through everything you'll need for the perfect workspace as the right office equipment!
Furniture For Flexible Seating
Your first step should be ensuring your office has the appropriate furniture. Hot-desking is all about movement, so your office furniture should promote that too. Additionally, you can also get some home office accessories for your workspace. Here's what your hot-desking layout especially needs:
1. Sit-Stand Desks
A hot-desking model will do well with sit-stand tables or office standing desks. Not only do they promote flexibility, but they also improve office ergonomics. After all, employees can choose between standing or sitting while working depending on whichever is more convenient. Along with this, a few standing desk accessories would be great too!
2. Ergonomic Chairs
No hot-desking environment would be complete without comfortable and ergonomic office chairs. So opt for chairs that promote good posture. Ideally, you want them to have height-adjustable arms as well as sufficient lumbar support.
3. Office Storage
One of the main problems employees face in a hot-desking layout is storage. Employees use different desks every day in such a layout. So they do not have the freedom to leave their items on their tables.
Employers need to provide efficient all-day storage solutions. Thankfully, there are plenty of options in the market! You can choose from filing cabinets, supply carts, lockers, and more. Consider putting a central storage unit on your list of hot-desking ideas.
4. Closets And Coat Racks
People tend to carry many personal belongings to their office, like coats, jackets, and more. In dedicated offices, these items go under assigned desks or on the back of chairs. However, in a hot-desking layout, these aren't options.
However, there is a simple way to keep your office clean and organized. All you need to do is set up dedicated closet space or coat racks.
Software And Tools To Streamline Hot-Desking
Nowadays, there are several tools you can employ to simplify hot-desking even more. Here are some you should not overlook:
1. Stable Internet
This point is a no-brainer. No office can function without a stable Wi-Fi connection. So ensure that every hot desk in the office has a quality broadband connection. However, if that's not possible, there's something else you can do. Check that the hot-desking layout you plan on booking receives a strong Wi-Fi signal before you start working.
2. Interactive Seating Chart
Another way to add efficiency to your hot-desking model is to implement an interactive flooring plan visual. These will serve employees much better, making it easier for them to find their desks for the day. Besides, these maps allow employees to locate each other when necessary.
Interactive seating charts are especially helpful in offices with several floors or areas. Since these spaces tend to have multiple hot desks, navigating them can be tricky.
3. Booking Software
Hot-desking depends on booking in advance. So you want to do what you can to make this process as efficient as possible. Here are some reasons why you should rely on top-notch booking software like hybrid booking app:
Find out in advance which desks are available.

Decide which teams or departments will use hot desks.

Employees get to know what resources each desk has.
Essential Hot-Desking Hardware
Finally, let's talk about the hardware employees need on their desks. Since a hot-desking layout is not a private space, employees must be able to set up quickly. Then they'll be able to get to work without wasting too much time.
Ensure there is a consistent monitor setup. You may also opt for specialized or dual monitors.

Opting for wireless keyboards and mice might be a good idea. Also, ensure that every desk has the same equipment.

Provide employees with chargers and dongles on their desks to reduce setup time.

Every desk should come with a docking station for better connectivity.

Also, power outlets are a must-have.
Wrap Up
An efficient hot-desking office design is crucial to get the most out of the concept. However, successful implementation of this layout depends on acquiring the right technology and equipment. So, keep the ones mentioned in this article in mind. Therefore, you can opt for bulk office furniture order as well.
Without a doubt, you'll soon see a boost in office flexibility and mobility. Increased employee performances and successful business operations will quickly follow suit!
Video ads for product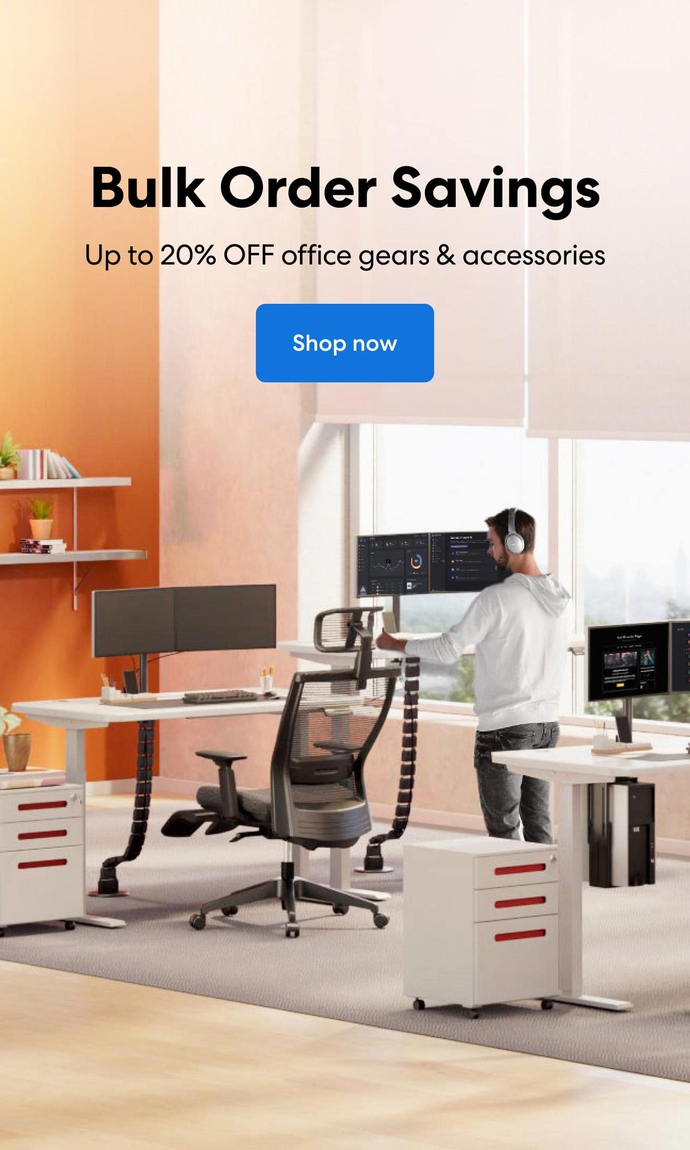 Subcribe newsletter and get $100 OFF.
Receive product updates, special offers, ergo tips, and inspiration form our team.