November 29th will be the date for Cyber Monday deals this year. Although it's still a while away, trust us - getting prepared in advance for awesome Cyber Monday deals is worth it. There will be many huge deals on all the things we love and need: appliances, mattresses, laptops, TVs. And, you can get them all on Cyber Monday, which is the biggest sales event of the year. Many of these Cyber Monday deals are great because that's when you get the lowest prices imaginable!
What is Cyber Monday?
It won't be long until Cyber Monday arrives. When that Cyber Monday best buy day rolls around, shoppers will be able to find the internet equivalent of Cyber Monday best deals at e-commerce sites of all sizes.
Black Friday, the day after Thanksgiving, may see a rush of customers to brick-and-mortar stores, but Cyber Monday belongs to e-commerce sellers. The Cyber Monday sales are likely to bring the most attention to large retail chains with large advertising budgets.
However, most Cyber Monday deals will probably happen to take place before these days. Retailers will try to sell more by launching their sales promotions earlier, and some stores even extend Black Friday sales into Cyber Monday.
Shoppers often find Black Friday leftovers still running on some sites before Cyber Monday. The Monday after Thanksgiving typically brings a raft of new bargains that are worth the wait.
Retailers typically start with a one-day sale event and then turn it into a Cyber week event. This has recently become a frequent occurrence, so you can wait till Monday to purchase items, whether you need them or not.
Home & Office Furniture Cyber Monday Deals
In anticipation of another season of multitasking at home, Cyber Monday offers a plethora of options to help you spruce up any space. We've gathered up some of our favorite Autonomous ideas to help you start the New Year with much more than a new space.
1. Height adjusting desks
SmartDesk Core is an excellent option for people new to the home-standing desk. Featuring four height settings that provide a custom match for most users, the SmartDesk Core is the ideal desk for your home office. Its capability of lifting more than 300 pounds means users don't have to worry about overloading their desks.
Both home and office users can benefit from the SmartDesk Pro. It adjusts quickly and easily to different working positions. Buying more than one desk would be a great idea with this desk.
Whether you need an extra area to work on or more to support your screens and paperwork, this SmartDesk Corner desk provides you with both. If you work and play in the same space, an L-shaped Cyber Monday standing desk may be useful. Your desk will be organized and functional if you separate your gaming consoles from your work devices.
2. Ergonomic chairs
An ErgoChair Pro is a great ergonomic chair to consider for Cyber Monday. This chair offers several resistance levels and is fully adjustable. Its height-adjustable headrest and armrests, as well as its movable armrests, make the ErgoChair Pro highly flexible. Its high-quality materials also make it an extremely durable Cyber Monday gaming chair.
ErgoChair Recline comes with a headrest and leg rest that can be added or removed. This Cyber Monday office chair will keep you comfortable all day long, featuring the finest materials for breathability and back support. The fishbone design of the backrest of the ErgoChair Plus corrects your sitting posture.
3. Balance Stools
Here is another Cyber Monday deal for you. It is important to use an ErgoStool while sitting actively. Because it is affordable, it is the easiest office chair to procure this Cyber Monday. Moreover, working on it strengthens your core. It is also grippy, so it stays in place while also being comfortable. An ErgoStool is a good addition to a standing desk due to its small size.
Tech Deals
Loud background noise to mildly distracting background noise can irritate. Wireless noise-canceling headphones make it possible for you to remain mobile and reduce desk clutter.
The stand you choose for your laptop must function properly each day if you use it every day. A functional desk should include this element. In addition, it can improve your posture by providing an ergonomic angle.
Energy is conserved and less heat is generated by LED desk lamps. Furthermore, the lamp's height can be adjusted so that you can maximize visibility and minimize glare.
Office Accessories Cyber Monday Deals
The Anti-Fatigue Mat has become quite popular recently, especially for those who stand at their desks. Amazon Echo's and other smart speakers can reduce the burden on remote workers. A smaller version of the Echo is also available, but it is less powerful than the regular Echo. For more comfort as you work, consider getting some wrist pads for your mouse and keyboard.
FAQs
1. What's the best time to start shopping?
Just as we recommended with the previous Black Friday deals, that normally take place on the Friday prior to Cyber Monday, always check in early. Sometimes, you may find flash sales that offer limited-quantity items.
Popular sites that do have these flash sales include Amazon. The first one to take advantage of these flash sales wins the best Black Friday deals. If you're lucky, it will also carry over to the weekend, so keeping a close eye on the weekend is always worthwhile.
2. What are the things I should look for?
Make sure you formulate a list of your requirements or a basic shopping list a few days before Cyber Monday starts. Shortlist a few of the items by searching around online.
Set a budget, determine the size of the TV, and do some reading about the best brands and the items they offer. For example, focus on the type of features you get when shopping around for a 4K TV. If you are buying a laptop, it's a good idea to consider the power or specifications you need. To make this part easier, you could visit the official sites of the top IT and technology brands to see what they are offering.
3. What if I don't find what I'm looking for?
Following on that last tip, how can you know what will be on sale? Keep your eyes and mind open. Even if you know what kind of TV, laptop, or home office equipment you need before purchasing it, you may not find it as heavily discounted as another option.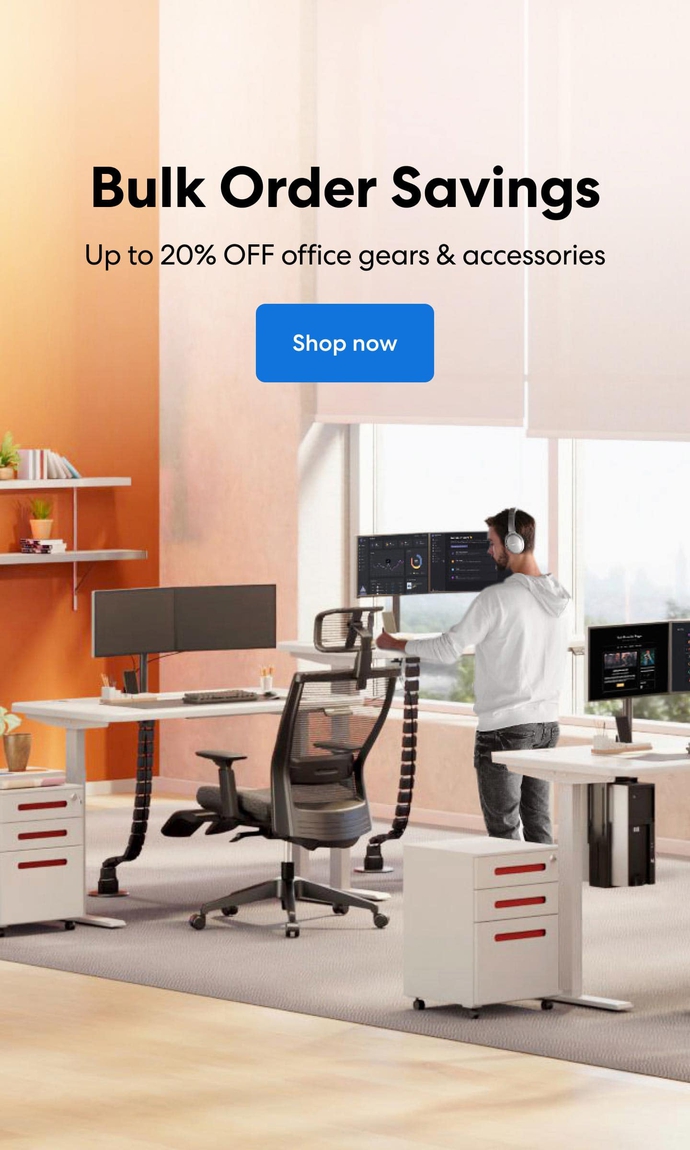 Subcribe newsletter and get $100 OFF.
Receive product updates, special offers, ergo tips, and inspiration form our team.