Computer or PlayStation games are commonly thought to be a waste of time, but you know this isn't the case as a gaming enthusiast. Gaming is a high-level activity that deserves to be recognized as such. It requires excellent eye and hand coordination and, therefore, a lot of practice. That is why you'll need a special area for it. A video gaming room should be interesting, unique, and pleasant to look at. It should reflect the world you live in through the video games you play.
Wallpapers, optional multicolored LED lights, huge displays, and other video gaming room décor concepts are just a few examples. The type of décor you employ, such as a rustic game room décor, is dictated by your favorite games, along with the hardware you require. It is indeed determined by the type of gamer you are. You may create a rustic gaming setup for yourself.
Some Amazing Rustic Game Room Décor Ideas
We offer a plethora of rustic game room ideas from which you might take some inspiration.
Take into account the whole amount of space accessible in the room
We acknowledge that not everyone has a defined area to build a game room. For instance, you might be wondering how to effectively create a small gaming setup. Therefore, to create a game room, consider the floor space of the little room or the availability of space in your sitting room. It could be a huge or little room, a corner in the lounge room with a modest gaming workstation, or even a corner of your work from a home office. In either case, you could alter your home's design or layout plans to accommodate the necessary gaming area. Take your gaming system, game room furnishings, and entertainment area into consideration.
Ambient illumination has a significant impact
It's an airy sensation to play video games. To get the most out of your multiplayer experience, you'll need to build a relaxing environment. Examine your light sources for efficacy if that is a modest part of your lounge room or a complete game studio. When it pertains to a rustic gaming area, natural sunlight isn't always the best option. The intensity may detract from the multiplayer experience by interfering with the images. You must always tailor the lighting in your room to the type of games you enjoy. If you're going to use your gaming area for video games, LED bars, ceiling lighting, and sometimes even neon lights might be a right match for the design.
Choosing the right storage consoles
Aside from the pc or Television screen, a storage console is designed to hold a selection of items. It is one of the interesting rustic game room decor ideas. When choosing your unit, remember to consider the wall mount and the number of shelves you'll need for the accessories. Consider getting an elegant-looking unit with many cabinets with storage shelves to hold all of your gaming room accessories.
Select an ergonomically correct gaming chair
Any gamer requires the ideal chair, and therefore an ergonomic computer gaming chair would be an excellent addition to any gaming area. The grey fabric gaming chair by Karnox is a great option for gamers since the seat's elevated foam categorizes it as one of the most ergonomic alternatives available. Its metal frame is strong enough to withstand multiple hours of gaming, and the leatherette is stain-resistant. It has polyurethane casters that help it roll silently, a customizable seat that comes with additional swivel action, and a reclining feature. The chair also includes a very comfortable headrest and back support. These rustic game room decor ideas are all essential for folks who will be spending plenty of time in this chair.
Select a sturdy desk
When deciding on a rustic gaming desk, you can be even more lenient in spending money. Your wooden gaming setup's design and the dimensions of your computer gaming chair are the most important factors to consider when choosing a desk for your rustic gaming room. Additionally, a rustic gaming room also requires a wooden desk; therefore, choose the best wood for the desk. 
Choose a table with a large, smooth surface that can properly fit your displays, keyboards, mouse, and other attachments. Pick a good rustic gaming table with drawers underneath to keep your video games, controls, and other equipment organized. Some desks even have a shelf to keep your CPU off the ground and adequately aired.
Get some décor items
Floating shelves are among the best to choose from when selecting some rustic gaming room décor items. You can easily store your collectibles or other accessories on these floating shelves. It will not only look good but will also complement your entire gaming setup. Furthermore, you can also add some colors to the room with graphic printed frames or posters, get your favorite prints done and put them up on the walls of your gaming room. Another additional décor item can be the artificial succulent plants that can liven up any space with a hint of nature.
Create a welcoming gaming room
A gaming area setting, such as the rest of the home, could be of a type to represent your distinctive style and interests. But the essential factor is to pick a suitable and welcoming design. If you want to construct a gaming setup in your work from a home office or a corner in the lounge room, you can go with a minimalistic, retro or rustic style. Setup some projectors and other basic equipment, then let the illumination and the television set the tone for your e-gaming period.
Developing and decorating a dedicated gaming room in your home just for the joy of gaming might provide some original and creative decorating ideas. In certain cases, you can modify the area to make the gameplay experience easier and delightful, while in others, the area would have to be capable of adapting to varied purposes rapidly.
Sum Up
Don't overlook purchasing the proper equipment when creating an aesthetic gaming room. If you intend to be there for a lengthy period, you should consider your well-being and have an ergonomically appropriate setup. Above tips are helpful for you to have a rustic game room decor. Now, let's get started!
Video ads for product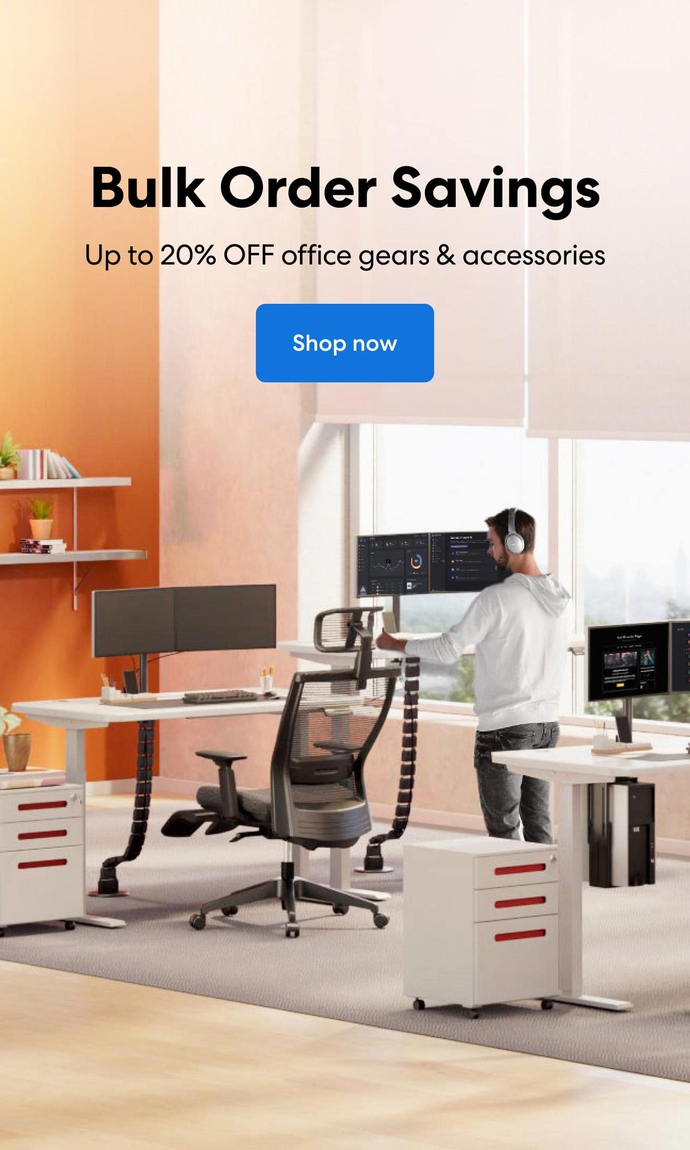 Subcribe newsletter and get $100 OFF.
Receive product updates, special offers, ergo tips, and inspiration form our team.