Workplace Inspiration
DIY Standing Desk: 20 Ideas for Your Ergonomic Office

Autonomous
|
Feb 7, 2021
3,661 Views
What does your remote workspace look like? For obvious reasons, the elements that make up a home office are usually much less comprehensive than those in a traditional office space. However, that doesn't mean you can't have a comfortable and healthy work experience from the comfort of your home. Advanced standing desk prices may seem a bit much, but you do have another option. Have you ever thought about a DIY adjustable standing desk? 
What if you don't have the skill set required to build a standing desk? Though the term DIY is being used here, it doesn't mean you have to design and assemble your desk from scratch. Making your own standing desk can be as easy as improvising by using an ironing board. That's what makes the ideas listed below so interesting. While some do require some level of construction skill, others can be easily handled by just about anyone. 
Pros and Cons of a DIY Stand Up Desk
Pros of a DIY Stand Up Desk
Before going any further, how about looking at some of the upsides where a homemade standing desk is concerned? Some of these are: 
You get to protect your body from the dangers associated with

sitting continuously for hours. 

Since this is an alternative to going out and buying a super expensive standing desk, you get to save yourself a lot of money that can be used for other essential things. 

You get to feel inspired and content with yourself, as you allow your creativity to shine, whether you're building a desk from scratch or using random items around your home to pull a makeshift one together.
Cons of a DIY Stand Up Desk
It would be unrealistic to expect your homemade standing desk designs to have no potential downsides. Nevertheless, the list isn't very long, and the disadvantages are as follows:
Though you avoid remaining seated for too long, it's not hard to find yourself falling into the other extreme. Standing consistently places pressure on joints and other areas. 

After being used to sitting for as long as you have, the transition to standing can feel like torture while still getting used to it.
20 Ideas of DIY Standing Desks for Your Ergonomic Office
1. Autonomous SmartDesk 2 - Home Office
The Autonomous SmartDesk 2 - Home Office is the next on the list, and it's not a bad idea for you to grab this standing desk for your remote workspace. Much of the effort in finding something that fits and choosing something sturdy is thrown out the window since this is a pre-built option. Assembly is straightforward, it's adjustable, and it has a series of other unique features that should be more than enough for your individual standing desk needs. 
2. Autonomous DIY SmartDesk
The final entry is the best you can get where a DIY standing desk is concerned. Autonomous DIY SmartDesk provides you with a sturdy desk that has some impressive features at play. You can then choose the kind of desktop that you want to buy to affix to it, and the desk then becomes a testament to your creativity and identity. 
3. Standing Desk Converter
The name of this cool gaming desk accessory has come up a couple of different times so far. Well, this one is the real deal. Standing desk converters are made to "convert" An existing desk into a standing desk with adjustable height. Doing this boils down to placing the converter atop the desk and adjusting it up and down as required. Most reputable converters have a minimum height that is completely flat against the existing desk. 
4. Bring Your Cabinet Into the Mix
The first DIY standing desk idea doesn't require you to have any experience with building furniture. You might need to be able to move a cabinet, but that's about it. If you have a high enough cabinet to be a standing desk, there is no reason for you not to capitalize on it. Put it in a comfortable and accessible place, and set your equipment on top of it. Do your best to prevent your wires and other belongings from blocking the cabinet drawers, as you may need them. 
5. Ironing Board Standing Desk
When this was mentioned above, it probably caught you off guard. Isn't this the thing that you are supposed to be ironing your clothes on? While that may be true, it can make a solid choice for a DIY standing desk. Most modern enough ironing boards allow you to adjust them to various heights. All you need to do is select one that is high enough to get your work done comfortably. Ideally, there should be no slouching in the way you stand.
6. The Active Treadmill Desk
Movement is even better for the body than just standing is. That's because the body is technically made for movement, much more than it is for standing or sitting. So, while standing has been identified as healthier than sitting for long hours, you get access to both. If you have a treadmill at home, place your work items and peripherals on the panel area. Use whatever method is necessary to help you complete this task. 
7. Incorporate Your Laundry Basket
Your laundry basket can do a lot more than hold on to your dirty clothes. You can turn it into the perfect standing desk for your needs. If you happen to have a very tall basket, You need only flip it upside down to have yourself a brand new desk. Alternatively, if you have a regular desk and a shorter laundry basket model, you may have to use it as a makeshift standing desk converter. That would mean turning it upside down and placing it atop your current office desk.
8. A Stack of Books for Your Laptop
The amount of desk real estate needed for a laptop versus screens and peripherals is much different. That's beneficial to laptop users since there is no requirement for an expansive space with any DIY standing desk plans. If you have a traditional desk, then you can use the space requirement to your advantage. A stack of books should be enough to create a high enough surface for your laptop. 
9. Cardboard Height Extension
This is yet another option that works like a standing desk converter. However, instead of buying one, you're required to lean on your inner creative genius to make one. Doing so would be undeniably harder with materials, such as wood. However, this standing desk converter is going to be made from pure cardboard. It's a good idea to look online for some ideas on how to create a stylish fixture for yourself. You may want to make more than one since cardboard is not the most hardy material in the world. 
10. A Chair for Your Laptop
This is yet another suggestion for laptop users who want to derive the benefits of a standing desk. If you have access to another short enough chair, you could put it to face you on a traditional office desk. While this can't work for a more extensive desk setup, a laptop is a perfect size for such an arrangement. 
11. Pipe Desk
Depending on where you stand in the construction and building field, there are two vastly different ways of getting your pipe DIY standing desk setup. Your first option is to go out and buy one that is already pre-made. They are solid and don't cost as much as the more complicated standing desk types on the market. 
You can also make one if you have the skill. Of course, the pipe desk bears a few essential advantages on the creation side of the spectrum. Chief among these are the chance to add your style and the fun in getting through the construction.  
12. What About That Bookcase?
Another piece of furniture you shouldn't be taking for granted is your bookcase. Look at it twice, and you're going to notice that it appears to be a perfect standing desk candidate. Feel free to test your theory by loading your equipment on top of it. Once everything is comfortable, you can proceed to start working. 
13. The IKEA Arsenal
IKEA has so many different DIY items and parts for these jobs, The best way to address them is as a collective unit. The reception desk is one example of a stellar piece of furniture that you can acquire under the IKEA umbrella for your DIY standing desk needs. One of the good things about this selection is that you can get items to support the level of difficulty you are trying to achieve. In other words, you could buy finished tables, mostly finished tables, or building materials. 
14. Leg Extension
Unfortunately, the leg extension method is only available to those who can do it themselves or are willing to pay a professional to have it done. As the name implies, it involves nothing more than extending the height of your current office desk. Doing that is going to require a process of either lengthening the original legs or removing them and joining longer legs to the desk. 
15. Shelf Desk
Your shelf standing desk boils down to the mounting of a standing desk on the wall. The material used tends to be wood, and there should be more than enough space for your screens and your peripherals. Ensure that you get professionals to install it on your behalf unless you have the required skill set to do so. This is a setup that is not going to be using any legs and is purely a desktop anchored to the wall. If it's not securely installed, you could have some costly repairs on your hand.  
16. Give Your Desk Some Height
This is yet another option if you already have a traditional office desk in your remote workspace that you have become comfortable with. The problem is, as comfortable as you are, there are health concerns to address, and what you need is a standing desk. So, why not get the best of both worlds with a homemade option?
The premise of this is to place your desk on top of raised flat surfaces, which means more height. You can use books, blocks, or whatever feels sturdy enough to put the desk on. 
17. Floating Corner Desk
The floating corner desk is a corner-based version of the wall-mounted wooden desktop mentioned before. It has more of a triangle shape, as it is meant to use all the possible space that it can. One of the factors that makes this DIY standing desk option a popular one is its space-saving potential. If you are working in the comfort of your own home, there may be only so much space you can dedicate to office equipment and no more.
18. Capitalizing on the L-Shape
If a floating corner desk was in your DIY standing desk plans, you wanted to capitalize the use of a corner in a meaningful way. An arguably better way of doing this is to acquire the materials for or to buy an L-shaped corner desk. The ability to use two different walls for a combined surface area presents you with a lot more space than you probably thought possible. 
19. The Multipurpose Desk
Whether it's a desk you already own or one that you are going to be purchasing for this purpose, a multipurpose desk is also a good candidate, once it can be as high as you need it to be. For example, there may be an area in your house where a bar-type table is present. Its purpose probably revolves around putting alcoholic drinks together, but it could also be the perfect standing desk for you. 
Just remember to tidy things up ahead of the next use, so the transition isn't a huge problem.
20. Can You Build It?
What do you think about building your own desk from scratch? You could create a homemade DIY height adjustable desk that could rival some on the market at a cheaper cost by considering the best frames to build. Unfortunately, these kinds of DIY standing desk plans are not for everyone, making this option exclusive to those who can build themselves a standing desk of that degree. Note, however, that if you are interested in getting such a desk professionally done, you would need to pay for both the parts and the labor cost. If that's no problem, then feel free to go this route.
Video ads for product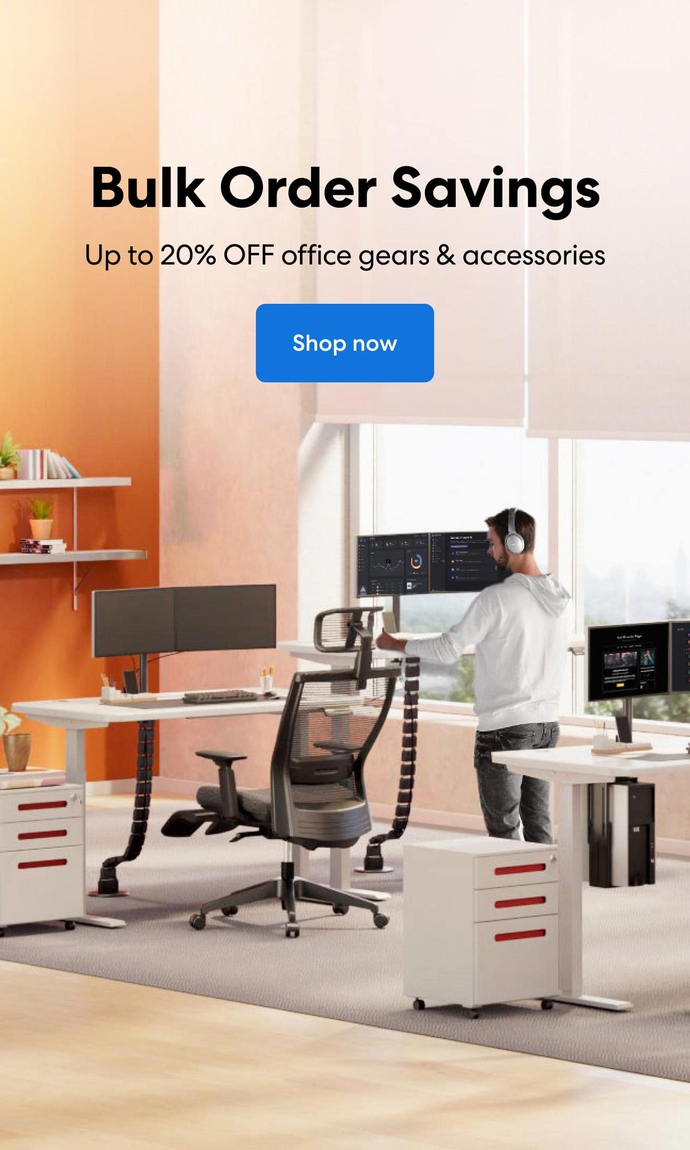 Subcribe newsletter and get $100 OFF.
Receive product updates, special offers, ergo tips, and inspiration form our team.