Workplace Inspiration
Dream Desk Setups with Autonomous and Pedro Gil

Autonomous
|
May 26, 2020
23,743 Views
Writing the next Pulitzer Prize winner? Do you spend hours on end editing visual campaigns on Adobe Suite or laying down crispy AF videos on Final Cut Pro? Are you an avid gamer that spends all day killing zombies and creepers on Minecraft? Or do you just watch a hell of a lot of Netflix?
In this digital age, we all spend a hefty chunk of our daily lives at our desks for both work and play. It's important to treat ourselves right and make our desk setups as comfortable, efficient, and enjoyable as possible. So that we can work smarter, and play harder every hour of the day. 
We are incredibly excited to bring you the first installment of Dream Desk Setups with Autonomous! A blog series where we search far and wide for the best desk setups and keep you informed of all the greatest office and gaming tech and accessories on the market. With brand new blog posts every fortnight, we plan to provide you with plenty of slick inspiration and fresh ideas to set up your own dream desk. 
Credit @iampedrogil
For today's Dream Desk we're highlighting the clean, minimal, wood and chrome styling of UX/UI Designer, Pedro Gil. Starting off with Pedro's main displays. He's taken the classic space grey finish of his MacBook Pro as a great starting point. Pairing it with a Lamicall laptop stand and the ever popular Dell U2414H Ultrasharp Monitor in the same stunning brushed aluminum finish. We're big fans of Pedro's choice of desktop display and there is a lot to love about Dell's HD offering. Here we see the world's THINNEST screen border measuring at only 6.05 mm allowing for an incredibly immersive experience. With more than 96% sRGB color space (16.77 million colors covering 96% sRGB), full HD resolution, and ultra-wide 178-degree viewing angle, this Dell display provides some incredible crispy and colorful viewing at virtually any angle. The display has 90-degree clockwise or counter clockwise pivoting capabilities for use in side-by-side or top-to-top applications, 6.5-degree forward tilt, 22-degree backward tilt, and a height adjustability range of 130 mm, giving you the flexibility to easily arrange your dream desk setup screen display however you wish.
Credit @iampedrogil
The monochromatic chrome theme is also reflected in Pedro's external storage and this 4TB USB-C Mobile Drive from LaCie is a thing of beauty. Let's just take a moment and look at this powerful gem! LaCie is a global leader when it comes to mobile drives, and for their 30th anniversary they have released this diamond-cut design with an edge like no other. Pedro has gone with the Moon Silver colorway to match his other tech, but there is also a darker Space Gray option available. With its beautifully faceted edges, the diamond-cut design and brushed aluminum finish of this drive gives a truly luxurious feel. Of course, it's never all about looks, this little guy packs a beastly punch. Available with 1TB, 2TB, 4TB, and 5TB of storage space, enjoy the capacity to store up to 500,000 high-res photos or 165 hours of video footage. All storage sizes come with a 2-year warranty, and with lightning fast speeds of 540 MB/s, this baby delivers.
Credit @iampedrogil
Building the perfect clean and minimal desk setup is all about decluttering and creating a sense of open space. Keep only the essentials within plain sight, go wireless where you can, and think carefully about storage and cable organization to keep things streamlined to maintain your peace of mind during work and play. A clever trick which we see a lot of in many modern desk setups is floating your main devices and accessories to create a sense of increased surface space upon your desk.
Pedro keeps things wireless and fuss free by levitating his iPhone with the Wireless Charging Magnet Mount from MAGNETKING. The perfectly angled position means that all of his notifications are just a quick glance away while his SmartPhone stays well juiced all day long. And his Headphone Desktop Stand H1 from Lamicall proudly displays those sexy Marshall Headphones like a regal piece of art, and deservedly so! The Major III Bluetooth Wireless Headphones from Marshall in all that delicious soft pebbled 'leather' (it's actually a luxurious feeling vinyl wrap) is a beautiful balance of style and performance. Available in black, white, and brown, the headphones provide over 30 hours of exceptional audio quality from a single charge, as well as the convenience and freedom to move within 30 feet of wireless listening range. With 4 mm custom tuned dynamic drivers, enjoy enhanced bass, smooth mids, and clear highs during every second of music and gameplay.
We love how Pedro has kept things streamlined by matching the black finish of his tech devices with all-black, barely there accessories. Try this simple practice at home when setting up your own dream desk. Stick to a strict color theme or material finish and keep things minimal and monochromatic to instantly elevate the overall design of your space.
With any minimalistic designed interior space, there is always a tricky line between feeling warm and tranquil, or cold and sterile. To bring some much needed life to any space, consider the addition of simple indoor plants just as Pedro has done. Introducing plants into your work or gaming space helps to filter and reduce toxins found in the surrounding air such as Benzene, Formaldehyde, Carbon Monoxide, and Trichloroethylene, and distributes clean oxygen for you to breathe. Plants help to BOOST our mood by lowering our blood pressure, energize the mind, and may even promote deeper, more rejuvenating sleeping patterns. Many scientific studies have even shown that plants are especially beneficial for those who are ill, greatly assisting in lowering stress levels among long-term patients.
And you don't need much of a green thumb to successfully feature plants as part of your dream desk setup. Succulents, cacti, and orchids are all hardy plant options that require very little maintenance, last for ages, and add great visual interest and texture to any dull space. 
Credit @iampedrogil
Are we imagining things? Or is everyone and their mother going crazy for the return of the scissor keyboard on the latest MacBooks? We spend so much time at our dream desks that our desktop typing experience is just as important as any other. Pedro keeps things wireless, minimal, and oh so clean with the New 75 (Race 3) TKL keyboard from Vortexgear. The near non-existent narrow bezel and premium matte finish of the silver keycaps makes for a really enjoyable typing experience that is smooth, responsive, and totally satisfying. 
Similar to the steps we take to create the perfect minimal dream desk setup, the Race 3 takes the standard keyboard layout and gets rid of all that unnecessary extra space. The division between the number keys and F keys is gone. The Delete key is in the top right corner. The bottom row and right Shift have been shaved to accommodate the arrow keys, and four of the functions normally located above the arrows on a standard keyboard—Page Up, Page Down, Home and End—are stacked neatly along the right-hand side. A significant space saver!
Credit @iampedrogil
There have been many trends when it comes to minimalism. From glamorous marble, cool concrete, and industrial black. Over the past couple of years, Minimalist Wood and Scandi style has made a strong comeback. If the clean aesthetic matches your organic taste, you'll be happy to know that this trend is easy to incorporate into your dream desk setup with some simple accessories.
What stands out the most about Pedro's dream desk setup is his tasteful use of wood to really warm up and soften the overall space. To elevate his display to an optimal height and to cleverly save on working space, Pedro has paired his Laptop Dock - Vertical Stand with a Wooden Monitor Stand, both from OAKYWOOD and both in the same gorgeous solid Oak finish. OAKYWOOD is dedicated to being good to the environment. All of the wood used to produce their products is sustainably sourced from Europe and the USA and is completely FSC certified. In a conscious effort to reforest the planet and give back to Mother Earth, OAKYWOOD together with the One Tree Planted organization, plants one tree for every product purchased! They work towards the restoration of forests after fires and floods, create job opportunities for the disadvantaged, build environmentally aware communities, and help to strengthen the biodiversity of the environment.
We love how Pedro's selective use of wooden accessories adds warm, organic texture and tone to his dream desk setup. Alongside all of that tasty aluminium chrome and chic black accents, we think Pedro's overall sense of design and color coordination displays a perfect balance between Natural and Industrial.
And let's not forget to give credit to Pedro for his excellent use of lighting. Here he has used the Beam - Refurbished light bar pack from LIFX to instantly open up what would have otherwise been a rather one dimensional backdrop. The way the light bars beautifully frame his dream desk setup mimics the feel of bright sunshine beaming through a lowered blind and we think really levels up his work space. And with 16 million color options that are controllable via wifi through a smartphone app, you can hold the power to instantly transform your setup to suit whatever mood you're in.
Credit @iampedrogil
We've all experienced that one hectic morning where we can't find our keys, or our earbuds, or that other tiny miscellaneous item that you always seem to misplace when you need it most! To avoid clutter and mayhem atop your dream desk setup, the trick to keeping any space minimal and clean is to make sure that EVERYTHING has a home. And Pedro does this in simplicity and style. A dead easy solution, this simple black tray from Zara Home fits seamlessly with Pedro's existing setup scheme and come on, how HOT does this look?!
Credit @iampedrogil
Whether you're spending hours in front of your screen hard at work or gaming hard, your dream desk needs the ultimate chair. Having the best chair for back pain may be one of the most important assets you can add to your dream desk setup. According to the US National Library of medicine, lower back pain is one of the most frequent causes of work-related disability. 
The ErgoChair 2 from Autonomous is a fully customizable ergonomic chair that caters to any body shape and body size. This impressive office chair provides total back support, and promotes healthy posture in complete comfort and sharp style. You can adjust the height of your chair, slide the pan of your seat forwards and backwards, adjust the tilt of your seat pan, increase or lessen the level of lumbar support, adjust the tension of the back tilt, adjust the height and tilt of your headrest, raise and lower your armrests and slide them forwards, backwards, or side-to-side, and adjust and lock in the angle of your chair recline for when you want to take a well deserved break from work. As we can see in the setup above, the all black option perfectly blends with Pedro's clean and minimal palette, but the ErgoChair 2 is also available in several other attractive colorways to suit whatever your personal taste may be. With nothing but rave reviews, you'll be the envy of all your fellow gamers and colleagues when they see you in this BOSS chair! 
And that wraps up our very first installment of Dream Desks with Autonomous! What was your favorite feature of Pedro's desk setup? Let us know in the comments below, we LOVE to hear from you guys. And remember, this is only the beginning! We have so many more incredible desk setup ideas and inspirations to share with you. So don't miss a beat and be sure to check back in for the next blog post!
---
Read more...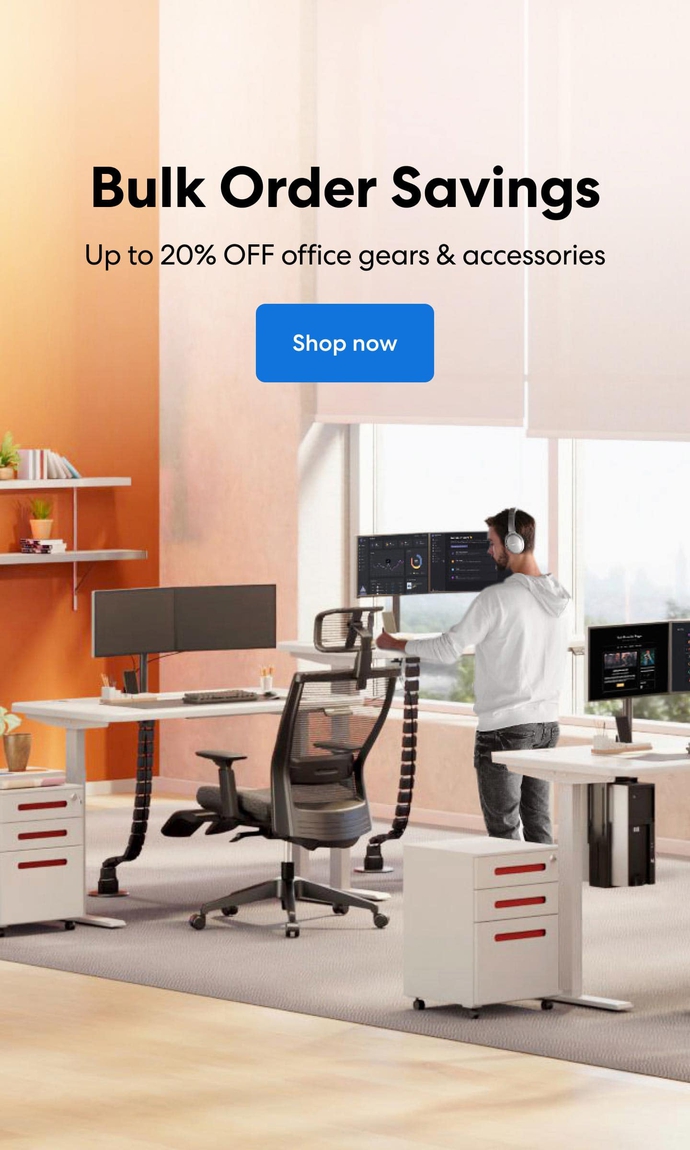 Subcribe newsletter and get $100 OFF.
Receive product updates, special offers, ergo tips, and inspiration form our team.