Workplace Inspiration
Dual Computer Monitors for Double Screen Setup 2023

Autonomous
|
Mar 22, 2022
3,719 Views
The ideal dual computer monitor arrangement will improve your performance by at least 40%. It helps us to do multitasking activities with ease. When we're looking for a dual monitor arrangement, our considerations are slightly different. Your dual displays can be positioned on a dual monitor pedestal or presented beside each other on the very same tabletop.
In any case, you'll need to choose nice displays to make the setup work. It's best to get displays that are the same type and size. And after all, monitors grow in size every year. Should you only buy the biggest display you can afford, or would multiple displays be preferable to one ultra-wide display? This article will look at the figures behind using two monitors rather than one, along with which monitor duo is appropriate for each use scenario.
Guide for Choosing a Dual Computer Monitor
Establishing a second monitor or substituting an aging monitor with something like a new multi screen setup is an effective way to enhance your entire user experience. A dual monitor gives you more display space, which is useful for both working and entertainment.
In this dual monitor buyer's guide, we'll go through some of the very crucial considerations to keep in mind while shopping, such as:
The size of the display and the layout of the workplace
This is always a top concern to adjust your monitor arrangement to your environment, especially if you've got yourself modifying the angle or design of your monitor regularly. You can complete your arrangement by adding brackets and other mounting hardware. It's an excellent approach to work around restricted or unusual workspaces by freeing up a lot of surface area, cleaning your workstation, and enhancing mobility.
Display choices with micro-edges
A broad boundary or border surrounding the useable screen area might not even be overly bothersome on a single screen. If you use numerous monitors, the issue can become blatantly evident and frustrating. Additional screens, rather than a single broad edge, double the amount of wasted space.
Adjustable features with reduced blue light
Comfort and ergonomic characteristics, such as low light source and standing flexibility, should also be considered. When you invest lengthy periods beside a dual computer monitor, blue light could become irritating and fundamentally alter your brain chemistry.
Mounting ability and compliance
It's vital to evaluate your screen's functionality before mounting it on a wall or swiveling it to landscape mode. Attachable displays are becoming more common, and also most screens come with a standardized VESA mounting adapter to make setup easier. You may appreciate a widescreen display, even when merging two of them, because of the increased room and flexibility provided by the mounting bracket.
Don't hesitate to match
While coordinating the two PC monitor manufacturers might appear to be a minor consideration, it ensures that you get the most out of your expenditure. The optimum dual monitor arrangement and a multiscreen layout should make your schedule easier to follow and reduce distractions. Screens with varying features or structural layouts, on the other hand, might be just as disruptive as a crowded workspace.
List of the Best Dual Monitor Setups
Do you need a display for a twin or double monitor desktop layout? Check out all the greatest and most economical monitors to increase your efficiency. The following list also includes a full discussion of monitors, along with their advantages.
1. Pixio PX275C Prime
Consider this display if you want a true OLED display with improved movement management and accuracy, just like the Gaming Screen PXC325 by Pixio. It has complete sRGB media attention, Ultra HD support and additional features such as USB Type-C input and two in one image configuration. The PX275C Prime Productivity Gaming Monitor also features excellent horizontal and vertical image quality, ensuring that the image is realistic even when viewed at an angle. Because of its full intensity and excellent reflection control, it can readily combat glare in bright-seeing settings.
2. Pixio PXC327
Gaming Screen PXC327 by Pixio is the greatest budget-friendly supplementary monitor we've evaluated. It features high magnification and gets luminous enough to enable clear views in very bright environments, making it ideal for sharing multimedia. It also comes with a host device, including four connectivity options and an SD card upstream connector, so you can connect your accessories or modems into the display and only use one USB cable to connect to your computer, providing you more ports and making your setup tidy.
3. ASUS-PA278CV ProArt Display
Just like the Pixio Monitor, this is the greatest dual screen computer we've evaluated for business use. You won't have to think about dirty display effects or blurring in areas with similar colors because it boasts outstanding gray consistency and outstanding transition handling. It boasts good color accuracy straight out of the box, ideal if you depend on precise shades. It also features a very adaptable stand with amazing biomechanics, so you can swivel it in any orientation if you put it upright.
4. S2722QC Model by Dell
Consider this dual computer monitor if you prefer something like a greater HD resolution for laptop and monitor setup. It boasts a screen resolution of 4k, which results in excellent text sharpness and clear visuals. It has excellent ergonomics and could be rotated from either direction to landscape position. It features an excellent vertical and lateral dynamic range, ensuring that the image is clear even when viewed differently. Because of its high brightness and excellent reflection control it can readily combat glare in stronger viewing settings.
5. The VG279QM by ASUS
Is the greatest dual-screen computer for gameplay we've examined. It's a fantastic gaming monitor with such high frame rates and excellent animation management, delivering a crystal-clear action with just about no blur surrounding fast-moving elements. It features low output impedance for a quick gaming experience, and then it enables Free-Sync as well as G-SYNC Capable, dynamic refresh rate technologies for less shimmering in some applications.
6. HP VH240a 23.8-inch High Definition IPS Display
The huge screen is the best monitor for work and gaming. This dual monitor setup also offers a 5 milliseconds reaction time with amplification for a seamless image that is dynamic and clear without distortion. The much more astounding feature of this dual-screen is that it has built-in loudspeakers that produce a powerful sound. This dual computer monitor screen contains VESA mounting openings, which is a nice feature.
Video ads for product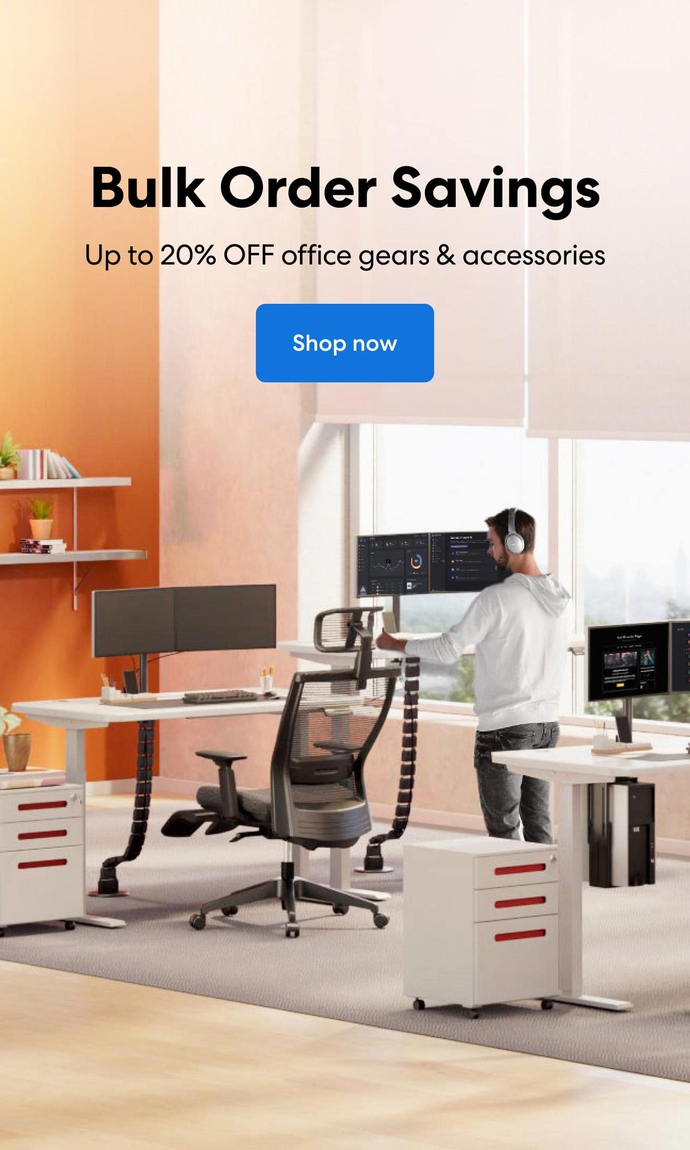 Subcribe newsletter and get $100 OFF.
Receive product updates, special offers, ergo tips, and inspiration form our team.