Smart Products
Dual Monitor Stand Arm for Professional Programming Setup

Autonomous
|
Feb 25, 2022
1,967 Views
A dual monitor setup provides more productivity and a bigger work landscape. There are many benefits of using a multi-monitor setup over a single monitor setup. It is also true that a dual gaming setup or a working setup does come with its limitations. Especially for limited space people, mounting two monitors can be a hassle.
But thankfully, accessories like a dual monitor stand arm can solve this issue of limited space and tiny work area. With the best monitor arm desk mount, you can easily use a single desk to boast three large screens and set them ergonomically. Even though a monitor arm desk mount is an accessory not short of introduction, some people aren't still aware of its benefits or the proper way to use it.
This article will cover the best dual computer monitor desk mount, especially for professional and programming setups.
The Best Dual Monitor Stand Desk Mount
It's difficult to pick the correct monitor stand, but do you know what makes it more difficult? Finding a display stand that can hold two monitors at the same time. You want something that exudes quality, is durable and will last a long time.
Of all, no one wants to spend hours looking for the best dual monitor stands on the internet. Who has that type of time on their hands? Our top picks for the best twin monitor stands are listed below.
1. Laptop and Monitor Stand
This monitor and laptop stand is different from its peers in many ways. The laptop desk stands and monitors mount from mount it is ergonomic and aesthetically smart. It saves space while allowing you to achieve the maximum work area. The mount monitor stand has a unique design with two platforms. One is used to mount your screen, while the other is spacious enough to hold an entire laptop. The dual monitor stand arm also has a weight capacity of 22 pounds, so one can easily hold an XL screen.
2. Dual Monitor Arm by Pixio
The best multi-monitor setup mount should be able to withstand a variety of loads for people who like to play with their options. And this dual monitor arm mount tells a similar story. This monitor mount from Pixio is affordable for the function it provides, and the desk setup allows you to attain the maximum adjustability with just a few adjustments. You can easily support two screens of around 32 inches, and the dual monitor mount will not disappoint you for years to come.
3. Black Dual Monitor Arm
When it comes to dual monitor stand arms, not many people are up for the idea of playing with the aesthetics of their work desk. Hence this black dual monitor arm from autonomous hides in the back of your desk while providing you maximum support. Ideal for a common 27 monitor mount, you will find most of the monitors fitting to this monitor arm. It is flexible and allows a 360 degrees adjustment hence ideal for work and gaming uses.
4. AmazonBasics Dual Monitor Arm
One of the best dual monitor desk arms, this one is ideal for the price it demands. Based completely on the VESA mount, this monitor arm can support two screens of inches in size. The desk mount can hold up to 20 pounds in each of its arms and hence can be used for various applications. You can easily use both vertical and horizontal monitor mounting to provide a range of flexibility for tough jobs such as programming.
5. Eletab Dual Monitor Stand
The dual monitor stand arms extending from a single arm might confuse many people about its strength, but you can rely on this product for a flexible arrangement. The two arms can support 17 pounds each which is enough for various screens. The Eletab screen mount also allows you to adjust the height by 19 inches; hence this one is an ergonomic choice for modern workplaces. One of the best things about this monitor mount is that it allows easy screen sharing during those crucial meetings.
6. VIVO Dual Monitor Arm
This is a wonderful solution if you've purchased two monitors and need to mount them both. It has a heavy-duty clasp that prevents it from tipping over from the weight of two monitors, and each arm is independent of the other, allowing you to set each screen to the appropriate height for your needs.
7. Huanuo Dual Monitor Mount
With double gas springs that minimize jitter and noise, the HUANUO Dual Monitor Stand can handle two monitors up to 35 inches each. You have two alternatives for mounting: a grommet or a C-clamp. The stand also includes cable management, allowing you to keep your desktop clear of clutter.
How to Choose the Best Dual Monitor Mount for You
As much as the wide choice of monitor mounts in the market helps you broaden your research, they also confuse you to a certain degree. Hence to achieve the perfect workstation, you should know the best factors to look at when buying a monitor mount. Here are some ways to judge the best product for you.
Type of Monitor Mount
There are various types of monitor mounts, and the choice depends on your need and the type of work desk you already have. The first is a twin monitor stand that stands alone. This lightweight solution can easily be changed to meet your needs, but it does not save much space.
Secondly, the dual grommet monitor stand attaches to the desk's end. You won't have to make any physical adjustments to the desk, and you'll save a lot of room as a result. The disadvantage is that you'll need a thin surface to attach it to.
The C-clamp monitor mount is the third option. It also connects to the desk's edge, works with thicker surfaces, and is simple to secure to the side.
Additional Features
Cable management is as important as it can get in a workplace. Without proper cable management, you are greeted with a huge mess in the workplace hence collective stress. Make sure the monitor mount you have your eyes set on has an efficient cable management system in the form of a cable drawer or grommets.
Size and Weight
Consider the screens you have, and then opt for the right weight and size. Always think about going a few pounds above the limit stated by the manufacturer to be safe.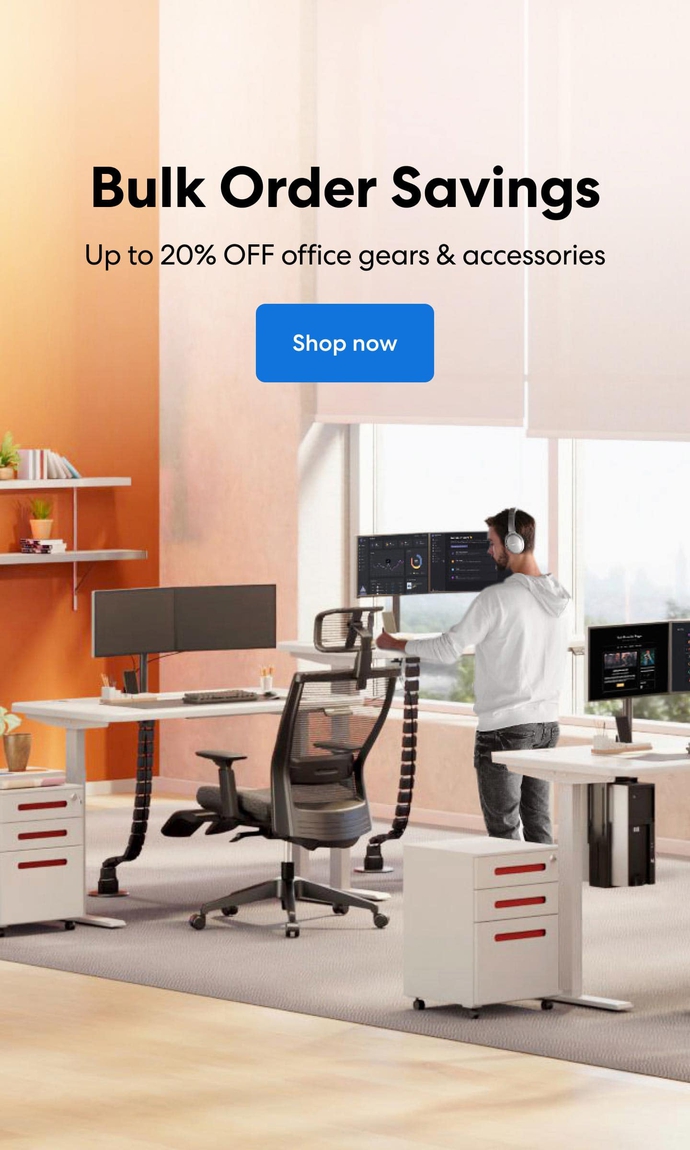 Subcribe newsletter and get $100 OFF.
Receive product updates, special offers, ergo tips, and inspiration form our team.