Latest Updates
Early Black Friday Desk Deals You Can't Miss in 2023

Autonomous
|
Nov 16, 2023
2,811 Views
Black Friday is the perfect opportunity to get everything on your wish list at fantastic prices. From technology to cookware, everything is on sale. With Black Friday just around the corner, now is the best time to start shopping. Office workers and students often benefit the most from early sales. Using these amazing Black Friday desk deals, they can take their work or study environment to the next level.
Best Black Friday Desk Deals for Sit Stand Schedule
As the holiday season draws near, the quest for the Best Black Friday Desk Deals takes on a whole new dimension, particularly for those who live by the rhythm of a sit-stand schedule.
Black Friday is not just a day for scoring discounts; it's an annual opportunity to elevate your workspace, ensuring comfort and productivity for those who prioritize movement and ergonomics. Whether you're an office professional, a remote worker, or someone who values versatility in their daily routine, Black Friday Desk Deals offer an array of options for the perfect sit-stand desk.
We'll be your guides, unveiling the most sought-after deals on desks designed for the dynamic lifestyle of sit-stand enthusiasts. So, gear up, adjust your desk's height, and get ready to explore the top Black Friday Desk Deals for a sit-stand schedule that suits your workstyle.
Black Friday Desk Deals for Modern Office
With the holiday season fast approaching, the excitement of Black Friday is in the air, and there's no better time to discover the ultimate deals on versatile desks designed for multi-purposes.
Black Friday isn't just about snagging great deals on gifts; it's also the perfect opportunity to elevate your home office, study area, or creative space. Whether you're a student, remote worker, artist, or simply someone in need of a functional and stylish workspace, Black Friday Desk Deals have got you covered.
We'll be your navigators through the labyrinth of offers, unveiling the most remarkable multi-purpose desk deals that can transform your surroundings into a hub of productivity and inspiration. So, grab your wish list, adjust your chair, and get ready to explore the top Black Friday Desk Deals for multi-purposes.
Black Friday Desk Deals for Home Office
With the holiday season approaching, the excitement of Black Friday is building, and it's the perfect time to transform your home office into a productive haven without breaking the bank. Beyond the traditional festivities, Black Friday offers incredible opportunities to upgrade your workspace. Whether you're a remote professional, a student, or someone who simply values a well-organized and comfortable work area, Black Friday Desk Deals bring you the best of both worlds – affordability and functionality.
We'll guide you through the realm of deals, revealing the top offers on home office desks that cater to your specific needs. So, sharpen your shopping instincts, adjust your office chair, and let's explore the finest Black Friday Desk Deals for your home office sanctuary.
Black Friday: Standing Desk or Traditional Desk?
As Black Friday approaches, many of us are on the hunt for the perfect deals to upgrade our home office. A central decision in this quest is whether to invest in a standing desk or a traditional (sitting) desk. Both options have their advantages, and your choice should align with your specific needs and work habits. In this guide, we'll help you navigate this decision by exploring the factors to consider when choosing the right desk for your home office during the Black Friday sales.
1. Health and Ergonomics
One of the primary considerations when choosing a desk is your health and comfort. Standing desks offer benefits like improved posture, reduced risk of back pain, and enhanced circulation. If these health advantages are a priority, a standing desk might be the right choice for you.
2. Work Requirements
Consider the nature of your work. If your tasks primarily involve hours of typing or focused computer work, a traditional desk with a comfortable chair could be the better option. On the other hand, if your work involves frequent transitions between sitting and standing, a standing desk's adjustability can be a significant advantage.
3. Space and Compatibility
Examine the available space in your home office. Standing desks, due to their adjustable features, often require more room than traditional desks. Ensure that your workspace can comfortably accommodate the size and height adjustments of a standing desk without feeling cramped.
4. Budget
Budget considerations play a significant role in your decision. Standing desks typically come with a higher price tag due to their adjustable mechanisms. If you have budget constraints, a traditional desk might be a more cost-effective choice.
5. Trial Period
If possible, try out both standing and traditional desks to get a feel for what works best for you. Some retailers offer trial periods or return policies, allowing you to test a desk for an extended period and make a more informed decision.
6. Work Style and Preferences
Consider your personal work style and preferences. Some individuals find that standing while working is more invigorating and conducive to focus, while others prefer the comfort of sitting. Your work habits and comfort preferences should guide your choice.
7. Accessories and Add-Ons
Think about the availability of accessories that can enhance the comfort of your workspace. Ergonomic chairs, keyboard trays, and monitor stands can significantly impact your comfort, regardless of whether you opt for a standing or traditional desk.
The decision to invest in a standing desk or a traditional desk on Black Friday ultimately comes down to your individual needs, work habits, and budget. Both options offer advantages, and it's essential to choose the one that aligns with your specific requirements for a comfortable and productive home office. As Black Friday approaches, consider these factors carefully to make an informed decision that will enhance your workspace.
Conclusion
These incredible desks won't be on sale for long. Don't miss the chance to get the perfect Black Friday office desk at an amazing price. Whether it's a simple laptop stand or a fancy smart desk, everyone could use an upgrade to their workstation.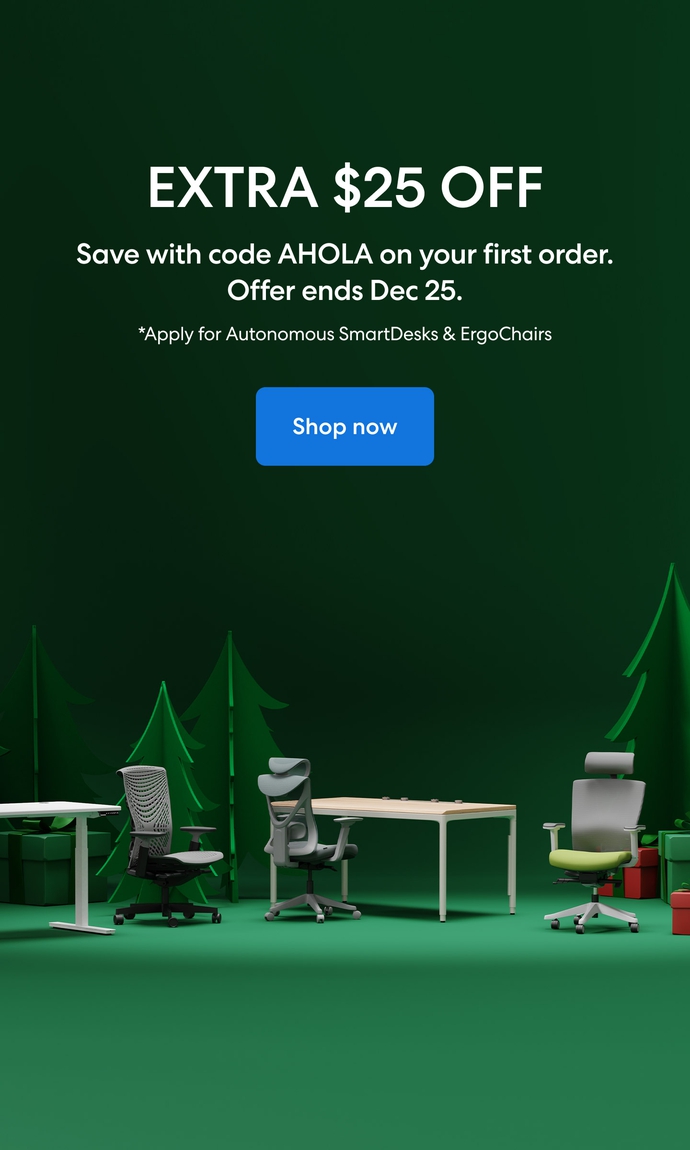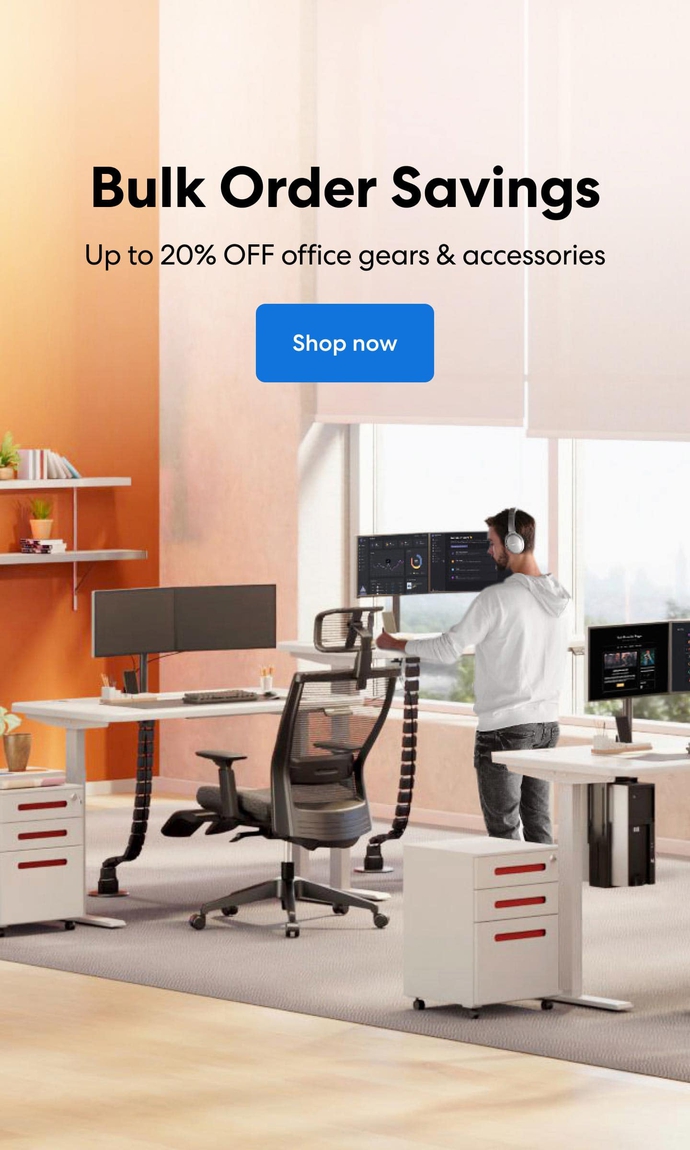 Subcribe newsletter and get $100 OFF.
Receive product updates, special offers, ergo tips, and inspiration form our team.