Smart Products
Electric Blinds for Windows: How It Works, Buying Guide, and Top Picks

Autonomous
|
Aug 31, 2022
2,004 Views
Every day, smart home technology improves. It has permeated every aspect of our lives, from smart furniture to appliances to smart lights. How could blinds stay traditional when everything else in our houses is becoming smart? This is how motorized window shades and smart blinds came to be. 
Blinds maintain comfort and safety while also helping with household energy efficiency. Electric blinds are simple to use, demand little effort, and offer a variety of customizing choices to suit varied tastes. 
These sleek, motorized window shades are a great way to keep your space private while letting in the right amount of natural light. They can be programmed to rise or fall individually, collectively, or whenever you like during dawn or sunset.
 You must be aware of the size, installation requirements, cost, and other power and customization options before purchasing any blinds for your windows. Although some of them can be controlled with a remote or using a smartphone app, it is comforting to know that they can be managed with a single button press. Even some home accessories exist that can help you make your current window coverings smart or motorized.
What Are Electric Blinds for Windows?
Electric or motorized blinds are a type of window treatment. Electrical motors allow for the remote control of the blinds or shades. They are much safer to use in residences, buildings, or establishments where there are pets or children. This is because fewer cords are dangling from these blinds or shades than from other types. Motorized or electric blinds should be used throughout a person's house, apartment, or place of business if they want convenience and security with their window treatments. 
Best Smart Window Blinds and Motorized Shades to Buy
1. SmartShade by RYSE
It is a HomeKit-compatible smart window blinds solution. Essentially, it is a smart window blinds solution that works with any smart home control system. The gadget quickly and simply fastens to the plastic or metal beaded chain of your shade to make it smart. In addition, you can use the SmartShade by RYSE in conjunction with routines, group controls, and voice control features. As for user convenience, there are other controls on the gadget. 
This clever device gives you control over when your shades open and close by using cutting-edge software. Therefore, you can program them to rise with the sun and set with the sun. The fact that your existing shades are compatible with this lovely device is fantastic.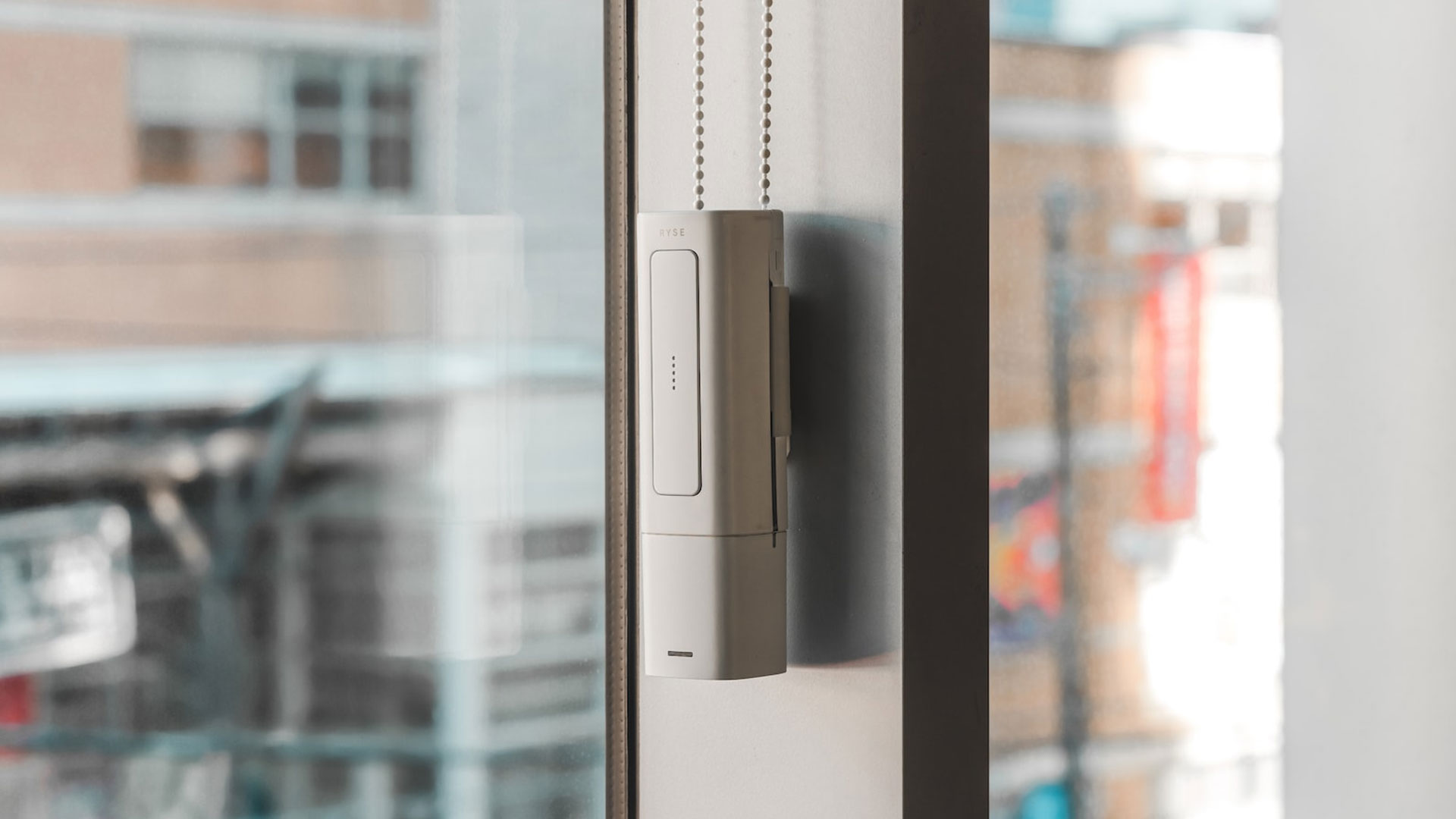 [Collapse title="Specifications"]
Dimensions
1.8'' x 1.8'' x 5.1'' x 0.73 lbs
Connectivity
Bluetooth LE
Radio frequency
2.4 GHz
OS requirements
iOS - 11.2 or later
Android - 6.0 or later
Power
Optional 12V⎓2.0A
Operating humidity
10% to 85%
Operating temperature
32°F to 104°F
Warranty
1 year with proof of purchase
As of right now, Google Home, Alexa, and HomeKit are all compatible with the SmartShade by RYSE. It connects via Bluetooth technology and can support shades up to 10 lbs in weight or 9 ft x 9 ft in dimension. An integrated lithium polymer rechargeable battery is also capable of being charged by a solar bar that must be purchased separately. 
By determining how much natural sunlight enters the room with the help of the associated Android and iOS apps, these electric shades for windows will make it simple and convenient for you to adjust the temperature and glare. 
2. Windows Somfy Smart Blinds and Shades
One of the most well-known and reputable brands of smart home appliances is Somfy. It specializes in creating retractable window covering motors and control systems. You have a variety of alternatives with Somfy, including the option to keep basic motorized blinds or ones that can be operated via a smartphone app or remote control. 
A variety of homeowners can benefit from the company's use of connectivity technologies like Z-Wave, ZigBee, radio technology Somfy, etc. These window coverings, which use a Sonesse motor, are made to function quietly. A battery, a plug-in, or a hard-wired installation are additional options.
Furthermore, a sun sensor or a little hub-like device that connects the RTS electric blinds for windows with Amazon Alexa and IFTTT are two additional accessories the company sells to make the blinds more practical. The design and production of all Somfy window coverings take place in Haute-Savoie, France. 
3. Tilt MySmartBlinds
Smarterhome also sells automatic blinds for windows, as well as other smart home devices. There are two colors of these Bluetooth-enabled blinds: white and walnut. They work with windows that are 21-737-8 inches wide. You don't need to plug them in because they have a solar charging panel built in. 
Some of its unique features include simple scheduling, automated tilting, tool-free installation, mobile app control, and automation for dawn and sunset. The blinds can pair up with Alexa and Google Assistant with the extra bridge. There are options to choose your preferred color, size, mount style, and other customizations. 
4. Serena Smart Roller
If you want motorized blinds that are relatively simple to install and use, Serena smart shades are the perfect option for you. They come in insulating honeycomb and roller types. The Lutron app, a smart remote, or voice assistants like Alexa, Siri, or Google Assistant can all be used to control the shades 
There are blackout, transparent, and sheer fabrics available for these Serena shades. 200 different fabric options are available depending on your style. Customers can choose from a variety of customization options to create the ideal motorized window shades for their homes. 
5. FYRTUR and KADRILJ Smart Blinds from IKEA
The FYRTUR and KADRILJ battery-powered automatic window blinds were introduced by Swedish furniture manufacturer IKEA a few years ago. Its TRDFRI gateway is necessary, but these cordless blinds come with a remote control and can be operated with a smartphone app. 
Voice commands to Google Home, Apple HomeKit, or Amazon Alexa can also be used to operate both smart blinds. While FYRTUR roller blinds are composed of dense fabric that fully shuts out light, KADRILJ blinds are constructed of a sheer material that allows some light to filter through. There are many sizes of the IKEA smart window blinds available. 
6. PowerView Motorization by Hunter Douglas
Hunter Douglas' PowerView Motorization is a wireless method for controlling automatic window blinds and is a Red Dot Design Award winner. Using a Pebble remote control, you can control the Hunter Douglas window coverings using the PowerView Automation system. 
Additionally, it may be controlled with a companion mobile app, voice commands through Google Assistant, Apple HomeKit, and Amazon Alexa, and connections to services like IFTTT. The sole requirement will be the PowerView hub. These networked shades can be programmed to activate at predetermined times throughout the day and operate independently. Motorized Hunter Douglas PowerView window coverings are a wonderful complement to a smart home. 
7. Yoolax Motorized Blinds
These Jacquard-blend polyester motorized shades for windows block the most sunlight possible. Yoolax blinds are compatible with all Alexa and Google Home versions when used in conjunction with a smart bridge (BOND). The fact that there are numerous color and balance options makes them more appealing to homeowners. 
A rechargeable battery that powers each device lasts roughly six months. The blinds may be charged using a USB connector and a 2-meter cord. This company also sells a multi-feature remote control that has a range of 20 meters and can control up to 15 different shades simultaneously. 
8. Omnia Electric Blinds for Windows
The OmniaBlinds driven by Eve MotionBlinds motor is ideal for anyone with a HomeKit-enabled house. You can control your electric blinds straight from your iPhone or iPad thanks to the native Apple HomeKit connection, which eliminates the need for a bridge or hub. Furthermore, the HomePod mini and Apple TV 4K second generation let you control the blinds from anywhere. 
Essentially, the availability of unique sizes is what makes Omnia's electric blinds for windows stand out. These blinds are custom-made, allowing the customer to exactly fit the motorized blind into a certain window frame. The fabric comes in a wide range of colors and is available in nine different collections. 
9. SonaShades' SonaApex
Gable-end, apex, and curved windows are ideal for SonaApex automatic window blinds. The blinds, which are made of Honeycomb fabric or Duette fabric, may be easily controlled with the press of a button from a smartphone or other smart device when used in conjunction with a smart hub. They don't require pull cords or attachment bars. Control4, Lutron, Crestron, Alexa, and Google Assistant all work with these blinds. 
SonaShades smart window coverings can be powered with batteries, electrical outlets, or solar energy. 
10. Graywind Motorized Shades
These cordless electric blinds for windows have a watertight back layer and are composed of textured blackout fabric. Use the provided remote to operate or a mobile app to immediately program. Without a hub, it also functions with Alexa, Google, and HomeKit. 
The smart blinds' size and other specifications can be adjusted by the customer to suit their needs. There are 11 different types of fabric. 
Things to Consider Before Buying Electric Blinds for Windows
1. How Is the Motor Powered?
Such blinds or shades with motors are quite useful. The motor is perfectly constructed and built to last for a very long time. It has a very long shelf life. The automated blinds and shades are a great invention and are powered in three different ways: battery, plug and play, and wired.
Powered by Batteries
Batteries can be used to power it. A remote control can also be used to control the blinds or shades. You can easily control when they rise and fall at any time. Because the batteries will eventually need to be replaced, it is also relatively simple to maintain. 
Plug and Play
People who have access to computers might prefer plug-and-play. They can use this app to control the blinds or shades. 
Wired Motors
The blinds or shades you should think about having can also be powered by electrical cords. These must be plugged into the adapter, and they will be controlled by a remote. 
2.. Do Motorized Blinds Make Noise When They Move?
No, most motorized blinds are built, so they never make tearing noises, as they glide across your window. It also relies on the quality of the blind motor that was fitted. You won't hear any unpleasant noises at all if you purchase electric window blinds from a well-known home retailer. An unreliable motor with a thin headrail can make unpleasant noises. 
Therefore, always check the operating system's quality before buying motorized blinds because it has the power to make or break the tranquil atmosphere of your home. 
3. Is It Worth Getting Motorized Blinds?
The primary explanation for why this is the most frequently asked question about motorized blinds is the fact that it offers comfort. They operate similarly to any other electrical device designed to make your life more comfortable, easy, and time-saving. You can expect this handy window treatment to be really convenient for you and to last a long time because of how quickly it can be installed. 
Remote-control blinds can provide you with a variety of benefits, making them a real necessity for your homes and workplaces. 
4. Are Electric Blinds for Windows Reliable?
First and foremost, motorized blinds are a much more practical option than traditional window coverings. It is a must-have smart equipment piece. Furthermore, you can open or close them whenever you want, according to your needs. Simple blinds and window curtains cannot be programmed to open and close at specific times, but blinds can. Depending on the quality you choose, these motorized blinds can provide you with a minimum serviceability time span of three to seven years. 
Even if your blinds break, that doesn't mean you can't still use them. Simply reinstalling the updated operating system will fix your motorized blinds, allowing you to use them for an extended amount of time. To ensure that your blinds survive at least 10 years or more, you should always use high-quality blinds. 
5. How Much Do Electric Blinds Cost?
Although they are often portrayed in advertisements as the height of luxury, motorized blinds are more affordable than you may think. There are options for automation in the $300 to $1,000 and above price range. It is a great choice if you're looking for some modern home office ideas!
6. How Do Electric Blinds for Windows Work?
When a button is pressed, a little motor gently rotates the blind shaft, which is how electric blinds function. In order to cover or reveal the glass, the blind fabric can now be effectively rolled up or down a vertical window or across a sky lantern. 
Conclusion
You would have gotten a peek at the different types of motorized and smart blinds that are offered in the market from the products that were just mentioned. We hope this article has helped you to choose the best electric blinds for you to upgrade your home office setup.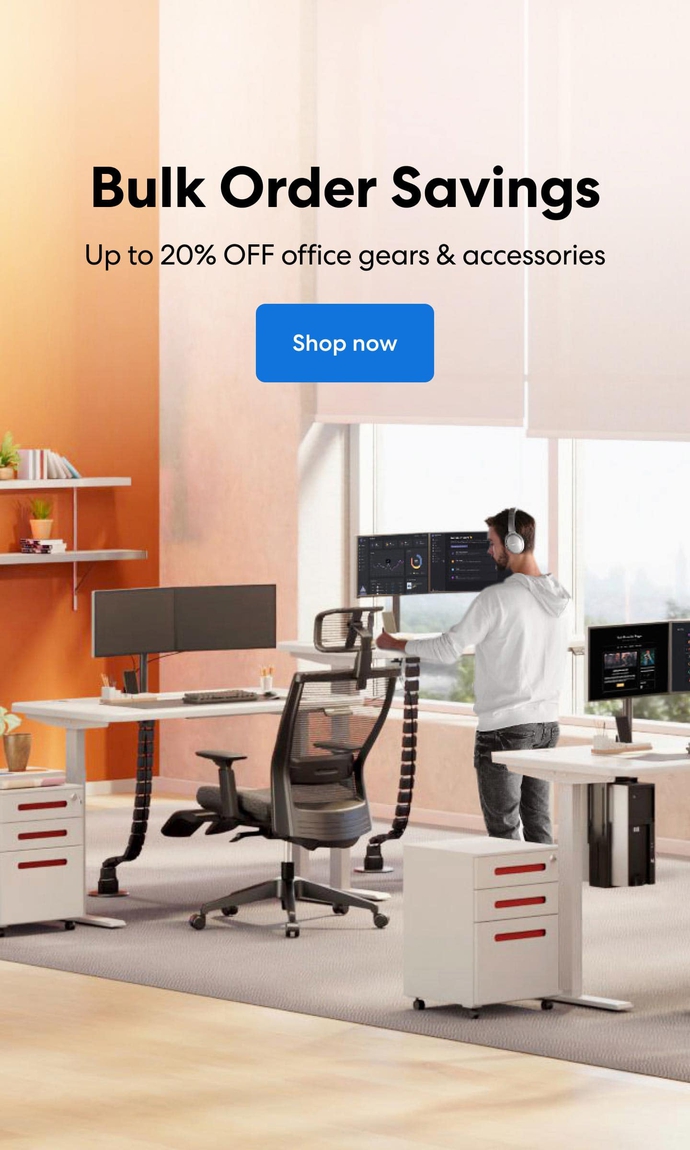 Subcribe newsletter and get $100 OFF.
Receive product updates, special offers, ergo tips, and inspiration form our team.