Even while an office job isn't particularly physically demanding, you should still think about comfort and adequate ergonomics. A sore back from a firm chair, often known as repetitive strain or muscle soreness injury, can cause long-term harm to your body and fracture your focus at work. However, these problems are easy to underestimate until they escalate into something more severe, which could also take several years to heal.
We've found some of the best ergonomic accessories to help you become much more proactive about keeping your office more pleasant, even if you're always looking down to find your phone or develop a wrist ache after a long day of computing.
Significance of Ergonomics in a Workplace
Several company owners are still so concentrated on how every penny is spent and how they respond to the things affecting their daily business activities that ergonomics might not have been considered vital in the office or a necessary component of the yearly budget. Yet, since consumers invest up to one-third of their entire time in the workplace, injuries are likely to happen there.
Ergonomics examinations performed regularly have numerous advantages.
Fewer workplace injuries

Better-quality output

Employees who are happier and healthier

A dedication to safety
Both office and industrial workers' health and wellbeing are critical to a company's successes and failures. Whether building some goods on a production line or handling a company's account receivables, each employee plays an important role. If an employee's wellness is jeopardized, such as when they become ill or wounded, the company will suffer.
The fact is now that poor ergonomics has had a significant role in both acute and chronic job injuries. And all these injuries cost money in terms of missed time (e.g., doctor's appointments, discomfort, and injury recovery) and lost productivity. Money is valuable, as it is in almost any business. If your finest employees cannot work, your company suffers a significant setback. It is important to invest in the best ergonomic office supplies. We have listed some of the best ergonomic computer accessories as well.

List of The Best Accessories for a Healthy Workspace
You can operate in a workplace without hassles if you use the correct ergonomic gear or ergonomic accessories. Common complaints among office employees are chronic back pain, neck pain, headaches, and a loss of motivation. Yet, remembering that reasonable efforts can still save your well-being will assist. For instance, by having a stable body posture while working and rotating between sitting upright and standing, you can easily minimize many of these issues.
Please continue reading for a comprehensive list of the ergonomic office accessories you'll need for the best ergonomic desk setup to be efficient and improve your overall health.
1. Dual Computer Monitor Stand
The Office Oasis dual computer monitor is a sturdy bamboo display stand with chrome-plated legs which are extremely durable. It can easily accommodate up to 100 pounds and has storage space under it for additional storage. The strong bamboo top was designed to hold up to a load of even the most powerful computer displays. Robust steel legs support the stand with polyurethane feet which resist scratches and sliding on the desktop. This stand can hold a single laptop, a 75-inch television, and everything else! The 43-inch length plus 10-inch width provides ample surface area for all your display stand requirements.
2. Adjustable Length Monitor Stand with Drawer
The Fitueyes dual monitor stand has been intelligently engineered to alleviate work-related stress by positioning your neck and eyes in a pleasant posture. The elegant, high-end design not only enhances the appearance of your workspace and yet also expands under-counter storage capacity. Regarding your diverse desk length demands, a length-adjustable baseboard is also available. The elegant, high-end layout enhances the appearance of your workspace and expands under-counter storage capacity.
3. Birchwood Monitor Stand
This is one of the necessary ergonomic accessories. The brand strives to create high-quality products that are practical and attractive. Your workstation will be more attractive and practical with the Ergonomic Birchwood Monitor Stand. You can achieve an optimal viewing height by raising the computer monitor. It also gives you more storage capacity behind your monitor, which is ideal for snuggling your keypad or iPad. This stand lifts your display to the ideal split mode height—aids in the relief of back or shoulder discomfort.
4. Carpio Ergonomic Wrist Rest by Deltahub
The curved silicone padding on this ergonomic wrist rest is designed to optimize your wrist posture whether working or gaming. You can already prevent wrist pain or discomfort from using a computer mouse for long periods. The polyurethane pads provide superior comfort-ability, while the PTFE feet extend your wrist's strength and flexibility and slide smoothly alongside your hand.
5. ErgoFoam Adjustable Foot Rest (Mesh)
At your workstation, the ErgoFoam Adjustable Foot Rest gives adequate, relaxing support throughout the day. Chiropractors in the United States only advise this footstool since it has been guaranteed for life. The quality mesh fabric wicks sweat off from your soles, allowing you to stay cool and dry throughout the day. It is also pet-friendly. Unlike some other cloth footrests, it is really simple to clean. These high-density foam footrests offer ideal ergonomic accessories assistance, contrasting other memory foam heel rests, which flatten through use and only provide limited support.
6. ThermalComfort Personal Climate Control
This heated lumbar support cushion follows you about, providing three levels of stimulation and six degrees of thermostat for your spinal curve, ensuring that you are relaxed and peaceful no matter wherever you sit. It also comes with a pulsating massager with three intensity levels to support your muscles in relaxing and improving circulation in your spinal curve. It can also turn on and off periodically after every fifteen minutes. It's excellent for your house, workplace, or a lengthy bus or plane trip because it's compact, battery-powered, yet highly portable.
7. ErgoFoam Lumbar Support Pillow
The ErgoFoam lumbar support pillow was created with ergonomics, allowing you to remain seated in a comfortable vertical position. Ergonomics has also been shown to increase circulation and minimize tiredness and pain in the back and vertebrae. Therefore, this pillow was designed to mimic your spine's contour, enabling you to sit with optimal posture.
Keep in mind that Autonomous now offers incredible discounts via their Employee Purchase Program, which was designed for employees who have long wished to acquire luxury equipment to alleviate workplace stress at a fair price.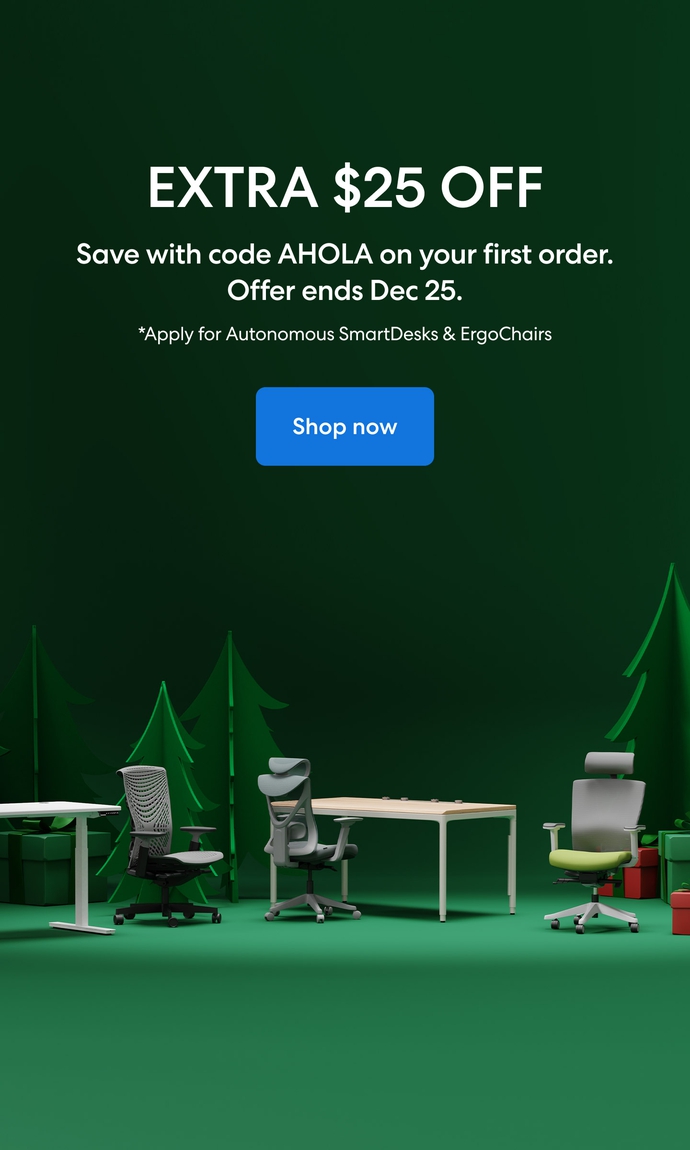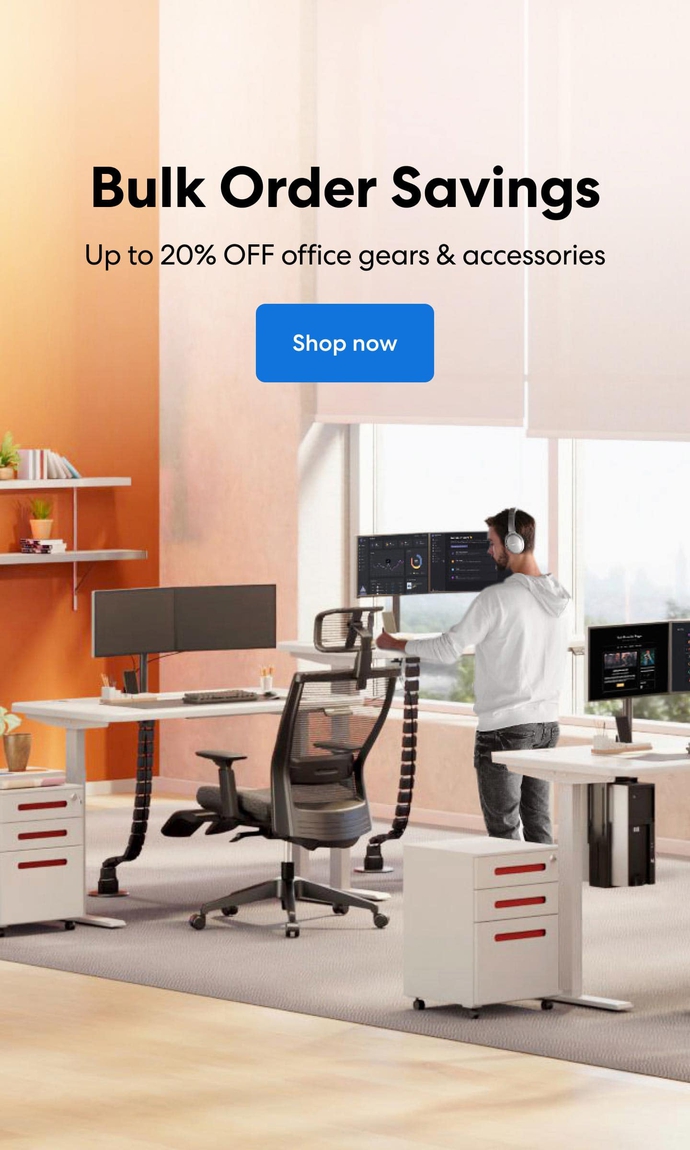 Subcribe newsletter and get $100 OFF.
Receive product updates, special offers, ergo tips, and inspiration form our team.