Smart Products
Explore Our Favorite Office Chairs That Are Available on Sale Now!

Autonomous
|
Jul 27, 2023
232 Views
When designing an office, one of the first things to go on your list is a great office chair/desk combo. You simply cannot have a proper office without these essentials. However, good office chairs can be very expensive. If you want to cut costs and stay within budget, consider buying your chair during the Autonomous office chair sale. 
With so many discount office chairs available, all you need to do is make sure you choose the best design for your needs. In 2023, a lot is known about the link between back pain and poor sitting posture. Buying an ergonomic office chair is the least you can do. 
There have been many studies that have demonstrated that ergonomic chairs are great at improving the productivity and general health of sedentary office workers. 
With the right office ergonomic chair, you can enjoy your work while knowing that your body's well-being is being looked after. Don't waste any more time! Visit Autonomous, and check out its awesome ergonomic office chair sale.  
Importance of Office Chairs for Ergonomic and Health Benefits
It costs a lot more to buy ergonomic chair and desk combos compared to regular furniture. However, the extra money you will be expected to pay is worth it considering the following benefits of a good ergonomic chair: 
Addresses Back and Neck Pain
Lower back and neck pain are some of the biggest complaints from office workers. The body is not designed to spend so many hours each day seated behind an office desk. Squeezing in a few hours of exercise every week does help, but in the end, you have to address the way you sit.
Good ergonomic chairs are designed to provide maximum support to your body while paying extra attention to your lower back. This is thanks to the special lumbar support features these chairs have. 
With the best ergonomic chair, you can sit all day without feeling the effects on your back and neck. Even workers who already suffer from back pain may begin to see a reduction in symptoms. 
You can even find a chair that is specifically designed to address a particular problem that you may be facing. At Autonomous, you can find the best office chair for sciatica to address these problem areas and help reduce any pain or inflammation you may be suffering from.
Improved Productivity
A productive workforce is what every company dreams of having. However, to achieve that, it is often necessary to invest in a few office essentials to help employees work better. If you take a look at the desk chair sale from Autonomous, you will come across many ergonomic chairs that are designed to improve productivity. 
By simply adjusting your sitting position, you can experience a lot more freedom of movement, which will help you work faster while using less energy. The result is a huge productivity improvement that will quickly add up to better performance of the entire workforce.
Factors to Consider When Choosing an Ergonomic Office Chair
If you are thinking of checking out a great office chair deal before furnishing your work area, there are a few things you have to consider regarding the ergonomic office chair that you choose. 
The following factors are important: 
Cost
There is a huge variance in terms of prices when buying ergonomic chairs in sale season. This has mostly to do with quality, design, and features. If you walk into a furniture shop without a proper plan, the chance of you exceeding your budget after being carried away by some of the beautiful chairs on sale is very high. 
Always consider the cost of the ergonomic chair, and decide whether or not you can afford to be spending that much on a single furniture item. Luckily, there are lots of places, such as Autonomous, where you can get awesome ergonomic chairs at affordable prices.
Quality
Quality is one of the things you cannot afford to overlook when choosing an ergonomic office chair sale. As mentioned earlier, it costs a little more to buy this type of chair, so you should make sure that it lasts you a long time. 
One of the things that determines the lifespan of your chair will be the quality of the material. High-quality wood, metal, leather, and PVC chairs are guaranteed to last you a very long time, meaning it will be a while before you start looking for another office chair deal.
Features
To get the full benefits of an ergonomic chair, you have to make sure that it comes with the right features to meet your needs. Most ergonomic chairs come with added lumbar support as a basic feature. 
However, you will have to check if they also have additional features, such as arm, neck, and footrests. A reclining desk chair is also another option. You can lean back, put your feet up, and take a few minutes break during office hours to recharge your batteries before getting back to work. 
Having wheels and a swivel function is also a great added feature that will help you to move around more freely and improve productivity. If you live in a warm climate, you might want to consider a chair that comes with a mesh back for improved breathability. 
Design
You cannot pick just any chair and add it to your office. If you want your workstation to look well-organized and shed a good light on you and your business, carefully consider the design of the ergonomic chair you go for. 
In most cases, things such as color are important because you need to stay true to your company brand. Also consider the shape of the chair, as well as any additional design features that may impact your office décor.
Sustainability 
These days, going for environmentally friendly materials when buying any product is the responsible thing to do. Some unreliable manufacturers of cheap office furniture cut a lot of corners during the manufacturing process, and end up using cheap materials that do a lot of harm to the environment. 
You should always insist on buying ergonomic chairs that are manufactured using sustainable and environmentally-friendly methods and materials. Not only will this help save the planet but it will also show your clients that your company cares for the environment. 
There Are Some Great Office Chair Deals at Autonomous 
If you are hunting for the perfect office chair deal, look no further than Autonomous. You will be surprised at the awesome savings you can enjoy if you time your purchases well and take advantage of a great ergonomic office chair sale. 
Holidays are usually the best times to go searching for discount office chairs, especially the big ones, such as the 4th of July or Thanksgiving Day. Be on the lookout for a great desk/chair sale coming up soon. 
Autonomous Bulk Order Program
One of the best ways to save money when buying office chairs is to go for wholesale office chairs. Businesses love customers who buy their furniture wholesale. As such, you can always expect a few incentives for such purchases, such as discount prices and free shipping in certain areas. 
Autonomous wholesale office chairs come with such perks. If you are in a situation where you need to buy a lot of chairs for your employees, buying wholesale is the best way to go. 
To make it even easier for customers who want to buy wholesale furniture, Autonomous has a great bulk order program that you need to check out. With this convenient program, buying bulk office furniture is a matter of a few simple clicks. 
When you go to the Autonomous bulk order program page, you will find that choosing your wholesale office chairs is very easy. You can even buy furniture based on the specific part of the office you want to furnish.
Benefits of Buying in Bulk at Autonomous
Is it better to buy furniture in bulk compared to getting items one at a time? The short answer is yes, buying in bulk at Autonomous comes with a lot of benefits that you need to consider, such as: 
Cut Costs
Autonomous offers great deals on discount office chairs to customers who buy in bulk. If you look at the bulk office furniture prices, you will see that there is a huge difference compared to when buying single units. The chance to cut costs is one of the biggest pros of buying ergonomic chairs in bulk. 
Easier Logistics
Besides saving money, you also save yourself a huge headache when you plan properly and buy all your chairs at the same time. Imagine the number of deliveries you will have to arrange if you buy your office furniture one at a time. The logistics alone would be a nightmare. 
When you buy in bulk, all your discount office chairs will be placed under one order, which means you will save on delivery costs and make the logistics of furnishing your office much easier.
Guaranteed Uniformity
One of the biggest problems you will face when trying to furnish your office is getting uniform furniture. It is quite possible to buy a set of chairs in a specific color today, only to go back a few weeks or months later and be told that the color or design is no longer in stock. 
This would mean that you will have to consider buying a different color for the rest of your office, which is bad news if you are furnishing an open-plan area. You will end up with an office that looks disorganized. Buying in bulk helps you maintain uniformity. 
Room for Customization
Suppliers are usually willing to bend over backward for bulk buyers, which includes manufacturing customized furniture for their biggest customers. You can strike a good deal to have all your ergonomic chairs marked with your company logo, for example. 
Four Autonomous Best-seller Office Chairs for 2023
There are many different ergonomic chairs out there to choose from. You have to make sure you choose the right one. At Autonomous, your choice comes down to four great options, each with special features that you need to consider. 
Choose one of the following if you are looking for a great executive office chair: 
1. Autonomous ErgoChair Pro
The wide range of color options makes the Autonomous ErgoChair Pro one of the best-selling chairs for those looking for a reliable ergonomic chair. It will look great in just about any modern office. 
It has a fully adjustable height, armrest, headrest, and backrest, to make this one of the most ergonomic chairs you will find on the market. The chair is made of 100% earth-friendly materials, making it a great option if you are concerned about sustainability and environmental impact. 
2. Autonomous ErgoChair Plus
The Autonomous ErgoChair Plus has a woven mesh back or cooling naked TPE to make it the perfect choice if your summers have very high temperatures. You can say goodbye to sweating through your shirt every time you sit behind a desk. 
This chair is made of high-quality materials, which give it a strong frame that can easily support up to 300 pounds of weight. Get it from Autonomous today with a two-year warranty. 
3. Autonomous ErgoChair Core
Although it only comes in either black or cool gray, the Autonomous ErgoChair Core is still a great-looking chair. It has a thick, contoured-foam seat that provides the ultimate comfort no matter how long you have to sit in your chair. 
One of the best features of this chair is the additional lumbar support pad that works wonders on your lower back. If you have been suffering from sciatica or other back problems, this is the right chair for you. 
4. Autonomous ErgoChair Recline
Do you ever feel like throwing your head back, closing your eyes, and putting your feet up once in a while during those long office hours? The Autonomous ErgoChair Recline has all the features you are looking for. 
It is a very comfortable chair that comes with additional leg support, making the recline feature a lot more comfortable. This is the ultimate computer chair for those who spend most of their time in the office. 
You Need an Ergonomic Chair in 2023! 
With all this knowledge about back pain and poor office productivity, you owe it to yourself to get an ergonomic chair in 2023. Autonomous has four great options for you to choose from. There is even a bulk order program to make wholesale office chairs easier and more affordable to buy. Your favorite office chairs are available for sale right now.
Video ads for product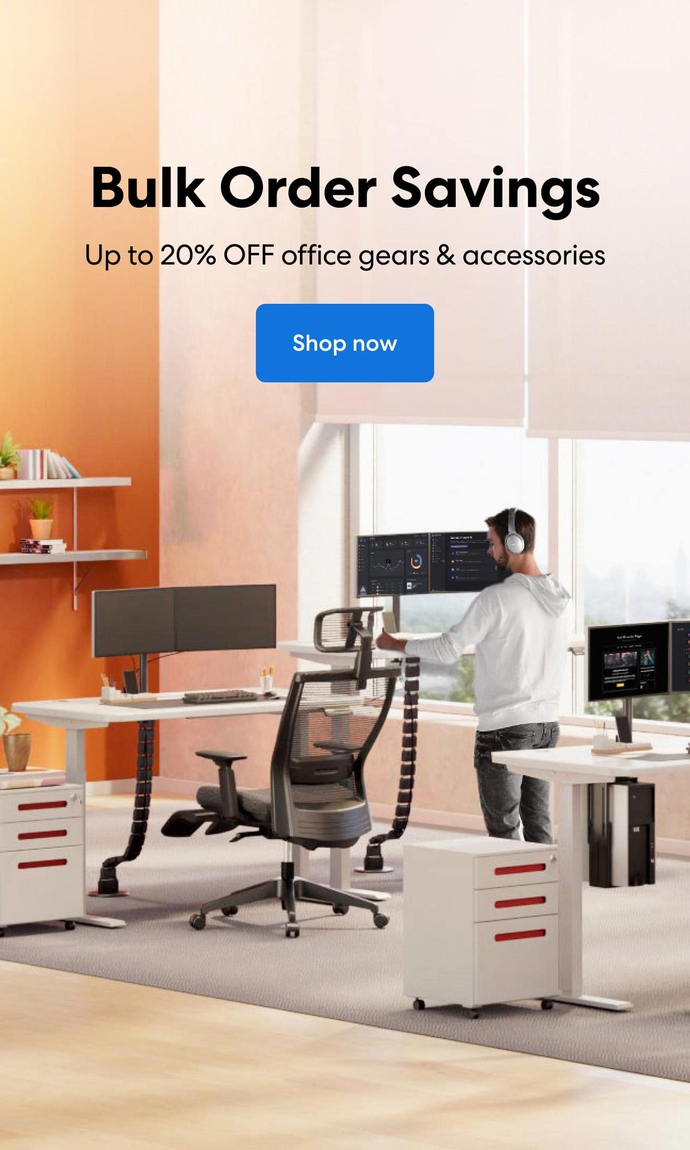 Subcribe newsletter and get $100 OFF.
Receive product updates, special offers, ergo tips, and inspiration form our team.