Are you looking forward to replacing your old chair with an effective office chair for sciatica? We're helping to help you select the best option. For example, if you're feeling back pain when sitting, an appropriate chair may be helpful to alleviate that unpleasant sensation.
Ergonomic office chairs have come a long way. Although multiple old models are still effective today, newer versions can be equally or even more effective than these options due to the inclusion of intuitive technology advancements that allow you to adapt the chair to your body proportions with ease. Thus, it will be easier for you to act towards that persistent sciatica pain.
An office chair for sciatica relief can be extremely helpful, but before we start giving you options, let's evaluate the definition of sciatica, its causes, and what treatments are recommended to alleviate the pain.
What is sciatica pain?
Sciatica pain is an ailment where a particular nerve in the lower back becomes irritated, swollen, pinched, or compressed for multiple reasons. For instance, many sources list herniated and slipped disks as the main causes of this pain. However, please note that there are other risk factors and that the causes may differ in most individuals.
Sciatica originated in the buttock area. Remarkably, the sciatic nerve is known to be the lengthiest and thickest in the human body. There is a sciatic nerve in each side of your body.
The sensation varies from an individual to another. Some people describe it as a "burn," others as a "shock," while others as a "stab." All the variations are accurate, as the nerve is almost finger-width. It's also worth noting that this pain may be recurring or continuous, and it is also known that standing or sitting for too long can make it worse.
Treatment
It's also worth noting that the treatment for sciatica pain isn't as complicated (or expensive) as many people think. Instead, many doctors recommend self-care treatments and implement stretches that help you feel relief in your daily routine.
Other treatments include applying ice or hot packs, for instance. Ice packs are helpful to relieve the pain and reduce swelling. It's recommended to switch to hot pads after you've used the ice packs for a few days. However, some physicians also recommend switching between both options if the pain is persistent.
Another option: Using an office chair for sciatica relief
A chair for back pain relief can also be hugely helpful towards the back pain you feel due to the harm caused to the sciatic nerve. This section will present multiple high back office chairs with lumbar support you can use to replace that old chair that may worsen the pain you feel daily.
1. ErgoChair Pro+
For a long time, Autonomous has brought up some of the best office chairs for sciatica and lower back pain in general. These chairs were also designed to help the user correct their posture while they're working on their daily obligations.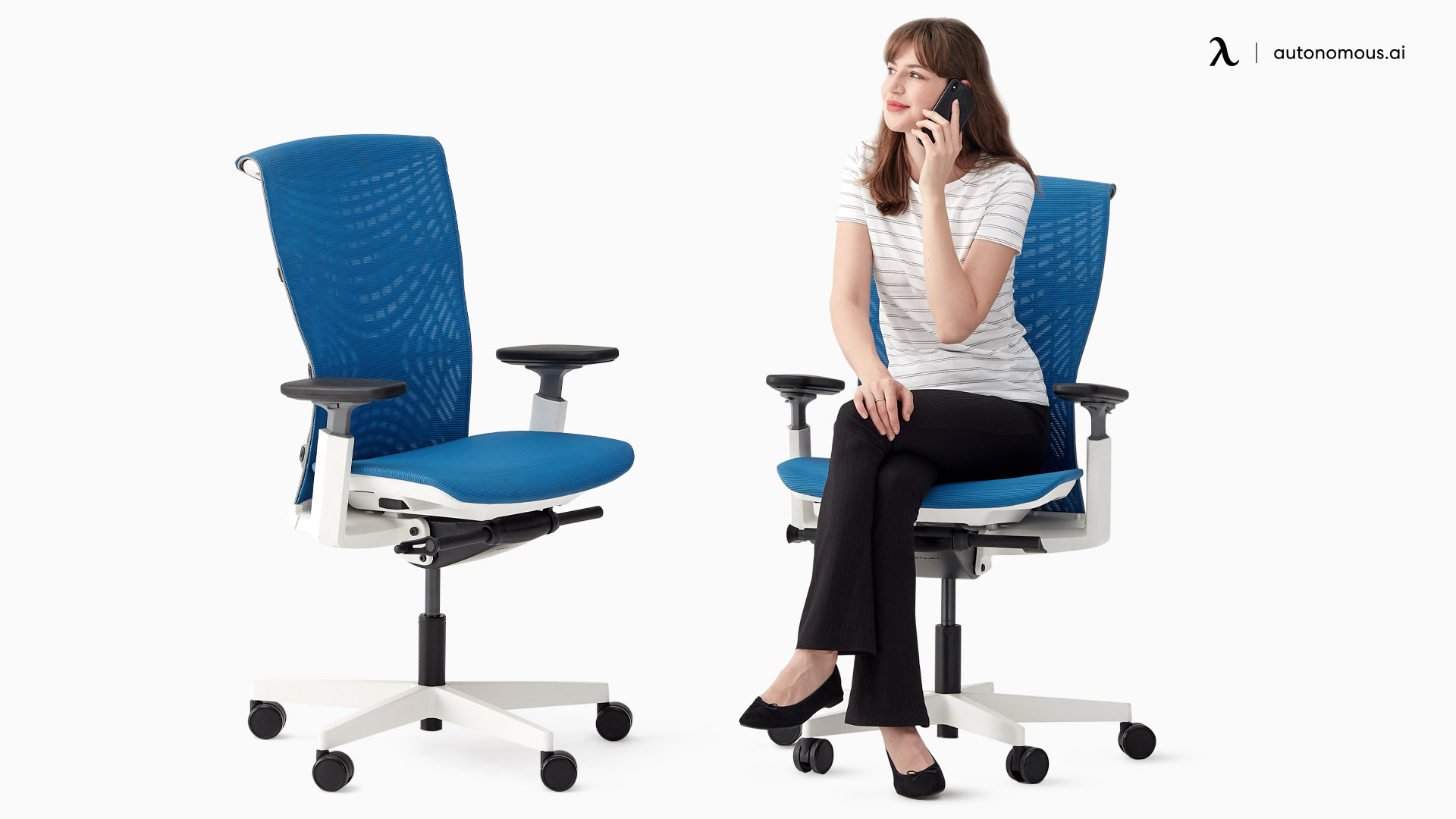 The ErgoChair Pro+ is one of the greatest creations by this brand. It has a weight capacity of 300 lbs. Despite being such a solid, firm chair, it actually allows you to move while you're using it freely. Furthermore, this chair was designed to be wholly adjustable. Thus, you can be sure that you can make it appropriate for the unique proportions of your body.
Last but not least, please note that you can choose between two materials for the upholstery: cooling naked TPE and breathable mesh.
2. ErgoChair Pro
The ErgoChair Pro+ is the main version, but another model that's more affordable for the general population includes some of its best features. Despite being a standard and "cost-effective" option, you can trust it will be helpful for your ailment. We can certainly say that this is the second-best chair for sciatica nerve problems.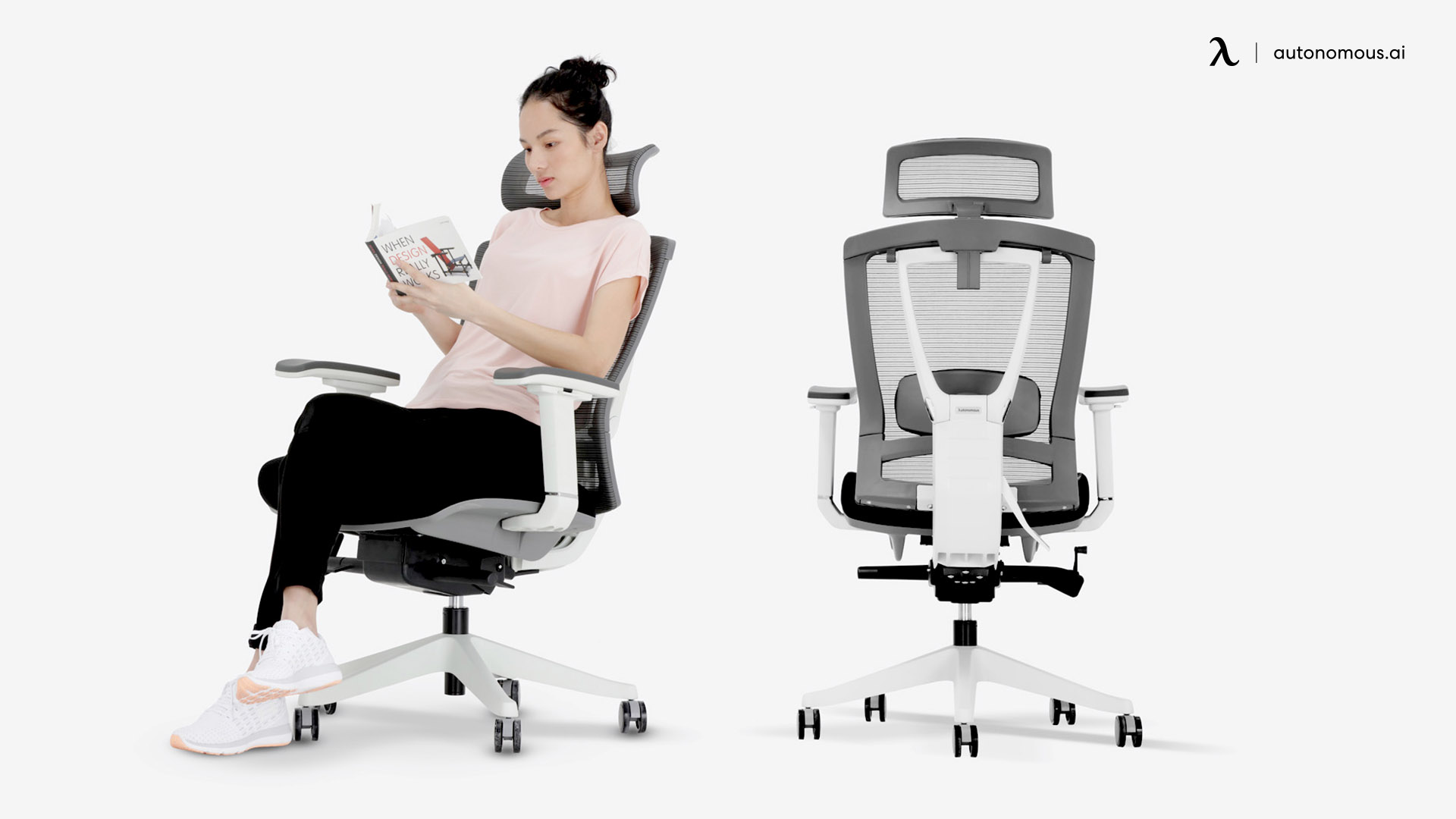 There are particular modifications regarding the main model, but the 300 lbs capacity remains the same. Instead of being "fully" adjustable, you are granted access to the following options if you choose the ErgoChair Pro:
Five lockable positions for the reclining feature

All the other features are fully adjustable, from the seat height to the armrest height.

It also makes emphasis on the lower back area, allowing you to sit comfortably in any position you choose.
3. ErgoChair Core
The ErgoChair Core is an even more cost-effective office chair for sciatica you can choose. It is comfortable, affordable, and very effective for back pain. Although it doesn't include as many intuitive features as the previous options, users can choose to upgrade the chair to include a couple of extra features for extra money: a headrest and leg rest.
One of the main drawbacks of this desk chair for sciatica is that it has less weight capacity – it only lifts up to 250 lbs. On the other hand, the seat is made of foam, assuring comfort even if you've been seated for a long period.
Other adjustable features of the ErgoChair Core include the seat height and armrest. It is also possible to adjust the seat tilt.
The back tilt angle isn't as "free" as the previous options offer, but it still offers three lockable positions within a limit of 18 degrees. You can experiment with all the angles until you find one effective for your comfort and relief.
Conclusion
All of the options mentioned above are excellent office chairs for sciatica. However, it is hugely important to make changes in your daily routine if you want to improve your condition and reduce the pain caused by the swollen nerve.
If the pain persists even after replacing the chair and improving your sitting habits, we recommend visiting a physician for further treatment.
Sciatica pain attacks about forty percent of US residents on a daily basis, according to studies. However, you can avoid becoming part of such statistics by starting to implement meaningful changes, such as a better seating solution, seated stretching exercises that help you stay physically active and healthy, and using the correct treatment prescribed by your physician.
Get exclusive rewards
for your first Autonomous blog subscription.

WRITTEN BYAutonomous
We build office products to help you work smarter.
Coming at You Live from Autonomous' Social Media!
Please fill the information below.
Thank you!