Are you looking forward to replacing your old chair with an effective office chair for sciatica? We're helping to help you select the best option. For example, if you're feeling back pain when sitting, an appropriate chair may be helpful to alleviate that unpleasant sensation.
Ergonomic office chairs have come a long way. Although multiple old models are still effective today, newer versions can be equally or even more effective than these options due to the inclusion of intuitive technology advancements that allow you to adapt the chair to your body proportions with ease. Thus, it will be easier for you to act towards that persistent sciatica pain.
Office chairs for sciatica relief can be extremely helpful, but before we start giving you options, let's evaluate the definition of sciatica, its causes, and what treatments are recommended to alleviate the pain.
What is Sciatica Pain?
Sciatica pain is an ailment where a particular nerve in the lower back becomes irritated, swollen, pinched, or compressed for multiple reasons. For instance, many sources list herniated and slipped disks as the main causes of this pain. However, please note that there are other risk factors and that the causes may differ in most individuals.
Sciatica originated in the buttock area. Remarkably, the sciatic nerve is known to be the lengthiest and thickest in the human body. There is a sciatic nerve in each side of your body.
The sensation varies from an individual to another. Some people describe it as a "burn," others as a "shock," while others as a "stab." All the variations are accurate, as the nerve is almost finger-width. It's also worth noting that this pain may be recurring or continuous, and it is also known that standing or sitting for too long can make it worse.
Treatment
It's also worth noting that the treatment for sciatica pain isn't as complicated (or expensive) as many people think. Instead, many doctors recommend self-care treatments and implement stretches that help you feel relief in your daily routine.
Other treatments include applying ice or hot packs, for instance. Ice packs are helpful to relieve the pain and reduce swelling. It's recommended to switch to hot pads after you've used the ice packs for a few days. However, some physicians also recommend switching between both options if the pain is persistent.
Another Option: Using an Office Chair for Sciatica Relief
Sciatica may result from prolonged sitting behind your workstation, which produces compression or irritation of the sciatic nerve roots in your lower spine. Your work may be adversely affected by this burning sciatic pain. As chronic back pain can make it hard for you to concentrate on your work, you'll find it difficult to focus with the best office chair for sciatica.
If you want to make sure your lower back is well supported, you should start with an office chair for sciatica. Unfortunately, your chair may be the culprit for this poor condition. Having a new chair may significantly impact your back pain levels and overall health if your current office chair design doesn't fit your body contours or provide proper support.
A chair for back pain relief can also be hugely helpful towards the back pain you feel due to the harm caused to the sciatic nerve. This section will present multiple high back office chairs with lumbar support you can use to replace that old chair that may worsen the pain you feel daily.
1. ErgoChair Plus
For a long time, Autonomous has brought up some of the best office chairs for sciatica and lower back pain in general. These chairs were also designed to help the user correct their posture while they're working on their daily obligations.
The ErgoChair Plus is one of the greatest creations by this brand. It has a weight capacity of 300 lbs. Despite being such a solid, firm chair, it actually allows you to move while you're using it freely. Furthermore, this chair was designed to be wholly adjustable. Thus, you can be sure that you can make it appropriate for the unique proportions of your body.
Last but not least, please note that you can choose between two materials for the upholstery: cooling naked TPE and breathable mesh.
2. ErgoChair Pro
The ErgoChair Plus is the main version, but another model that's more affordable for the general population includes some of its best features. Despite being a standard and "cost-effective" option, you can trust it will be helpful for your ailment. We can certainly say that this is the second-best chair for sciatica nerve problems.
There are particular modifications regarding the main model, but the 300 lbs capacity remains the same. Instead of being "fully" adjustable, you are granted access to the following options if you choose the ErgoChair Pro as your office chair for sciatica:
Five lockable positions for the reclining feature

All the other features are fully adjustable, from the seat height to the armrest height.

It also makes emphasis on the lower back area, allowing you to sit comfortably in any position you choose.
3. ErgoChair Recline
The ErgoChair Recline is an even more cost-effective office chair for sciatica you can choose. It is comfortable, affordable, and very effective for back pain. Although it doesn't include as many intuitive features as the previous options, users can choose to upgrade the chair to include a couple of extra features for extra money: a headrest and leg rest.
One of the main drawbacks of this best desk chair for sciatica is that it has less weight capacity – it only lifts up to 250 lbs. On the other hand, the seat is made of foam, assuring comfort even if you've been seated for a long period.
Other adjustable features of the ErgoChair Recline include the seat height and armrest. It is also possible to adjust the seat tilt.
The back tilt angle isn't as "free" as the previous options offer, but it still offers three lockable positions within a limit of 18 degrees. You can experiment with all the angles until you find one effective for your comfort and relief.
4. Dragonn Kneeling Chair
Patients with sciatica are advised to alternate using the Dragonn Kneeling Chair with a standard office chair. Studies have shown that forward-leaning seats like those found on kneeling chairs are the best desk chair for sciatica. These chairs can dramatically reduce back pressure while supporting better posture.
5. Duramont's Full- Recline Office Chair
It is recommended that you change positions frequently while sitting - including lying flat - to prevent sciatica attacks. You can remove the footrest on these chairs for sciatica relief, the backrest can be angled up to 150°, and you can sit straight. With 20" seat width and plush padding, the chair is very comfortable and one of the best chairs for sciatica options.
6. Gaming chair from GTracing
With GTracing Gaming Chair, you can easily change your sitting position while still staying relaxed and supported. The head pillow and lumbar support on this small space desk chair are the best and most affordable. This mattress also offers an adjustable neck pillow that moves up and down 4 inches.
7. ProGrid chair from Office Star
This back support computer chair offers an array of adjustable ergonomic features. The sloping edge of the sculpted seat of this budget chair will not cut off your circulation and will not exacerbate sciatic pain. In addition, it has the right amount of giving to make it comfortable.
8. Quantum Pro 9000 from WorkPro
Mesh mid-back-office chairs have the highest level of build quality for their price range. With its highly pronounced waterfall seat edge and adjustable seat depth, the reclining desk chair appears to be effective in minimizing sciatica pain as well. In addition, you can adjust the Quantum 9000 to 2 inches to fit the size of your thighs.
9. MooJirs Ergonomic chair
This is one of the best chairs for sciatica relief . In addition to the numerous ergonomic adjustments, the MooJirs office chair has a hefty price tag. The backrest of the MooJirs offers a unique method of relieving spinal pressure. This 3-part backrest adjusts by height to conform to the individual's back curvature and is designed to cater to each lower back section.
10. The T50 from Sidiz
A highly ergonomic design is available on the Sidiz T50, as well as a fabric seat that helps keep your bottom and thighs more insulated than mesh would. Unlike other chairs, the T50 has a mesh backrest that is covered with fabric. The combination provides warmth for your lower extremities while keeping your back cool. Keeping the buttocks warm can stop over sensitive nerves from firing even more for people with sciatica.
Choosing an Office Chair for Sciatica: Key Considerations
When buying an office chair for sciatica, there are several important factors to consider. Sciatica is a condition characterized by pain that radiates along the path of the sciatic nerve, which runs from your lower back through your hips, buttocks, and down each leg. To alleviate discomfort and provide proper support, keep the following considerations in mind:
Lumbar Support
Look for a chair with good lumbar support, as this helps maintain the natural curve of your lower spine. Adjustable lumbar support is preferable so that you can customize it to fit your needs.
Ergonomics
Opt for an ergonomic chair designed to promote good posture. It should have adjustable features such as seat height, armrests, and backrest angle to accommodate different body types and preferences.
Seat Cushioning
The seat cushion should provide adequate padding and support to distribute your body weight evenly, reducing pressure on the sciatic nerve. Consider a cushion with memory foam or other supportive materials.
Adjustable Height and Armrests
Ensure that the chair's height is adjustable so that your feet can rest flat on the floor, promoting proper alignment. Adjustable armrests are also helpful in maintaining good posture and reducing strain on the shoulders and neck.
Seat Depth and Width
Choose a chair with sufficient seat depth and width to accommodate your body comfortably. You should be able to sit with your back against the backrest while maintaining a few inches of space between the edge of the seat and the back of your knees.
Swivel and Mobility
A chair with a swivel base allows you to move easily and access different areas of your workspace without straining. Smooth-rolling casters on the base facilitate mobility.
Breathable Material
Look for a chair upholstered in breathable material such as mesh or fabric to promote airflow and prevent overheating during extended sitting periods.
Stability and Durability
Ensure that the chair is stable and made of high-quality materials. It should be able to support your weight and withstand regular use without compromising its structural integrity.
Trial and Adjustment Period
If possible, try out the chair before purchasing or ensure a return policy exists that allows you to test it for a few days. This way, you can assess its comfort and suitability for your sciatica condition.
Consultation with a Healthcare Professional
If you have severe sciatica or specific requirements, it may be beneficial to consult a healthcare professional or an ergonomic specialist who can provide personalized recommendations based on your condition.
Remember, while an ergonomic chair can help alleviate discomfort, it is also essential to incorporate regular movement, stretching, and breaks throughout your workday to prevent or manage sciatica symptoms effectively.
How to Sit with Sciatica
To prevent back pain, you must avoid sitting on an office chair as much as possible. Instead, make certain your home is a cozy haven by investing in an ergonomic chair. In addition, you can sit back and recline a little bit to maintain a tolerable posture.
As a result, your back will be supported properly, and you'll be seated properly. Make sure it has wheels for transportation. Pick files off the shelf without turning or twisting your body. Use your chair for a helping hand instead.
You can use the swivel feature in any direction, so what's better than that? Doubt it! A sciatica office chair needs to meet the following criteria: an adjustable depth seat, pronounced lumbar support, and an adjustable footrest.
FAQs
Can an ergonomic office chair ease sciatica?
To start with, try not to sit on an office chair at all. Instead, invest in an ergonomic chair to ensure that your home is a relaxing haven. Then, if you need to maintain a tolerable posture, you can sit back and recline a little bit.
You will then be seated properly with your back correctly supported. It should have wheels so you can move it around. Then you can access files without having to twist or turn around. You can hold onto your chair instead.
It can swivel in any direction, so what could be better? Doubt it! A sciatica office chair has three essential features: an adjustable depth seat, pronounced lumbar support, and an adjustable footrest.
Is a hard chair good for sciatica?
There's no difference between hard and soft chairs when it comes to causing sciatica. The herniated disk and pressure on the sciatic nerve cause sciatica, which begins with a ruptured spinal disk.
The pain of sciatica can start in the buttocks and spread toward the thighs or the back. Irritated sciatic nerves can cause numbness or tingling. No matter where you sit, even if it's a soft or hard chair, it's important that you maintain good posture and avoid pressurizing your lower back.
Is sitting cross-legged bad for sciatica?
Sciatica is not aggravated by sitting cross-legged. There are several ways to sit comfortably without aggravating your sciatica. The most effective way is to sit with an angled hip. You can try to sit in a way that allows your hips to be more open instead of having your feet flat on the floor and your knees and ankles at a 90-degree angle.
Are saddle seats good for sciatica?
You can transform the uncomfortable chair in your office quickly into a soothing office chair. In addition to its snug and comfortable fit, this sciatica cushion adjusts to changes in temperature, like most seat cushions.
Ensure your seating posture is improved with this orthopedically-certified seat pillow, which is well-padded and supportive. In addition, you can reduce sciatica or injuries to the tailbone with this treatment.
How can I rest or exercise with sciatica?
From the lumbar spine, the sciatic nerve travels down each leg to the foot. Acute irritation causes electric-like pain to radiate across the back and buttocks, along the leg, and across the foot.
Although some exercises can aggravate sciatica, exercise is recommended for sciatica patients. Exercise is the primary treatment for sciatica. You will feel better if you stay active. Unfortunately, certain movements and activities can aggravate the sciatic nerve.
Sciatica is caused by actions that apply pressure to the lower back, hips, or legs, resulting in aggravation of the sciatic nerve. These actions include high-impact running, lifting both legs off the ground, bending forward with straight legs, or squatting.
Conclusion
All of the options mentioned above are excellent office chairs for sciatica. However, it is hugely important to make changes in your daily routine if you want to improve your condition and reduce the pain caused by the swollen nerve.
If the pain persists even after replacing the chair and improving your sitting habits, we recommend visiting a physician for further treatment.
Sciatica pain attacks about forty percent of US residents on a daily basis, according to studies. However, you can avoid becoming part of such statistics by starting to implement meaningful changes, such as a better seating solution, seated stretching exercises that help you stay physically active and healthy, and using the correct treatment prescribed by your physician.
Video ads for product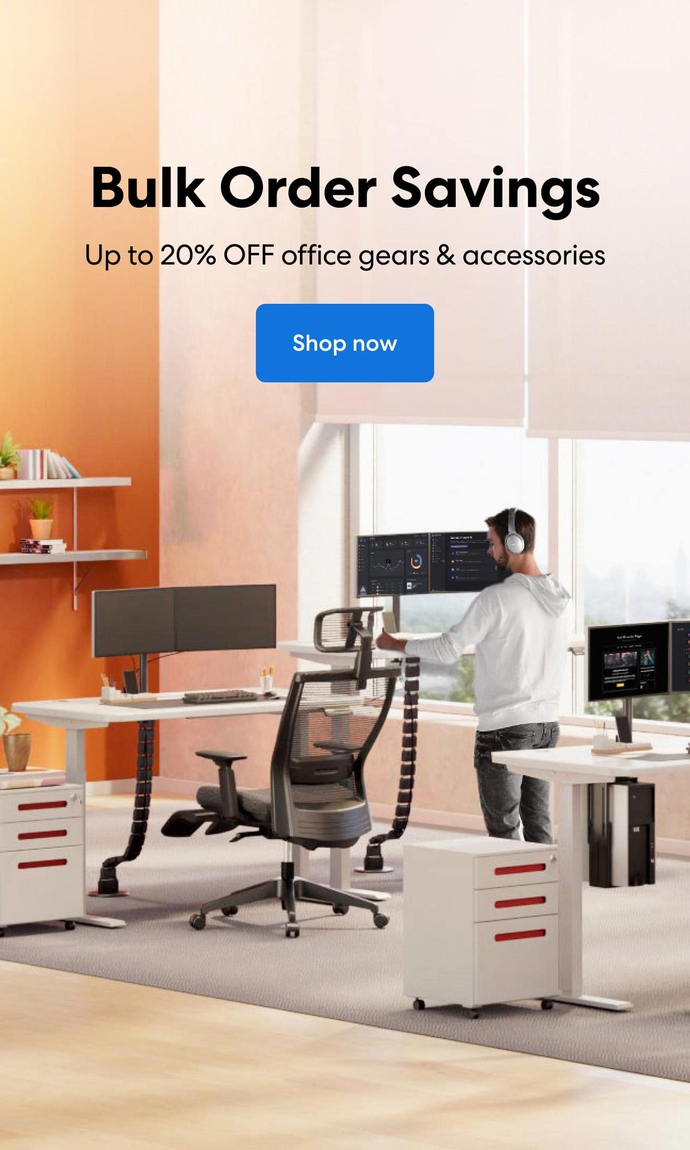 Subcribe newsletter and get $100 OFF.
Receive product updates, special offers, ergo tips, and inspiration form our team.