Workplace Inspiration
Elevate Your Living: Exploring the Allure of Three-story Houses

Autonomous
|
Jul 3, 2023
274 Views
Three-story houses are beautiful, and they can be very convenient if you have a big family or want everyone to have their own space while still maintaining some proximity. 
In this article, you'll learn why three-story properties are so alluring and how you can enjoy them even more by adding an ADU. When you finish reading, you'll be able to choose the best option for your circumstances and pick a modular home that works for you. 
What Is a Three-story House?
A 3-story house is a property that has three floors or levels. Generally, they are above the ground and rely on staircases for you to go from one place to the other.  
In many cases, the layout of a three-story house will be different depending on your wishes and needs. However, it usually includes a ground floor, a first floor, and an attic. 
Generally, you'll perform your living activities on the first floor, which is where the living room and kitchen might be. On most occasions, you'll be able to access this level from the front entrance, and sometimes, you might be able to go to a patio through the back door. 
The second floor might have more rooms or a spacious attic, depending on your needs and the layout you plan. 
Overall, 3-story homes provide you with a lot of space that you can use for many different activities. They're ideal if you have a big family or need additional rooms. 
Plus, since 3-story homes have different floors, you and your loved ones can enjoy their time in various areas without disturbing one another. You'll have all the privacy you need while still being able to spend time with others when you want to.
How Much Does It Cost to Build a Three-story House?
Building a three-story home will cost differently depending on various factors. Things such as location, materials, labor, and others can all influence how much you pay. 
There is no way to specifically know how much you would spend on your home unless you ask experts and get an estimate. Nonetheless, costs may vary between $200 and $500 per square foot. 
Your design will also influence how much you pay for your house. If you go for a complex structure or want a unique layout, you'll have to spend more. 
When you pick expensive materials, the overall cost of your house will also increase. Plus, in some cases, you'll also have to pay for permits and fees to build a property.
What Are Some Popular Designs for Three-story Houses?
The design you choose for your house entirely depends on your taste and the style you want to achieve. Fortunately, this type of property is very versatile, so you can get various layouts and choose something that adapts to your budget and wishes. 
Many people go for a modern style when they're designing their three-story house. If you choose this option, you'll have to go for clean lines, large windows, and rely on a minimal aesthetic. 
Others prefer a Victorian style when designing their 3-story house layout. When it comes to this architectural style, you'll have to get ornate porches, bay windows, and specific details.
If you want a more exotic design, you can choose a Mediterranean style. Look for inspiration online - you'll find numerous pictures featuring terracotta roofs, beautiful windows, and spacious outdoors.
People who live in urban areas sometimes build three-story houses with a townhouse design. Picking this option could be ideal, especially if you want to combine a classic style with modern accents. 
Overall, there are so many styles to go for when designing your house that mentioning a few options will never be enough to cover all the alternatives you could get. You must try to be creative - if you spend some time thinking about it, you'll get the property you've always dreamed of.
Autonomous ADUs - Increased Living Space and Flexibility for Your Three-story House
Numerous companies offer 3-story modular homes, but Autonomous stands out from the rest because of the high-quality ADUs that it offers. 
Professionals at Autonomous focus on providing clients with the best options possible. They want to ensure you get various alternatives to choose from, and they give you customizable features to have fun designing the house of your dreams. 
At the same time, if you shop at Autonomous, you might get access to specific discounts depending on the amount of money you spend. If you have any questions, contact customer support and tell them to explain all your options.
What Is an Autonomous ADU?
It also receives the name of a prefabricated cottage. ADUs are housing structures that you'll find at Autonomous and can buy if you'd like to have a compact house on your property.
ADUs are fantastic because they allow you to forget about the hassle of your daily life and spend some time in a completely different environment. 
If you need a specific place to assemble a home office, an ADU might be the ideal option. Alternatively, they could be the perfect alternative if you want an entertainment or gaming room. 
ADUs could also be a fantastic addition to your house if you want a studio to practice yoga, exercise, or engage in any other activity.
How Do ADUs Enhance the Functionality of Three-story Houses?
There are a few ways in which ADUs might improve the functionality of three-story houses. Firstly and most importantly, they'll provide you with additional space. 
If you have a big family or want plenty of space to engage in different activities, having more space will be convenient. You'll be able to get the privacy you want while also keeping your loved ones nearby. 
Having an ADU also allows you to get some extra money if you want to. You could, for example, rent it when you're not using it.
One of the primary reasons why people get ADUs is that they're ideal to separate your work life from the rest of your endeavors. If you already have a remote job, you might want to keep business from pleasure apart. Getting a prefabricated cottage is a straightforward way to achieve this. 
ADUs are very flexible and versatile, so they can enhance the functionality of 3-story homes. Initially, you could add furniture to them to fulfill some needs, and if they ever change, you can switch things around and make the house match your current goals. 
Getting a prefabricated ADU is also an ideal option if you'll have to deal with multigenerational living arrangements. Family members will be able to maintain their privacy and stay close to others, who will also have their own space.
Lastly, ADUs can increase the value of your property, especially if they're new and you've picked an appealing design.
Benefits of Autonomous ADUs Compared to Three-story Houses
Although having a three-story home and an ADU might be a fantastic idea, you may not be able to afford both. Overall, getting a prefabricated cottage could be the best way to go if you want to get more space without spending too much. 
Autonomous has become very popular for providing clients with top-notch desks, chairs, and office furniture. Nonetheless, now the store offers other options as well, such as high-quality ADUs. 
There are several benefits to buying ADUs instead of getting three-story houses. Here are some of the most important ones to consider if you're going through this process: 
Increased Living Space and Flexibility
The first benefit of getting a tiny house in your backyard is that you'll have more space to do stuff. As the article mentioned before, you'll be able to use the extra room to fit your needs. 
Furthermore, since prefab houses in California (and in the rest of the US!) are so versatile, you can customize them to guarantee they fit your needs. 
Depending on what you want for the future, you'll be able to talk to your contractor and determine the best options for your ADU. Make sure you explore all your alternatives before deciding!
Potential Additional Rental Income
Another fantastic aspect of getting an affordable backyard ADU is that it can add value to your house. 
When your friends and loved ones aren't using the ADU as a guest house, you can rent it and earn some money from it. 
Versatility
Whether you need a separate space for gaming and having fun after a long week or a home studio to do yoga every day, an ADU might be the ideal alternative for you. 
You can turn the unit into a work-from-home pod and check out various housing styles to make sure the interior design matches your personality and interests. 
With time, you'll be completely comfortable inside your ADU and you'll be able to use it however you need.
Top Autonomous ADUs Review
There are numerous companies out there, but if you want to get the best ADUs on the market, you should rely on Autonomous since it can offer high-quality alternatives. Here are some models to consider:
1. Autonomous StudioPod
This multi-purpose nook is the ideal option if you need something versatile that will serve as a reading corner, studio, or workspace. 
Since it's very spacious, you can organize different furniture pieces inside without feeling like it's cluttered. Furthermore, the structure is strong, so it'll last a long time and you won't have to replace it. 
It's the perfect complement to three-story houses, and you can add it to your property and never worry about the basic furniture pieces - it includes some, such as a desk and a chair, so that's good enough for you to get started! 
If you choose to get a Japanese desk, you can always change some of the furniture pieces inside the StudioPod to match its style. Nonetheless, since its design is modern, sleek, and elegant, it goes well with anything.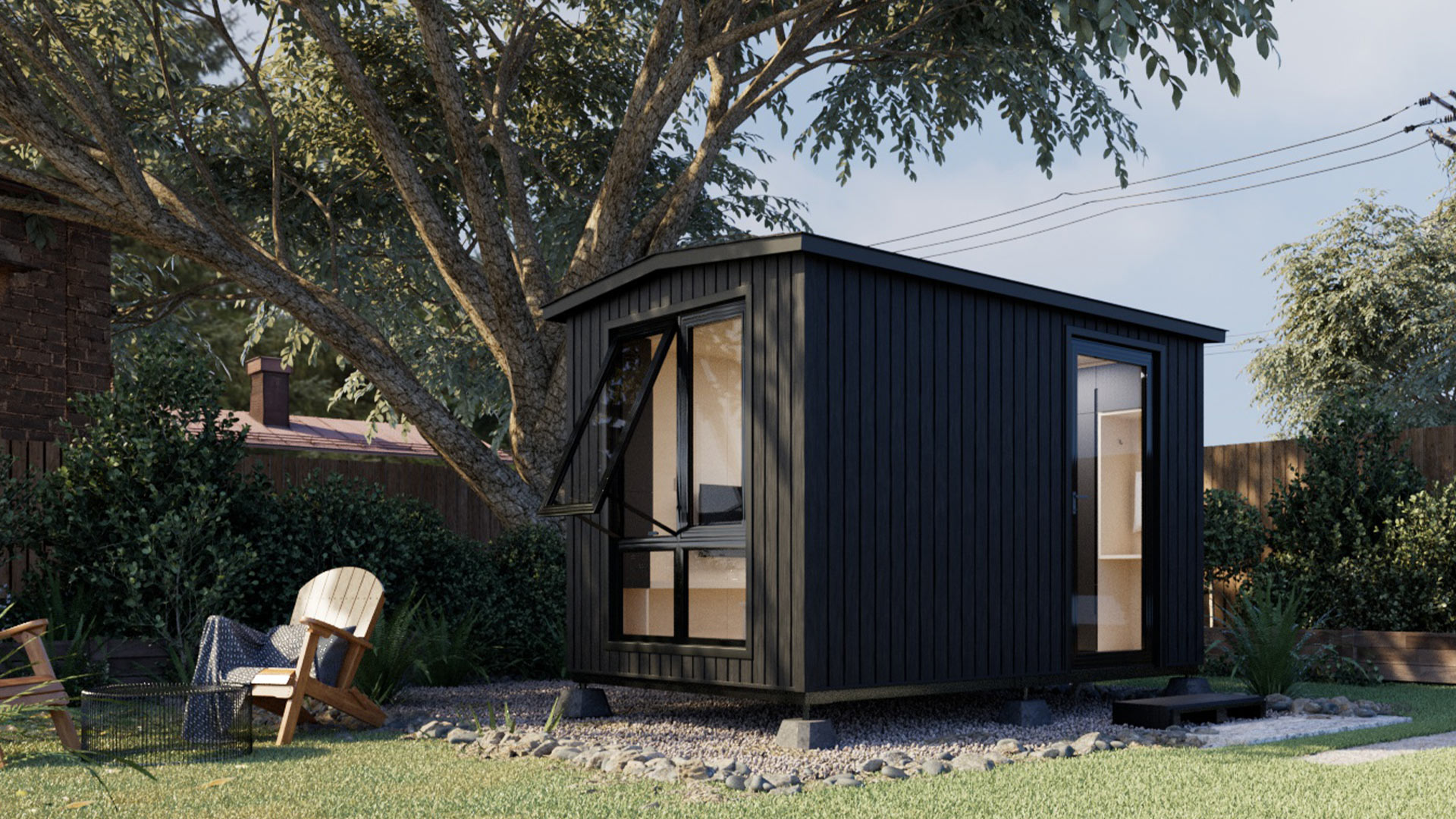 Dimension
8'4"W x 12'6"L x 9'10"H
Floorspace
105 square feet
Ceiling height
7'3"
Weight capacity
2.9 tons
Pedestal
18"W x 43"L x 7"
Window & door material
Powder-coated aluminum,  5/16" tempered glass
Material
Siding: plywood 1/2", steel frame, honeycomb paper, plywood 3/8", bitume, housewrap, vinyl siding
Roof: roof shingles
Floor: plywood
Pedestal: steel frame & wood plastic composite
Electrical devices
RCB, Wall outlet, Ceiling light switch, Ceiling light, Ventilator switch, Ventilator, Ethernet wall port, 66ft power cable with 2 connectors
Include
Optional: Cabinet, Desk, Small & Big Bookshelf, TV Shelf, Foldable Sofa Table, Convertible Sofa Bed. Always included: Electrical Cabinet
Power input
Maximum voltage : 110V AC (US standard)
Maximum current : 25A
Maximum power dissipation : 2750W
2. Autonomous WorkPod
The WorkPod is a second alternative to Autonomous, and it's the ideal option for people who don't want to get distracted while they're working. 
Being in contact with nature is essential, especially if you work remotely and have to spend hours in front of screens. 
However, going out and moving all your devices might be especially challenging. With the WorkPod, you won't have to worry about this - you can get all your to-dos done, admire the beauty of your surroundings, and boost your productivity. 
The WorkPod includes various outlets, so you'll never need to worry about your devices running out of battery. You just need to plug the structure into a power outlet and you'll be good to go. 
Its design is modern but elegant, so it will perfectly fit any style you're choosing. You can pick anything from a Japanese home office to a Victorian setting, and it will still look fantastic! 
Overall, the WorkPod might be the ideal alternative if you want to be in a distraction-free environment. Nonetheless, since it's so versatile, you can always turn it into something completely different or use it to spend your leisure time. 
Dimension
8'6''W x  11'9''L x 11'H
Ceiling height
6'10'' to 9'4''
Window material
Wooden frame, 5/16" tempered glass
Door material
Anodized aluminum frame,  5/16" tempered glass
Material
Siding: bitumen, housewrap, vinyl silding
Roof: bitumen, housewrap, shingles roof
Floor: plywood
Balcony: composite wood
Include
Optional: SmartDesk Connect, ErgoChair Pro+, Dual Monitor Arm, Cable Tray, Steel Cabinet, Anti-Fatigue Mat. Always included: Electrical Cabinet & Bookshelf
Floorspace
98 square feet
Capacity
2.9 tons
3. Autonomous WorkPod Lite
The last option on this list is a high-quality alternative too, even though it's much more affordable. It exists because professionals at Autonomous understand that you might want to benefit from all the advantages of ADUs but may not be able to afford them. 
With the WorkPod Lite, you could study, have fun, play games, or go through your work to-dos - it's up to you. It's a more compact structure than others, but it still offers enough space for you to do your basics. 
You don't need to spend a lot of money to add an ADU to three-story houses. If you're looking for a budget-friendly alternative, this could be the ideal one because it's just as durable and you'll be able to get it without breaking the bank.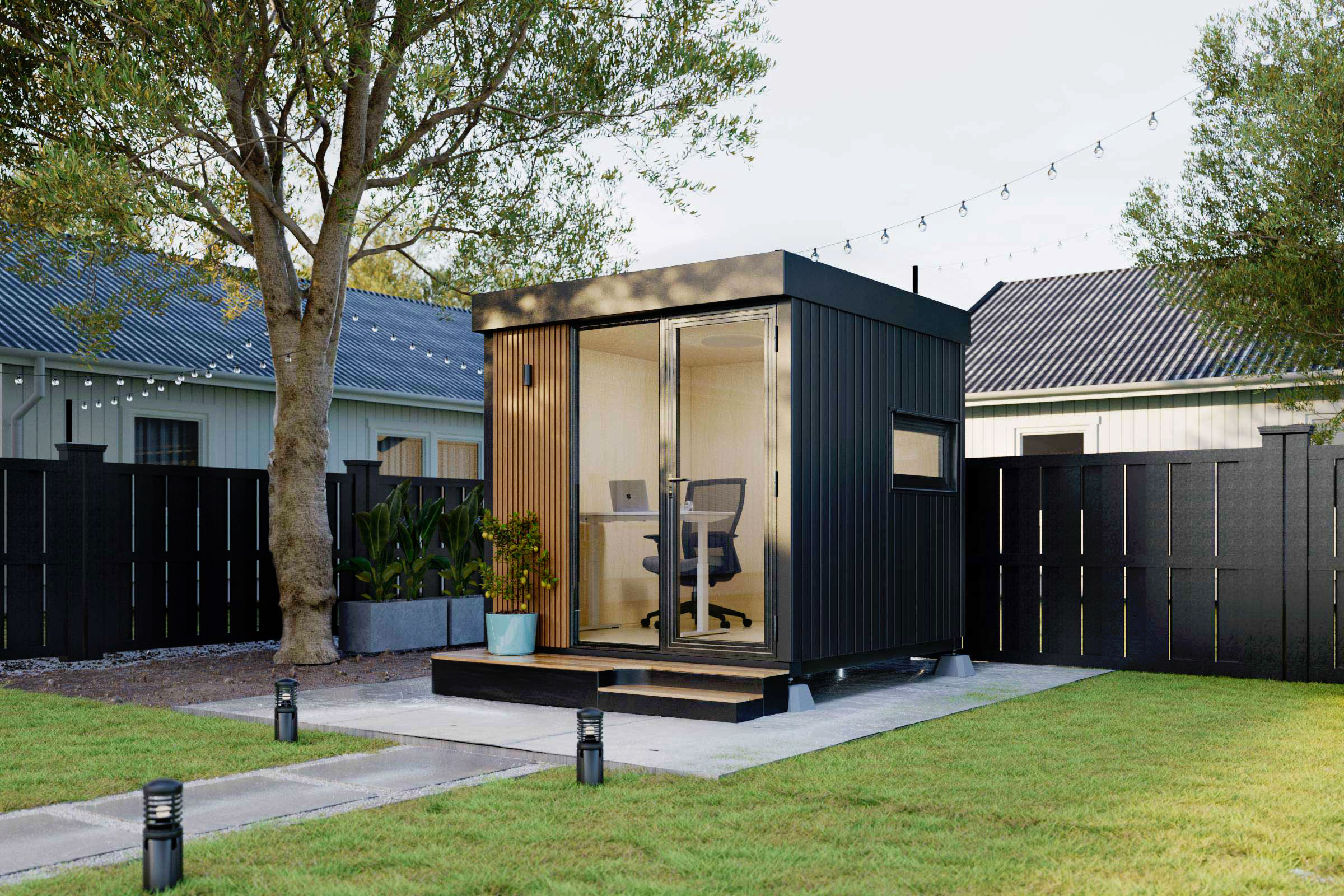 Dimension
8.7"W x 8.12"L x 9.3"H
Material
Window and door: powder-coated aluminum, 5/16-inch tempered glass
Siding: plywood 1/2-inch, steel frame, honeycomb paper, plywood 3/8-inch, bitume, housewrap, vinyl siding
Roof: metal roofing
Floor: plywood
Balcony and Pedestal: steel frame and wood plastic composite
Pedestal
24"W x 103"L x 9"H
Electrical devices
RCB, Wall outlet, Ceiling light switch, Ceiling light, Wall light, Ethernet wall port, 66ft power cable with 2 connectors
Weight capacity
2.3 tons (including Pod body)
Floorspace
80 square feet
Ceiling height
7.3-inch
Final Thoughts
A three-story house can look fantastic, especially if you add an ADU to it. Nonetheless, it requires you to invest some money, so you'll have to set a budget for yourself and determine the best option between the ones available.
Video ads for product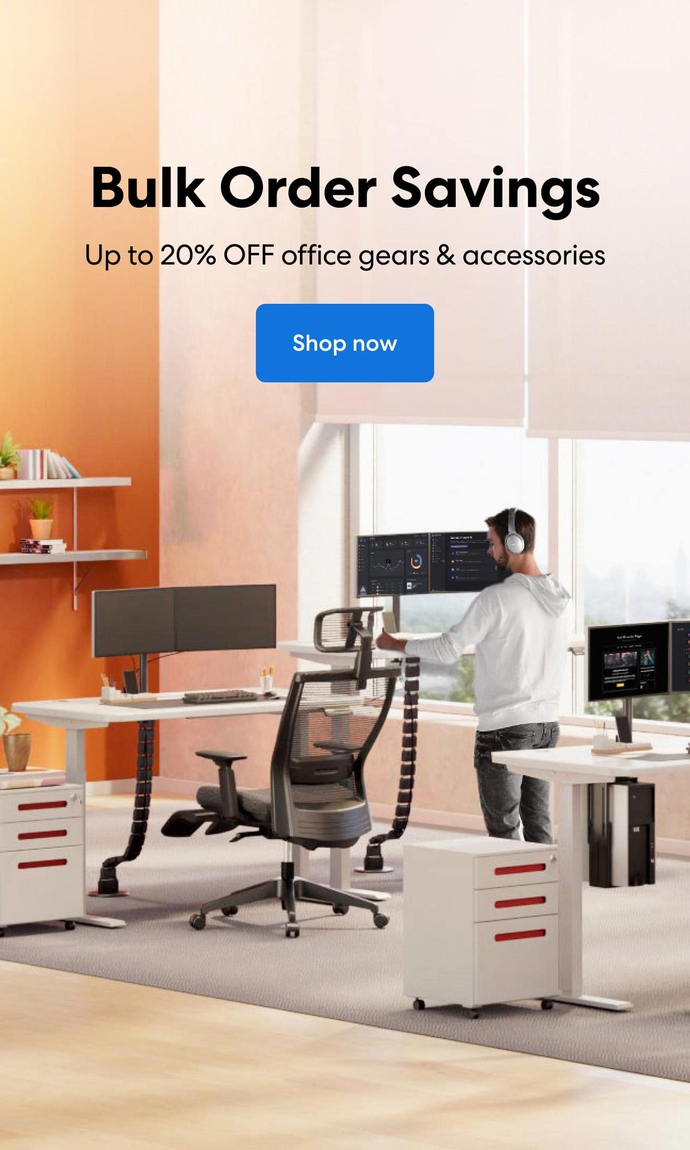 Subcribe newsletter and get $100 OFF.
Receive product updates, special offers, ergo tips, and inspiration form our team.