Sitting incorrectly for several hours a day can have grave consequences on your health and reduce your productivity. Choosing a good ergonomic office chair can provide great long-term and short-term benefits.
Online shopping has become increasingly popular in the past decade, and it continues to change the way we shop. Thanks to the global pandemic, more people are spending time shopping online rather than in-store. It can, however, be difficult to find a trustworthy online store to purchase quality office chairs. Using the search query "office chair near me" does not often help obtain decent search results for high-quality, ergonomic office chairs.
Follow this handy guide on where to buy office chairs for all your ergonomic chair needs.
What Makes an Ergonomic Office Chair?
Chairs are often allocated the lowest budget when setting up an office environment, but this needs to change. Investing in a good ergonomic office chair can be a blessing if you spend long hours seated. The perfect chair for office workers includes lumbar support to provide support to the inward curve of the lumbar area of the spine.
An ergonomic chair should alleviate pressure in the neck and head. It should ideally be made with breathable material that prevents the buildup of sweat, creating bad odors.
A good office chair should recline and be able to move around on stable wheels. It should also include adjustable armrests to prevent injury to the head, neck, shoulders, and lower back. The chair should also be adjustable up and down to provide the perfect seated posture.
Now that we know what to look for, where do we look? Here are suggestions on where to buy ergonomic chairs.
What are the Benefits of Shopping Office Chairs Online?
One of the main benefits of shopping for office chairs online is convenience. You can decide on the kind of chair you would like, view its dimensions, and select preferences. It also minimizes human contact, which is so important during the pandemic.
Online shopping also minimizes transportation costs and can save you the hassle of having to ship large pieces of furniture to your home.
Now that we have discussed the benefits of shopping for ergonomic chairs online, we can get into the online stores you should visit to purchase office chairs.
Autonomous: The Best Place to Find an Office Chair Online
Autonomous has changed the ergonomic furniture game with its innovative, functional furniture. It has SmartDesks and ErgoChairs that take your health and wellness into consideration. The company was established in 2015 and since then has become a global leader in office furniture sales.
It has a user-friendly online shopping site that receives traffic from over a hundred thousand customers from around the world. Its online desk chair store provides in-depth descriptions of the items they have on sale, which you seldom get from an online store.
You can access Autonomous' online store by heading over to Autonomous.ai. Let us now have a look at two of the best office chairs sold by Autonomous.
The Two Best Ergonomic Office Chairs Sold by Autonomous
Autonomous has a great selection of office chairs to choose from. However, the two best and most popular office ergonomic chairs by far are the ErgoChair Pro and the ErgoChair Plus.
1. ErgoChair Pro
The ErgoChair Pro is a great option because it has that all-important lumbar support and a backrest that gives a 22-degree recline. This outstanding office chair is adjustable, with five lockable positions. It can support a maximum weight of 300 pounds or 136 kilograms and is made from breathable mesh material, making it the perfect office chair to provide the correct support and durability. It is the ideal chair for programmers and office workers.
This ergonomic office chair has a modern design that is an aesthetically pleasing addition to any office space. It comes in a range of colors and gives great adjustability, support, and breathability.
2. ErgoChair Plus
A one-up on the ErgoChair Pro is the ErgoChair Plus. It offers great adjustability, with 11 lockable positions. The ErgoChair Plus supports 300 pounds and is made from breathable mesh material for maximum comfort. Its backrest reclines 25 degrees, and it has adaptable lumbar support. If you are looking for a functional office chair, looks good, and is supportive of your body to help maintain the ideal posture throughout your workday, the ErgoChair Plus is for you.
Office Depot
Office Depot is another supplier of office furniture. It also supplies other office necessities such as stationery, cleaning products, and electronics. They have a user-friendly online platform that allows users to browse and choose goods. One of the differences between Autonomous and Office Depot is that Autonomous ships worldwide, while Office Depot does not.
Amazon
Amazon is one of the leading global online shopping platforms. They provide everything from office furniture to kids' toys. Like Autonomous, they ship products worldwide, but they tend not to sell high-end office chairs. Nevertheless, you can find some good chairs by shopping online via Amazon.
Anyone who has used the internet has probably visited Amazon's website at least once in their life. The interface is user-friendly, and they do have a wide variety of ergonomic office chairs.
Final Thoughts
Online shopping provides an easy way to select and purchase ergonomic office chairs online. Be sure to try one of the sites we have mentioned to get the best out of your online shopping experience.
The forerunner in online furniture stores is Autonomous. Its website is easily the most stylish, user-friendly office furniture site and its office chairs are innovative, supportive, and well-designed. Its two most successful chairs, the ErgoChair Pro, and the ErgoChair Plus are great options for those looking for office chairs that have the whole package.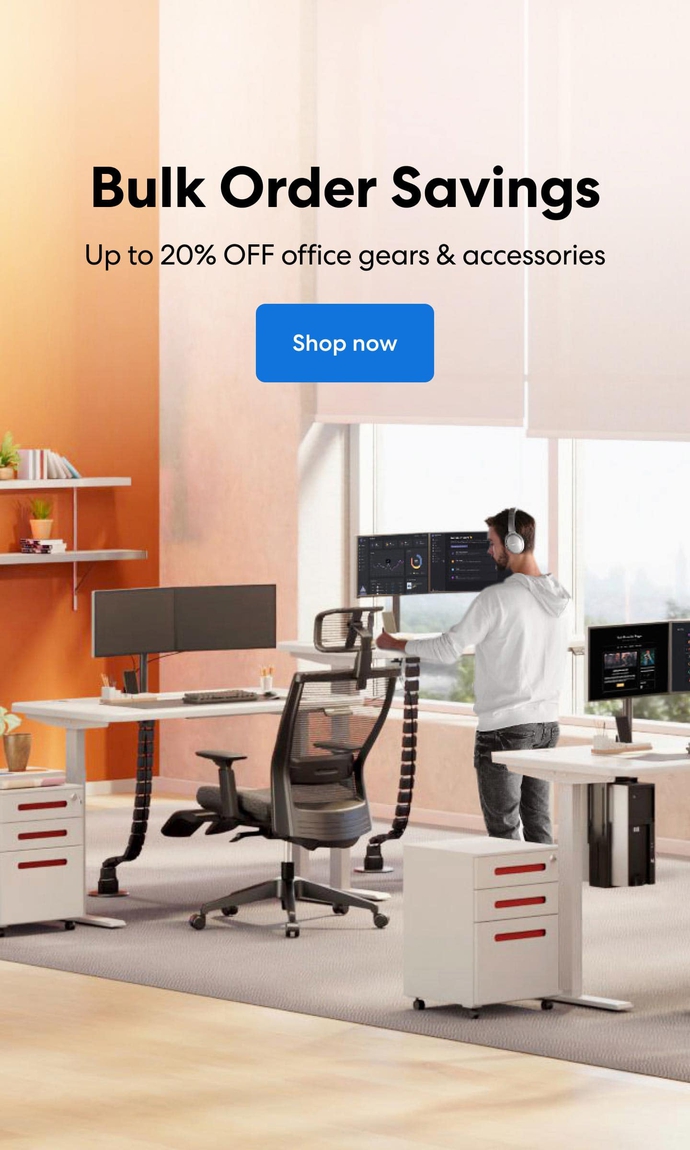 Subcribe newsletter and get $100 OFF.
Receive product updates, special offers, ergo tips, and inspiration form our team.