Work Wellness
Five Things You Should Do To Prevent Post-Lockdown Burnout

Autonomous
|
Feb 19, 2021
2,369 Views
Covid-19 is an unprecedented event in human history. Several lockdowns are in place to prevent the further spread of the contagious disease. Several people are either working under strict conditions, are out of the job, or now work from home. Pandemic burnout is real, and it is one of the leading causes of stress.
Eventually, life returns to normal, but it's still a long time from now. Even then, post lockdown burnout doesn't magically go away. If left untreated, you start to develop behavior patterns that are hard to break. As a result, it can negatively impact your overall performance. Before you figure out how to avoid burnout, you need to understand the leading causes.
What is Pandemic Burnout?
Pandemic burnout refers to worker exhaustion from the overwhelming number of responsibilities. Most workplaces are low on staff and supplies due to Covid-19 conditions. Almost everyone is on edge, which can lead to a stressful rollercoaster of emotions. Even if you work from home, you might end up doing too many assignments. Perhaps you need to cover for somebody else, or you're late in turning in projects. No matter the excuse, pandemic burnout is problematic for your performance.
Symptoms of burnout typically include depression, frustration, indifference, and negativity. Your work productivity suffers due to an increase in distractions and lack of motivation. Pandemic burnout only makes the situation worse. You need to take care of this now!
How to Avoid Burnout in Your Workspace
We all have our limits. Every remote worker is prone to overwork, which means you should be wary of post lockdown burnout. There are ways you can avoid pandemic burnout; it starts with your mindset and your workplace. Below are five tips on how to prevent burnout in your workspace. Without further ado, here are five effective ways to prevent stress and distraction in burnout.
Tip 1 - Use Ergonomic Furniture
Most remote workers suffer from back pain if they sit in their chairs too long. With the increased workload of the pandemic era, projects take longer to complete. You need to mitigate these adverse side effects by changing your work environment to suit your needs.
One of the best ways to prevent burnout is to make yourself more comfortable. Try setting up a more efficient workspace. The chair you sit on is just as important as the desk you work on. An ergonomic chair allows you to relax while reducing back pain. Meanwhile, a standing desk lets you set break intervals, so you can alternate between sitting and standing. You just need the right combination of a desk and chair to improve your productivity.
Autonomous offers the ErgoChair 2. It's fully customizable, which means you can play around with the settings and see what works for you. Everything from height adjustment to tension control is at your fingertips, thanks to the easy-to-pull levers. You can even opt for monthly payments! Below are some pros and cons of the ErgoChair 2:
The ErgoChair 2 often pairs with the SmartDesk 2 - Home Office. The standing desk boosts productivity by allowing you to set a break schedule. You can alternate between sitting and standing with four memory presets. With a simple press of a button, you can easily control your preferred settings. Here are some pros and cons to consider:
Tip 2 - Eat a Healthy Diet
You are what you eat, so consider your diet. If you ask yourself how to avoid burnout, try energy-boosting superfoods. Fruits and vegetables are rich in vitamins and minerals, while nuts are chock-full of protein. Reward yourself during breaks with a nutritious meal!
Tip 3 - Exercise
Regular workouts are one of the healthier ways to prevent burnout. You don't want to sit in your chair all day since it leads to higher rates of obesity and body stress. In conjunction with a healthy diet, you can set a routine that works for you. Give yourself a reasonable goal and try to work out, even if it's only for a few minutes.
There are simple exercises you can perform with a standing desk. These include squats while standing and chair dips while sitting. You can even do leg extensions to improve the blood and oxygen flow in your legs. You have total freedom in choosing your workouts!
Tip 4 - Deep Breathing
Reduce the stress of a pandemic burnout with deep breathing exercises with desk mediation. Take the time to meditate and place yourself in a relaxed environment. Breathing allows better concentration, so focus on this meditative experience. By doing so, you can remove negative emotions cluttering your mind. Breathing also brings more oxygen into your brain and lungs. All you have to do is slowly inhale and exhale for a few seconds each. Keep doing this until you feel relaxed.
Tip 5 - Work During Earlier Hours
Everyone has their schedule, so this tip depends on their lifestyle. However, it's generally a good idea to avoid putting off assignments until later. To avoid the stress of late-night work, consider doing everything in the morning. Make sure you have a good breakfast first! Morning hours are a prime target for work productivity since we are at the highest energy levels during this time. Use it to your advantage!
Conclusion
Don't let pandemic burnout bring you down. By following these five tips, you can prevent a post lockdown burnout. With an ergonomic desk setup, you can achieve both comfort and convenience while you work. Alongside a healthy diet and workout plan, these are among the best methods to avoid post-lockdown burnout. You can significantly reduce your stress by adhering to these basic principles.
Video ads for product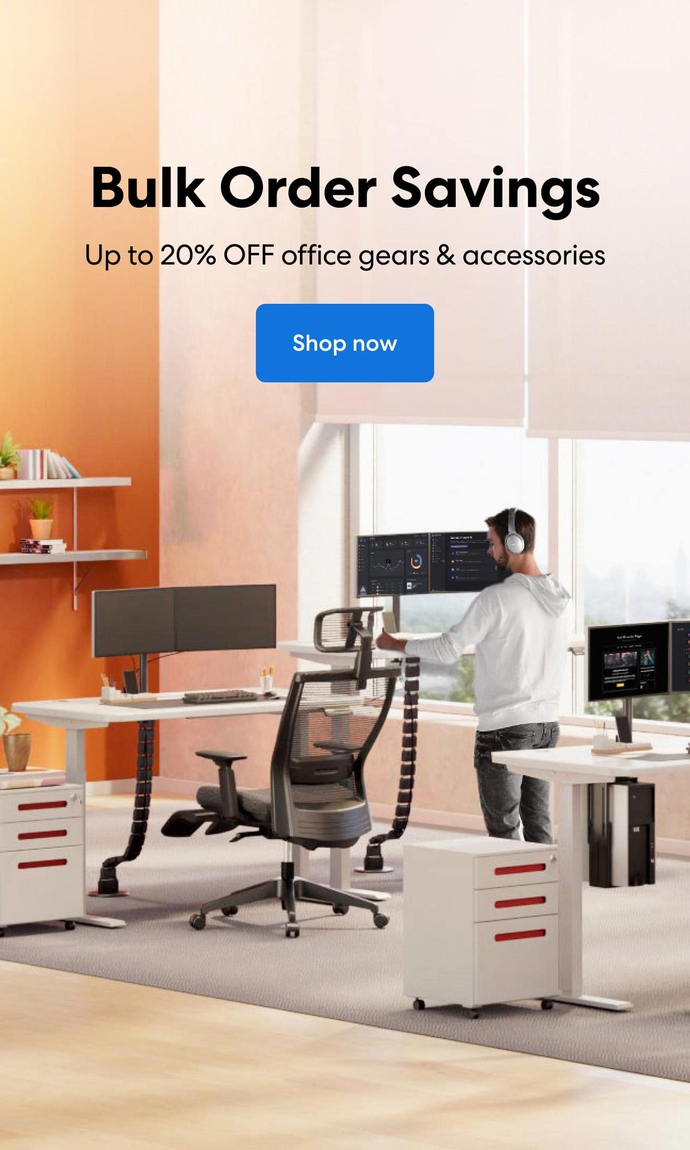 Subcribe newsletter and get $100 OFF.
Receive product updates, special offers, ergo tips, and inspiration form our team.