People don't pay enough attention to the furniture used in an office. In the current lifestyle that almost everyone has adopted, sitting is something that we do the most. Long office hours require a comfortable furniture setup. Comfort does not just come with the chair you sit in. It is equally complemented with the desk you use.
Desks are a very important piece of furniture in a productive work environment. It can be a major efficiency determining factor for your work. Therefore, having a superior quality flexible office desk is a must for a more competent and efficient work life.
Here is a detailed review that will help you decide what type of flexible work desk will be suitable for your use.
Best Flexible Office Desks
You can have several options in the market when it comes to a flexible office table. But not every model will work for you. Here are a few top picks that you can consider for your office or as a flexible home office desk.
1. SmartDesk Core (Home Office)
The SmartDesk Core is designed for that perfect office space you have created at home. This office standing desk provides you with a great working experience while you work from the comforts of your home.
It is the best standing desk for a home office that is engineered from a superior quality steel frame. It has quite a robust dual-motor fitted for the purpose of lifting. The height of your desk is changeable. This amazing flexible office desk is designed for a more energetic and productive approach to work at home.
2. SmartDesk Pro (Premium)
Since you spend a major chunk of your day in the office, you deserve a good quality flexible standing desk, and SmartDesk Pro is just the right choice. It is designed to provide immense comfort and support and helps increase your work efficiency at the office.
What makes it a smart home office desk is a motorized system that helps lift the desk within a few seconds. It provides maximum sturdiness and stability to whatever height you stretch it. It has a stylish and chic look that will blend in with the fancy décor of your office. Be it for your home or your office; you will never regret this purchase.
3. Smart Desk Corner
Are you looking for an aesthetically pleasing, easy-bending, and wide flexible office deskk? Then the SmartDesk Corner is the perfect choice for you. This is hands down the best standing desk for a home office. You can adjust the length to up to 48.5", making it a convenient purchase for all heigh people.
The unique L-shaped design provides you a lot of space to work without taking much ground cover in your room. You can place more than one P.C. on the same. You can also use one half for shelving and the other for work. This desk has an appealing look that will help you give a fresh look to that dull corner of your room.
4. SmartDesk Core Dou
The SmartDesk Core Dou is the perfect piece of furniture for those having a space crunch. This desk is good enough for two people to work as well as to work in privacy. The two shelves provide ample space to fit in two computers. You can also use it to keep some standing desk accessories.
It is made with superior quality MDF wood that adds sturdiness and stability to the construction. The powerful motor system allows you to change the height at your convenience in a snap second. This is a great desk for office as well as for home use.
What Are The Different Types Of Desks?
You might only be aware of those classic boring desks that we have seen growing up. With the furniture industry being revolutionized every day, there are so many new designs and variants in the market that will blow your mind. Here are a few unique and flexible office desk designs that you can consider for your home or office use.
1. Standing Desk
A lot of people have started preferring office standing desks over regular desks. The reason for the same is to add some movement while you are working. Sitting for prolonged hours can lead to major health problems. A standing desk allows you to work comfortably while you are standing.
It helps you burn calories and stay active without putting in a lot of effort.
2. Treadmill Desk
If you have the money to spare, then a treadmill desk is one interesting flexible office desk to invest in. It lets you reach your daily step goal while you are working on some important documents. These desks are designed only to allow slow walking. You cannot expect them to allow you to reach a running speed.
Though pretty luxurious, these desks seem to be the future of office furnishing.
3. Leaning Desk
Leaning desks are more of a decorative piece for your flexible office desk. They add a touch of beauty to your house and provide you with a cute little workspace. These desks are designed in a unique way that allows you to lean them against a wall.
They are usually designed with one or two shelves, which you can use for keeping books or some decorative items. You can install these desks in every room of your house. Even if they don't fulfill the purpose of working, you can use them as a minimalistic showcase.
Final Thoughts
Make the best decision by investing in some good quality  and modern office furniture for home and office use with a flexible office desk. Work efficiency is highly dependent on how comfortable and accommodating your surroundings are. The desk plays an important role in the same. So be wise and make sound decisions to choose the perfect product for yourself!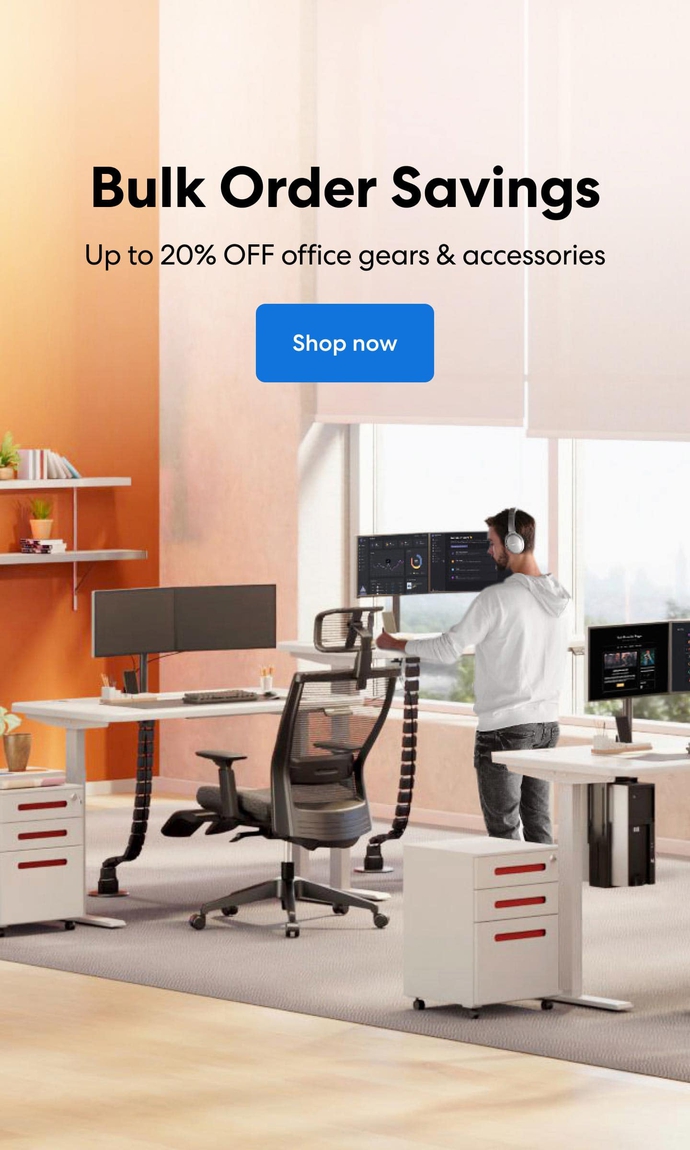 Subcribe newsletter and get $100 OFF.
Receive product updates, special offers, ergo tips, and inspiration form our team.