Hybrid Working
Flexible Working & Seating: New Work Model for Productivity

Autonomous
|
May 27, 2021
1,576 Views
Like the advancements in any other field, we have noticed major advancements in the office setup. The business owners with well-flourished setups are usually more concerned with the way they design their offices. You know how a hybrid workforce has become the new buzzword, and flexible working and seating have become the basic aspects of any business to prosper in the modern era.
As an empathetic business owner, you would know how much of your workers well-being matters to you, to him, and your business. Keeping in mind that most of the famous companies have adopted the flexible working model and have boosted their productivity ever since it is your time to take the right steps and work for the betterment of your team and your business as a whole.
When redesigning your office, going for the flexible seating option is always better, as that satisfies the work ergonomics, which in turn makes the employees more productive and happier. It is pretty normal if you are not aware of the modern, flexible work model and flexible office seating, as the idea is fairly new.
The good news is, we have collected all the relevant information that will help you keep up with the current trends and let you design your specialized flexible workspace. So, let us dig in deeper and let you know more about the modern work model and seating.
What is Flexible Working and Seating?
Flexible working and flexible seating are two of the major evolutions in the world of work. When we talk about flexible working, we are referring to the work hours spent at a workplace. You are aware that workers work for a fixed slot of nine to five at a traditional workplace. Unlike the traditional practice, the flexible working model grants office workers the freedom to select their own time slot of work. That means it is up to the worker if he wishes to begin his work at nine or as early as seven.
Coming to flexible seating, so flexible seating is related to your office layout instead. You know that traditionally workers are bound with their cabins or rooms which are fixed as per their position in the office. If you compare it with the modern, flexible working model, the traditional working practice is both boring and less social.
Wondering the aspects of flexible seating? Well, in flexible seating, no worker has a fixed seating position; instead, they can change their work location within their office as per their desire. They can choose which spot makes them more comfortable while they work, and bam! They get to work in their favorite corner, which they can change whenever they want.
How Can Flexible Working and Seating Impact Your Workers' Productivity?
The short and precise answer for this is flexible working and seating can lay a positive impact on your workers' productivity. Everyone likes having a little control of their routine. This control not only makes them self-sufficient but also helps them self-evaluate their shortcomings and thus make some permanent positive changes in their work attitude.
When workers become more productive, they start enjoying their job. Well, who would not like getting appreciated at work? Everyone does, and the workers who tend to produce better-quality work in time get a pat on the back more often. Appreciation raises your employee's dedication hence encourages them to come to the office with more enthusiasm.
This means you get to eliminate the absenteeism and presenteeism culture at your work, increase employee job satisfaction, where the employees are more interested in producing high-quality work rather than just come, punch their cards, and mark themselves present.
Knowing the benefits and impacts of the flexible working model on your team's productivity, you must be interested in finding a valid way in which you can adopt this working model at your workplace. Well, let us go on and explore.
Solutions for Flexible Working and Seating
Work Anywhere
Workers have different mood types, which means every worker likes working in a different work environment. So, the first thing that you can do is provide them with a flexible seating option where they can choose the place they want to work from.
For this purpose, you must create diversity in your workplace so that every worker can find a place where they can work from. In addition to this, you must keep a keen check of your workplace ergonomics as well, so it is vital that you choose the right furniture.
Hot Desking/Office Hoteling
Hot desking allows you to give more flexibility to your workers. When using the hot desking facility, workers do not have any assigned place from where they work; instead, they can take an overall look at their office space and select the corner that suits them best.
Office hoteling is yet a step ahead of the hot desking as, with the help of this facility, they can book their favorite work spot. You can introduce the office hoteling app at your office to make this booking simpler for your workers.
Work Remotely
You know that remote working is also part of the modern, flexible working model, so making that a part of your office work model would be a great idea to promote flexible working. Remote working will give your employees better control of their routine, and hence they stay more satisfied. However, you should keep a keen check of the hybrid remote work schedule, as workers often encounter stress and burnout if their schedule is not apt.
Wrap Up
Adopting these methods can be quite fruitful for your business and help you get more flexible working and seating at your workplace. When the workers have the flexibility to choose their working hours and select the most flexible seating option for themselves, they start liking their workplace, the employee turnover rate reduces, and most importantly, they become more productive.
Video ads for product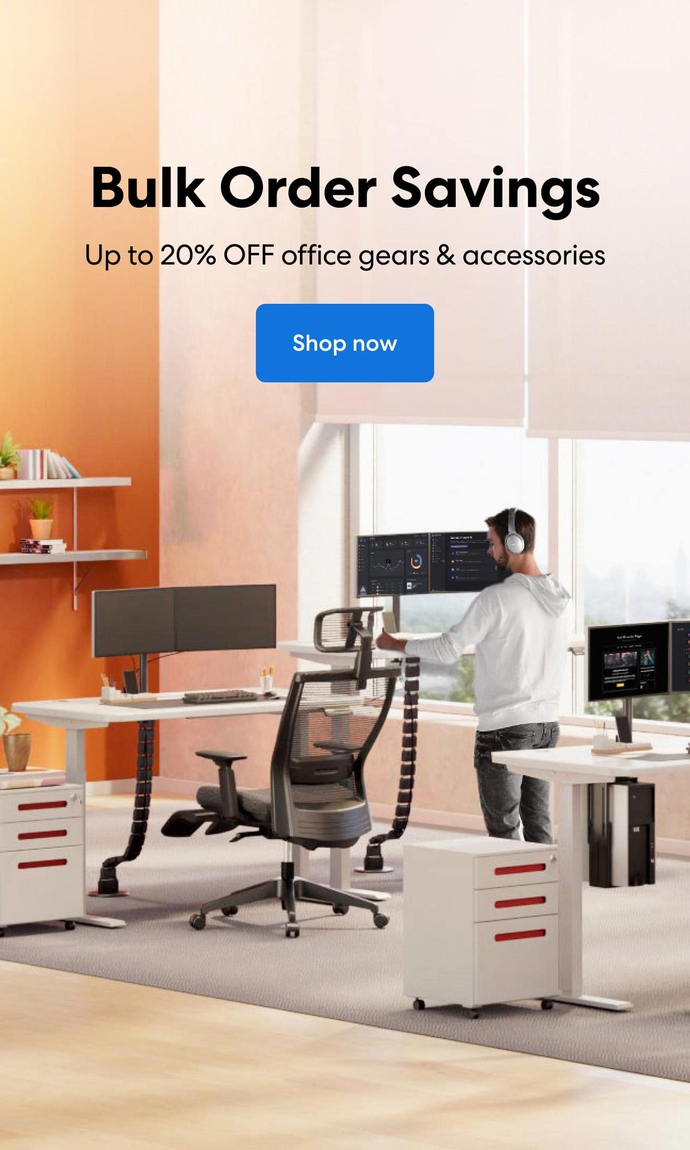 Subcribe newsletter and get $100 OFF.
Receive product updates, special offers, ergo tips, and inspiration form our team.