Workplace Inspiration
Fun Office Décor Ideas for Enjoyable Workspace 2023

Autonomous
|
Feb 1, 2022
1,818 Views
We all recognize being in a pleasant, attractive environment improves our mood and performance, but would you realize any well-designed workspace may influence your company's success? Understanding how to correctly design an office with fun office décor may have a huge impact on your business.
One of the most efficient offices strikes a mix between homey amenities and a professional corporate image is a trendy environment full of color, fun office stuff, vitality, and motivation, aka a pleasant, healthy workplace environment for the members of the team to flourish in, leads to a joyful, good working environment for your members of the team to flourish in. Your office ideas and designs should reflect your corporation's values while making everyone feel good at work.
You don't want guests to negatively impression your work since the design has to be updated. Use these office decoration ideas to fill your workspace with things that will keep you and your coworkers busy, motivated, and inspired daily. It's time to get creative with your main office design concepts!
Here are some of our favorite and absolutely fun office ideas for you to consider and decorate your spaces with.
Make your business objective visible
Consider printing an enlarged version of your core mission and putting it up in a commonplace. Seeing your firm's goal to exhibit every time you go to the printers may be a terrific way to highlight the values your organization stands for, as well as a timely reminder to live up to them.
Collaborate with your local artistic community
Look for artists that make artwork that matches your workplace design in local venues and ask if they can modify any works for you. According to your field of business, this might also provide you with a tailor-made means to reach a whole new fan base with your industry's advertising messages.
Blend your brand colors
When picking a color palette for your space, be sure to include your brand's colors so that your area has a consistent look and feel that reflects who you were or what you do. Employees may have a stronger bond to the firm and be more willing to create a favorable company's reputation if your brand is included in the workplace design, and it can also work for your fun home office decoration.
Outline with rugs
Rugs are an excellent method to define separate places without erecting physical boundaries. If you have a bigger room with several portions, use carpets to divide them. You may also use rugs if your office is small. Put one under your desk to serve as a pleasant accent or place outside the doors.
Hang huge pieces of art
Displaying art may make your workstation appear a lot more intriguing, thoughtful, and spacious if you're seeking an amazing and fun office design. Make things brief with monochromatic picture frames, or make a statement with colorful, eye-catching artwork that will improve your day each time you catch by.
Adding canvas prints to the walls of your office may be a lovely way to represent your company's heart and intellect.
Add some distinctive pieces of furniture
These days, there are a plethora of alternatives for outdated sofas, chairs, tables, and the like. You will, without a doubt, discover some furnishings that resonate with your brand, ranging from leopard print ottoman stools to modernist chaise lounges. You may add an L-shaped standing desk, a home standing desk or an office standing desk to your workspaces.
Add an unusual accent table
Abstract expressionism might be disturbing for certain people, but when positioned in the correct space at the proper angle, a wacky accent table can be a very fantastic centerpiece for your workplace, as well as a great discussion starter when welcoming new customers. You can also add some smart office gadgets to this table.
Install mirrors
Here is another fun office decor for you. Mirrors may completely transform the aesthetic of your workstation. They purify and professionalize your workplace, and they can make any area appear larger, making your work feel extra open and accepting. Your employees will no longer go to the restroom every moment they have to double-check their look before a session.
Sort your office supplies by color
Coordinating your office accessories such as pencil organizers and paper clips helps you seem tidy and help you stay organized. Some colors have even been shown to improve critical reasoning skills. Color has a big impact on how efficient you are. According to a scientific study, blue hues impact your thinking, red colors your body, yellow colors your feelings, and green colors your "harmony," according to scientific study. You may drastically impact your work behavior by blending these colors.
Divide rooms using dividers
Openwork conditions provide more than just a trendy aesthetic. Breaking down barriers between team members improves communication and coordination, giving the office a more cohesive feel. Since the environment is inviting and informal, team members are more likely to enter into talks.
Examine your workplace atmosphere
When it comes to the productive office environment, each room will have its personality. For example, you could want your meeting room to provide a more professional, get-to-work vibe. As a result, a basic color palette and more expert-looking furnishings would be ideal fun office decor idea.
Put an accent wall
To add some eye-catching color to your office without overpowering your sensations, paint a wall a vibrant or striking hue and keep the rest moderate and basic.
Allow team members to customize their workspaces
Since everyone has different tastes and styles regarding fun office decor, allow your team to incorporate any items that will make them feel comfortable throughout the day. It might be as basic as a colorful planner to keep them organized or as glorious as a painting of their favorite artist.
Make the most out of your natural daylight
This is the last fun office decor idea in the list. Among the most crucial aspects of a very well-designed office is office lighting. Your area might have the most unusual furniture, the greatest color choices, and elegant workstations, but none of it will truly shine without the correct lighting. Because daylighting is always preferable, keep all windows locations clear to allow as much natural daylight into your office as feasible. Do you have blinds on your windows or open them up during business hours?
Video ads for product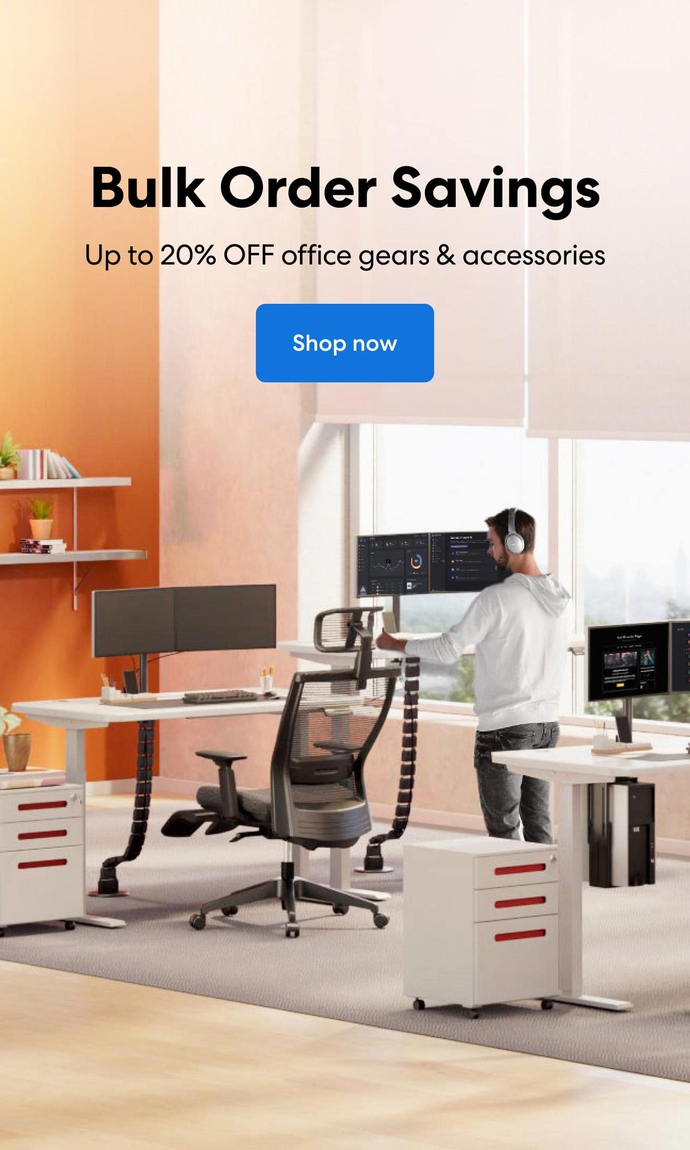 Subcribe newsletter and get $100 OFF.
Receive product updates, special offers, ergo tips, and inspiration form our team.