Smart Products
Why Don't You Get a Brown Desk for Your Home & Office

Autonomous
|
Oct 8, 2022
1,070 Views
A fully functional office needs a lot of furniture and accessories if you intend on doing some productive work. Of all the basic office essentials you need, one of the most important is an office desk. Whether you are going for a modern or classic look, a brown desk will look great in any office. 
However, shopping for a good brown office desk is not always easy with the many available options. This article can help you narrow down your search and pick the best dark brown wooden desk or light brown desk for your needs. 
At Autonomous, you will find a wide range of great brown office desk options to choose from. Whether you want a desk for your workplace or home office, with the diversity of designs, sizes, and functionality, you are sure to find something that will add to the stylish look of your workstation. 
What To Look for in an Office Desk
Style is important when shopping for a good desk but it is not the only thing you need to look at. Once you have your heart set on a light or dark brown office desk you should start thinking about the following features: 
Available space
How much space you have in your office is one of the most important factors that determine what kind of desk you can fit in. Some office desks are very large, so if you have a tiny office you are better off buying a small standing desk. 
Adjustability
Your comfort and productivity depend on how adjustable your desk is. Go for a standing desk that allows you to sit or stand while you work. Not only is this the healthier option, but it has also been proven to be a lot more productive. 
Storage
Storage space is essential, especially if your office is likely to generate a lot of paperwork. Make sure your desk has enough cupboards and drawers for your needs, unless you intend on using your PC only, in which case a minimalist desk will work well. 
Quality
Ideally, you want something likely to last you a long time. If a black-brown desk is what you are after, there are a lot of quality wooden options for you to consider. Go for sustainable but high-quality material when making your choice.
Surface Area
Your desk has to have enough surface area for you to place your PC and office accessories while having enough room to do your work. If space is an issue then you can choose a desk with shelves to increase surface area while being small enough to fit in your office. 
Advantages of Choosing Brown Color for a Desk
A brown desk is often used to give a feeling of power to an office. The richness of the brown color also adds a classical look to the office. 
Most brown desks these days are made from sustainable wood which makes them an ideal choice if you are environmentally conscious. 
When it comes to style, you can never go wrong with a top-quality dark brown wooden desk. Some of the most iconic desks owned by kings, presidents, and other noteworthy individuals have been brown desks. 
In terms of cleaning, a brown desk is also good at hiding dirt and stains. This means you will not have to clean it as often as other desks. If you choose a brown wooden desk, then you will only need to wipe it down with a moist cloth and perhaps apply a bit of furniture oil now and then. 
Best Places to Shop for a Brown Desk in 2022
There are so many places that advertise brown office desks, but getting a good one is not always easy. Some of these places sell poor-quality furniture that will not only look bad but is also likely to start falling apart before you have had a chance to enjoy using it. 
If you are going to invest in a good brown wooden office desk, it's better to buy from a tried and tested supplier. Autonomous supplies only the best quality office furniture, and has many different designs of brown desks for various manufacturers. 
Check Out These 20 Brown Office Desk Options
Are you ready to add some great pieces of furniture to your office? Check out these great options from Autonomous: 
1.  Eureka Ergonomic L-shaped Standing Desk
With dual motors that provide electric height adjustment, the Eureka Ergonomic L-shaped standing desk is suitable for any office environment. It has a 60" wide surface area that is ideal for your PC and work activities. If that's not enough to entice you, this desk comes with a headphone holder and cup stand as well. 
2.  FENGE Electric Standing Desk With Monitor Stand
Having the freedom to sit or stand while you work is one of the most important features that you need from a reliable desk, especially if you plan on working long hours. You also need a dedicated place to put your PC. That is why the FENGE Electric Standing Desk with Monitor Stand is the best option for an all-in-one desk to cater to all your needs. 
3.  Mount-It! Rustic Standing Desk
The Mount-It! rustic standing desk with a dual motor is made from high-quality, durable materials that allow it to carry up to 176lbs. of weight easily. With its 10-year warranty, this desk was built to last, so you can enjoy it for years to come. The dark-born look is great for adding some color to any office. 
4.  FENGE Ultralong Compact Desk
This standing desk with drawer compartments from FENGE is made from aluminum and particle board, which means it's very light and easy to move when you want to switch from one office to another. Its extra-long dimensions provide more than enough space for basic office activities while being slim enough to be placed against a wall and leave enough room to walk around. 
5.  FENGE Ultrawide Compact Desk
If having a light brown desk made from quality material is more important than saving space in your office, then the electric standing desk with drawer compartments from FENGE is a great option. Not only can you adjust the height using the electric dual motor, but you can also easily control it using the control panel. 
6.  Wistopht Compact Desk Starter: Anti-collision and USB Ports
Are you looking for a modern standing desk with USB ports? Wistopht has exactly what you need. It has a compact top and steel frame that can easily carry 265lbs of weight. The standout feature is the control box with USB ports from which you can charge your mobile devices. 
7.  FENGE Ultra Long Standing Desk
If you want nothing but the best quality, get yourself a FENGE standing desk from Autonomous. This brand is well known for manufacturing strong and reliable desks, such as the FENGE electric standing desk which comes with a dual motor to allow you to quickly switch from sitting to standing at the touch of a button. 
8.  Northread Standing Desk With Drawers
When having a bit of extra storage is a necessity, the standing desk from Northread is a good choice. The combination of a white steel frame and light brown top make this brown desk a very appealing choice for any room. It also comes with a USB charging port as one of its many great features.
9.  Mount-It! Rolling Desk: Tiltable
Do you constantly need to move from one area of the office to another when working on different projects? The rolling desk from Mount-It will definitely make life easier for you. This brown office desk can also be tilted during those times when you need to work on things such as technical drawing.
10.  Autonomous SmartDesk Chunky Oak
Oak is used to make some of the best brown wooden desk designs on the market. That much is obvious when looking at the Chunky Oak SmartDesk available at Autonomous. Made from sustainable material, this is the right desk for you if you are concerned about environmental impact. 
11.  FinerCrafts Standing Desk: Curved Top
The slight curve in the top of the standing desk from FinerCrafts makes it easy to sit as close to the computer as you want. This means you can easily find the most comfortable sitting position which is good for those long working hours at the office. 
12.  EUREKA Ergonomic Home Office Computer Desk
EUREKA has managed to create yet another great product with this ergonomic home office computer desk. It is small enough to use even in the most crowded of your rooms and it has all the essential features you need, such as a shelf to place your CPU close to where you will sit. 
13.  SHW L-shaped Computer Desk
Sometimes the best place to set up your desk when space is an issue is in one of the corners that are out of the way. Ideally, you will need an L-shaped desk for this, and the computer desk from SHW is perfect. It is made from quality materials, which guarantees that it will last you a lifetime. 
14.  Cabot L-shaped Computer Desk by Kathy Ireland Home
If the number one feature on your list of things a desk should have is storage, then the Cabot L-shaped computer desk is a great choice. It comes with big drawers and cupboards that can be used to store a lot of paperwork, files, or other office accessories. You will also have a four-port USB hub to charge your mobile devices. 
15.  Sauder's Palladia L-shaped Desk
This is one of the best-looking desks we have on this list. The Palladia L-shaped Desk has a wonderful high-end appearance that makes it look more like the desk of a company executive than anything else. There is also lots of storage for you to use thanks to the many drawers that are expertly included as part of its great design. 
16.  Reversible L-shaped Desk From East Urban Home
It can be very irritating when you find a great desk only to realize that the orientation will not be able to fit in the corner of the room where you intended to put it. That is where the diversity of the Reversible L-shaped desk from East Urban Home comes into play. You can easily switch this desk around until it suits the available space. 
17.  Christeena L-shaped Computer Desk By Inbox Zero
This great L-shaped computer desk by Inbox Zero has three preset heights to accommodate any position you feel like working in. It is made of strong material and the height can be easily adjusted using a powerful electric motor. 
18.  L-shaped Computer Desk by Inbox Zero
The first things that are likely to catch your eye are the two rows of shelves that are built into one side of the L-shaped desk to provide extra storage space when you need it most. It is also reversible, making it easy to fit this desk in any corner of your room that you wish. 
19.  Magellan L-shaped Computer Desk by Realspace
This beautiful dark brown desk is easily recognizable thanks to the plenty of storage space that is available both above and below the desk. It even has a sliding keyboard tray that you can slide inside the desk when not in use. 
20.  L-shaped Computer Desk With Hutch by Belleze 
Are you constantly struggling with wires that need to be arranged and taken out of the way? This computer desk from Belleze with wire management may be the ultimate solution. It is made from the very best material which is why it comes with a lifetime warranty. 
Final Thought
If you want a desk that will look both classy and modern, a brown desk might be the best option. It is a great addition to any office and with the right material, you can be sure it will last you a very long time. You can choose from a variety of L-shaped and standing desks that are available at Autonomous.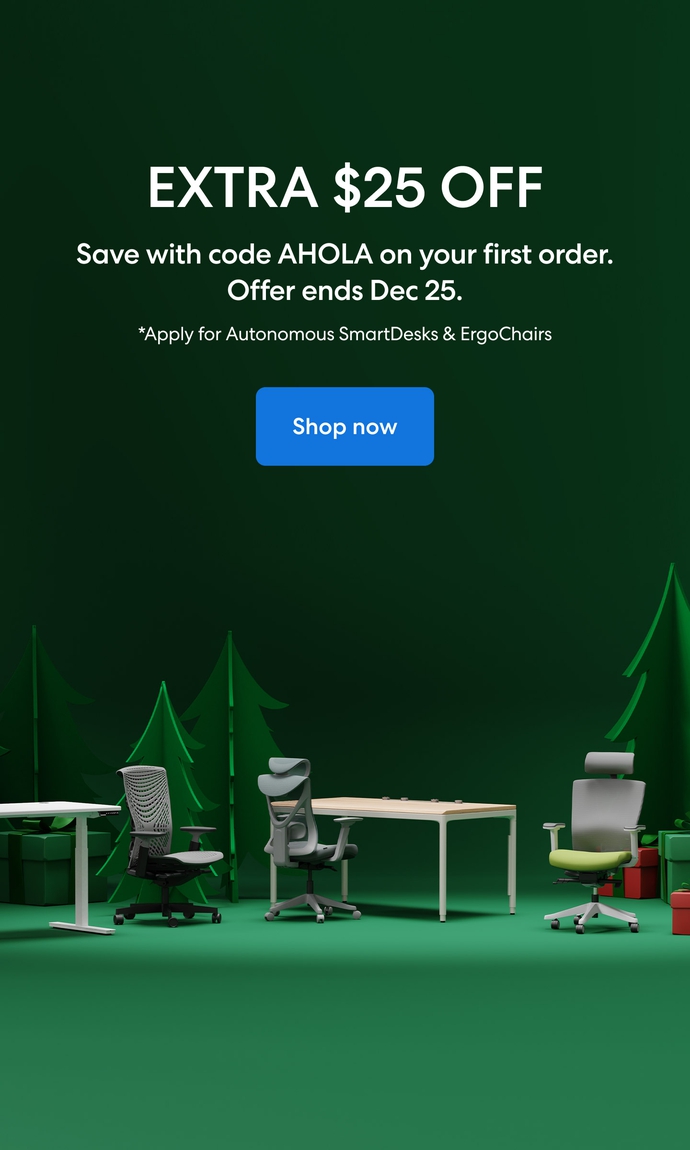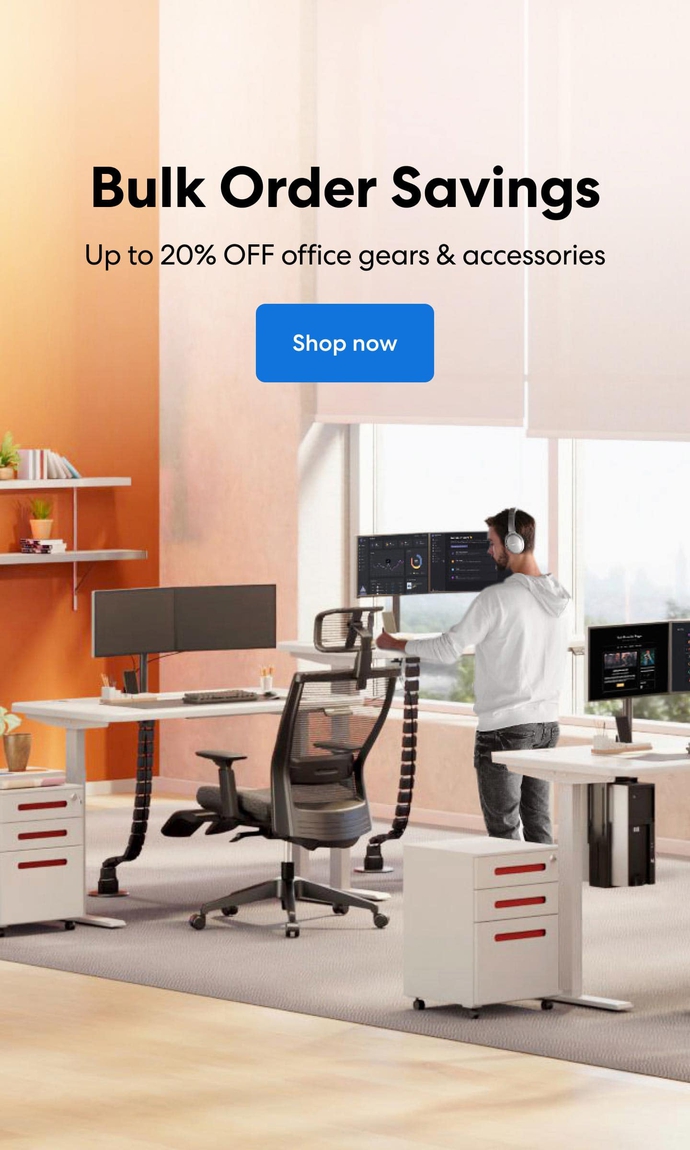 Subcribe newsletter and get $100 OFF.
Receive product updates, special offers, ergo tips, and inspiration form our team.