Hybrid Working
Hands-on Tools That HR Can Leverage to a Smooth Back to the Office Transition

Autonomous
|
Jul 5, 2021
1,579 Views
Hybrid working is a term for companies with flexible work arrangements that allow their workers to either work from home some or all of the time. However, nowadays, it's almost synonymous with partial work weeks.
Many companies are planning to return to the office. Sure, remote work wasn't without its share of difficulties, but it did bring with it several marvelous technologies that HR can now leverage for a smooth back-to-office transition. Most importantly, there isn't a single company that isn't using them.
Employees who had a hard time at home due to distractions or loneliness might be thrilled to know it's finally time to head back into the workplace. On the other hand, those who are more unenthusiastic might be warier as they adapt to this new way of working, whether due to the risks of commuting or similar.  
Fortunately, HR can make the transition as smooth as possible with the help of some hands-on gear. Here is a summary of some back-to-office tools, including several free ones:
Entry Wellness Check Tools
The first line of defense of a company is its entrance. HR can authorize employees based on their schedules and health indicators to prevent unnecessary crowding. This can help with contact tracing as well.
Many companies already employ daily health surveys and some apps. For instance, there are already contactless technologies that allow employees to enter or exit the premises without lifting a finger. Some of these may be temporarily made available to visitors.
Right now, the most typical check staff employs is contactless thermometers. Another effective alternative is using wall-mounted thermal imaging cameras. These cameras need to have some facial recognition to track employees effectively.
The advantage is evident, but it does raise privacy concerns due to having technology that can personally identify people. It's the job of HR to ensure that all collected info isn't for any nefarious purpose.
Communication and Collaboration Tools
Collaborative management software is vital for distributed teams. It can set expectations for working hours and easily communicate schedules, creating a prosperous work environment for the staff. Many back-to-office tools significantly boosted productivity while remote working was in full bloom, especially for teams that relied solely on them.
Some people consider the back-to-office transition an ideal time to return to the old tech stack and set aside these back-to-office tools and technologies. However, communication and virtual collaboration tools are, in fact, the most crucial aspect of the plan. Here are a couple of reasons:
First, companies that drop these hybrid work tools have to go back to mostly unorganized mediums such as email, meetings, desk drop-ins, etc. Afterward, the paper trail starts to disappear. While people might see it as a positive, it is not.
Having a single place to maintain and store all team communications and records showing how and when projects finally achieved completion is excellent. Losing such a useful system can be undoubtedly harmful.
Finally, tracking projects and budgets in old, different hybrid work tools is needlessly complex and cumbersome. The same applies to reporting tasks. Teams shouldn't have to access multiple platforms to report results to their teams and executives.
Even if people dismiss most of these advantages, the truth is that it's challenging for management and HR to hold group meetings unless the office has a large conference room because of the safety guidelines. Fortunately, these meetings can continue happening online, even if part of the workforce is there. It's possible and practical to continue using collaborative tools in a hybrid workspace.
Some helpful back-to-office tools are JAM, a free, real-time, spontaneous communication tool, Miro, a whiteboarding visual collaboration platform, and even Slack, a platform offering instant messaging. The correct hybrid work tool for a company might depend on whether they value more synchronous communication or asynchronous communication. Management should settle for synchronous apps for in-the-moment discussions and asynchronous apps if most conversations don't need an immediate answer.
Of course, this isn't even a subject to discuss for a company with a geographically distributed remote workforce. Regardless, collaboration and communication tools can only get better thanks to the surfacing of many remarkable business intelligence technologies.
Office Layout Management Software
The office layout has been a long discussion topic for the past few years, but the main objective remains the same: reduce the risk of contagion for the people at work. While rearranging the space without help can work, it's better to couple it with a back-to-office tool, such as an office layout management software, to make it more effective.
For example, having desk booking software allows HR to prioritize and allocate as much space as required. Some good examples are WorkInSync and the Autonomous Hybrid solution. These can help the HR department and management easily rearrange their workspaces without much concern. They also allow teams to book, schedule, and share desks while following safe distancing guidelines, which are the basic features of an office hoteling software.
There's plenty of other software that makes it easier to manage the workspace layout. Some hybrid work tools focus on monitoring occupancy, while others use spatial intelligence to encourage distancing and track contact. Most can be of use for HR to smooth the transition.
Cloud Storage Tools
This work tool is essential for any hybrid work model arrangement. It offers everyone the means to access crucial files and documents regardless of where they currently are. Cloud storage also makes it easier to handle larger file sizes that would be problematic to send over email.
HR should consider a cloud storage solution that prioritizes simplicity, ease of use, and security. Some traditional tools that companies usually employ are Google Drive and Dropbox. These two also serve as file storage platforms, which is another crucial hybrid work tool that any company transitioning back to the office should have.
Nonetheless, it would be preferable to have a solution that ensures the files are automatically updated once the person working on them decides to ensure smooth collaboration. In addition, the platform should offer accessibility control as well to be able to manage to access which files and who can alter them.
The Bottom Line
HR has many valuable back-to-office tools that can significantly help them transition the employees back into the office. These back-to-office tools enable the department to ensure the safety of the employees further and maintain the same level of productivity. Overall, they help make what would be an abrupt shift more tolerable. However, more importantly than any of these things is for HR, management, or executives to communicate the details of their back-to-office transition.
Video ads for product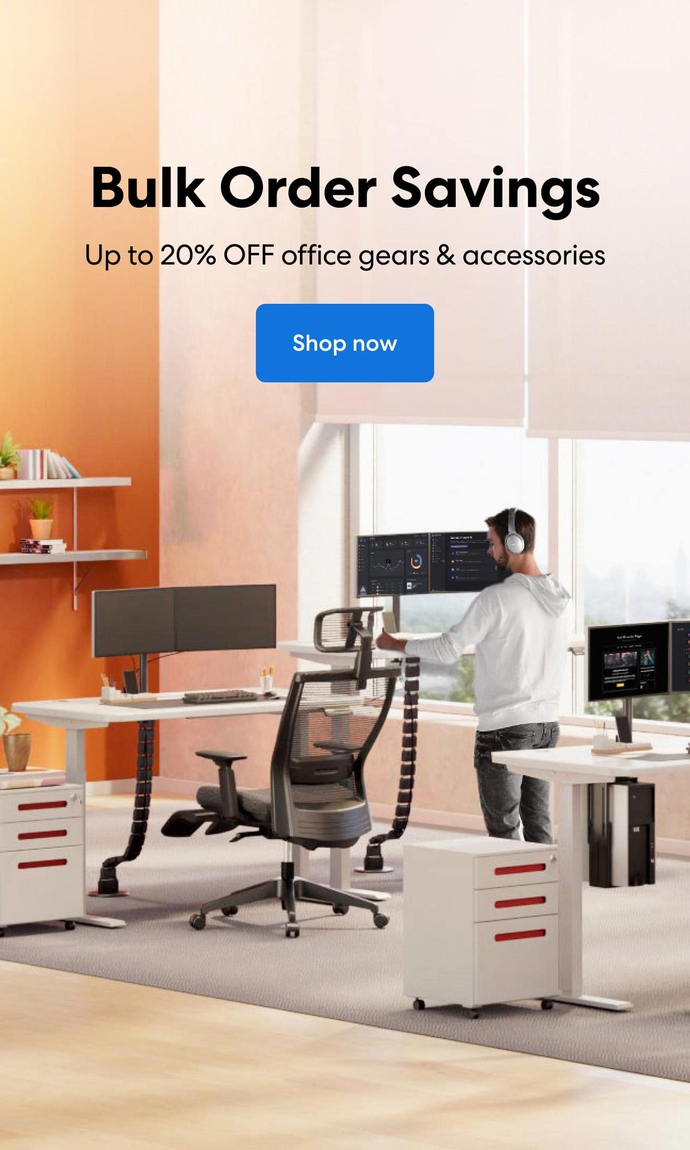 Subcribe newsletter and get $100 OFF.
Receive product updates, special offers, ergo tips, and inspiration form our team.