Smart Products
Top Eight High-end Office Desks to Bring a Modern Look to a Workspace

Autonomous
|
Jun 18, 2021
1,933 Views
Looking for a high-end standing desk can be challenging if you don't know where to start or why you should add it to your workspace. Read on and find out everything you need to know about the subject.
Why You Should Buy a High-end Office Desk
High quality desks are very useful if you work in an office and spend long hours sitting down typing or doing similar tasks. However, they are also very convenient to create a relaxed working environment.
Buying a high-end home office desk is one of the best choices you can make if you're committed to your health while you're working. A desk with ergonomic properties can make a huge difference if you don't want to experience back pain and other issues, which is why you should make it a top priority on your list when you're buying items for your office.
How a Modern Workspace Can Help You
Having a modern workspace can be very beneficial for your back's health. However, a contemporary environment also has a positive impact on other areas of your life.
A high-end standing desk can boost your productivity and make you feel better while you're working. You probably spend many hours doing your job, and having a beautiful desk allows you to have more fun while you're at it.
Top Eight High-end Office Desks to Choose From
To pick the best desk, you need a good list with some options to choose from. Check out the following models and decide which one adapts to your needs.
Autonomous SmartDesk Core
The SmartDesk Core by Autonomous has an electric standing desk design that's ready for you to use during your work hours. It has a beautiful modern appearance and it's one of the best models you can find if you're looking for a high-quality item.
If you add a good ergonomic chair, your office space can be all set for you to start working there. You are probably going to feel very motivated and relaxed each time you have to do your job.
MultiTable Mod-E's Modern Model
You can find many standing desks with great qualities such as a contemporary design, a good price, or ergonomic characteristics. However, the Modern Standing Desk stands out from the competition.
Unlike other desks, the Modern by MultiTable features the fastest standing time. If you have it in your office, you can go from sitting to standing quickly, as the desk can move at 2.0 inches per second.
Autonomous SmartDesk Corner
The SmartDesk Corner by Autonomous has all the characteristics of a high-end office desk. It has an innovative design that allows you to admire its beauty as you comfortably use it to work.
Additionally, the shape of the desk makes it an ideal model if you need to fit it in a tight space. With a triple motorized system instead of a dual one, the desk can hold a maximum of 330 lbs when it transitions from a sitting position to a standing one. If you look for a productive desk setup, using the L-Shaped SmartDesk as a corner standing desk might be the perfect option.
Contemporary Standing Desk by GeekMax
Among all the options you can find when you look for a modern standing desk, the GeekDesk  is a classic model you can't miss if you're interested in high quality desks.
Developers and programmers find the Contemporary Standing Desk incredible as it's very spacious and has a timeless design. It's a high-end standing desk with a classic appearance that makes it a great addition to your workspace if you want to create a stylish and modern environment.
Autonomous SmartDesk Pro
Similar to the SmartDesk Core, the SmartDesk Pro has a beautiful contemporary design that captivates many office workers. However, its specific features are more advanced than the ones the SmartDesk Core has.
The high-end office desk has a high-quality sturdy frame and is designed with advanced technology. Furthermore, it offers three pre-set heights to make the customization process easier.
The Lio Table
The Invisible Collection is responsible for beautiful desks, and the Lio Table is certainly one of its most popular pieces. It's made of walnut and has metal feet, making it a perfect combination of two materials to make your surroundings look fresh and modern.
It's a one-of-a-kind ergonomic office desk designed in Italy to make you feel as if you were in a completely different environment each time you work.
Dsignedby Table
Made in West Africa, the Table by Dsignedby is a high end home office desk you can't lose if you need an option for a small space. 
Some customers believe the high-end standing desk is so beautiful that they want to use it as a dressing table, considering that the modern design allows it to be one of the models with the most beautiful appearance you could find.
Pros and Cons of Buying a High-end Office Desk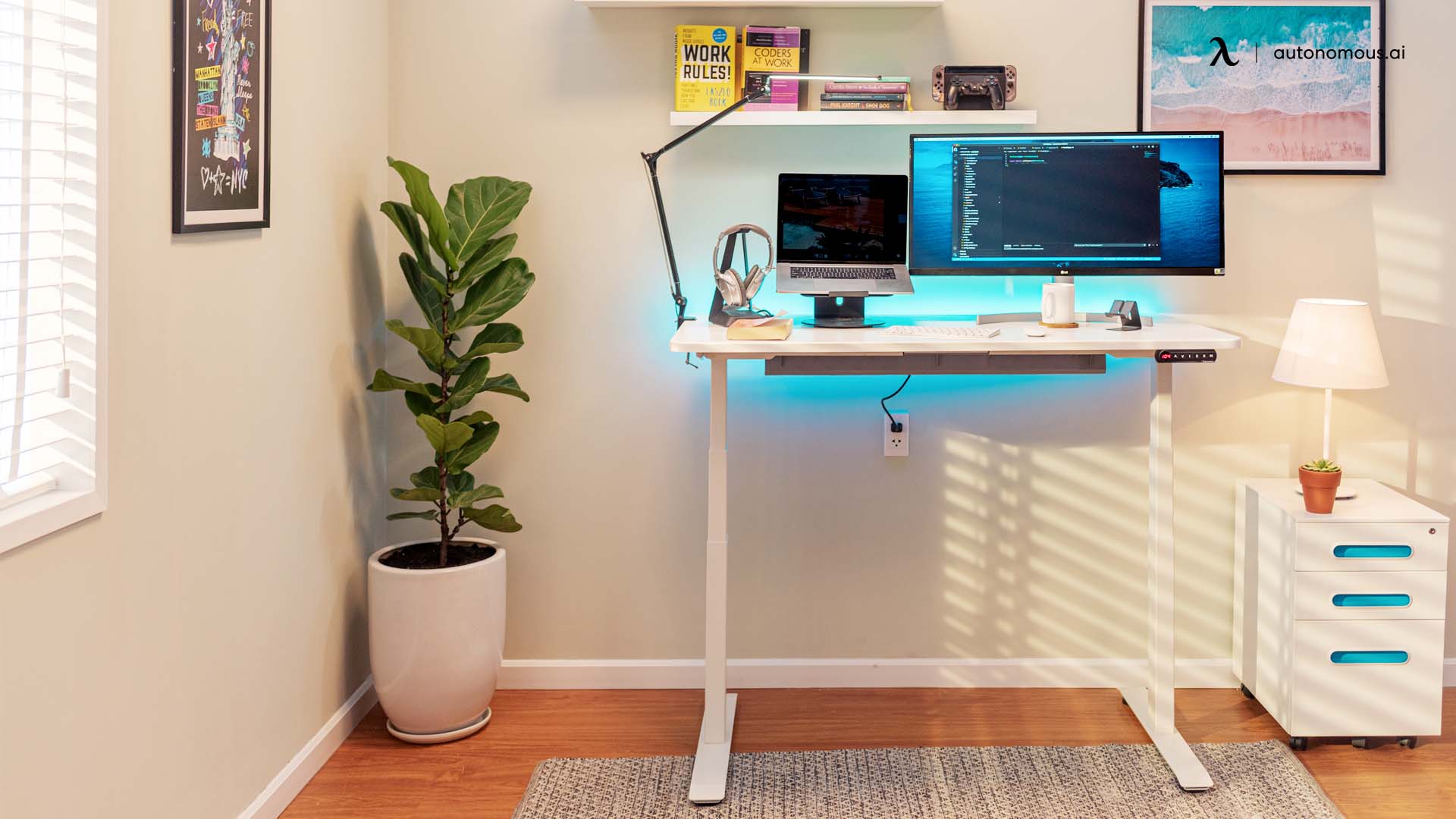 Everything has benefits and disadvantages and evaluating them is necessary to make the right choice, especially if you're comparing different high-quality desks. Check out the following pros and cons:
A high-end office desk
A high-end desk can boost your productivity
It can make your office look more beautiful
You can feel motivated each time you work
Buying the desk might be expensive
You may need to rearrange your office so the desk fits comfortably
Keynote Takeaways
A high-end standing desk is one of the best items you can add to a workspace. It has many benefits and most importantly, allows you to stay healthy as you work. Now that you know different options, choose the one you like the most and make your office look amazing.
Video ads for product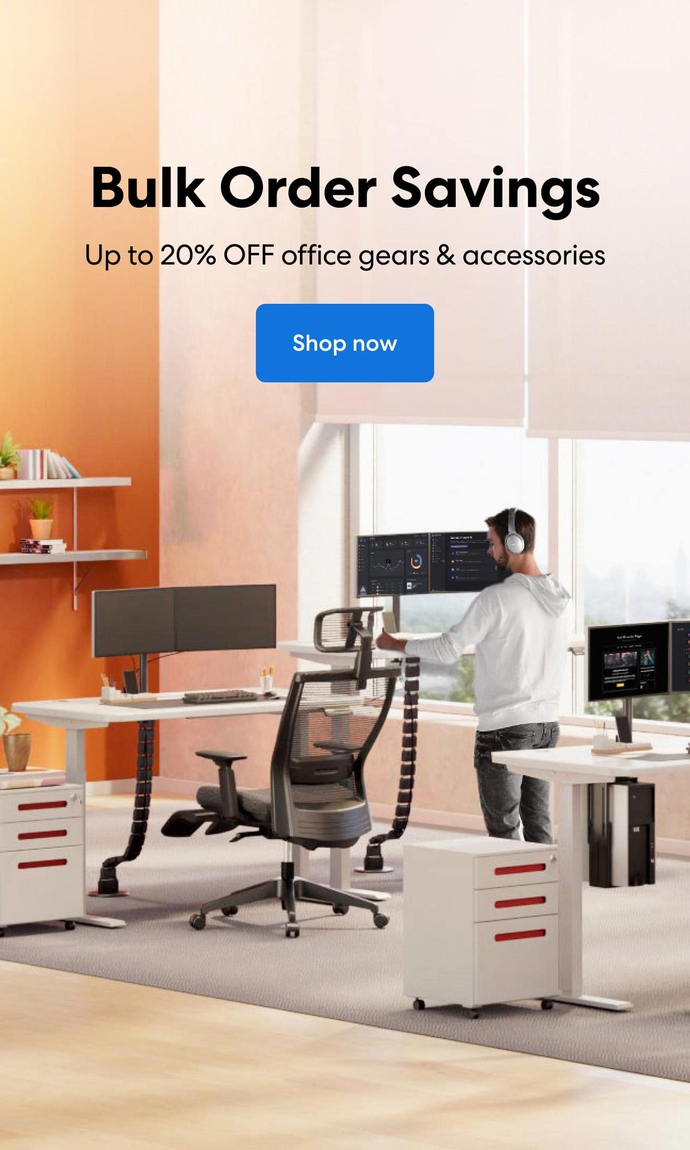 Subcribe newsletter and get $100 OFF.
Receive product updates, special offers, ergo tips, and inspiration form our team.