Smart Products
Home Gym Lighting Ideas To Light Up Your Workout Space

Autonomous
|
Dec 16, 2022
908 Views
If you're currently building your fitness area, it's essential for you to work on your home gym lighting. This room should have good illumination, as you must be able to see everything you're doing without problems or visual disturbances.
Most gyms have plenty of windows or at least very strong light bulbs or lamps to keep the whole area illuminated at all times. However, the function of home gym lighting is also related to aesthetics. The best lighting for a home gym will help you set an energizing atmosphere in your workout space. Hence, you might be able to motivate yourself to complete your workout routine more easily.
You can take into account different types of lighting. Here we present you with some of the options you can consider for this purpose. Let's explore 8 home gym lighting options!
1.  Brightech Luna LED Floor Lamp
This gym lighting LED lamp by Brightech is an excellent choice for any office space. It has a modern design and has enough power to illuminate any room at home. Plus, it's compatible with Smart Homes, allowing you to control it from your house hub.
The weighted metal base will prevent it from falling in case of potential accidents. Plus, the energy-efficient light bulb will help you keep your energy bills as low as possible. It has a color temperature of 3,000k and a foot pedal switch for you to set up a different atmosphere at your home gym whenever you need to do so.
| | |
| --- | --- |
| Overall dimensions | 9.5"L x 9.5"W x 65"H x 12.27 lbs |
| Base width | ø 9.5'' |
| Bulb | 9.5W 800 Lumen LED bulb |
| Materials | Glazed glass globe, Metal |
| Color temperature | 3000K |
| Smart home compatible | Alexa, Google, Apple |
| Warranty | 3 years |
2.   Benzara Industrial LED Floor Lamp
If there's a particular spot you would like to illuminate or perhaps would like to contribute to the overall lighting of the room while also adding a bit to the style, this lamp by Benzara is a good choice.
It has an interesting design and includes an energy-saving 12W Led lightbulb. The matte all-black metal finish makes it very suitable for a gym environment. Plus, it's very easy to assemble and has an adjustable lampshade, so you can choose how it illuminates your space. It is quite customizable and will accompany you for several years before you need a light bulb replacement.
| | |
| --- | --- |
| Dimensions | Φ 15"W x 62.5"H x 10.1 lbs |
| Colors | Black |
| Materials | Metal base |
| Input voltage | 110-220V |
| Lumens | 960 lm |
| Bulb type | LED 3,000K |
| Warranty | 1 year |
3.  Lamp Depot RGB Corner Lamp: Remote Control
Lamp Depot has tons of astonishing lamps for any space available. This time, we've decided to recommend this LED corner light due to how convenient it can be for any room.
You'll be able to place them in any corner and expect excellent results. You can buy the single or double version, depending on your budget and illumination needs. However, the double-lamp choice works better if you want to bring the right atmosphere into your workout space. It's a minimalistic lamp with more than three hundred color effects and a remote control you can use to customize it whenever you need a change of atmosphere.
Dimensions
55" L x 16" W x 16" H x 3.3 lbs
Color
Black
Materials
Aluminum, Acrylic
Bulb
LED/50,000 hours
1+ million colors
300+ multi-color effects
Lumens
1512-1680LM
Voltage/Wattage
12V/20W
Warranty
1 year
4.  Arnsberg Lighting Dessau Turbo Double Floor Lamp
The next option combines the best of modern design with German engineering. This lamp includes an adjustable arch-neck and light head. Thus, you'll be able to set up the right illumination area with easy steps. Plus, the 4-way touch button will make it easier for you to alternate between different lighting settings.
This lamp has beautiful architecture and looks quite stylish. You'll be able to play around with its structure as much as you want until you find a layout that resonates with your preferences and illumination needs. It is available in two colors, Bronze and Satin Nickel.
| | |
| --- | --- |
| Dimensions | 20"L x 10"W x 40" - 54"H x 20 lbs |
| Color | Satin Nickel, Bronze |
| Materials | Metal |
| Color temperature | 3000K |
| LED  lumens | 1000 x 2 |
| Voltage | 120V |
| Warranty | 59 months |
5.  Lamp Depot RGB Circular Floor Lamp
This is one of the great home gym lighting ideas for you. If you would like something a bit more affordable for your home gym lighting, perhaps this circular floor lamp can be a good choice for you. It is affordable, good-looking, and quite customizable.
This lamp looks like a pile of bubbles. The best part is that you'll have access to sixteen million colors and more than three hundred changing effects. Plus, the touch-sensitive remote will make it easier for you to alternate between different configurations whenever you want. It's quite easy to install and is available for a cost-effective price if you consider all the features it includes!
| | |
| --- | --- |
| Dimensions | 10.2"L x 8.3"W x 43.3"H x 5.5 lbs |
| Color | White |
| Materials | Aluminum, Silicone |
| Light colors | 16 millions colors & 300+ changing effects |
| Warranty | 1 year |
6.  Brightech Sphere Floor Lamp
Brightech has diverse floor lamp options available. This one has a minimalistic and modern profile that will make it easy for you to place it in any area of your home gym. It has a brash finish that gives it a beautiful appearance. Plus, it emits warm and diffused light.
These LED lights have an expected lifetime of 20 years. Plus, it's energy efficient. It won't have a high impact on your energy bill. The 5-year warranty makes it even more convenient for most people. It's a safe investment that will add a lot of style to your current fitness area.
Dimensions
Body: 65"
Globe: ø 8"W
Base: ø 11"
Weight: 14.3 lbs
Color
Brass
Materials
Glass globe, Metal base
Color temperature
Warm light
Bulb
2 x 9.5 W, 800 Lm, 3000K LED bulbs
Wattage
60W
Warranty
5 years
7.  Artiva USA UFO 73" 5-Arched Floor Lamp: Touch Dimmer
The next option for home gym lighting is a very interesting floor lamp. It has 5 super bright LED lights that include energy-efficient features while maximizing the illumination in your room. The lamp is available in two colors, satin nickel, and chrome.
This lamp can be the right addition to small or medium-sized gym areas. It has an adjustable arch, allowing you to place it however you like without any problems.
| | |
| --- | --- |
| Dimensions | 73"H x 36"W x 36"D |
| Color | Satin Nickel, Chrome |
| Color temperature | 3000K |
| Lumens | 2500 lumens |
| LED wattage | 25W |
| Warranty | 6 months |
8.  Arnsberg Lighting Alessandro Volta Portable Battery Wall Sconce
The last option on the list is one of the best cool wall lights you will find. It may be small, but it's quite powerful and very stylish. Plus, the portability and rechargeability of the lamp make it quite convenient. You'll be able to place it anywhere you'd like to make your fitness area more energizing and welcoming according to your needs.
Plus, compared to most of the lamps listed, this one is available for a better price. It can be the right choice for people with a tight budget and with little space available at their home gym. You'll be able to change its position whenever you need it, and you won't have to deal with cords while using your office gym equipment.
| | |
| --- | --- |
| Dimensions | 5.5"L x 4.75"W x 4.75"H x 1lb |
| Color | White, Black |
| Materials | Die-Cast Aluminum |
| Color temperature | 3000K |
| Lumens | 200 lumens |
| Charger type | USB C (Included) |
| Warranty | 5 years |
Video ads for product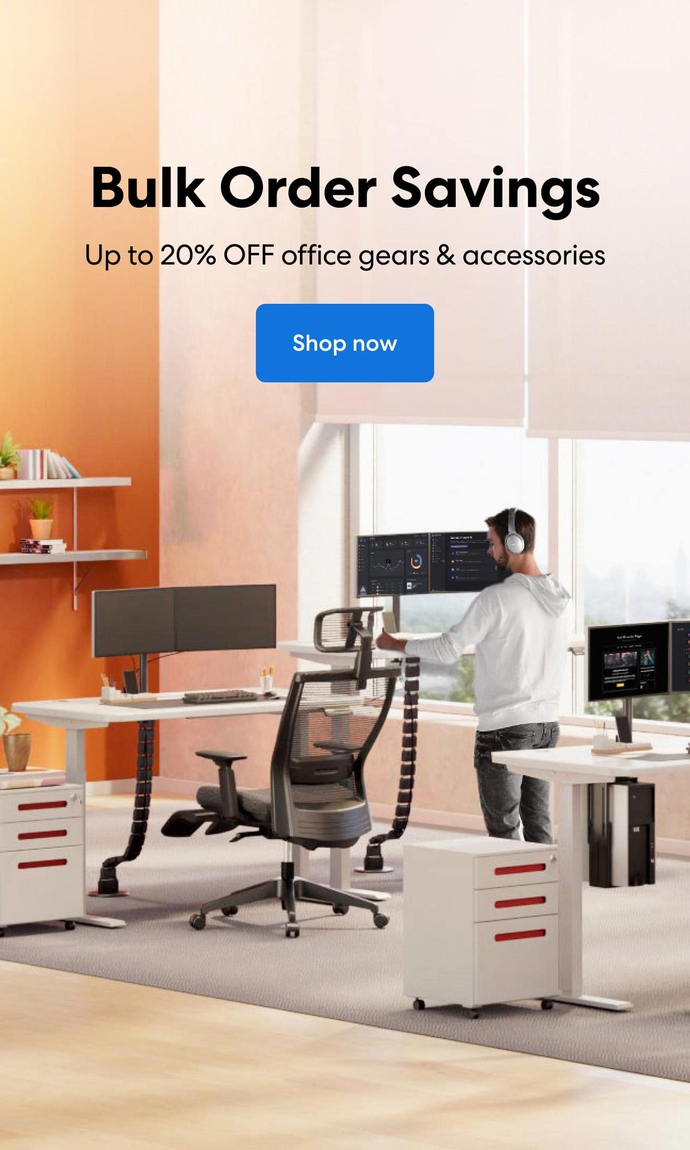 Subcribe newsletter and get $100 OFF.
Receive product updates, special offers, ergo tips, and inspiration form our team.