Workplace Inspiration
Home Office Shelving Ideas for an Organized Workspace

Autonomous
|
Mar 10, 2021
4,740 Views
Whether you're working from a traditional office or working from home, the importance of an organized workspace can never be negated. You can utilize home office shelves, drawer set up, and even full cabinets to make your environment extremely organized.
Utilizing shelves is one of the best ways to make your space more organized and pretty. Not only can they be used to create extra space in your room, but they also can be decorated to look extremely beautiful. If you've been looking for home office shelving ideas and also office design trends, you've come to the right place. This article will help your home office stay organized and on-trend with office shelves.
Benefits of Staying Organized
Before we delve into keeping your workspace organized, it is important to know why your workspace should be organized in the first place. The benefits of having a decluttered and organized workspace are numerous. Therefore, we have discussed some of those benefits below:
1. Declutter your mind
When you have a small office at home, it is easy for your mind to get cluttered and jumbled due to the mess in front of you. With an organized workspace and good small office setup ideas, you will save some mind clutter that will hinder your productivity.
2. Be the Most Productive
An organized desk will make everything accessible to you. Therefore, you will not have to waste time looking for the things you need regularly. Moreover, the less the mind-clutter you have, the more and better you can concentrate on your work.
3. Makes Your Surroundings Look Presentable
Whether you're hosting some clients or are in a virtual meeting, you are not the only one who needs to be presentable. Your office needs to be presentable as well. Having an organized workspace will make everything look presentable and professional.
4. Better Ergonomics
An organized workspace does not simply mean having everything in place. It also means having everything comfortably in place. Therefore, when you have an organized workspace, it is likely to be ergonomic and comfortable, allowing you to work for long hours without issues. You can add an office standing desk to make it more ergonomic.
5. Minimalist yet More Space
If you add small furniture accessories such as shelves into your office, you will not hinder its minimalist appearance. However, doing so will give you extra space for more organization and décor.
How to Keep Your Office Organized
Organizing is a personal process since everyone organizes according to their preferences and requirements. However, by following some simple tips, you can make your workspace look well organized.
Designate Places to Everything
Doing so is very obvious considering what organizing means. When you have a designated place for everything in your office, remembering its location and reaching for them when required is easy.
Does your profession require a lot of offline documentation? Files take up a lot of space, and simply placing them on shelves will not work. It is best to install a filing cabinet in your office to make navigating through files easy.
If you have many things to store in a home office, it is best to add some extra drawers and home office shelving ideas to make more space for extra stuff. Doing so will make your room look fuller, more beautiful, and organized.
Adding Space for Better Office Organization with Shelves
As mentioned earlier, the best way to add extra space into your office for better organizing is by adding shelves. You can get creative with your imagination and by referring to some home office bookshelf ideas.
1. Shelf Wall
If you need a huge space for storage and organizing an office desk in your office, you can dedicate an entire wall for shelves. This wall can give you a lot of scope for creativity as you have several décor and installation of office bookshelves ideas.
Many people might find this boring, but you might find this useful according to your storage requirements. You can simply put equidistant long wooden slabs on a wall. You will see this idea commonly when you look for office bookshelves ideas since storing books on such shelves is your best bet.
Adding long horizontal and vertical equidistance wood slabs on a wall to create small squares has become a viral trend. Doing so will give you a lot of space in your room. Moreover, if you utilize the entire wall with these shelves, you can use them for exemplary décor. These bookshelves designs for office can also be used to place a lot of plants.
Workstation Surrounded by Shelves
You can fix a monitor arm and long work desk. You can create shelves on the entire wall, leaving some space for your system, desk, and chair. This will make reaching out for things very simple, and with some LED backlights, space will look heavenly.
2. Small Floating Shelves
Do you not need a lot of space in your home office but would appreciate some minimalist space for storage and décor? You should add small floating shelves in your office. You can find most shelves in a set of three or four, and they come in different shapes and sizes.
You could either opt for corner shelves that will stay tucked away with their triangular shape. Otherwise, you can choose long slabs that will go one over the other and can be placed just about anywhere in the room. Floating shelves are perfect for adding space and décor wherever you want in your room.
3. Standalone Shelf Divider
Do you have a large room that you'd want to divide into sections? You can add a standalone shelf divider while it looks like a fancy version of library stands. It is a good home office shelving ideas. They can be placed just about anywhere in your office and will add extra storage space along with looking incredibly beautiful.
Adding Space for Better Office Organization with Shelves
You don't just want an organized desk because it looks great-you want one that works, too. When your supplies are out of order, it's very frustrating when you're trying to accomplish something. You need to be organized and creative with your storage using these office shelving ideas in your home office if there is a limited amount of space.
Stacking Office Shelving Ideas
Easily access headphones and other devices with a coat rack mounted above your desk. If you want to hang bulky items such as headphones, cables, and cords, and another technology that won't clutter your desk or drawers, a coat rack mounted above your home office workstation is an ideal office shelving idea solution.
Modular Office Shelving Ideas
Make a drawer dividing wall from a utensil arranger. One of the simplest office bookshelf ideas is to keep minor office supplies uncluttered in a utensil arranger with multiple compartments. You can effortlessly access your most frequently used items by keeping them in a drawer.
Using box under the desk as storage
Utilize the space under your desk as much as possible. You need to take advantage of every inch of space in your home office-including the space under your desk! A small bookshelf or storage cabinet may even be able to fit under the area in your home office desk layout where you sit if there is enough room.
Wood shelves
Extra storage can be added with a cart. Unlike stationary carts and similar home office furniture, rolling carts can be moved easily from one location to another, and they can also easily serve as extra storage. You'll find it so much easier to grab something when you need it with this type of home office organization! Hide the box next to your desk and place some cups or jars on top for everyday office supplies.
Home office Shelving idea with pipes
If you have an office at home or a professor's office, this bookshelves design for office would be perfect for you. If you wish to display a collection of books in your office so you can reference them when needed, this piece can help you organize them. An overhead home office shelves can be attached directly to a desk using flange fittings. 
Built-In Desk Cabinetry Ideas
Despite being an office necessity, printers can feel a little intrusive. If it's stored in a filing cabinet, you need to take it out of it to make use of it. Your office's lower cabinet can be transformed into a pull-out shelf that will solve both problems! You can make your printer more accessible by adding a shelf (pull-out) to the lower filing cabinet in your home office shelving ideas.
Shelving idea under stairs
Under your stairs, tuck a gorgeous cabinet as a storage home office shelving ideas solution that is both beautiful and functional. Count on a cozy armchair and an area rug to create a relaxing space. The wall space under the stairs can be filled with a few floating shelves if you prefer.
Home Office Shelving Color Ideas
It is astonishing how color fills a room with life and how it affects people all over the world without you even realizing it. It is important to think about what you are trying to achieve to choose the ideal color scheme for an office.
Go Bold
The transitional design proves that you can work as much as you like while still being comfortable. Vibrant colors are refreshing and add lighthearted levity to organized chaos. You may want to consider more than one set of drawers, but make sure they are all the same to create a cohesive look. Green and gold are two colors to consider. This is an idea that will inspire you to create your workstation.  There are vintage brass-and-leather accents and a silk rug to make a statement against the white cabinets.
Soft Pink
Your workspace looks stunning, and everything you need is right at your fingertips when you're working with Windows. An office with plenty of storage and lots of white will give the illusion that the space is larger than it really is. A white and wood-tone decor is made even better with a touch of pink. Otherwise, you could even pair up neon pink decor with muted pink ones.
Yellow
You could use a simple color scheme such as white, grey, and yellow if you are a lover of nature and want to find inspiration from it during your workday. When the light is perfect, you'll be able to get your creative juices flowing. We have the perfect workspace if a contemporary setting is what you're looking for. There is a trend for chairs with yellow stripes for days, and we couldn't let that pass our radar.
Dark Blue
In the home office setup, it is considered to be advantageous to choose medium or dark shades of blue to enhance communication and improve creativity. Having a luxury office space will make you want to return time and time again. In addition to creating an ambiance conducive to maximum productivity, warm navy blue walls also create a meditative mood. The color blue serves as a symbol of reliability, trust, and logic, so it will benefit your business in terms of acquiring new clients and retaining existing ones.
Coral and Peach
If you wish to give your office a creative vibe, peach and soft pink are excellent choices for the walls. As it is muted, it is soothing to the eye as well as helping you improve your concentration. You could even pastel shades like green, blue, and gold decor and fixtures when muted. The combination of pink and light green walls in your home office can create an inspiring atmosphere.
Brown
Your workday can feel richer when your office is beautifully decorated with wood. Integrating all of the right elements into a modern office setting is the key to making it stand out. Don't miss the opportunity to own a table lamp from the industrial category. Greenery and geometric accents bring life to the decor, which is characterized by soothing neutral tones. The traditional setting that you might think of for a dinner party is a nice, light white table setting with a dark brown or black chair with a metallic accent.
Half and Half
To create a professional look in your home office decor, you need a moody, dark room. If you have the right details, such as an inspiring workpiece, working from home may be the right choice for you. Black furnishings and strong lines make this arrangement visually appealing. Earthy textures are blended with vibrant colors to create a truly unique look. Think black and white; two contrasting colors are combined in the half and half mixture. If you add textures, you could make the color combination less dramatic.
Multi colors with Pattern
Create a dazzling and dizzying space if you aren't sure which color to choose. The seat can be multicolored, and the desk can be brightly colored. Adding family photographs to the windowsill will complete the look. You could also hang one large piece of art instead of a gallery wall if you aren't sure how to put one together or what color to pick.
Endnotes
There is no better way to add space in an organized manner in an office than some shelves. You can get as creative as you want with straight or abstract shelves in your office. Not only do they add space, but these home office shelving ideas also give you décor and organizing options.
Video ads for product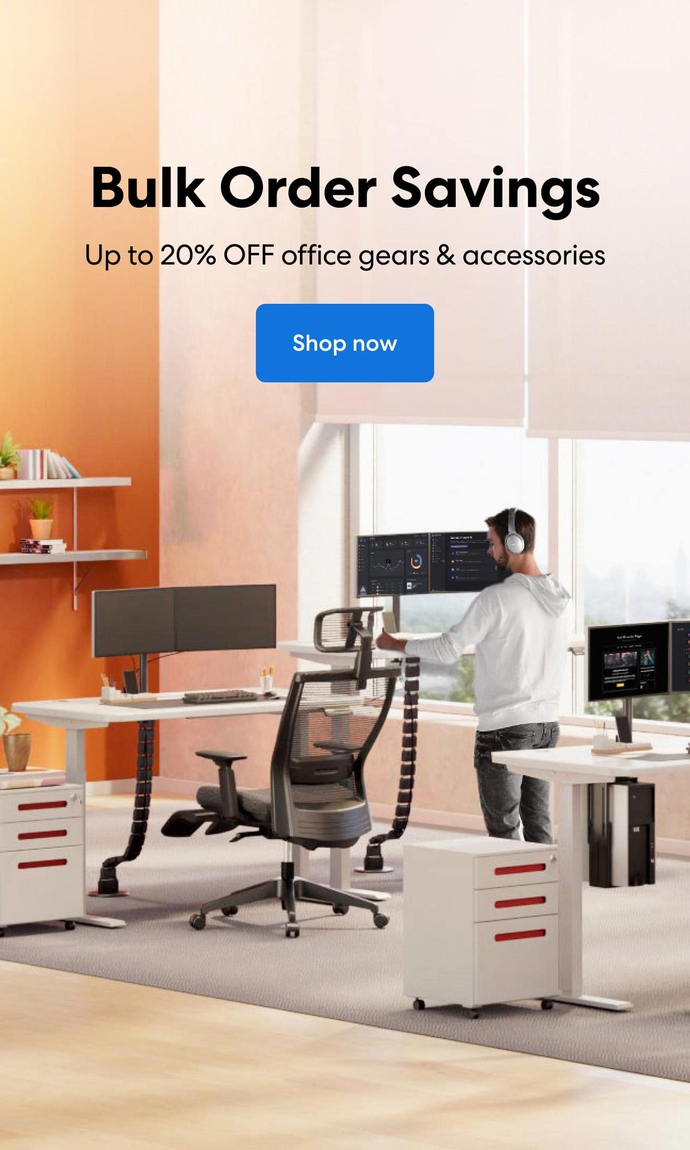 Subcribe newsletter and get $100 OFF.
Receive product updates, special offers, ergo tips, and inspiration form our team.