Productivity
How to Build a Great Employee Perks Program: Tips for Businesses
1,477 Views
An employee perks program can mean a lot of things, depending on the type of business you run or work for. If you are trying to build a great benefits plan for your staff, you may be feeling a little lost and unsure where to start. 
As a manager or business owner, you have a responsibility to the people who work for you to provide them with a safe, positive, and enjoyable workspace. Part of that is offering the best employee benefits you can afford. 
In this detailed guide, we look at why perks for employees are important. We also look at a few of the most popular options and how you can make them work for your business. 
What Is an Employee Perk?
By definition, a perk is a little something extra you receive because of what you do, the way you are, or who you are. In the workplace, a perk is something other than the salary that you receive in exchange for working. 
Perks are often financial, but they don't have to be, especially for small companies that don't have a lot of capital to spare. Don't panic if you can't offer big shiny bonus checks to everyone twice a year- that's not what it's all about. 
The idea of an employee perks program - whatever form it may take - is to provide staff with something valuable to them that can benefit them in one way or another. It could be extra money, more free time, access to parking, a gym, a nurse, or anything else you can think of. 
Why Are Employee Perks Important?
Everyone loves a perk, especially at work. People spend most of their life working - is it so much to ask to get a little extra in return? Wages are one thing, but that is a payment in exchange for a service, not thanks for the hours of daily dedication companies receive from their staff. 
In a nutshell, employee perks programs are important because they make people feel valued and respected. They also make things a little bit easier in the big bad world. Let's look a little closer. 
Benefits for Employers
Staff who feel valued by the company they work for are more loyal and usually stay with them much longer. Having a core group of staff who are dedicated to your business can carry you far.

Although it may cost you a little more to provide certain benefits and perks for employees, you are likely to get more in return. Employees work harder, are more productive, and bring more success to your company.

Your reputation as an employer can benefit from a plan for employee perks programs. People are more likely to want to work for you if you provide good incentives.

You can attract a higher quality of workers if you have a good employee perks program. People who know their value expect that value to be rewarded by the company they work for.
Benefits for Employees
Added stability is always a good thing, especially when it comes to health and finances.

Going to work in a place you feel valued is good for mental health.

The possibility to earn above and beyond the standard pay package is highly beneficial during difficult financial times or in the run up to an expensive period.

Feeling incentivized to work hard to earn employee benefits and bonuses often brings out the best in people and makes them achieve things they may not have thought possible.

 
Possible Perks
You can get creative with what perks you provide your staff and can tailor them to suit your business. There are many types of perks or benefits to offer employees to boost morale and productivity. 
Overtime
Giving staff the option of paid overtime at an increased rate to their usual pay rate is a common type of employee benefit. It is there for people who wish to take advantage of the opportunity for more income, but it is not mandatory. 
Pension Benefits
Planning for retirement is something that weighs heavily on a lot of workers. As state pensions dwindle and government support becomes more limited, people rely heavily on a good quality pension plan from their employers. Knowing that the company you work for is looking after your future and helping you prepare for a well-earned retirement is one of the most valuable employee perks programs of them all. 
Health Care
Companies that provide a good health care plan for their employees are proven to have happier, healthier, and more loyal staff. Working for a company that can cover the costs of at least the essential medical care is incomparably valuable to the average American employee. The more additional services you provide - for example, dental care, operations, or vision plan- the better off your staff becomes, and the more productive they are at work. 
Childcare
Parents with young children who work full-time struggle to find affordable childcare. Short of relying on friends and family, it is simply not possible for many young families or single parents. Offering an on-site childcare facility or assisting with the cost of hiring a nanny is an extremely valued perk in the modern working world. 
Vacation Time
Paid vacation is not a given, but it makes a huge difference to those who have it. Including fair vacation time without any loss of wages is an excellent employee perk. Working without the possibility of paid time off is demoralizing, draining, and likely to turn people away from your company. 
Office Happy Hours or Casual Days
Having a fun event once a week in the office, be it a no-uniform day, a deserts cart, pizza party, or a Friday afternoon happy hour is a small way to lift the spirits of employees without spending a fortune. SMEs are prime candidates for this kind of perk as it can bring small teams closer together and create a great team spirit. 
Bonuses (Cash or Other Rewards)
Cash bonuses are a nice perk if a company can afford to give them. The incentive of extra money if you work hard and do well is an effective motivator. It doesn't just need to be cash- extra vacation days, a prize, or some other rewards system can work just as well. 
An Employee Purchase Program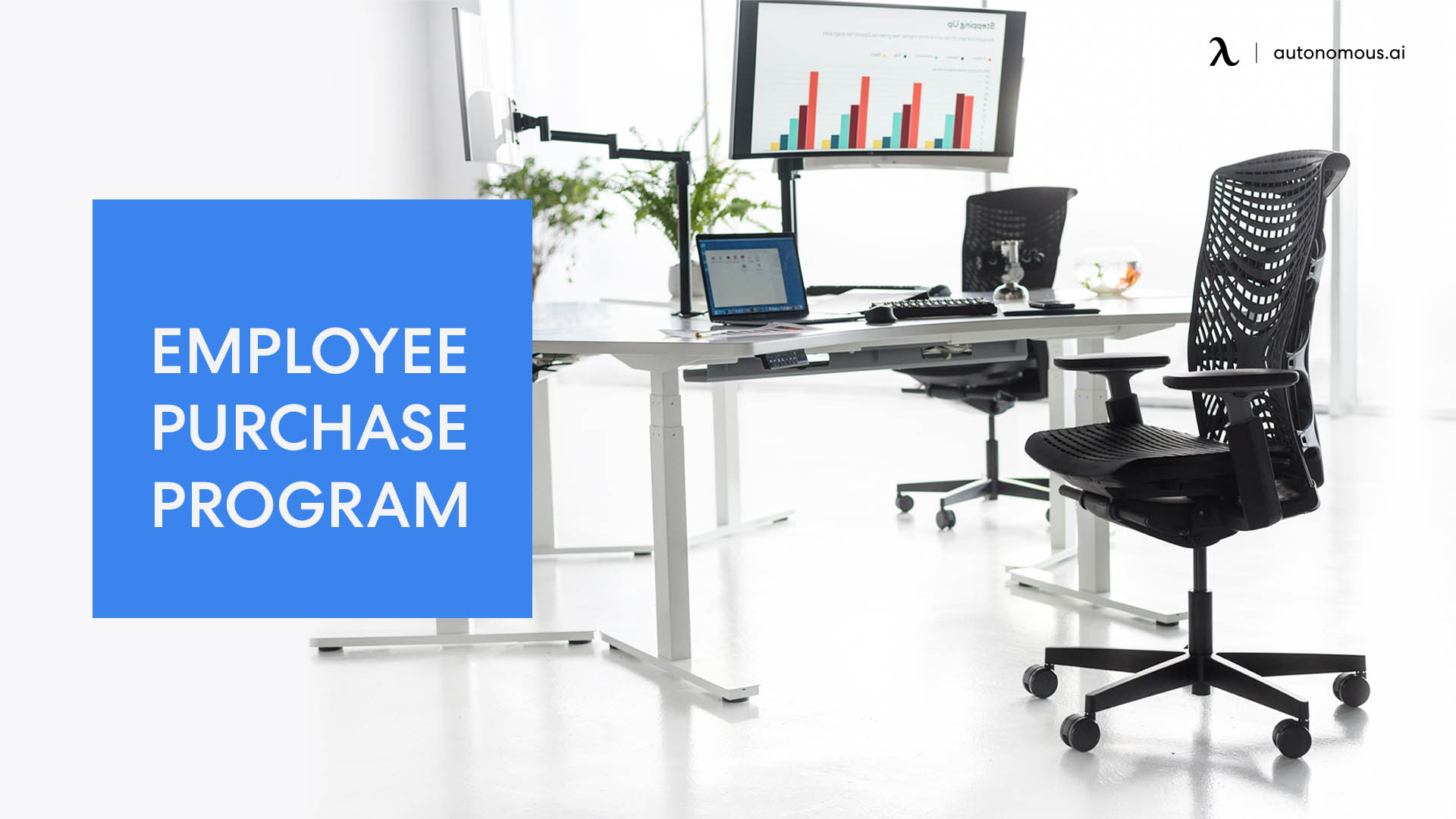 Offering an employee purchase program is especially valuable if you have remote staff. Registering your business for employee discounts at a high-quality office ware provider helps staff to kit out their home offices professionally without breaking the bank. Provide staff with the work from home essentials or at least somewhere to get them at a discounted price. 
An employer would have to provide them with equipment if they were working in-house, so supporting with home purchases is a nice perk. EPP for employer use is also worth having, as it helps keep things uniform across the board. 
Five Steps to Building a Great Employee Perks Program
1. Think about what matters the most
The most important thing to consider when putting together an employee perks program is what people actually want and need. The best employee benefits trends are the ones that improve the quality of life for your employees in a way that matters. 
Prioritize based on the budget you have to spend on your plan for employee perks. Don't spend a fortune on expensive prizes or fancy work events if your staff are in desperate need of health care, for example. Start with the essentials and build from there. 
2. Incentivize
Offer some perks for employees on a rewards basis. It is important to have your standard across the board benefits, but a little extra incentive goes a long way. An extra vacation day for the employee of the month, a quarterly bonus for the top seller or a meal in a fancy restaurant paid for by the company for a special achievement are all possible things that could work. 
An incentive to do well - especially one with value - is one of the best motivators. Keep a few perks reserved for those who earn them, as well as your set benefits plan. 
3. Provide the best equipment
One of the things that most affects the mental state and well-being of your entire staff is the environment they work in. Some people spend a huge percentage of their time in the office, so it makes sense how much it matters. 
Providing staff with comfortable ergonomic chairs and a smart office desk set up is a perk in itself. More than that, it is a sign that you care about the people who work for you. Turning up to an efficient, modern, and well-organized office every day is one of the best employee benefits you could offer to your staff.  
4. Listen to feedback
Like most things in modern business, an employee perks program can benefit from communication. Listen to what your staff needs, wants, and thinks. You don't need to follow everything they say to the letter, but it is a great tool to help guide you into building the best plan. 
Even the best manager does not always know exactly what employees are thinking about perks or benefits, so just ask. Better to take some employee feedback early and adapt your plan than to waste time and money paying for things your employees don't particularly need. 
5. Be consistent
Once you have finalized your plan for employee benefits, stick to your word. Ensure consistency across every member of staff and don't let things slip through the cracks. If you promise a certain amount of holiday, deliver it. Don't promise a bonus, and then don't see it through. Definitely avoid putting something in your plan that is not realistic for your business to support. 
Create a plan that is sustainable for your company but also beneficial for your employees. Not every business has the revenue to offer a fully comprehensive health and dental plan with a guaranteed raise every quarter, but everyone can manage something. 
Perk Vendor
If you are still unsure of the best way to proceed with your employee perks program, we recommend using a Perk Vendor. These companies help you put together a comprehensive plan made up of the best employee benefits for your business. 
These programs are game-changers. They have hundreds of suggestions on what benefits to offer employees and how to track their effectiveness. Using this type of site can also teach you how to make the most of your budget. 
One of the best options is COMPT. This company builds tailor-made perks programs packed with creative ideas and cost calculators. You can also browse through post-COVID perk programs if you have a lot of remote workers to find out how to include them. 
Use the perks performance analysis report card to keep track of the effect your perks are having so that you can update and evolve as it is necessary. 
Final Thoughts
No business can thrive without a happy, loyal, and committed staff. People who feel undervalued often underperform. On the other hand, those who receive encouragement and respect give more and try harder. 
Building the best employee benefits plan for your staff takes a bit of effort, but you are sure to see the reward in no time. Offering even a small token of your appreciation as a manager or business owner can go a long way. From Taco Tuesdays in the office each week or a paid night out for the team once a quarter, to a comprehensive dental insurance plan and an on-site therapist or masseuse - there are plenty of options of what you can offer. 
Using a perk vendor to help create your employee perks plan is an effective and intelligent way to find the right solution for your business, foster employee engagement and budget if you really don't know where to start. 
In summary, you should focus on the things that matter, work within your means, and do not be scared to evolve and develop as your business grows. Understand the value of your staff, and make sure they know you appreciate them!
Subcribe newsletter and get $100 OFF.
Receive product updates, special offers, ergo tips, and inspiration form our team.
WRITTEN BYAutonomous
We build office products to help you work smarter.