Latest Updates
How to Handle Anxiety from School - Back To School Season

Autonomous
|
Aug 15, 2022
859 Views
Anxiety over returning to school is common and reasonable. Returning to class may cause anxiety in many children following a long summer holiday. Others could have anxiety when they begin their first year of school. Whatever the situation, parents can ensure a smooth transition back to class by being able to identify the signs of tension and worry and putting some original techniques into practice.
Some children worry because they fear change, particularly if they move to a new institution or facility. Additionally, they can worry about making acquaintances, the course load, and if they possess the necessary abilities for success. This article will share some tips to handle your child's anxiety from school. To enhance your child's mood, you can also look up the back-to-school sale offered by Autonomous.
Why Do Children Feel Anxious During Back to School Season?
Separation anxiety at school is perhaps the most frequent reason for school rejection. The school holidays might be a relief for kids who are tormented or don't feel positive regarding themselves. However, they could be anxious in advance about going back to school. Students who have problems settling into a different school or beginning a new academic year may have trouble returning to life after a lengthy holiday break.
Parents frequently lose themselves regarding how to best support their kids during this shift because of academic and social issues. For them to avoid adjusting their habits when school resumes, it helps if kids have some discipline over the vacation. It may also be beneficial to assist them in receiving additional counseling over the vacation.
Parents must, however, emphasize their children's positive traits and assure them that they will fight for them. Many educators only required a better understanding of each child's difficulties. They contemplate contamination concerns when they consider juvenile OCD. However, students who have difficulty with perfectionism are more difficult to comprehend.
In truth, professors could compliment a student's work by saying it is "perfect." They fail to see how long the youngster may have spent working on another "excellent" task at home. Because particular personality features define their conduct, children with ADHD often struggle to adapt. Some instructors unintentionally message the youngsters that there must be something "wrong" with them since they do not even comprehend the reasons for the conduct.
Children with abandonment issues could worry about their families or their wellbeing and may look to elders for assurance. Teachers tend to be extremely consoling, but this might make it more difficult for anxious children to confront their anxieties. We should support teacher education. We must instruct them on how to interact with children and build up their institution's support system to eliminate the fear of going to school.
Tips to Follow for Children Facing Anxiety During Back-to-School Season
By experimenting with various techniques, parents may help youngsters relax, get through all the hiccups, and move into a good academic year. We must prioritize mental wellbeing first and education second, as we often emphasize. Here are a few school alternatives for anxiety and tips you should follow.
Be Overjoyed
Children, in particular, draw their sentiments on others around them. Children will often get anxious about the upcoming school year if they observe their parents or guardians being anxious. Yet, if parents show enthusiasm for starting school again, this will encourage children to see going to school favorably.
Stick with Honesty
Some pupils worry about a new instructor, while others worry about getting used to a new structure's layout. A few chats about your anxieties might help you feel less apprehensive. Since kids are still figuring out routines over the first few days of school, these discussions might need to be repeated.
Encourage Independence
Depending on their age, anxious sensations might vary greatly. For older children, changing courses and navigating a new building may cause anxiety. Young kids could experience anxiety from school if they don't know who will assist them when their parents are away. Spending time learning how to tie laces, zip up coats, and open food packages before the school year might be beneficial.
Follow Routines
Students frequently take the summer off from their regular academic program. Bedtimes are delayed, and meals are eaten at irregular intervals, so there is no concern about schoolwork. A few days before the start of the school year, establishing a routine might be quite beneficial. Before the dread of returning to school sets in. Get in the habit of getting to bed early and rising when you need to for education. Being well-rested can lessen any potential anger felt when dropping off.
Communication
Interaction with staffers might be important despite the age of your youngsters. If your kid is experiencing anxiety from school, let the school know. Teachers are returning to their classes and available via text or email before the arrival of the pupils. By doing that, the instructor can get in touch with the kid or keep an eye out for any overt indications of concern and stress in the class.
Strategies for Repose
Students can start learning soothing strategies for handling uncomfortable circumstances as they age. Talk to children about relaxation exercises as well as how to calm breathing while feeling stressed before they start school. Speak to your kids about how it's fine to ask an instructor or team member for assistance if they have trouble breathing or calming down.
Review the Plans Beforehand
It is beneficial to review ideas with kids before classes begin. For families, this can entail going through the classroom manual together, going to a back-to-school event, or taking a tour of the facility. Students will comprehend the daily timetable and learn the rules by doing this. They won't even have to worry that much if they do this.
Set up a system
Being organized is crucial to lowering hectic mornings. Assign a specific location for footwear, book bags, plus lunch boxes. Children learn the schedule and understand things to do every morning if parents are organized. Additionally, if you prepare snacks and lunches every morning, it might be useful to have them arranged.
Furthermore, you can also look up back-to-school gift ideas and buy the perfect back-to-school gift for kids to boost their moods. You can also get your children the best study room furniture, including the best study chair for them to study properly while at home.
Video ads for product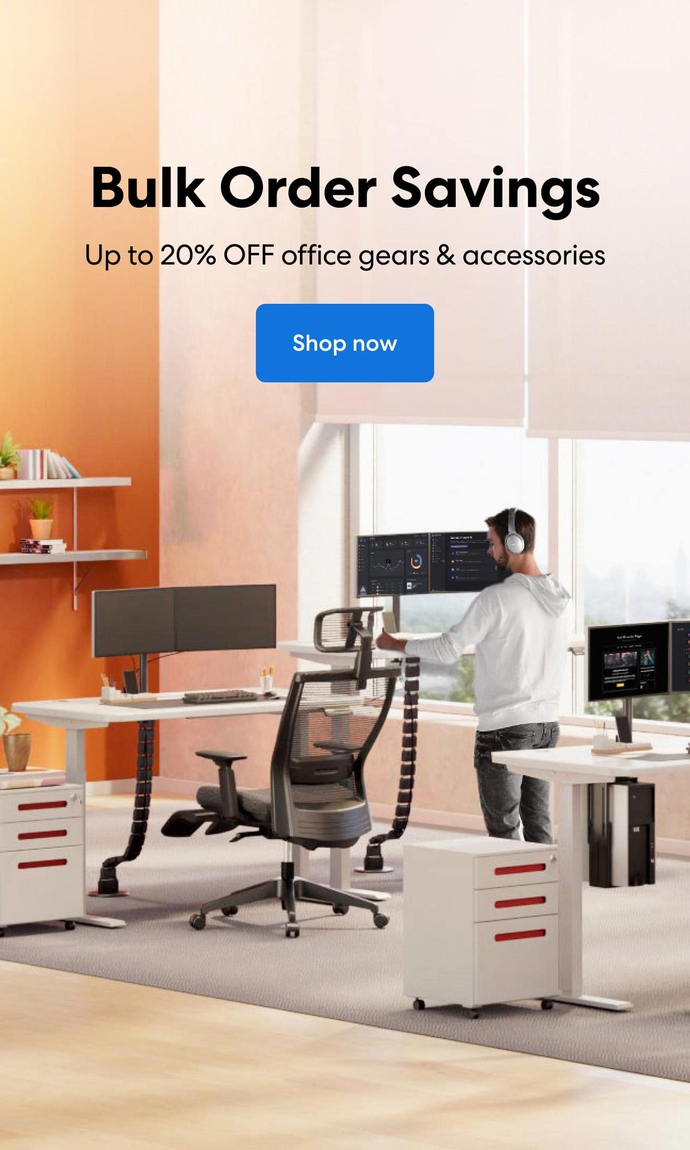 Subcribe newsletter and get $100 OFF.
Receive product updates, special offers, ergo tips, and inspiration form our team.