Work Wellness
How to Maintain Family Work Balance for Teleworking Parents?

Autonomous
|
Mar 3, 2021
2,255 Views
Knowing how to maintain a family work balance can sometimes prove to be more difficult than initially thought. Balancing the extreme pressure of having to complete work while also having to look after a family can be challenging. Working from home with kids is never a simple task. Children often require a lot of your time and effort, and so does your work. Figuring out how to balance these two challenging tasks can be difficult; however, we have taken the liberty of doing so for you. This means you can spend less time worrying about that and more focusing on being with your family and completing work.
Knowing how to balance work and family is something that professionals have been trying to figure out for a while now. Both of these are quite demanding, and unless you are able to create a proper work-life balance, being able to deal with the two efficiently is going to be next to impossible. Focusing your energy on finding that balance means that you have more time on your hands that can be spent with your family, rather than working tirelessly to submit work.
Finding the Family Work Balance
Working from home creates the problem of no longer having a distinct time when work ends, but instead just having work that you need to get done before the day ends. This can be rather stressful and can result in much longer working hours than you initially bargained for. This becomes a problem as it makes balancing your life more complicated than you may have initially thought. For this reason, it is crucial to create  and achieve a work and life balance. This can be easier said than done, though.
There are two great ways to deal with this problem. The first of which involves creating a work from home schedule and sticking to it. Creating a program allows you to plan your day. When planning your day, you should make time for the most important things you need to get done first. In doing so, you ensure that the tasks you need to finish for the day are done. This means that you can have more time for activities you enjoy as well as having time to spend time with your family, like working from home with kids, you need to spend time playing with them. Not creating a schedule often means that you end up just "going with the flow." This is not efficient at all as you often realize that you have no time for anything other than work should you choose to work this way.
The next method of dealing with this issue is having a dedicated workspace. Having a specific area that is specifically dedicated to your work is a great way to improve how efficiently and productively you work. It also helps you achieve family work balance. Having a workspace with an ergonomic chair and home standing desk is a great way to keep you focused and working hard at home. By doing this, you create a work environment that is both free of distractions and also comfortable. This can help you get through your work much more quickly and effectively. Working in the kitchen or around others can result in you being more distracted and not managing to get through the work you plan on getting through in a day.
Make Family Activities
A great way to have a family work balance is to incorporate fun activities into your life. Activities that involve fitness exercise are excellent for clearing your mind and keeping you focused and healthy. Although this sounds great, making time for exercise as well as your family can be more complicated than it sounds. For this reason, you should consider physical activities that the whole family can join in on. Going on a walk, run, or even fun activities like yoga or boxing are great activities that the whole family can get involved in.
By doing these physical activities with your family, you are doing as the proverb suggests and killing two birds with one stone. Along with keeping your mind off work and improving your general health, you also get to spend time with your family and bond. This not only allows you to create a good family work balance, but also create more productive work days for you.
Exercise also releases endorphins, making everyone feel much happier and more relaxed. This allows you to complete work much more efficiently and go about your business much more quickly. It has been shown that by exercising, you are able to think more clearly and focus better. This is great for anyone working from home, as being able to get more work done from home means that you have more time on your hands to spend with your family or on activities you enjoy. And you can achieve family work balance. Spending all your time working is not healthy and neglecting your family for work is never a good idea.
Pros and Cons of Working from Home
Working from home is becoming a new way of life. The coronavirus has made this way of working a norm for many people. However, what are the advantages and disadvantages associated with working from home? The truth is that there are a fair number of both. Some of them are dependent on how well you are able to manage your time.
The advantages associated with working from home  
You are in a more comfortable environment.

Save time and money by not having to travel to work.

Your working hours can be more flexible.

Having a dedicated workspace means that there are

fewer distractions.

Should you manage your time effectively, you can have more time with your family.
The disadvantages associated with working from home
These advantages all sound great; however, there are also some downsides associated with working from home. These are:
Keeping motivated can be more difficult.

Not having the necessary equipment for a home office can be a problem. Should you be in need of a great chair and a standing desk? The 

Kinn chair, ErgoChair 2 and SmartDesk 2 are great options for you.

Not having coworkers around can become lonely.
The Bottom Line
It is possible to have a good family work balance if you are able to follow the steps laid out for you in this article. You are in control of your time; make sure to use it effectively.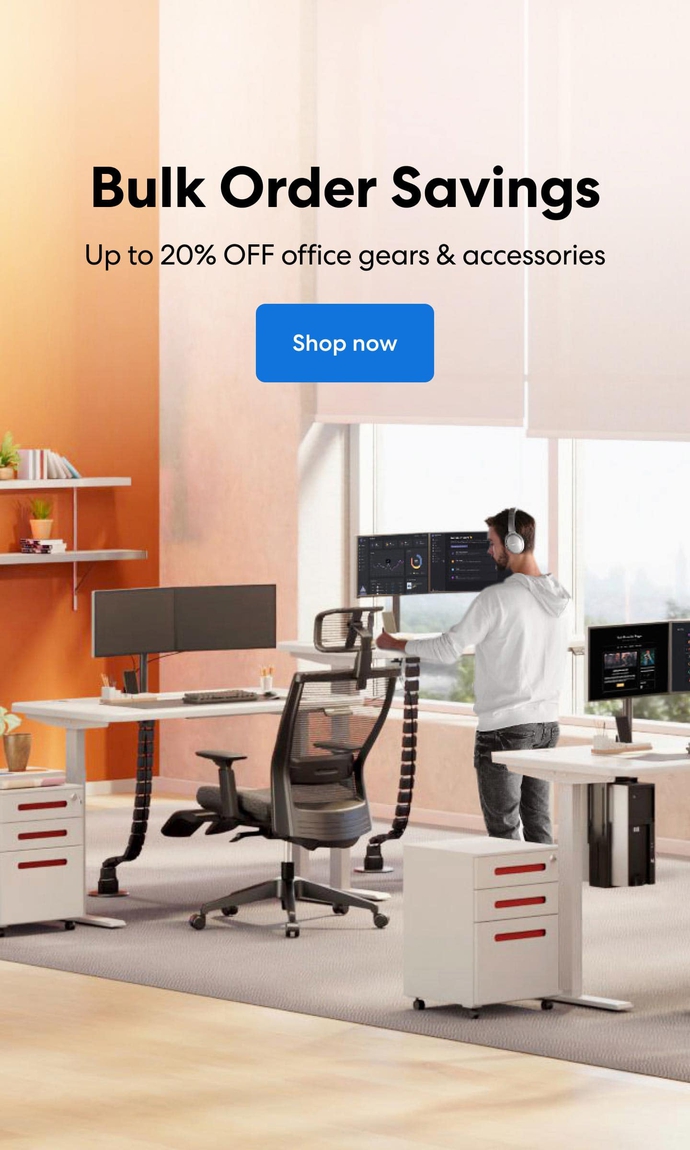 Subcribe newsletter and get $100 OFF.
Receive product updates, special offers, ergo tips, and inspiration form our team.