Is your organization heading towards a change? A change could be scary, especially when it is a new concept. According to the SCARF model, change in a workplace can cause employee unrest and stress. On the other hand, change is also necessary for an organization to grow and adapt to better practices. Since the world becomes more aware of the importance of employee and employee-friendly practices, many practices are being implemented.
The hybrid work policy is one such transition in the workplace. Hybrid working is the future of workplaces, and approximately 9 out of 10 organizations consider a hybrid workplace a future of the organization.
Even though there are many challenges of implementing the hybrid work schedule, proper planning and a strategic framework can easily make this change work. This article will cover various hybrid work policy templates that could work depending on the organization and the final aim you wish to achieve.
What is A Hybrid Workplace?
Before getting all started with the hybrid work policy, it is important to know  "What is a hybrid workforce?"
A hybrid workplace combines both practices of in-house and remote employees working in coordination. It is a combination of various practices and employees assigned different schedules of working both in-house and remote. A hybrid workplace makes connecting over large distances easier, and it also is a great way to hire remote talent without the worry of distance and other barriers.
What is the Importance of a Hybrid Work Model Policy?
Making a hybrid remote work policy for employees and employers is the right way to change the workplace. There are many benefits of building a hybrid work policy. For starters,
Making a policy will educate the employees about this new transition

It will also highlight the importance of this change

Hybrid work policy can define the roles of each employee and employers

It is a good way to learn about what the company is trying to achieve.

It teaches the importance of staying and following the rules

It will prevent chaos and ambiguity in the workplace.
What to Include in a Hybrid Work Policy Sample?
Creating the right policy with the correct set of guidelines is important since it will define how an organization will work and change. Therefore, a hybrid workplace should be smartly crafted and contain rules and certain guidelines around which the organization will work. Here are some important considerations to take before making a hybrid remote work policy:
Introducing the Concept
This should be your first aim with the hybrid remote work policy. Even though the internet is full of hybrid remote work examples, not everyone is aware of the in-depth practices of hybrid remote work. Therefore, an employer can start their policy by introducing the hybrid work model and slowly highlighting the importance of this transition.
The importance and benefits of the hybrid remote work policy should cover both the employees and the employers to make everyone feel understood.
Eligibility Criteria
No matter how advanced the world gets or how many technology facilities are there, not every organization can shift to remote working. Hybrid remote work is a practice that is limited to only a few industries.
Industries like transport, manufacturing, and health care cannot transition to this change. In contrast, some organizations can appoint a certain number of employees for hybrid working while others have to be full practice in-house. 
Here are a few questions to consider before making a hybrid remote work policy
What kinds of roles can be assigned to remote workers?

How many on-site employees are needed

Are employees needed on site part-time or full-time?

Is my organization capable enough to handle remote employees?
Work Hours
If your hybrid remote work is aimed to provide work hours flexibility to the employees, then connecting and remote team collaboration could be a challenge. Make sure to devise working times in the hybrid work policy. A few common hours or a common check-in time could be the right way to bring all employees to the same pace while working. Some organizations also implement strict 9 to 5 work hours.
Work Guidelines
Even though they are working remotely, work etiquettes have a serious impact on productivity. Most remote workers don't take working remotely seriously, thus turning in an error-filled report and unproductive work. Ensure your company states clear guidelines about the quality of work and has some strict measures to not compromise on work quality.
Confidentiality
Cyber Security is a major issue in remote working and hybrid work models and for companies that are processing millions of worth of information, taking a risk on security isn't a wise move. While office networks are usually protected, home networks cannot be assured of privacy. Make sure you ask the employees to work with a secure internet connection with a proper VPN.
Technology and Aid
If your employees don't have the proper facility to work, the quality of work would be compromised. Some projects demand higher facilities and more tools to work remotely. The remote policy should include if or how the organization will help employees and facilitate them with the right technology. The policy can include various factors such as electricity or phone bills or any other kinds of reimbursements.
Legal Rights
It is important to be transparent about the legal rights of the employees. Just because they are working remotely doesn't mean they shouldn't get any bonuses, promotions, and opportunities. This helps in keeping the employees motivated and do more for the company.
Successful Hybrid Remote Work Policy Templates
Using a hybrid work policy template will help you prevent building one for the company from scratch. It will also mean you don't skip on any important detail that could cause you to suffer in the later run. Many companies which have introduced hybrid working as a future of their workplaces, such as Facebook, Twitter, and Microsoft, have taken relevant measures to implement this policy.
Following hybrid remote work models is a good way to start, and later on, you can modify the template in a way that works best for your organization.
Video ads for product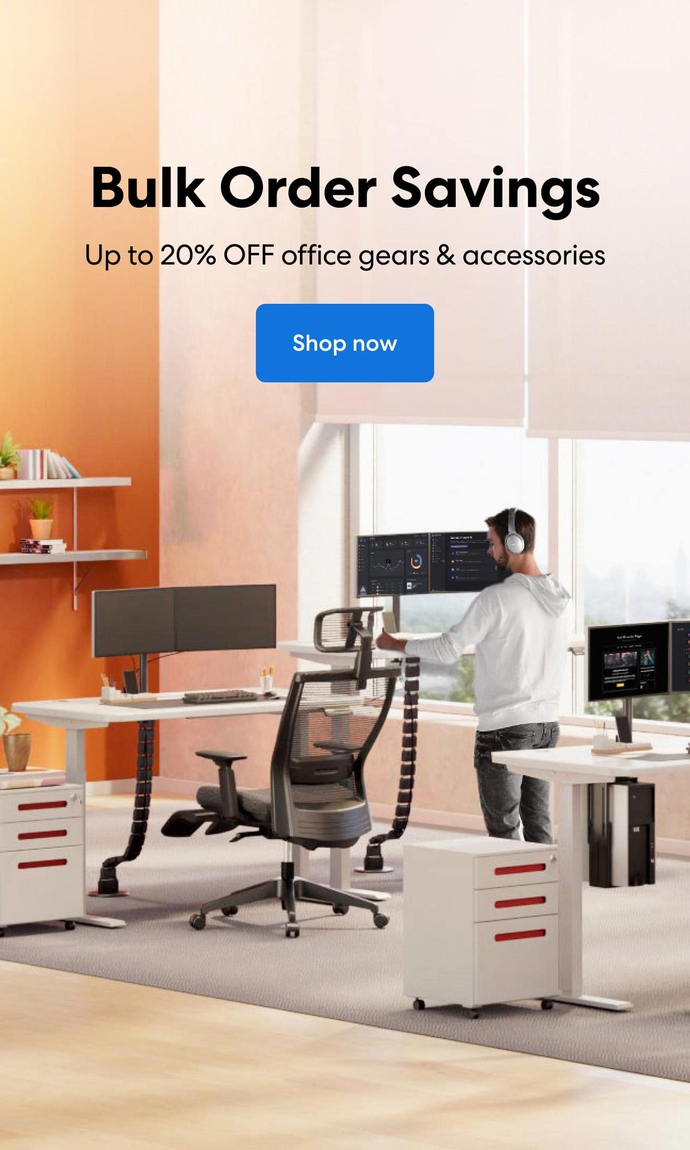 Subcribe newsletter and get $100 OFF.
Receive product updates, special offers, ergo tips, and inspiration form our team.