Workplace Inspiration
How To Makeover Your Backyard Space for Living and Working

Autonomous
|
Nov 24, 2022
740 Views
If you have a spacious backyard, you can take advantage of it to build a comfortable workspace. Those who work from home can benefit a lot from having an external space where they can take care of their responsibilities, as it allows them to work on their obligations without worrying about external distractions. However, this backyard space needs to be transformed into the right space for you to be able to start setting up your new work area.
For today's article, we'll help you give your backyard space a nice makeover so you can set up a nice outdoor work area where you can work on your daily tasks without worrying about the rest o the world.
Backyard Space Ideas You Can Consider to Build a Nice Home Office
Custom-Made Office Pods or Shed Offices
Most people prefer a custom-made office pod, but this option can be a bit expensive. Many companies out there focus on building backyard spaces for residential areas, allowing you to build the small backyard space for the WFH of your dreams without relying on existent designs.
If you choose this option, you'll have total freedom when it comes to the design, size, and overall style of the shed. Hence, it's the best choice if you can afford it. There are no real drawbacks here, apart from the price.
Let In Some Natural Light
While it can be tempting to get carried away with the external design, it would be best if you included a few windows for you to take as much advantage of the daylight as possible. Some aesthetically-pleasing options can be including a wall of windows or using a glass door to keep things illuminated in your workspace during the day.
Pick A Theme
You should pick a specific style to decorate your new home office. There are tons of small backyard space ideas you can take into account, such as modern, boho, and natural, among many others. It depends on what you prefer and makes you feel comfortable throughout the day.
Prefab Backyard Studios
Let's say that you don't want to spend time deciding a style or even deciding the overall structure of your new office shed. If that's the case, then you can consider getting a prefab backyard studio with all the commodities you need to go about your work day. Here's a list of prefab ADUs that you can take into account for this purpose. There are tons of options you can choose from depending on your style and preferences.
In addition, you can also consider a few options for an office garden shed if you want to keep things stylish and harmonious with the rest of the area.
Dimension
106" W - 155"L x 106.3"H
Material
Exterior: Aluminum layer
Interior: Eco-friendly honeycomb paper
Frame: Steel
Include
A closet, desk, bookshelf, TV stand, a foldable coffee table and convertible sofa bed
Minimum wattage
150W
Lighting
3 color modes
Warranty
1 year
Keep Things Light
It's true that you'll use this space in the long run. However, remember that you'll be working here, too. Therefore, you should take as many precautions as possible and make sure that you're building a space that helps you focus and allows you to be comfortable while you're working.
Remember that this is a wide space, but it's also quite limited. Therefore, take into account the following advice while setting it up and selecting the furniture:
Make sure to include furniture with storage space

. This way, your outdoor work area will have enough room for you to place all the items you need without making it feel cluttered or disorganized. Plus, including these pieces of furniture will make it easier for you to keep your workstation organized when it's time to end your work day.

Don't get too carried away with the decoration

. You should only include what's necessary. Some of the essentials may include a desk, your office chair, and perhaps the storage pieces – not counting your computer and all the peripherals you may need to work. Stick to a particular style but try to make it as minimalistic as possible.

Choose small furniture

. Again, this space can be quite reduced, and if you include relatively big furniture, it can be hard for you to feel comfortable since there will barely be space for you to walk. Hence, it's recommendable for your prefab studio shed to include small pieces of furniture to prevent these issues from happening.
That said, there are tons of other precautions you should take into account. We recommend going for a minimalistic style while choosing the best way to set up your new office pod. This way, you'll be able to feel comfortable and get used to your new space.
Consider Making It Soundproof
Last but not least, it's quite recommendable to make your new outdoor work area soundproof, especially if you live in a noisy neighborhood. Even if you don't, it's always best to isolate yourself from the rest of the world while you're working – at least when it comes to sound. The intention is to reduce distractions as much as possible. This way, you'll be able to work comfortably throughout your whole workday without external factors bothering you.
While there are ways to make an office shed soundproof, you can also consider getting a privacy pod with this feature already integrated. Not only will it grant you more privacy if, for instance, you tend to take important calls now and then, but you will also be able to concentrate on your responsibilities easily.
Consider Using A Wood Pod
We have presented here several backyard space ideas that you can take into account to build a comfortable space where you can take care of your daily responsibilities. These spaces are quite convenient and can be an excellent way of separating your personal life from your work life. However, a modern backyard shed is an excellent option for office workers who need more privacy.
These spaces are quite customizable and have enough space for you to decide what the best layout is. Plus, they're resistant to harsh weather conditions and can last for several years.
As an additional piece of advice, we would like to tell you to make this space as comfortable as possible for you. Try to include items that resonate with your personality so you can feel connected to it. It's also recommendable to set up a nice break area, even if it's just a sofa so that you can take breaks whenever you need them.
Video ads for product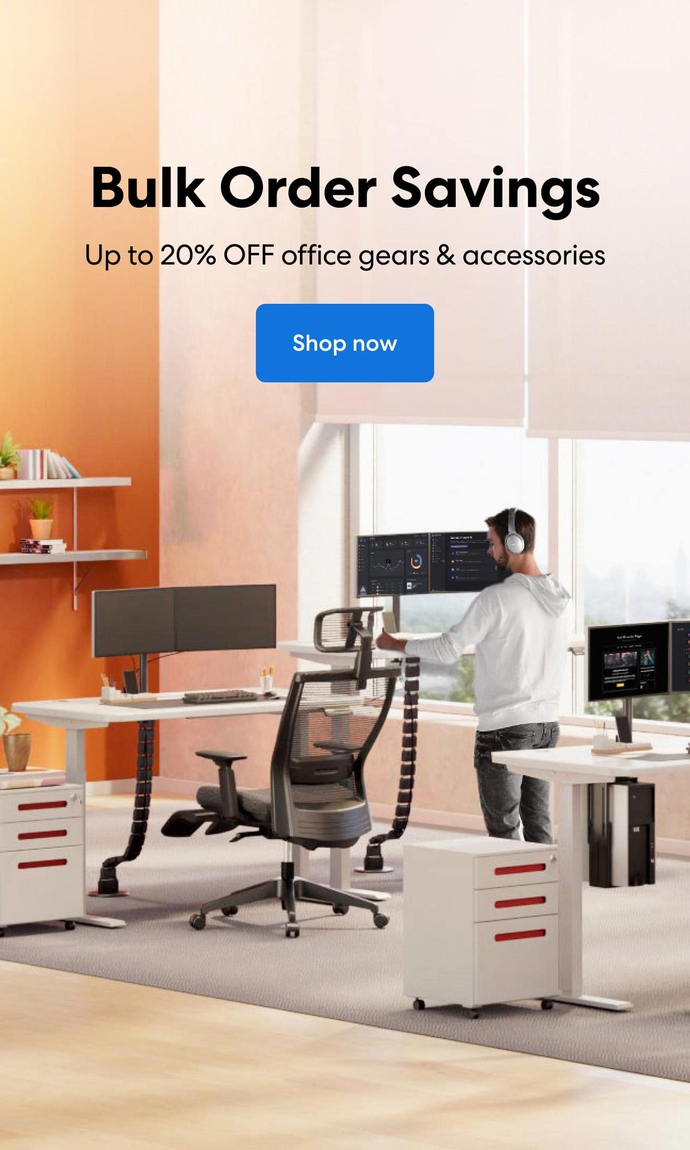 Subcribe newsletter and get $100 OFF.
Receive product updates, special offers, ergo tips, and inspiration form our team.