Productivity
How to Prepare for Work Experience - Things You Need to Know

Autonomous
|
Sep 1, 2021
1,492 Views
Work experience placements will help you stand out from the crowd. However, some niches are more competitive than others, and if you feel like you're missing out, here we have everything you need to know about how to prepare for work experience placements.
Before we start diving deep into the best approach to work experience placement, let's begin by putting ourselves in context. Many people in the industry started where you are right now, so feeling doubtful about how to get a work experience placement is completely normal.
Let's begin this article by defining the basics.
What is a work experience placement?
The term sounds a bit complicated, but it is just a synonym for a temporary role. For example, work experience placement allows people looking for employment in a specific field to learn more about their expertise while earning experience at it (hence the name) simultaneously.
You'll be expected to do different types of work based on the workplace and placement you have chosen. For example, you will be "observing" what other people do or assisting with everyday duties most of the time, although it's also possible for you to work "shadowing."
Work experience placement ideas: Where can you do one?
The small but meaningful opportunities are only available during selected times of the year, typically on summer holidays. However, you're likely to find a work experience placement if you know where to look.
It is unlikely that all companies you visit will be available to offer you a specific role. However, you will be able to find many local businesses that will help you find these opportunities easily.
Before starting out, it is important to make yourself notable. Thus, ensure you contact the employer or apply for that interesting vacancy in advance so the business can arrange and organize everything necessary for you to start fulfilling your duties the right way. If you don't do this with anticipation, it's unlikely for you to be taken into account.
Furthermore, please note that looking for these opportunities is similar to looking for a job. Thus, you may have to get in touch with the employer directly and have a work experience letter prepared to fulfill your application. Therefore, if you're wondering how to get a work experience placement, you first need to look for advertisements as if you were looking for a job.
Eligibility and Benefits
Eligibility for these opportunities isn't tricky at all. Any person is eligible for them regardless of where they are in the career they chose. Still, please bear in mind that work experience placements are often offered to people without experience in the working world (and in their specific industry, of course). Typically, school children, university students, or recent graduates are taken into account with more frequency.
As for the benefits, there isn't that much to question. You will obtain new skills and work experience. Plus, you will also learn how things work in the industry you're interested in. You may also acquire a few contacts for networking and learn how to build relationships with coworkers, and you will have another item to add to your CV.
Some people think that meeting across time zones can be an issue, but as you're looking for an opportunity within your city, it shouldn't be a big problem.
As a last note, it is unlikely for you to get paid for the job you complete during a work experience placement. These roles are often unpaid, as they only last for a short time, and it is also considered volunteer work. However, travel and lunch costs are often covered.
Work experience placement tips for first-timers
If you're looking for work experience placement ideas that will help you make a good impression, you've come to the right place. These tips will help you stand out from the large crowd.
1. Make sure you arrive in time and prepare for the day.
You should know at what time you should turn up. It's also helpful to accustom your schedule based on what you'll do during that day. If you're in time or about five minutes early is a great start to make a good impression.
The first thing you do when you arrive is to look where to report your arrival. Try to do this in advance. It's possible for the employer to give you instructions about where to go and such, while others may make you wait at reception.
2. What should you wear?
Whenever you're fulfilling your application or are getting in touch with the employer, don't forget to ask them questions about the dress codes. These norms change from a workplace to another. Hence, the requirements may be different. If you were unable to find that information, use your imagination to find out what the best outfit is based on the type of job you'd be doing.
For instance, if you'll be doing your work experience placement at a garden center, hard-wearing clothes and sturdy shoes may be the best approach to this area.
3. Your first day!
During your first day, you'll likely be introduced to your coworkers. If this doesn't happen, you can always introduce yourself so that you can make a good impression. Try to listen to them actively and pay attention to your body language whenever someone speaks to you.
During your first day, you'll likely receive all the instructions about where you'll work and what type of tasks you will be performing throughout the day. It's more of a "familiarization day" than anything else. However, others are not so lucky and will be handed duties right away. So it's better to be prepared for anything!
Conclusion
We could continue giving you work placement tips, but the truth is that you'll never know what it is like until you try. A productive desk setup isn't built from a day to another!
Following the advice described above – starting from looking for the actual job placement and actually arriving at the workplace, should help you have a clearer idea of what to do once the opportunity comes up.
Remember to get the most out of this experience. Try to ask any question that you may have in mind about this profession and about a productive work environment overall.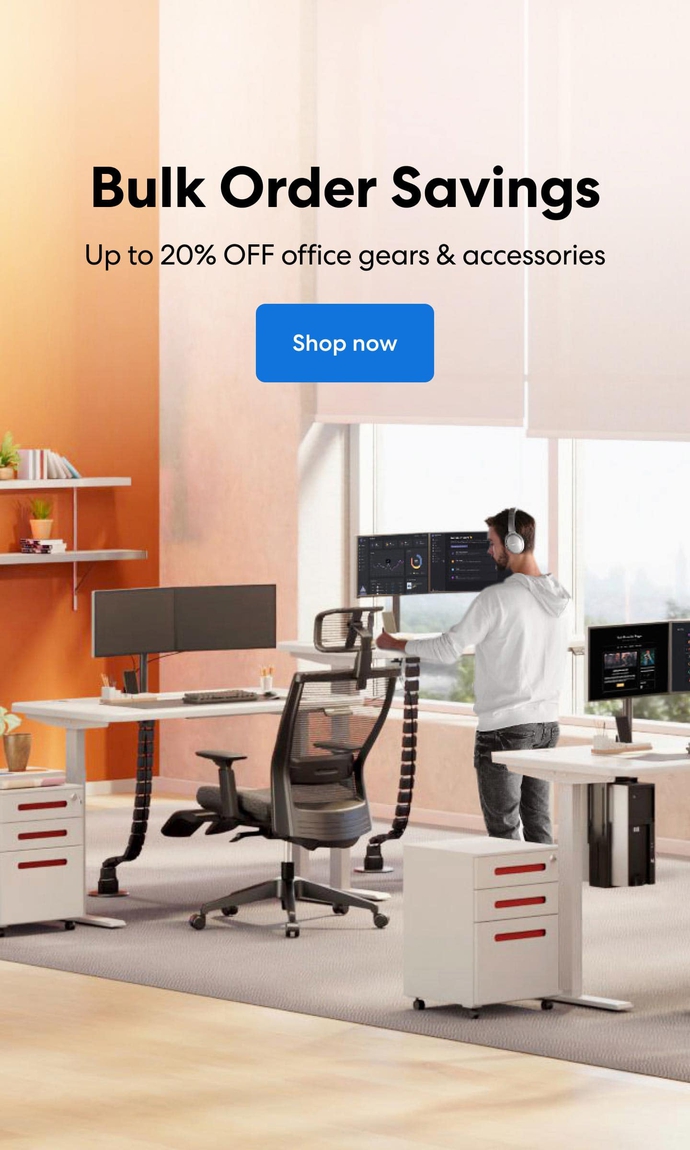 Subcribe newsletter and get $100 OFF.
Receive product updates, special offers, ergo tips, and inspiration form our team.