Making money online is an increasingly popular way to make a living, skyrocketing in popularity in 2020 due to the pandemic. Now in 2021, there are more ways than ever for you to make money online.
While the choices may be plentiful, you don't have to go any further than right here at Autonomous for fantastic money making opportunities that anyone can take advantage of. Sound too good to be true? Read on to discover some of the ways you can start making money through Autonomous programs now.
1. Submit a blog
Do you have a knack for writing? Are you knowledgeable about a topic that would be relevant to our readers? You can submit a blog through our blog portal here and earn $100 for every approved submission. Your content will be featured right here on the Autonomous blog, so you can add it to your portfolio of published work as well.
Our user-generated content (UGC) program is rolling out soon, which will make it even easier for you to share your thoughts with our audience of readers, with rewards given to the topics with the most views. Through this program you'll be able to earn up to $500 every month. We'll also give gifts as incentives to our best contributors!
For more information, check out the guidelines and submit your articles today!
2. Affiliate Program
If you're looking for an easy and quick way to earn money with Autonomous, then this program may be the perfect way for you to put some additional revenue in your pocket. This program allows you to share Autonomous products with people and make money by doing so. You can earn commission on any orders that you refer, making it a pretty easy way to earn money.
The program is aimed at people who want to work remotely and earn money by doing so. Working remotely typically means spending long hours in front of a computer screen. This program allows you to work by promoting the product and then carrying on with your day. This is perfect for students too, as you can get back to your studies while you wait for people to be referred by you.
Join by following these four easy steps:
Sign up or log in to your Autonomous account.
Share your affiliate link and affiliate code with your friends. You can see your code and link when you log in to your account.
After your friends make purchases via your affiliate link and code, you'll earn credits. 
You're able to withdraw your credits into your bank account via MyConstant (our financial partner) after the orders' 30-day risk-free trial is complete.
You can find more information about the Autonomous affiliate program here. Join today and start earning!
3. Share and Earn
This program not only benefits you, but your friends and colleagues as well. Whenever someone makes a purchase using your referral link or code, they'll save money with a direct discount, and you'll receive store credits in your Autonomous account.
You can use these credits to purchase any Autonomous products in our online store. The more you share, the more you and your friends save. All you need to do is follow these four easy steps: 
Log in to your Autonomous account.
Share your referral link or referral code with your friends.
After your friend makes a purchase via your referral link or code, you'll earn store credits as soon as their 30-day trial expires.
Autonomous will send you a detailed email notification of your successful referral with the amount of credit you've earned.
In addition to the referral program, we have a refer-a-friend race that anyone in our Referral Program can enter. Each month, the person who refers the largest total order value will win a grand prize of $1000.
4. 

Autonomous DIY Campaign

If you're creative, love painting and design, and have some spare time on your hands, look no further than the Autonomous DIY Campaign! This limited campaign from Autonomous could get you a free SmartDesk 2 (valued at $399), and for the winners, a grand prize of $2,000 cash!
Autonomous is looking to refresh its SmartDesk customization options with all-new designs created by its customers. The Autonomous community has always been a DIY haven, with our highly adaptable desk frame suitable for nearly any kind of table top. Beyond customizability, Autonomous SmartDesks come with a variety of color and finish options, including black, white, bamboo, white oak, and walnut. 
Now, Autonomous is taking things to the next level with custom painted designs. The winning entries will not only receive a $2,000 cash prize, but their table top designs will be mass produced and sold on the Autonomous website! 
Interested? All you need to do is submit your portfolio to Autonomous for review here. The team will review all entries, and qualified applicants will immediately be shipped a completely free SmartDesk 2. 
Do you have what it takes? Enter now and get creative. You could win big, and share your art with your custom table top design purchased by corporate offices and households around the world!
Conclusion
Autonomous is always coming up with new ways to promote our brand while giving back to our customers who make everything we do possible. We've got a fantastic array of standing desks and ergonomic chairs, like the Standing Desk 2 and our premium Kinn Chair. 
If you're looking to upgrade your home office but haven't got the budget for it, these programs are a great way for you to earn some extra cash. These are great ways to earn money from home, and our team is always standing by to support and assist you should you have any questions or issues.
You can join our #WorkSmarter Facebook group to get inspired with our customers' ultimate desk setups, as well as advice from other customers and directly from the Autonomous team. 
The more effort and time you put in, the more you'll save and earn money. Join one (or all!) of these programs today and start making money without leaving home.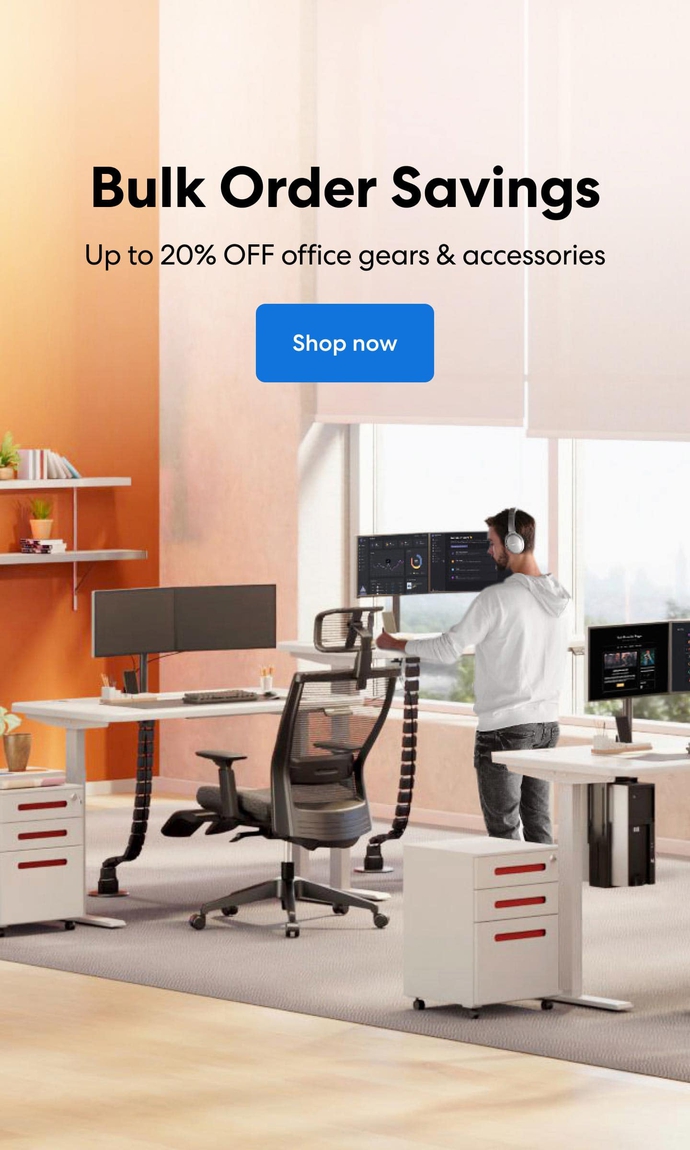 Subcribe newsletter and get $100 OFF.
Receive product updates, special offers, ergo tips, and inspiration form our team.