Workplace Inspiration
Ideas To Design Boss Office Desk To Make Your Office Space More Productive

Autonomous
|
Apr 8, 2021
3,359 Views
If you work in an office, you spend most of your time at your office desk. Now in most cases, workers get bored sitting hours in front of these desks. This creates downtime in their working hours and reduces the productivity of your office. Your desk is set up in your office and will play a big role in determining how you feel at work and how productive you are in your working hours. There have been studies that have revealed that effective and modern workplace designs can improve the productivity of office workers. Effective office desk design increases job satisfaction for the workers, and thus, it improves productivity. So, investing some time to produce some ideas on designing the boss office desks might increase your office's productivity. Here are a few ideas to start with. Check them out below:
Set up the desk near a window
Now when you do this, most of your employees would like to have that boss office desk. So, it is better to try to set as many desks as possible near the windows of your office. Setting up a cabin near the window will encourage your employees/ And you don't have to trust our words. Studies over the years have revealed that natural light induces alertness and decreases stress from your mind. Also, it improves mood and increases the productivity of the workforce. Also, gazing outside the window every 20 minutes is great to give your eyes and keep the workforce energized throughout the day.
Now, what if you don't have access to your windows? Well, you can keep the workspace bright with artificial lights. Also, you can try investing in the latest technology bulbs that mimic natural lights. Opt for floor lamps if possible. Unlike the overhead lighting, these lamps can modify the lamp's position to reduce a constant glare to the computer screen. This will help you to reduce eye strain. It will help you to stay more focused too.
Consider a standing desk setup
This is also another great idea to opt for a boss office desk if you are trying to increase productivity amongst your office workers. You may have heard the numerous benefits these productive desk setup offers. So, we will not make this segment lengthy mentioning those. However, standing desks might help you to increase productivity at the office. These office standing desks have the potential to be an incredible manager office desk. These desks will help you to combat the negative effects of sitting every day. There are many harmful effects of using sitting desks. It increases blood pressure and blood sugar too. It also induces poor cholesterol levels and makes you vulnerable to cardiovascular diseases.
Invest in ergonomic office furniture
When planning for a manager office table design, opting for ergonomics is the best thing you can do to provide yourself cozy office hours. If you opt for a sitting and standing desk at work, opt for the ergonomic chairs available in the market. Various articles describe how these ergonomic chairs are one of the best office or gaming chairs available in the market. Add one more thing to that list. These chairs, like Kinn Chair, not only provide coziness but also provide productivity. These chairs are your only option when you want to sustain productivity throughout the day. Also, these chairs with your boss office desk ideas will reduce all your physical discomfort and detract from your ability to focus on something. This provides unbreakable concentration power too. Aim on the following to make yourself comfortable:
Your thighs should be parallel to th

e floor. The knees should be approximately 90 degrees, with the feet staying flat on the floor.

The chair should have lumbar support to support your backside.

The desktop should make a 90degree angle with your elbows.

Make sure the top of your monitor should be even to your eyes.
Keep plant(s) nearby
This is another incredible option to try when you are looking for the boss office desk designing ideas. Although it is best to keep your desk clutter-free, a few office plants on or around your desk will help you to increase your performance in several days. Some greenery inside your cabin will be great as it can easily purify the air inside the cabin. It also helps sustain focus, improve mood, alertness, increase your productivity, and help you reduce your stress. Consider investing in low maintenance trees as they have numerous benefits.
Accessorize strategically for a better workflow
Minimizing clutter from your boss office desk is an excellent tactic that will help you to boost productivity. However, this can go too far. It would be best if you were not stringent about having a clear desktop. It would help if you balanced in this case. Choose a few office accessories that are essential for a cabin for the manager. Think about these points below while doing so:
Have a desktop organizer for corral papers, pens, and other important office accessories you need almost daily.

Remove the items you don't need throughout the day. This will help you to cut down on clutter, and you will be left with everything you need in your office daily. Consider keeping the items you don't need daily inside the storage drawers.
Use the keyboards and mouse for enhanced ergonomic
Whether you are working on a desktop or a laptop, always use an external keyboard and mouse for your boss office desk ideas. This will help you to reduce strain on your wrists and arms. As we have already mentioned how ergonomic products induce productivity, you should make yourself comfortable in the cabin. Otherwise, you might struggle to stay focused.
Conclusion
These are some of the best ways to create an ergonomic workstation with a strain-free zone while designing the boss office desk in an office. Keep these tips in mind, and you will find yourself in the coziest cabins, and your productivity will eventually increase to the top.
Video ads for product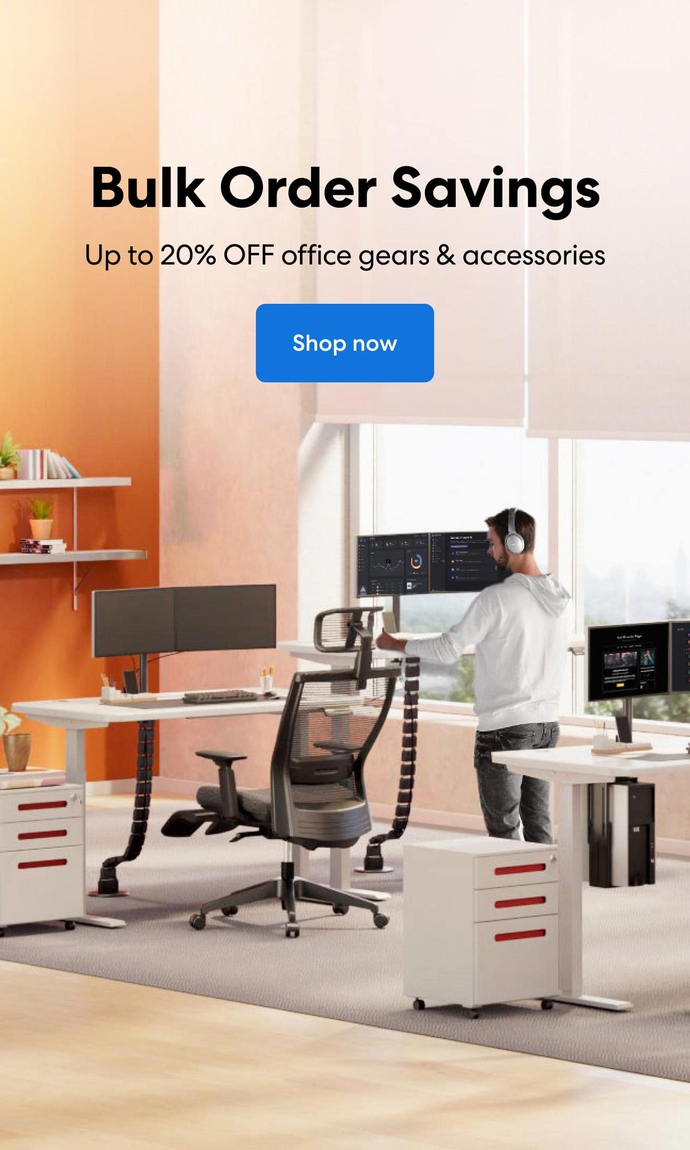 Subcribe newsletter and get $100 OFF.
Receive product updates, special offers, ergo tips, and inspiration form our team.